Electric Ireland Munster MFC Q-Final – Cork 6-15 Limerick 1-7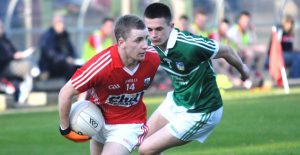 Cork defeated Limerick by 6-15 to 1-7 in the Electric Ireland Munster GAA Football Minor Championship Quarter-Final on Wednesday April 16th at Pairc Ui Rinn.
---
Click to view photos from the game
---
Hurley sets Cork on road to victory
Cork 6-15 Limerick 1-7
Report from the Irish Independent newspaper
Cork were far too strong for Limerick at Pairc Ui Rinn last night as they cruised to a 23-point victory. This was a non-event from the very start, with a goal and a point from Michael Hurley putting Cork into a commanding position inside two minutes and from there they set about ensuring that Limerick had no way into the game. Limerick did not open their account until the 22nd minute through Mikey Morrissey by which stage they had conceded 3-10.
Shane Kingston was the source of five of those points and two goals in quick succession, from Damien Buckley and Hurley, had put the outcome beyond doubt even at such an early stage. Sean O'Donoghue added a fourth goal shortly before half-time and Cork led 4-11 to 0-2 at the break. Limerick deserve credit for not giving up and late on their brightest star, Morrissey, scored a consolation goal.
Scorers – Cork: M Hurley 2-4 (1f), D Buckley 2-2 (2fs), S Kingston 0-5, S O'Donoghue 1-1, C Moynihan 1-0, B Coakley, M Ó Duinnín, S Ronayne 0-1 each. Limerick: M Morrissey 1-2, R Hayes 0-2fs, T Childs, G McCarthy, B Hurley 0-1 each.
CORK – C O'Driscoll; C O'Donovan, S Powter, K Flahive; T Bushe, D Meaney, C Kiely; S O'Leary, B Coakley; S O'Donoghue, M Ó Duinnín, S Ronayne; D Buckley, M Hurley, S Kingston
Subs: D O'Neill for Kiely, C Moynihan for O'Donoghue (both h-t), M Collins for Meaney (42), M Cottrell for Hurley (46), J Mullins for Bushe (51), A Kidney for O'Driscoll (53).
LIMERICK – A Brudair; L O'Connell, S Murphy, S Brosnan; F O'Grady, C Flanagan, S Ivess; T Childs, M Reidy; M Morrissey, R Hayes, K Daly; C Burke, K Ryan, S Stack
Subs: D Noonan for O'Connell (27), B Stack for Murphy, D Hanley for Ivess (both h-t), G McCarthy for Burke (39), D Macken for O'Grady (51), B Hurley for Daly (57).
REF – S Mulvihill (Kerry)
---
Fixture Details
WEDNESDAY APRIL 16TH
ELECTRIC IRELAND MUNSTER MINOR FOOTBALL CHAMPIONSHIP QUARTER FINALS
Cork v Limerick
Corcaigh v Luimneach
Venue: Páirc Uí Rinn, Corcaigh at 7pm
Referee – Seamus Mulvihilll (Kerry)
Standby Referee – Sean Joy (Kerry)
Linesman – Eddie Walsh (Kerry)
Sideline Official – Eamon Moran (Kerry)

Extra time – (2 periods x 10 minutes only) to be played if sides finish level at the end of 60 minutes
Next Round – the winners play the winners of the second Play-Off game in the Munster Semi-Final on May 7th or 14th. The losers will play the losers of Clare v Kerry on April 23rd or 24th.
Admission Prices –
Adult – €10
Student/OAP with appropriate ID Card – €5
Under 16s are free
PRO Contact Details
Clare PRO Sean O'Halloran – pro.clare@gaa.ie and 087 247 7803
Kerry PRO John O'Leary – pro.kerry@gaa.ie and 087 302 6041
Contact Munster GAA PRO Ger Ryan at pro.munster@gaa.ie for more information
Team News
The Cork Minor Football team to play Limerick on Wednesday night: http://t.co/OipwR7jVns

— Cork GAA (@OfficialCorkGAA) April 13, 2014
The Cork Minor Football team to play Limerick in the Munster Championship at 7pm on Wednesday night at Páirc Uí Rinn will line out as follows:
1. Colm O'Driscoll (Castlehaven)
2. Cian O'Donovan (Clonakilty)
3. Kevin Flahive (Douglas – Captain)
4. Sean Powter (Douglas)
5. Tom Bushe (Ilen Rovers)
6. Daniel Meaney (St. Michael's)
7. Cian Kiely (Ballincollig)
8. Sean O'Leary (Bantry Blues)
9. Brian Coakley (Carrigaline)
10. Sean O'Donoghue (Inniscarra)
11. Michael Dineen (Naomh Abán)
12. Seamus Ronayne (Clyda Rovers)
13. Shane Kingston (Douglas)
14. Michael Hurley (Castlehaven)
15. Damien Buckley (Ballyclough)
Subs
16. Anthony Kidney (Passage West)
17. Alex Hassett (Ilen Rovers)
18. John Mullins (Eire Óg)
19. Michael Lordan (Ballinora)
20. David O'Neill (Mayfield)
21. Chris Moynihan (Gabriel Rangers)
22. Gary Murphy (Castletownbere)
23. Michael Cottrell (Newmarket)
24. Martin Collins (Kilmacabea)
Only two of the Cork Minor Football team that lost out to Tipperary in the 2013 Championship will start against Limerick on Wednesday night – Castlehaven's Michael Hurley, brother of Senior star Brian, and captain Kevin Flahive. The three seventeen-year-olds on the starting fifteen, Seán Powther, Shane Kingston and Tom Bushe, have all come up through the Rebel Óg Academy, featuring on last year's U16 Development Squad. Daniel Meaney and Seán O'Donoghue, who captained Coláiste Choilm to win the All-Ireland Post-Primary Schools Senior B Final on Saturday, started for the Cork Minor hurlers against Kerry in this year's Championship, while Martin Collins and Shane Kingston are also on the hurling panel. Cian Kiely also played on the All-Ireland winning Coláiste Choilm team on Saturday.
Additional Panel Members
Eoin O'Sullivan (Douglas)
Conor Nolan (Castlehaven)
Ronan Walsh (Castlehaven)
Andrew Joyce (Youghal)
John Fintan Daly (Knocknagree)
Cathal Crowley (Millstreet)
Ian O'Callaghan (St. Finbarr's)
Management: Donal O'Sullivan (Castletownbere) – Manager, Tom Dorgan (Ballincollig – coach), Michael Comyns (St. Finbarr's), Andrew McCarthy (Inniscarra), Paul Holland (Argideen Rangers)
The Limerick team to play Cork will line out as follows – 1.Andy Brudair (Newcastlewest)(Captain), 2.Luke O' Connell (Mungret), 3.Sean Murphy (Newcastlewest), 4.Stephan Brosnan (Monagea), 5.Sean Ivess (Newcastlewest), 6.Cormac Flanagan (Crecora), 7.Fiachra O' Grady (Oola), 8.Tommy Childs (Galtee Gaels), 9.Mark Reidy (Croom), 10.Mikey Morrissey (St. Marys/Sean Finns), 11.Richard Hayes (St. Senans), 12.Kieran Daly (Na Pairsaigh), 13.Shane Stack (Newcastlewest), 14.Conor Burke (Crecora) and 15. Killian Ryan (Mungret)(Vice Captain).
Panel Members 16. Raymond Noonan (St Kieran's), 17. Brendan Stack (Gerald Griffins), 18. Robbie Graham (Na Pairsaigh), 19.Dara Noonan (Gerald Griffins), 20. Gary McCarthy (Galbally), 21. David Hanley (Ballysteen), 22. David Mackin (Crecora), 23.Brian Hurley (Newcastlewest) and 24. Ciaran Kelly (Ballylanders).
For the Record
Cork

Limerick

2014 Team Management

Donal O'Sullivan (Castletownbere) –

Manager

Selectors:   Tom  Dorgan (Ballincollig – coach)

Michael Comyns (St. Finbarrs)

Andrew McCarthy (Inniscarra)

Paul Holland (Argideen Rangers)

Jerry O'Sullivan –

Manager / Coach

Selectors: Sean Holmes, Brendan Casey,

Garrett Noonan

2014 Team Captain

Kevin Flahive

(Douglas)

Andy Brudair

(Newcastlewest)

2013 Championship Performance

Drew with Kerry 2-13 each in the first round. Won the replay by 3-6 to 0-10.

Lost the semi-final to Tipperary by 0-11 to 0-8 at Semple Stadium Thurles.

Lost to Waterford by 3-10 to 3-9 in the first round.

Lost to Clare by 1-12 to 0-9 in the first play-off game.

Number of Munster Minor Football titles

29

1

Last Munster Minor Football Title

2010

1956

Munster Minor Football Championship Record since 2000
Played – 45
Won – 27
Lost – 14
Drawn – 4
Played – 41
Won – 10
Lost – 28
Drawn – 3
Last meeting in the Munster Minor Football Championship
2012 Munster Minor Football Championship first round at Gaelic Grounds Limerick on April 14th – Cork 3-13 Limerick 0-6.
MUNSTER GAA FOOTBALL MINOR CHAMPIONSHIP 2014
First Round
Wednesday April 16th
@ Fraher Field Dungarvan                        Waterford v Tipperary                      @ 7pm
@ Cusack Park Ennis                    Clare v Kerry                                     @ 6.30pm
@ Páirc Uí Rinn                               Cork v Limerick                                 @ 7pm
Play-off 1
Wedneday April 23rd or Thursday April 24th  
@ TBC                                               Clare or Kerry v Cork or Limerick

Play-off 2
Wednesday April 30th
@ TBC                                               Waterford or Tipperary v Winner of Play-Off 1.
Semi-Finals
Wednesday May 7th or 14th
@ TBC                                   Winners of Waterford v Tipperary v Winners of Kerry v Clare
@ TBC                                   Winners of Cork v Limerick v Play-Off 2 
Final
Sunday July 6th
@ TBC                                                                                                                       @ 12:00 noon
Useful Information
Clare have won at least one game in each of the last five seasons in the Munster Minor Football Championship.
Since 1956, Cork and Kerry have won every Munster Minor Football title with the exception of 1984, 1995, 2011 and 2012 when Tipperary were successful.
Kerry have played 55 games in the Munster Minor Football Championship since 2000, leading Tipperary  who played 53 games in the same period.
Cork, Kerry and Tipperary won at least 1 match in the Munster Minor Football Championship every year since 2001.
Waterford have won 2 of their last 20 matches in the Munster Minor Football Championship.
Limerick have won one of their last 11 matches in the Munster Minor Football Championship.
All 6 counties have been involved in draws since 2000. Remarkably Kerry, Cork, Tipperary and Clare have all had 4 draws in that period while Waterford have had 5 and Limerick 3.
Munster Minor Football Championship Roll Of Honour
Kerry (42)
1931, 1932, 1933, 1936, 1937, 1938, 1940, 1941, 1945, 1946, 1947, 1948, 1949, 1950, 1951, 1954, 1957, 1958, 1962, 1963, 1965, 1970, 1975, 1978, 1979, 1980, 1982, 1988, 1989, 1990, 1994, 1996, 1997, 1998, 2001, 2002, 2003, 2004, 2006, 2008, 2009, 2013.
Cork (29)
1939, 1952, 1959, 1960, 1961, 1964, 1966, 1967, 1968, 1969, 1971, 1972, 1973, 1974, 1976, 1977, 1981, 1983, 1985, 1986, 1987, 1991, 1992, 1993, 1999, 2000, 2005, 2007, 2010
Tipperary (7)
1934, 1935, 1955, 1984, 1995, 2011, 2012
Clare (3)
1929, 1930, 1953
Limerick (1)
1956
Munster Minor Football Championship – List of Winning Teams
Visit the Munster GAA web site History section to view the complete list of each winning team since the competition began in 1929 – https://munster.gaa.ie/history/mf_teams/
Munster Minor Football Cup
The Tadhg Crowley Cup was presented by Munster Council in 1990 to commemorate late Munster Council Treasurer. Tadhg was elected as Munster Council Treasurer in 1968 and served until his death in December 1989. A teacher by profession, he also served as Kerry County Board Secretary from 1955 until 1970. Tadhg was recognized as a specialist in organizing and handling styles and gates at Munster Championship games.
All Ireland Minor Football Championship
In the Minor Football All Ireland Roll of Honour, Kerry top the charts with 11 titles while Cork are tied for second with Dublin with 10 titles. Clare won the first All-Ireland Minor Football title in 1929 while Tipperary's two All-Ireland successes at this grade came in 1934 and 2011. Between them Munster counties have accounted for 24 All-Ireland Minor Football titles, ahead of Leinster and Ulster (20 titles each) and Connacht (18 titles).
Kerry were All-Ireland Minor Football Champions in 1931, 1932, 1933, 1946, 1950, 1962, 1963, 1975, 1980, 1988, 1994
Cork were All-Ireland Minor Football Champions in 1961, 1967, 1968, 1969, 1972, 1974, 1981, 1991, 1993, 2000