Electric Ireland Munster MFC Q-Final – Kerry 2-16 Clare 0-7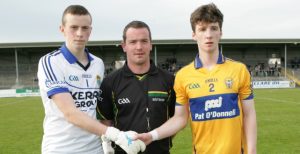 Kerry defeated Clare by 2-16 to 0-7 in the Electric Ireland Munster GAA Football Minor Championship Quarter-Final on Wednesday April 16th at Cusack Park Ennis.
---
Click to view photos from the game
---
Kiely hits groove to sink Clare
Kerry 2-16 Clare 0-7
Report from the Irish Independent newspaper
Kerry got their campaign off to a good start at Cusack Park, Ennis as they cruised to a comfortable victory over Clare. A 0-8 to 0-3 lead at the break was no more than Kerry deserved and with the wind at their backs in the second half, they forged further ahead. With Barry O'Sullivan and Mark O'Connor outstanding in the middle, Jack O'Connor's youngsters built on this dominance to carve out the win.
Clare opened the scoring in the sixth minute when wing-forward Keelan Sexton landed a free-kick from 50 metres. Kerry's Jordan Kiely levelled matters with a fisted effort. The sides were tied at 0-3 apiece by the 12th, but five unanswered Kerry points before the break gave them the platform. Kiely grabbed Kerry's first goal eight minutes after the restart when he was fed by substitute Stephen O'Sullivan and the second goal arrived in the 49th minute. Killian Spillane – from the famous Templenoe family – also tortured Clare, while Kiely can be happy with his 2-3 personal tally.
Scorers – Kerry: J Kiely 2-3, K Spillane 0-6, M Flaherty 0-3, M Burns 0-2, S O'Sullivan, I Parker 0-1 each. Clare: K Sexton 0-2fs, E Courtney 0-2, C Finucane, C Pyne, L Madigan 0-1 each.
Kerry – S Ryan (capt); J Morgan, B Begley, T O'Sullivan; J Foley, A Barry, B Sugrue; B O'Sullivan, M O'Connor; M Flaherty, B Rayle, M Burns; J Kelly, K Spillane, C Bambury
Subs: S O'Sullivan for Bambury (inj, 4), C Coffey for Foley (26), L Kearney for Rayle (52), T Ó Sé for B O'Sullivan (52), I Parker for Flaherty (58), D Roche for Morgan (58).
Clare – K Normoyle; B Cahill (capt), P Lillis, J Woods; C Ó hAiniféin, C Pyne, C O'Dea; N McCarthy, E Hanrahan; K Sexton, E Courtney, A Rudd; C Finucane, M Duffy, A Davidson
Subs: C Downes for Cahill (BC, 20), L Tierney for Rudd (h-t), L Madigan for Duffy (38), M Byrne for Hanrahan (45), L Howard for Pyne (55).
REF –S Lonergan (Tipperary)
---
Fixture Details
WEDNESDAY APRIL 16TH
ELECTRIC IRELAND MUNSTER MINOR FOOTBALL CHAMPIONSHIP QUARTER FINALS
Clare v Kerry
An Clár v Ciarraí
Venue: Cusack Park, Ennis, 6.30pm
Referee: Sean Lonergan (Tiobraid Árann)
Extra Time if necessary
Referee: Seán Lonergan (Tipperary) 
Standby Referee: David Grogan (Tipperary)
Linesman: Keith Delahunty (Tipperary)
4th Official: John McCormack (Tipperary)
Extra time – (2 periods x 10 minutes only) to be played if sides finish level at the end of 60 minutes
Next Round – the winners play the winners of Waterford v Tipperary in the Munster Semi-Final on May 7th or 14th. The losers will play the losers of Cork v Limerick on April 23rd or 24th.
Admission Prices –
Adult – €10
Student/OAP with appropriate ID Card – €5
Under 16s are free
PRO Contact Details
Clare PRO Sean O'Halloran – pro.clare@gaa.ie and 087 247 7803
Kerry PRO John O'Leary – pro.kerry@gaa.ie and 087 302 6041
Contact Munster GAA PRO Ger Ryan at pro.munster@gaa.ie for more information
Team News
The Kerry Minor team has been announced: http://t.co/6WG1DgHsZ7 http://t.co/FagUI7hcp8

— Kerry GAA (@Kerry_Official) April 13, 2014
Kerry Minor Team v Clare
Three of the side defeated by Tyrone in last year's All Ireland quarter final have been named in the Kerry Minor Football Team to play Clare in the Electric Ireland Munster GAA Minor Football Championship Round 1 in Cusack Park Ennis on Wednesday April 16th at 6:30.
The team is as follows and the captain will be named at a later stage:
1 Shane Ryan Rathmore
2 Jack Morgan Austin Stacks
3 Brian Begley An Ghaeltacht
4 Tom O'Sullivan Dingle
5 Jason Foley Ballydonoghue
6 Andrew Barry Na Gaeil
7 Brian Sugrue Renard
8 Barry O'Sullivan Dingle
9 Mark O'Connor Dingle
10 Matthew Flaherty Dingle
11 Brian Rayle Lispole
12 Micheál Burns Dr Crokes
13 Jordan Kiely Dr Crokes
14 Killian Spillane Templenoe
15 Cathal Bambury Dingle
Fir Ionaid
16 Eoin O'Connell St Senans
17 Liam Kearney Spa
18 Stephen O Sullivan Templenoe
19 Cormac Coffey Kerins O'Rahillys
20 Shane Cronin Spa
21 Dan O Donoghue Spa
22 Ivan Parker Churchill
23 David Roche Milltown C'maine
24 Tomas Ó Sé An Ghaeltacht
Bainistíocht:
Bainisteoir: Jack O'Connor (Dromid Pearses)
Roghnoirí: Micheal O'Shea (Castlegregory), John Galvin (Dr Crokes), Eamon Whelan (St Senans).
Extended Training Panel Members
25 Patrick Clifford Templenoe
26 John Mark Foley Kilgarvan
27 Patrick O'Shea Kilgarvan
28 Gavin White Dr. Crokes
29 Rob Ó Sé An Ghaeltacht
30 Andy Quigley Valentia
31 Jonathan O'Sullivan Milltown C'maine
Recovering from Injury and not considered
Cian O'Connor Castleisland Desmonds
Liam Carey Beaufort
Philip Casey Kilcummin
CLARE (v Kerry): K Normoyle (Lissycasey); B Cahill (Lissycasey), P Lillis (Cooraclare), J Woods (Éire Óg); C O'Dea (Kilfenora), C Pyne (Killimer), C O'Hanafin (Éire Óg); N McCarthy (Lissycasey), C Hanrahan (St Joseph's Doora Barefield); C Sexton (Kilmurry Ibrickane), E Courtney (Éire Óg), A Rudd (Wolfe Tones); C Finucane (Lissycasey), D Duffy (Kilfenora), A Davidson (St Breckans).
---
For the Record
Clare

Kerry

2014 Team Management

Aiden O'Keeffe – Manager

Selectors-   Tom  Byrne and Joe Considine

Jack O'Connor (Dromid Pearses) – Manager

Selectors-   Micheál O'Shea (Castlegregory), John Galvin (Dr. Crokes), Eamon Whelan (St. Senans)

Trainers – Alan O'Sullivan and Arthur Fitzgerald

2014 Team Captain

TBC

Liam Kearney

(Spa)

2013 Championship Performance

Lost to Tipperary by 1-10 to 0-8 in the first round.

Defeated Limerick by 1-12 to 0-9 in the first Play-Off game.

Lost to Kerry by 0-15 to 0-9 in the second play-off game.

Drew with Cork 2-13 each in the first round. Lost the replay by 3-6 to 0-10.

Defeated Clare by 0-15 to – 0-9 in the second Play-Off game.

Defeated Waterford by 1-15 to 2-6 in the semi-final.

Won the Munster Final defeating Tipperary by 0-15 to 0-10 at Fitzgerald Stadium Killarney.

Lost to Tyrone in the All Ireland Quarter-Final by 0-17 to 1-12  at Croke Park.

Number of Munster Minor Football titles

3

42

Last Munster Minor Football Title

1953

2013

Munster Minor Football Championship Record since 2000
Played – 46
Won – 16
Lost – 26
Drawn – 4
Played – 55
Won – 41
Lost – 10
Drawn – 4
Last meeting in the Munster Minor Football Championship
2013 Munster Minor Football Championship second Play-Off game at Austin Stack Park, Tralee on May 4th – Kerry 0-15 Clare 0-9.

MUNSTER GAA FOOTBALL MINOR CHAMPIONSHIP 2014
First Round
Wednesday April 16th
@ Fraher Field Dungarvan                        Waterford v Tipperary                      @ 7pm
@ Cusack Park Ennis                    Clare v Kerry                                     @ 6.30pm
@ Páirc Uí Rinn                               Cork v Limerick                                 @ 7pm
Play-off 1
Wedneday April 23rd or Thursday April 24th  
@ TBC                                               Clare or Kerry v Cork or Limerick

Play-off 2
Wednesday April 30th  
@ TBC                                               Waterford or Tipperary v Winner of Play-Off 1.
Semi-Finals
Wednesday May 7th or 14th
@ TBC                                   Winners of Waterford v Tipperary v Winners of Kerry v Clare
@ TBC                                   Winners of Cork v Limerick v Play-Off 2 
Final
Sunday July 6th
@ TBC                                                                                                                       @ 12:00 noon
Useful Information
 Clare have won at least one game in each of the last five seasons in the Munster Minor Football Championship.
Since 1956, Cork and Kerry have won every Munster Minor Football title with the exception of 1984, 1995, 2011 and 2012 when Tipperary were successful.
Kerry have played 55 games in the Munster Minor Football Championship since 2000, leading Tipperary  who played 53 games in the same period.
Cork, Kerry and Tipperary won at least 1 match in the Munster Minor Football Championship every year since 2001.
Waterford have won 2 of their last 20 matches in the Munster Minor Football Championship.
Limerick have won one of their last 11 matches in the Munster Minor Football Championship.
All 6 counties have been involved in draws since 2000. Remarkably Kerry, Cork, Tipperary and Clare have all had 4 draws in that period while Waterford have had 5 and Limerick 3. 
Munster Minor Football Championship Roll Of Honour
Kerry (42)
1931, 1932, 1933, 1936, 1937, 1938, 1940, 1941, 1945, 1946, 1947, 1948, 1949, 1950, 1951, 1954, 1957, 1958, 1962, 1963, 1965, 1970, 1975, 1978, 1979, 1980, 1982, 1988, 1989, 1990, 1994, 1996, 1997, 1998, 2001, 2002, 2003, 2004, 2006, 2008, 2009, 2013.
Cork (29)
1939, 1952, 1959, 1960, 1961, 1964, 1966, 1967, 1968, 1969, 1971, 1972, 1973, 1974, 1976, 1977, 1981, 1983, 1985, 1986, 1987, 1991, 1992, 1993, 1999, 2000, 2005, 2007, 2010
Tipperary (7)
1934, 1935, 1955, 1984, 1995, 2011, 2012
Clare (3)
1929, 1930, 1953
Limerick (1)
1956
Munster Minor Football Championship – List of Winning Teams
Visit the Munster GAA web site History section to view the complete list of each winning team since the competition began in 1929 – https://munster.gaa.ie/history/mf_teams/
Munster Minor Football Cup
The Tadhg Crowley Cup was presented by Munster Council in 1990 to commemorate late Munster Council Treasurer. Tadhg was elected as Munster Council Treasurer in 1968 and served until his death in December 1989. A teacher by profession, he also served as Kerry County Board Secretary from 1955 until 1970. Tadhg was recognized as a specialist in organizing and handling styles and gates at Munster Championship games.
All Ireland Minor Football Championship
In the Minor Football All Ireland Roll of Honour, Kerry top the charts with 11 titles while Cork are tied for second with Dublin with 10 titles. Clare won the first All-Ireland Minor Football title in 1929 while Tipperary's two All-Ireland successes at this grade came in 1934 and 2011. Between them Munster counties have accounted for 24 All-Ireland Minor Football titles, ahead of Leinster and Ulster (20 titles each) and Connacht (18 titles).
Kerry were All-Ireland Minor Football Champions in 1931, 1932, 1933, 1946, 1950, 1962, 1963, 1975, 1980, 1988, 1994
Cork were All-Ireland Minor Football Champions in 1961, 1967, 1968, 1969, 1972, 1974, 1981, 1991, 1993, 2000