EirGrid Munster U21 Football Final – Tipperary 1-15 Cork 3-8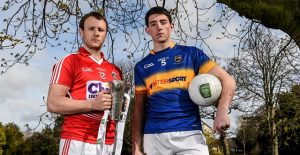 Tipperary defeated Cork by 1-15 to 3-8 in the EirGrid GAA Football Under 21 Munster Championship Final on Thursday April 9th at Semple Stadium Thurles.
---
.@TipperaryGAA defeat @OfficialCorkGAA to claim @EirGrid @MunsterGAA U21 Football title #GAA http://t.co/6ihaWvmRoX pic.twitter.com/phLhr4VTQP

— The GAA (@officialgaa) April 9, 2015
Munster U21 Final: Tipp end Cork's dominance
EIRGRID MUNSTER U21 FOOTBALL FINAL: TIPPERARY 1-15 CORK 3-8
Tipperary are EirGrid Munster U21 football champions after a superb second half performance denied Cork a fifth successive provincial title in Thurles this evening. The Premier County recovered from the concession of Peter Kelleher goals either side of half-time to record just their second Munster title in this grade – and first since 2010.
Man of the match Ian Fahey and captain Colin O'Riordan, who lined out despite not being listed in the starting line-up, were superb.
Tipp were 0-8 to 0-3 ahead approaching half-time before Seán O'Donoghue pointed to bring Cork to within four points. And Kelleher notched a scruffy goal in first half stoppage time from Cathal Vaughan's speculative delivery to cut the interval deficit to just a single point, 1-4 to 0-8.
Tipp were rocked within 14 seconds of the restart when O'Donoghue set up Kelleher for his second goal. But Tipp were in no mood to collapse and spurred on by O'Riordan, well enough to play despite being concussed on senior duty recently, they came roaring back.
Kevin O'Halloran, drafted in from nowhere to start, was superb too, kicking five of his six points from frees in front of 2,137 spectators.
And when Fahey netted midway through the second half, through Michael Martin's legs, Tipp were 1-11 to 2-5 in front. Josh Keane smashed a shot off the crossbar soon after before O'Riordan pointed the follow-up. And O'Riordan was at it again in the 53rd minute to put Tipp five points clear and in control.
Points from Cian Dorgan and Cathal Vaughan had the visitors back within striking distance but scores from Jason Lonergan and O'Halloran had Tipp five clear again. Dorgan netted in the 59th minute and Tipp feared a repeat of the 2009 decider, when Cork snatched it at the death. Brian O'Driscoll's late free had Cork just a point behind before Dorgan shot wide in the dying seconds.
***
Scorers for Tipperary: K O'Halloran 0-6 (5f), I Fahey 1-0, J Lonergan, J Keane (1f), P Maher & C O'Riordan 0-2 each, S O'Brien 0-1.
Scorers for Cork: P Kelleher 2-0, C Dorgan 1-1, C Vaughan 0-4 (2f), B O'Driscoll (f), S O'Donoghue & D Murphy 0-1 each.
TIPPERARY: E Comerford; C O'Shaughnessy, J Feehan, K Fahey; R Mulcahy, L Boland, B Maher; S O'Brien, C O'Riordan; J Lonergan, I Fahey, L Casey; K O'Halloran, J Keane, P Maher. Subs: TJ Ryan for Keane (57), W Connors for Boland (59).
CORK: M Martin; J Davis, T O'Rourke, S Cronin; B O'Driscoll, S White, C Kiely; A O'Donovan, S O'Leary; S O'Donoghue, C McIntyre, D Murphy; C Vaughan, P Kelleher, C Horgan. Subs: K Davis for Horgan (h.t.), C Dorgan for McIntyre (37), D Quinn for O'Donovan (48), M Desmond for O'Donoghue (54), M McSweeney for Kiely (57), C Hyde for White (59).
Referee: S Joy (Kerry)
***
Report: Jackie Cahill for GAA.ie
---
---
Be proud @TipperaryGAA, you're the toast of Munster tonight! Fantastic pics from a memorable night! #PremierCounty pic.twitter.com/aPSxbEroiX

— Inpho Photography (@Inphosports) April 9, 2015
---
Admission Prices
Adults: €15.00
Students/OAP's: €10 (available at Venue).
Rebates are available on full priced tickets at designated turnstiles prior to entry.
Juveniles are not required to have a ticket to attend this game.
This fixture is unreserved.
Click to buy tickets in advance
---
Team News
The Tipperary U21 Football team to play Cork at 7.30pm, this Thursday, April 9th, in the EirGrid Munster Championship Final in Semple Stadium has been announced and lines out as follows;
Evan Comerford (Kilsheelan Kilcash), Kevin Fahey (Clonmel Commercials), Jimmy Feehan (Killenaule), Colm O'Shaughnessy (Ardfinnan), Ross Mulcahy (Moyle Rovers), Luke Boland (Moyle Rovers), Bill Maher (Kilsheelan Kilcash), Steven O'Brien (Ballina), Liam Casey (Cahir), Jason Lonergan (Clonmel Commercials), Ian Fahey (Clonmel Commercials), Paul Shanahan (Upperchurch Drombane), Kevin O'Halloran (Portroe), Josh Keane (Golden Kilfeacle), Paul Maher (Kilsheelan Kilcash)
The Cork U21 Football team will line out as follows:
1. Micheál Martin (Nemo Rangers)
2. Michael McSweeney (Newcestown)
3. Tom O'Rourke (Carbery Rangers)
4. Stephen Cronin (Nemo Rangers)
5. Jamie Davis (Douglas)
6. Sean White (Clonakilty)
7. Cian Kiely (Ballincollig)
8. Alan O'Donovan (Nemo Rangers)
9. Dan O'Callaghan (Clyda Rovers)
10. Brian O'Driscoll (Tadhg MacCarthaigh) Capt.
11. Sean O'Donoghue (Inniscarra)
12. Darragh Murphy (Valley Rovers)
13. Cathal Vaughan (Uibh Laoire)
14. Peter Kelleher (Kilmichael)
15. Conor Horgan (Nemo Rangers)
Subs:
16. Anthony Casey (Kiskeam)
17. Dylan Quinn (St. Finbarrs)
18. Colm Hyde (Naomh Abán)
19. Sean O'Leary (Bantry)
20. Michael Desmond (Cill na Martra)
21. Cillian McIntyre (Carrigaline)
22. Kevin Davis (O'Donovan Rossa)
23. Cian Dorgan (Ballincollig)
24. Anthony O'Connor (Knocknagree)
Selectors: Sean Hayes (Nemo Rangers) – Manager; Gene McCarthy (Tadhg MacCarthaigh) – Coach; Sean Bownes (Castlemartyr); Aidan Kelleher (Clondrohid); Niall Kelleher (Millstreet).
Medical Officer: Dr. Con Murphy. Physiotherapist: Colin Lane.
---
---
When – Thursday April 9th at 7.30pm
Where – Semple Stadium, Thurles
Referee – Sean Joy (Ciarraí)
Standby Referee – Seamus Mulvihill (Ciarraí)
Linesman – Eddie Walsh (Ciarraí)
Sideline Official – Eamon Moran (Ciarraí)
Umpires – Michael O'Shea, Greg O'Connor, Conor Brosnan, Liam Brosnan (Ciarraí)
Extra time – (2 periods x 10 minutes only) to be played if sides finish level at the end of 60 minutes
Next Round – the winners play the Leinster champions, Dublin in the All-Ireland Semi-Final on Saturday April 18th.
Contact Munster GAA PRO Ger Ryan at pro.munster@gaa.ie for more information
---
For the Record
Cork
Tipperary
2015 Team Management
Manager – Seán Hayes
(Nemo Rangers)Coach – Gene O'Driscoll (Tadhg MacCárthaigh)

Selectors – Sean Bownes (Castlemartyr), Niall Kelleher (Millstreet). Aidan Kelliher (Clondrohid)

Manager – Tommy ToomeySelectors –

Peter Creedon

Michael O'Loughlin

Eoghan Cooney

2015 Captain
Brian O'Sullivan(Tadhg MacCárthaigh)
Colin O'Riordan(JK Brackens)
2014 Championship Performance
Defeated Kerry, Limerick and Tipperary to win the Munster Final before losing to Roscommon in the All-Ireland Semi-Final by 1-19 to 3-12.
Defeated Waterford and Clare before losing to Cork by 1-18 to 3-8 in the Munster Final at Páirc Uí Rinn.
Number of Munster Under 21 Football titles
25
1
Last Munster Under 21 Football Title
2014
2010
Munster Under 21 Football Championship Record since 2000
Played – 36
Won – 30
Lost – 5
Drawn – 1
Played – 27
Won – 13
Lost – 14
Drawn – 0
Last meeting in the Munster Under 21 Football Championship
2014 Munster Under 21 Football Championship Final at Páirc Uí Rinn – Cork 1-18 Tipperary 3-8
See www.munster.gaa.ie/fixtures/under21 for match report
What happened 3 years ago?2012 Munster Minor Football Championship Round-up
Defeated Limerick in the quarter-final before losing to Tipperary by 1-10 to 0-9 in the semi-final at Páirc Uí Chaoimh.
Won Munster championship defeating Kerry in quarter-final, Cork in semi-final and Kerry again in final. Score in final at Gaelic Grounds was 2-14 to 1-14. Tipperary lost All –Ireland quarter-final to Mayo.
---
2015 Eirgrid Munster Under 21 Football Championship Fixtures / Results
Quarter Finals
Wednesday March 11th 
@ Gaelic Grounds Limerick               Cork 5-8                      Limerick 2-12
@ Miltown Malbay                              Clare 2-11                   Waterford 0-3
Semi-Finals
Wednesday March 18th  
@ Pairc Ui Rinn, Cork                                    Cork 1-12                    Kerry 1-9
@ Semple Stadium, Thurles              Tipperary 0-15            Clare 0-7
See www.munster.gaa/fixtures/under21 for match reports of all previous games
Final
Thursday April 9th
Cork v Tipperary
---
Munster Under 21 Football Championship Roll of Honour
Kerry (25) – 1962, 1964, 1966, 1967, 1968, 1972, 1973, 1975, 1976, 1977, 1978, 1983, 1987, 1988, 1990, 1991, 1992, 1993, 1995, 1996, 1997, 1998, 1999, 2002, 2008
Cork (25) – 1963, 1965, 1969, 1970, 1971, 1974, 1979, 1980, 1981, 1982, 1984, 1985, 1986, 1989, 1994, 2001, 2004, 2005, 2006, 2007, 2009, 2011, 2012, 2013, 2014
Limerick (1) – 2000
Waterford (1) – 2003
Tipperary (1) – 2010
---
Munster Under 21 Football Championship – Useful Information
Having failed to win a game in the Munster Under 21 Football Championship between 2002 and 2006, Tipperary have managed to win at least one match in this competition in 8 of the last 9 years, including the 2010 Munster title.
Cork are going for their fifth Munster Under 21 Football title in a row. Cork previously won 4 in a row from 2004-2007 with each title won against different opposition in the final (Kerry, Limerick, Waterford and Tipperary) and from 1979-1982. Cork have also won 3 Munster titles in a row in this competition from 1969-1971 and 1984-1986.
At the turn of the millennium, only Cork and Kerry had won Munster Under 21 Football titles with Kerry out in front in the roll of honour by 23 titles to 15. Since then, Limerick, Waterford and Tipperary have captured 1 title each while Cork have dominated to the extent that a victory in the 2015 Munster Under 21 Football Championship will see the Rebel County pass out Kerry on the roll of honour.
Kerry won five Munster Under 21 Football titles in a row from 1995 to 1999, winning the All-Ireland in three of those five years – 1995, 1996 and 1998.
4 of the last 7 Munster Under 21 Football Finals have been decided by one score or less – 2008 (Kerry 0-15 Tipperary 2-7), 2009 (Cork 1-9 Tipperary 2-5), 2010 (Tipperary 1-7 Kerry 1-6), 2012 (Cork 2-12 Kerry 1-14 AET)
For the record this will be Cork's 39th Munster final appearance; Tipperary will be appearing in their 12th final (the seventh since 2007). Kerry have appeared in 35 finals, Clare in 10 finals; Waterford in 8 finals and Limerick in 4 finals.
Cork Captain, Brian O'Driscoll's father Gene coaches the Cork team. Along with his brothers, Colm and Kevin, Brian is also a member of the Cork senior football panel.
The Tipperary management team, albeit with Tommy Toomey as under 21 manager taking the managerial mantle from senior manager, Peter Creedon, comprise the same personnel as the senior football management team. The other management team members are Michael O'Loughlin and Eoghan Cooney.
---
Munster Under 21 Football Cup
Corn na Cásca presented by the Football Council in 1966 to commemorate the jubilee of the 1916 Rising.
---
All Ireland Under 21 Football Championship
Cork and Kerry remain the only 2 Munster counties to win the All Ireland under 21 football championship. Cork top the roll of honour with 11 titles having last won in 2009 while Kerry are second with 10 titles have last won in 2008. The last five titles have been shared by Dublin (2010, 12 and 14) and Galway (2011 and 13).
All Ireland Under 21 Championship wins:
Cork:   1970, 1971, 1980, 1981, 1984, 1985, 1986, 1989, 1994, 2007, 2009.
Kerry: 1964, 1973, 1975, 1976, 1977, 1990, 1995, 1996, 1998, 2008.
---
2015 Top Scorers – Munster Under 21 Football Championship
Keelan Sexton (Clare): 0-10Conor Keane (Kerry): 1-7

Jamie Malone (Clare): 2-3

Sean O'Donoghue (Cork): 2-1

Cathal Vaughan (Cork): 0-7

Kevin Davis (Cork): 1-2

Ryan Harkin (Cork): 1-2

Jason Lonergan (Tipperary): 0-5

Kevin Moore (Limerick): 0-4

Evan Quinlan (Limerick ): 0-4

Cian Sheehan (Limerick): 1-1

Cillian Fahy (Limerick): 1-0

Darragh Murphy (Cork): 1-0

Cillian McIntyre (Cork): 1-0

Peter Kelleher (Cork): 0-2

Sean White (Cork): 0-2

Conor Horgan (Cork): 0-2

Brian O'Driscoll (Cork): 0-2

Eimhin Courtney (Clare): 0-2

Paddy O'Malley(Clare): 0-2Liam Casey (Tipperary): 0-2

Steven O'Brien (Tipperary): 0-2

Conor Cleary (Clare): 0-1

Josh Keane (Tipperary): 0-1

Colin O'Riordan (Tipperary): 0-1

Bill Maher (Tipperary): 0-1

Ian Fahey (Tipperary): 0-1

Paul Maher (Tipperary): 0-1

John McGrath (Tipperary): 0-1

Jack Savage (Kerry) 0-1

Brian Crowley (Kerry): 0-1

Jason Mullins (Limerick): 0-1

Tony McCarthy (Limerick): 0-1

Chris Smith (Limerick): 0-1

Jason Glesson (Waterford): 0-1

Seamus Keating (Waterford): 0-1

Conor Murray (Waterford): 0-1
---
Munster Under 21 Football Finals
1962                @ Kenmare                            Kerry               2-7       Cork                1-4
1963                @ Clonakilty                           Cork                2-3       Kerry               1-4
1964                @ Kilmallock                           Kerry               0-15     Tipperary         1-2
1965                @ Castletownroche                Cork                2-14     Tipperary         1-6
1966                @ Cork Ath. Grounds             Kerry               3-8       Cork                0-14
1967                @ Listowel                              Kerry               2-12     Clare               1-7
1968                @ Kilrush                                Kerry               5-7       Clare               2-9
1969                @ Killarney                             Cork                1-14     Kerry               1-11
1970                @ Buttevant                            Cork                5-12     Clare               1-7
1971                @ Fermoy                               Cork                1-10     Waterford        2-5
1972                @ Killarney                             Kerry               1-11     Cork                2-7
1973                @ Skibbereen                         Kerry               2-12     Cork                1-12
1974                @ Cahirciveen                        Cork                3-5       Kerry               1-10
1975                @ Killorglin                              Kerry               0-17     Waterford        1-5
1976                @ Dingle                                 Kerry               2-16     Cork                1-6
1977                @ Páirc Ui Chaoimh               Kerry               2-8       Cork                0-8
1978                @ Killarney                             Kerry               0-14     Cork                0-9
1979                @ Limerick                             Cork                1-11     Clare               1-9
1980                @ Bruff                                   Cork                3-15     Clare               0-4
1981                @ Tralee                                 Cork                0-11     Kerry               0-5
1982                @ Páirc Ui Chaoimh               Cork                2-12     Kerry               0-4
1983                @ Castleisland                        Kerry               1-10     Cork                0-12
1984                @ Askeaton                            Cork                1-18     Limerick          0-4
1985                @ Tralee                                 Cork                1-18     Clare               1-7
1986                @ Clonmel                              Cork                0-8       Tipperary         0-7
1987                @ Tralee                                 Kerry               0-7       Tipperary         0-7       Draw
@ Clonmel                              Kerry               0-15     Tipperary         1-11     Replay
1988                @ Cooraclare                         Kerry               0-14     Clare               2-6
1989                @ Limerick                             Cork                3-15     Clare               1-7
1990                @ Tralee                                 Kerry               2-9       Cork                0-9
1991                @ Páirc Ui Chaoimh               Kerry               1-8       Cork                0-10
1992                @ Tralee                                 Kerry               3-12     Cork                1-8
1993                @ Waterford                           Kerry               1-21     Waterford        3-5
1994                @ Dungarvan                         Cork                2-11     Waterford        0-4
1995                @ Killarney                             Kerry               1-21     Waterford        2-5
1996                @ Tralee                                 Kerry               3-14     Clare               0-6
1997                @ Tralee                                 Kerry               2-11     Cork                3-8       Draw
@ Páirc Ui Rinn                      Kerry               0-12     Cork                1-7       Replay
1998                @ Tralee                                 Kerry               3-10     Tipperary         1-11
1999                @ Tralee                                 Kerry               1-10     Cork                0-7
2000                @ Dungarvan                         Limerick          0-7       Waterford        0-4
2001                @ Kilmallock                           Cork                1-12     Limerick          0-8
2002                @ Ennis                                  Kerry               3-15     Clare               2-11
2003                @ Waterford                           Waterford        2-8       Kerry               1-9
2004                @ Tralee                                 Cork                0-13     Kerry               0-12
2005                @ Limerick                             Cork                1-14     Limerick          1-11
2006                @ Páirc Ui Rinn                      Cork                4-14     Waterford        1-6
2007                @ Limerick                             Cork                3-19     Tipperary         3-12
2008                @ Ardfinnan                            Kerry               0-15     Tipperary         2-7
2009                @ Thurles                               Cork                1-9       Tipperary         2-5
2010                @ Tralee                                 Tipperary         1-7       Kerry               1-6
2011                @ Páirc Ui Rinn                      Cork                2-24     Kerry               0-8
2012                @ Tralee                                 Cork                2-12     Kerry               1-14   AET
2013                @ Thurles                               Cork                1-17     Tipperary         0-9
2014                @ Páirc Ui Rinn                      Cork                1-18     Tipperary         3-8