Munster SFC Semi-Final – Kerry 2-23 Clare 0-17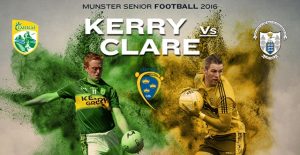 Kerry defeated Clare by 2-23 to 0-17 in the Munster Senior Football Championship Semi-Final on Sunday June 12th at Fitzgerald Stadium Killarney.
---
REPORT: @Kerry_Official beat @GaaClare in @MunsterGAA SFChttps://t.co/JF91sYYMZv pic.twitter.com/nKIfFXWtmF

— The GAA (@officialgaa) June 12, 2016
Munster SFC: Early goals crucial for Kerry
Munster Senior Football Championship
Kerry 2-23 Clare 0-17
By Paul Brennan at Fitzgerald Stadium, Killarney for GAA.ie
Kerry set up a Munster Final showdown against Tipperary next month after dishing out a 12-point defeat to a Clare side simply overpowered and outclassed by the defending provincial champions. Two goals in the first four minutes laid the foundation for Kerry's win, and despite a courageous rally for the remainder of the half by the Banner men, they were simply overran by Kerry in an impressive second half showing.
Showing five changes from the team that lost the Allianz Football League final to Dublin in April and eight changes to the team that started last year's All-Ireland final, there was plenty of interest leading into this game. And with Clare having impressed in their Division Three campaign there was a sense of anticipation about this contest.
The game wasn't two minutes old when Colm Cooper's under-hit attempt at a point caught goalkeeper Joe Hayes off his goal line and nestled in the Clare net. David Tubridy and Stephen O'Brien traded points before O'Brien gathered Donnchadh Walsh's through ball and his shot hit the net with the help of the two posts.
Another O'Brien point made it 2-2 to 0-1 after seven minutes and Clare were in trouble. By the game's end they would be soundly beaten, but they deserve credit for not throwing in the towel. They refocused and worked their way back into the game, and made Kerry work hard for their seven-point half time lead.
Podge Collins and Eoin Cleary points steadied them, and further along Garry Brennan and Cleary, again, kept them in touch. Clare did play a high-wire act in defence, though, and in the 19th minute O'Brien shaved the crossbar on the way to scoring a point. Pearse Lillis – on as a black card replacement for Podge Collins – added a late point to leave it 2-10 to 0-9 at the break.
The second half went along expected lines, with Kerry controlling the game and Clare chasing it. Points from Darran O'Sullivan (2), Bryan Sheehan and Cooper moved Kerry further in front at the start of the second half, and as the half wore on Kerry pulled clear.
Marc Ó Sé, David Moran and Anthony Maher were introduced to make Kerry's finishing team arguably stronger than the one that started, although Championship debutants Brian Ó Beaglaoich and Tadhg Morley acquitted themselves very well in the half back line. Tubridy and Lillis kept fighting hard for Clare, but Kerry tacked on the points with considerable ease, despite finishing the game with just 13 players on the field – with no substitutions to replace Killian Young (injured) and Michael Geaney (black card).
Scorers for Kerry: S O'Brien 1-5, C Cooper 1-3 (1f), P Geaney 0-5 (1f), D O'Sullivan 0-2, BJ Keane 0-2, B Sheehan 0-2 (2fs), K Young 0-1, D Moran 0-1, A Maher 0-1, P Murphy 0-1.
Scorers for Clare: D Tubridy 0-7 (4fs, 245s), P Lillis 0-3, E Cleary 0-3 (1f, sideline), G Brennan 0-2, C O'Connor 0-1 P Collins 0-1.
Kerry: B Kelly; S Eright, M Griffin, K Young; B Ó Beaglaoich, P Crowley, T Morley; K Donaghy, B Sheehan; P Murphy, C Cooper, D Walsh; D O'Sullivan, P Geaney, S O'Brien
Subs: M Ó Sé for Morley (48), D Moran for Sheehan (50), J Lyne for Ó Beaglaoigh (52), BJ Keane for O'Sullivan (54), M Geaney for Walsh (56), A Maher for Donaghy (64), K Young (injured, 67 not replaced), M Geaney (black card 73 not replaced).
Clare: J Hayes; D Ryan, K Hartnett, M McMahon; S Collins, G Kelly, C O'Dea; G Brennan, C O'Connor; E Cleary, J Malone, S McGrath; K Sexton, D Tubridy, P Collins
Subs: P Lillis for P Collins (black, 28), P Burke for McGrath (46), S Hickey for S Collins (52), S Malone for O'Dea (59), D McMahon for Kelly (black card, 66)
Referee: F Kelly (Longford)
---
Early goals ease Kerry's path to Munster final https://t.co/OL5piEHzqB

— Irish Times Sport (@IrishTimesSport) June 12, 2016
Early goals ease Kerry's path to Munster final
Kingdom will meet Tipperary in decider after Cork beaten in Thurles
By Ian O'Riordan in Killarney for the Irish Times Newspaper
Kerry 2-23 Clare 0-17
Without much effort and certainly no fuss Kerry have booked their place in the Munster football final, the only surprise in Killarney this afternoon being the announcement of who their opponents will be.
The general assumption that Cork would be back here on July 3rd was turned on its head when news emerged they'd lost to Tipperary: so Kerry will now face Tipperary instead, not necessarily with any assumption about the outcome there, either.
Nothing nearly as stirring here, nor a repeat of two years ago, when Clare ran Kerry to a relatively close four points. Thanks to two goals from Colm "Gooch" Cooper and Stephen O'Brien inside the opening five minutes, Kerry laid down the foundation for the victory early on, then simply built on it brick by brick.
Cooper didn't necessarily even plan his, kicking what looked like a short-range point, tempting Clare goalkeeper Joe Hayes to move off his line intending to intervene. Only instead of fetching it the ball dropped over his hands and into the back of the Clare net. The game was about 80 seconds old.
Then, on five minutes exactly, O'Brien charged on goal with limited resistance and added Kerry's second, his shot rocketing into the net with the help of the upright. So, before they'd much time to settle into the task, Clare were faced with a mountain to climb on the scale of the daunting background that was MacGillycuddy's Reeks. They also lost one of their central forwards before half-time as well, when Podge Collins was black-carded for a kick on Tadhg Morley.
Gary Brennan and Cathal O'Connor were doing their best to drive things from midfield, but still, Clare were being softly killed on their own kick-outs, conceding a couple of points in the process. Brennan's two points and a neat sideline kick from Eoin Clearly were the highlights of their first half, which ended 2-10 to 0-9 in Kerry's favour.
Into the second half and Clare still had plenty to play for, only for Kerry to soon hit them with three more points without reply, adding some further daylight to an already clear scene. With that the game fizzled out without any air of excitement, the most obvious positive for Kerry being the first appearance of the year of Anthony Maher, who came off the bench to score one of the closing points.
KERRY: 1 B Kelly; 2 S Enright, 4 K Young (0-1), 3 M Griffin; 5 B Begley, 6 P Crowley, 7 T Morley; 8 K Donaghy, 9 B Sheehan (capt) (0-2, both frees); 10 P Murphy (0-1), 11 C Cooper (1-3, one free), 12 D Walsh; 13 D O'Sullivan (0-2), P Geaney (0-5, one free), S O'Brien (1-5).
Subs: 18 M Ó Sé for Morley (47 mins), 17 D Moran (0-1) for Sheehan (49 mins), 22 J Lyne for Begley (52 mins), 20 BJ Keane (0-2) for O'Sullivan (54 mins), 21 M Geaney for Walsh (57 mins), 23 A Maher (0-1) for Donaghy (64 mins).
CLARE: 1 J Hayes; 2 D Ryan, 3 K Harnett, 4 M McMahon; 5 C O'Dea, 6 G Kelly, 7 S Collins; 8 G Brennan (0-2), 9 C O'Connor (0-1); 17 S McGrath, 10 J Malone, 13 E Cleary (0-3, one sideline, one free); 18 P Collins (0-1), 11 Keelan Sexton, 14 D Tubridy (0-7, four frees, two 45s).
Subs: 12 P Lillis (0-3) for P Collins (28 minutes, black card), 15 P Burke for S McGrath (45 mins), 21 S Hickey for S Collins (52 mins), 20 S Malone for O'Dea (61 mins), 23 D McMahon for Kelly (65 mins, black card).
Referee: Fergal Kelly (Longford)
Attendance: 11,358
---
PREVIEW: @MunsterGAA SFC @Kerry_Official v @GaaClare https://t.co/DUAEut4L9m pic.twitter.com/Pmsi7CdioW

— The GAA (@officialgaa) June 10, 2016
---
---
Ticket Information
Stand (Reserved Seating)
Adult: €15.00
Juvenile: €5.00
Terrace
Adult: €15.00
U-16's: Free of Charge
Student/OAP: Concession of €5.00 at the designated stile prior to entry on Full Price Adult Tickets with valid Id
Click to buy tickets in advance
---
Team News
Kerry Senior Football Team V Clare Munster Championship Semi Final

The Kerry Senior Football Team to play Clare… https://t.co/NmUQxjNDNX

— Kerry GAA (@Kerry_Official) June 10, 2016
The Kerry Senior Football Team to play Clare in the Munster Championship Semi Final on Sunday contains two players making their Championship debuts – Brian Ó Beaglaoich from An Ghaeltacht and Tadhg Morley from Templenoe will man the wing back positions. The team shows 5 changes in personnel from the side that did duty in the recent Allianz League Final and 8 changes in personnel from the side defeated by Dublin in last year's All Ireland Final.
The team, captained by Bryan Sheehan is as follows –
1. Brian Kelly Killarney Legion
2. Shane Enright Tarbert
3. Mark Griffin St Michaels/Foilmore
4. Killian Young Renard
5. Brian Ó Beaglaoich An Ghaeltacht
6. Peter Crowley Laune Rangers
7. Tadhg Morley Templenoe
8. Kieran Donaghy Austin Stacks
9. Bryan Sheehan (C) St Marys
10. Paul Murphy Rathmore
11. Colm Cooper Dr Crokes
2. Donnchadh Walsh Cromane
13. Darran O'Sullivan Glenbeigh-Glencar
14. Paul Geaney Dingle
15. Stephen O'Brien Kenmare
Fir Ionaid:
16. Brendan Kealy Kilcummin
17. David Moran Kerins O'Rahillys
18. Marc Ó Sé An Ghaeltacht
19. Fionn Fitzgerald Dr Crokes
20. Barry John Keane Kerins O'Rahillys
21. Michael Geaney Dingle
22. Jonathan Lyne Killarney Legion
23. Anthony Maher Duagh
24. Padraig O'Connor Killarney Legion
25. Alan Fitzgerald Castlegregory
26. Mark O'Connor Dingle
Bainisteóir: Eamonn Fitzmaurice (Finuge)
Róghnóirí: Diarmuid Murphy (Dingle), Mikey Sheehy (Austin Stacks), Padraig Corcoran (Dingle), Liam Hassett (Laune Rangers).
Additional Info:
Brian Ó Beaglaioch (An Ghaeltacht) – (Pronounced "Briain") is making his Championship debut having made his League debut against Dublin in the AFL Round 1 earlier in the year. He also played in the McGrath Cup in January. Brian won an All Ireland Minor medal with Kerry in 2014 in the full back position and has 2 Hogan Cup (2014 & 2015) and 3 Munster Colleges Corn Uí Mhuirí medals being joint Captain with Mark O'Connor for Pobal Scoil Chorca Dhuibhne last year.
Tadhg Morley (Templenoe) – Tadhg played Minor for Kerry in 2010 and 2011 and Under 21 for the county in 2012 and 2013. He was centre back on the Kerry team that won the All Ireland Junior title last year.
Darran O'Sullivan (Glenbeigh-Glencar) – Who made his championship debut in the All Ireland Final of 2005, is playing in his 60th Championship game on Sunday. He has scored 9-32 in championship football.
Shane Enright, who turns 28 on Sunday, made his Championship debut against Tipperary in 2011 and will play his 25th championship game for Kerry on Sunday.
Allianz League Final – The team shows 5 changes from the side defeated by Dublin in the Allianz League Final with Brian Kelly, Killian Young, Brian Ó Beaglaoich, Tadhg Morley and Paul Geaney replacing Brendan Kealy, Marc Ó Sé, Aidan O'Mahony (Suspended), Fionn Fitzgerald and David Moran.
All Ireland Final 2015 – In all, the team shows 8 personnel changes from the side that took the field in the All Ireland Final last September – .Brian Kelly, Mark Griffin, Brian Ó Beaglaoich, Tadhg Morley, Kieran Donaghy, Bryan Sheehan, Paul Murphy and Darran O'Sullivan replace Brendan Kealy, Fionn Fitzgerald, Aidan O'Mahony, Jonathan Lyne, Anthony Maher, David Moran, Johnny Buckley, and James O'Donoghue.
— Clare Gaa (@GaaClare) June 10, 2016
Clare team to play Kerry
1. Joe Hayes (Lissycasey)
2. Dean Ryan (Éire Óg)
3. Kevin Harnett (Meelick)
4. Martin McMahon (Kilmurry Ibrickane)
7. Sean Collins (Cratloe)
6. Gordon Kelly (St Joseph's Miltown)
5. Cian O'Dea (Kilfenora)
8. Gary Brennan (Clondegad)
9. Cathal O'Connor (Coolmeen)
12. Pearse Lillis (Cooraclare)
10. Jamie Malone (Corofin)
13. Eoin Cleary (St Joseph's Miltown)
11. Keelan Sexton (Kilmurry Ibrickane)
14. David Tubridy (Doonbeg)
15. Pat Burke (Kilmacud Crokes
---
Last year's All-Ireland runners-up have home advantage as they begin the defence of the Munster title against a Clare team that already has a win behind them, having beaten Limerick last Sunday week. Kerry beat Clare by 12 points the last time they met in the Munster championship in Killarney, back in 2008.
LAST FIVE CHAMPIONSHIP CLASHES
2014: Kerry 1-17 Clare 1-13 (Munster semi-final)
2012: Kerry 2-22 Clare 1-6 (All-Ireland qualifier)
2008: Kerry 1-14 Clare 0-5 (Munster semi-final)
2004: Kerry 2-10 Clare 0-9 (Munster quarter-final)
2000: Kerry 3-15 Clare 0-8 (Munster final)
MOST RECENT CHAMPIONSHIP GAME
Kerry 1-17 Clare 1-13 (2014 Munster semi-final)
Paul Geaney (0-6), Bryan Sheehan (1-0) and Paul Murphy (1-0) were top scorers for Kerry. Shane McGrath (1-2) and David Tubridy (0-4) were Clare's top scorers.
---
---
HOW THEY HAVE FARED SO FAR IN 2016
Kerry reached the Allianz League Division 1 final, where they lost to Dublin. (Played 9, Won 6, Lost 3). Clare won the Division 3 title (Played 8, Won 5, Lost 3) before beating Limerick by 0-16 to 0-13 in the Munster quarter-final.
MANAGEMENT
Colm Collins is in his second season as Clare manager; Eamonn Fitzmaurice is his fourth year with Kerry.
DID YOU KNOW?
Clare last beat Kerry in the championship in the 1992 Munster final.
THE ROAD AHEAD
The winners play Cork or Tipperary in the Munster final on July 3; the losers enter Round 2 of the All-Ireland qualifiers on July 2.
---