Munster Junior Football Final – Kerry 0-14 Cork 0-13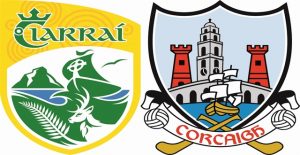 Kerry defeated Cork by 0-14 to 0-13 in the Munster Junior Football Championship Final on Wednesday June 29th at Austin Stack Park Tralee.
---
Paul O Donoghue with the Munster Junior Championship Cup pic.twitter.com/RMiMNE5G1w

— Kerry GAA (@Kerry_Official) June 29, 2016
---
Kerry win third consecutive Munster junior football crown https://t.co/HrH33eodY3 pic.twitter.com/DcaWpihblH

— Irish Examiner Sport (@ExaminerSport) June 29, 2016
Kerry win third consecutive Munster junior football crown
Kerry 0-14 Cork 0-13
Report from the Irish Examiner newspaper
Kerry held off a late Cork surge to secure a third consecutive Munster junior football crown this evening at Austin Stack Park, writes Eoghan Cormican.
The winners were outscored by 0-7 to 0-4 in the second period, but, crucially, never allowed their opponents back on level footing after building up a significant lead in the opening period. Kerry returned back down the tunnel at the break much the happier, Stephen Wallace's side ahead by 0-10 to 0-6. The home outfit were much the smarter out of the blocks but two wasted efforts in the opening two minutes meant it was Cork who were first on the board through Mark Sugrue.
Kerry sharpened the radar thereafter and settled with three white flags on the bounce from Patrick Clifford, Adrian Spillane and Paul O'Donoghue. The visitors never managed to get back level, their best chance at wiping out Kerry's lead falling to Killian O'Hanlon following Kerry's three point-burst. The Cork centre-forward, though, under pressure from a Kerry defender, dragged his goal effort wide.
Having reduced the deficit to the minimum in second-half stoppages, Cork captain Bart Daly attempted to tie proceedings from out the field – his shot curled to the left and wide. Kerry captain Paul O'Donoghue played a leading role with seven points, all but one arriving from the dead ball.
Scorers for Kerry: P O'Donoghue (0-7, 0-5 frees, 0-1 '45); SM Ó Conchúir, A Spillane (0-2 each); P Clifford, N O'Shea, K Hurley (0-1 each).
Scorers for Cork: M Vaughan (0-6); M Sugrue (0-2 frees); E Buckley (0-3 each); K O'Hanlon (0-1).
Cork: A Casey (Kiskeam); D Colfer (Glanworth), P Murphy (Bandon), J Mullins (Éire Óg); D O'Neill (Mayfield), B Daly (Newmarket), K Histon (Cobh); J Corkery (Boherbue), C Brosnan (Brian Dillons); M Vaughan (Millstreet), K O' Hanlon (Kilshannig), R Harkin (Mallow); M Sugrue (Bandon), G O' Connor (Boherbue). D Harrington (Adrigole)
Subs: E Buckley (St Michael's) for Harrington (6 mins, inj); C Moynihan (Gabriel Rangers) for Corkery (24); TJ Brosnan (Newmarket) for O'Neill (HT); P Condon (Mayfield) for O'Connor (48); S O'Leary (Bantry Blues) for C Brosnan (52); N McCarthy (Kinsale) for Murphy (57, inj).
Kerry: D O'Shea (Ballydonoghue); D Brosnan (Gneeveguilla), J Foley (Ballydonoghue), C Ó Lúing (An Ghaeltacht); P Clifford (Templenoe) A Barry (Na Gaeil), L Bastible (John Mitchels); A Spillane (Templenoe), M O'Donnell (Austin Stacks); B Ó Seanacháin (Ballydonoghue), P O'Donoghue (St Mary's), D Foran (St Senan's); SM Ó Conchúir (An Ghaeltacht), K Hurley (St Pats), N O'Shea (Dromid Pearses)
Subs: F Clifford (Waterville) for Brosnan (40 mins); L O'Donoghue for Clifford (46); K O'Sullivan (Kenmare) for O'Donnell (48); R Wharton (Renard) for Foran (51); S O'Sullivan (Kenmare) for Hurley (54); A Barry (Brosna) for S O'Sullivan (62).
Referee: D Grogan (Tipperary)
---
Team News
The Kerry Junior team V Cork has been announced:… https://t.co/oLewu9qg7I

— Kerry GAA (@Kerry_Official) June 27, 2016
The Kerry Junior team to play Cork in the Munster Junior Football Final in Austin Stack Park Tralee on Wednesday evening at 7:30 shows four changes in personnel from the side that defeated Limerick in the semi final; Jason Foley comes into the full back line instead of Fionán Clifford; Andrew Barry starts in the half back line instead of Robert Wharton; David Foran comes into the half forward line in place of Liam Carey and Sean Michéal Ó Conchúir, a late withdrawal in the semi final due to injury, recovers to take his place at right corner forward to the exclusion of Dara Roche.
Stephen O'Sullivan, Sean T Dillon and Shane Fitzmaurice are added to the match day squad.
The team captained by Paul O'Donoghue of St Marys is as follows:
1 Darragh O'Shea Ballydonoghue
2 Darren Brosnan Gneeveguilla
3 Jason Foley Ballydonoghue
4 Cathal Ó Lúing An Ghaeltacht
5 Patrick Clifford Templenoe
6 Andrew Barry Na Gaeil
7 Laurence Bastible John Mitchels
8 Adrian Spillane Templenoe
9 Michael O'Donnell Austin Stacks
10 Brian Ó Seanacháin Ballydonoghue
11 Paul O'Donoghue (C) St Marys
12 David Foran St Senans
13 Sean Michéal Ó Conchúir An Ghaeltacht
14 Kieran Hurley St Pats
15 Niall O'Shea Dromid Pearses
Fir Ionaid:
16 Kieran Fitzgibbon Kenmare
17 Kevin O'Sullivan Kenmare
18 Fionán Clifford Waterville
19 Robert Wharton Renard
20 Dara O'Shea Kenmare
21 Stephen O'Sullivan Templenoe
22 Lee O'Donoghue Glenflesk
23 Conor O'Shea St Marys
24 Adam Barry Brosna
Bainistíocht
Bainisteóir: Stephen Wallace (Ardfert)
Róghnóirí: Timmy O'Sullivan (Kerins O'Rahillys), Jimmy Keane (Brosna), Brian Hickey (Skellig Rangers).
Additional Players on the Kerry Junior Panel:
Sean T. Dillon (St Senans) and Shane Fitzmaurice (Brosna)
The Cork team for the Munster Junior Football Final on Wednesday has been announcedhttps://t.co/nh2YNYrK59

— Cork GAA (@OfficialCorkGAA) June 27, 2016
The Cork Junior Football team to play Kerry in the Munster Junior Football Final on Wednesday 29th June @ 7.30pm in Austin Stack Park, Tralee has been announced as follows
(1) Anthony Casey (Kiskeam)
(2) Diarmuid Colfer (Glanworth)
(3) Peter Murphy (Bandon)
(4) John Mullins (Eire Og)
(5) David O'Neill (Mayfield)
(6) Bart Daly (Newmarket)
(7) Kieran Histon (Cobh)
(8) John Corkery (Boherbue)
(9) Cillian Brosnan (Brian Dillons)
(10) Michael Vaughan (Millstreet)
(11) Killian O'Hanlon (Kilshannig)
(12) Ryan Harkin (Mallow)
(13) Mark Sugrue (Bandon)
(14) Gerry O'Connor (Boherbue)
(15) David Harrington (Adrigole)
(16) Anthony Kidney (Passage)
(17) Colm Hyde (Naomh Aban)
(18) Matthew Taylor (Mallow)
(19) Niall McCarthy (Kinsale)
(20) T.J Brosnan (Newmarket)
(21) Sean O'Leary (Bantry Blues)
(22) Chris Moynihan (Gabriel Rangers)
(23) Eoghan Buckley (St Michaels)
(24) Paul Condon (Mayfield)
---