Munster Minor Hurling S-Final – Tipperary 0-23 Cork 1-15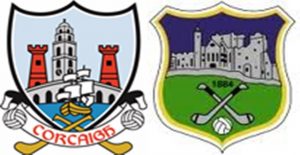 Tipperary defeated Cork by 0-23 to 1-15 in the Electric Ireland Munster Minor Hurling Championship Semi-Final on Thursday June 30th at Pairc Ui Rinn.
---
Second-half surge sees @TipperaryGAA defeat @OfficialCorkGAA in Munster Minor HC S/Final > https://t.co/Ri85MjmImn pic.twitter.com/pjzd3ybzCY

— The GAA (@officialgaa) June 30, 2016
---
Tipp's blistering second-half blast adds to Rebel woes https://t.co/64d7DSI39n pic.twitter.com/fiQse9qabh

— Irish Examiner Sport (@ExaminerSport) June 30, 2016
Tipp's blistering second-half blast adds to Rebel woes
Tipperary 0-23 Cork 1-15
Report from the Irish Examiner newspaper
Tipperary produced a blistering second-half performance – Liam Cahill's young charges outscored their opponents by 0-14 to 0-3 from the 33rd minute onwards — to send Cork packing from the Munster championship and, in the process, set up a final date with Limerick, writes Eoghan Cormican.
Cork, following three unanswered points from Evan Sheehan (0-2) and Jack O'Connor within as many minutes of the restart, were 1-12 to 0-9 clear and well on the road to a first Munster minor final since 2008.
Josh Beausang's fortuitous goal on 28 minutes, arriving as it did off the back of a mistake in the Tipperary defence, had provided Cork with a shot of brio which was then added to by Sheehan's interval introduction.
What followed thereafter was as much Cork collapsing as it was Tipperary assuming control in each of the key sectors. Management, too, can take credit in their astonishing comeback effort — subs Cian Flanagan and Dylan Walsh contributed five points between them when sprung from the bench.
Four of said scores arrived during the first of Tipperary's mini-spurts which would dominate the second-half plot. Added to a Lyndon Fairbrother free, the five unanswered points had the Premier boys back within the minimum of Cork on 38 minutes. A Beausang free on 40 minutes served as a temporary band aid on the cut. The bleeding, though, simply couldn't be stopped and Cork would add to their tally on only two further occasions in the remaining 20 minutes of action.
The second Tipperary burst yielded four without reply — Cian Darcy and three from the stick of full-forward Fairbrother steering Cahill's side into a 0-18 to 1-13 lead. Cork again attempted to cover the wound. Beausang (free), one of Cork's better performers on the evening, particularly in the first-half, and Matthew Bradley split the posts in successive plays to tie matters at 1-15 to 0-18.
With the clock reading 52 minutes, the next punch had to be made count. Tipperary threw first and the connection was sweet. Paddy Cadell tore down the right sideline before firing over a most audacious effort. Brian McGrath followed it with a monstrous free from inside his own half. Cork were sinking and the die was cast when Ger Browne and Walsh raised white flags within a minute of each other.
Denis Ring's side went in search of goals, their efforts repelled by Tipp 'keeper Ciaran Barrett and his defence. The post-mortems on Leeside will inevitably focus on what transpired at the change of ends for there was little wrong with their first-half showing. By the end of the first quarter, a 0-5 to 0-2 lead had been established; full-forward Beausang accounting for all but one of this opening flutter. The visitors roared back with three in-a-row from Darcy, Fairbrother (free) and Doody.
Rebel 'keeper Ger Collins produced a fine double-save to deny Darcy in the ensuing play, luck appearing to side with the home outfit under the rain. Both sides traded blow for blow until Beausang whipped to the net — the scoreboard read 1-9 to 0-9 at the interval. The second period went to Tipperary by unanimous decision, Cork left to ponder a third successive Munster semi-final defeat. Of the three, this one will hurt the most.
Winning mamager Liam Cahill hailed the "complete" display of his troops in the second-half, Denis Ring lamented Cork's "terrible collapse". "Physically, we were blown out of it," said Ring. "Their half-back line and midfield took over. We were losing every break around the middle. We were in a very good position and to lose it from there was terrible."
Over to the seniors.
Scorers for Tipperary: L Fairbrother (0-10, 0-8 frees); D Walsh (0-4); B McGrath (0-1 free, 0-1 '65), C Darcy (0-2 each); C Flanagan, P Cadell, G Browne (0-1 free), M Kehoe, R Doody (0-1 each)
Scores for Cork: J Beausang (1-7, 0-6 frees); J O'Connor (0-3); E Sheehan (0-2); L Healy, M Bradley, D Gunning (0-1 each).
Cork: G Collins (Ballinhassig); P Lyons (Mallow), N O'Leary (Castlelyons), D Guiney (Shandrum); J Cooper (Éire Óg), S O'Leary Hayes (Midleton), E Clifford (Cloughduv); L Healy (Sarsfields), C O'Mahony (Ballinhassig); S Condon (Habour Rovers), M Bradley (Aghabullogue), T Deasy (Blackrock); J O'Connor (Sarsfields), J Beausang (St Colman's), D Gunning (Na Piarsaigh).
Subs: R Howell (Douglas) for Lyons (HT); E Sheehan (Na Piarsaigh) for Condon (HT); J Saich (Kilworth) for O'Mahony (40); B Turnball (Douglas) for Healy (49); J Geary (Shandrum) for Gunning (58).
Tipperary: C Barrett (Clonmel Óg); K O'Dwyer (Killenaule), M Whelan (Carrick Davins), G Dunne (Holycross-Ballycahill); J Cahill (Kilruane McDonaghs), B McGrath (Loughmore-Castleiney), J Morris (Nenagh Eire Og); P Cadell (JK Brackens), G Browne (Knockavilla Donaskeigh Kickhams); R Doody (Cappawhite), C English (Fr Sheehy's), M Kehoe (Kilsheelan-Kilcash); E Barry (Killenaule), L Fairbrother (JK Brackens), C Darcy (Kilruane McDonaghs)
Subs: C Flanagan (Newport) for English (27 mins); D Walsh (Ballingarry) for Barry (HT); K Breen (Knockavilla Donaskeigh Kickhams) for Dunne (34); S Neville (Lattin/Cullen) for Morris (47); C Stakelum (Thurles Sarsfields) for Doody (60).
Referee: J Murphy (Limerick)
---
Team News
Tipperary Minor Hurling team to play Cork announced https://t.co/LN4WsJbP1b

— Tipperary GAA (@TipperaryGAA) June 29, 2016
The Tipperary team to play Cork in the Electric Ireland Munster Minor Hurling Championship Semi-Final in Páirc Uí Rinn, at 7.30pm tomorrow night, June 30th has been announced by manager Liam Cahill.
The side shows two changes to that which lined out against Clare in the last round. In come Jake Morris and Colin English as Liam Cahill's team continues in its bid to retain their Munster crown.
The team lines out as follows –
1. Ciarán Barrett – Clonmel Óg
2. Killian O'Dwyer – Killenaule
3. Michael Whelan – Carrick Davins
4. Jerome Cahill – Kilruane MacDonaghs
5. Gavin Dunne – Holycross-Ballycahill
6. Brian McGrath (Capt.) – Loughmore-Castleiney
7. Jake Morris – Nenagh Éire Óg
8. Paddy Cadell – J.K. Brackens
9. Ger Browne – Knockavilla Donaskeigh Kickhams
10. Rian Doody – Cappawhite
11. Mark Kehoe – Kilsheelan-Kilcash
12. Cian Darcy – Kilruane MacDonaghs
13. Shane Neville – Lattin Cullen
14. Colin English – Fr. Sheehy's
15. Lyndon Fairbrother – J.K. Brackens
Subs:
16. Barry Hogan – Kiladangan
17. Cian Flanagan – Newport
18. Eoin Barry – Killenaule
19. Kieran Breen – Knockavilla Donaskeigh Kickhams
20. Jerry Kelly – Borris-Ileigh
21. Robbie Quirke – Cappawhite
22. Dylan Walsh – Ballingarry
23. Diarmuid Ryan – Clonakenny
24. Conor Stakelum – Thurles Sarsfields
The Cork team for the Munster Minor Hurling Championship Semi-Final v Tipperary on Thursday has been announced https://t.co/2AWO4xCTD5

— Cork GAA (@OfficialCorkGAA) June 28, 2016
The Cork team to play Tipperary in the Munster Minor Hurling Championship Semi-Final on Thursday 30th June has been announced as follows.
1 Ger Collins Ballinhassig
2 Paul Lyons Mallow
3 Niall O Leary Castlelyons (Captain)
4 Darragh Guiney Shandrum
5 John Cooper Eire Og
6 Sean O Leary Hayes Midleton
7 Eoghan Clifford Cloughduv
8 Liam Healy Sarsfield (Vice Captain)
9 Cian O Mahoney (Ballinhassig)
10 Stephen Condon (Harbour Rovers)
11 Matthew Bradley Aghabullogue
12 Tadhg Deasy Blackrock
13 Jack O Connor Sarsfield
14 Josh Beausang St Colman's
15 Danny Gunning Na Piarsaigh
16 Barry Kenneally Cuchulann's
17 Sean O Meara Midleton
18 Jeremy Saich Kilworth
19 Ross Howell Douglas
20 John O Sullivan Blackrock
21 Evan Sheehan Na Piarsaigh
22 Robbie Bourke Ballincollig
23 Brian Turnbull Douglas
24 Ryan Walsh Cuchulann's
25 John Geary Shandrum
26 Kelvin Forde Na Piarsaigh
27 Brian Buckley Shandrum
28 Jack Twomey Kilshannig
Extended Panel
Kevin Murphy Killeagh/ Ita's,,
Craig Hannifin Na Piarsaigh ,
Barry Murphy Castlelyons,
Liam O Shea Lisgoold ,
Eoghan O Leary Courcey Rovers,
Robert Downey Glen Rovers,
Ross O Donovan Ballincolllig,
Ben Keohane Ballincollig ,
Eoin O Sullivan St. Colman's
INJURED-
Diarmaid Linehan Ballyhooley,
James Keating Kildorrery,
David Jones Shandrum
Backroom team for Cork Minors.
Strength and conditioning – Richard O Leary –
Physio – John O Meara,
Doctor – Dr Paddy Burke
Logistics – Derek Connolly
Stats – Mikie Mortell, Ml McGrath,
Video Analysts- Len Browne, Daire Ring, John Ring and Sean O'Donnell
Dressing room assistant – Ian Mortell
---