Munster Senior Hurling S-Final – Limerick 2-18 Tipperary 2-16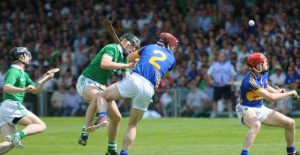 Limerick defeated Tipperary by 2-18 to 2-16 in the Munster GAA Senior Hurling Championship Semi-Final on Sunday June 1st at Semple Stadium Thurles.
---
---
Report: @LimerickCLG are through to the Munster final after emerging from a classic encounter with @TipperaryGAA: http://t.co/PUCsqNgFB9

— The GAA (@officialgaa) June 1, 2014
Limerick show their mettle as Tipperary come up just short again http://t.co/1yv8hANe2j

— Irish Times Sport (@IrishTimesSport) June 1, 2014
Superb Limerick hurlers back in Munster final after Tipperary win: THE Limerick senior hurlers have beaten Tip… http://t.co/sI8x6rTgt7

— Limerick Leader (@Limerick_Leader) June 1, 2014
Munster SHC: Limerick emerge from a classic
MUNSTER SHC SEMI-FINAL: TIPPERARY 2-16 LIMERICK 2-18
Report from the GAA.ie web site
Munster champions Limerick are through to another provincial senior hurling final after stunning Tipperary in Thurles on Sunday afternoon.
The Shannonsiders repeated last year's magnificent success over the Premier County by scoring a two-point win at Semple Stadium. Despite losing joint-manager Donal O'Grady recently, Limerick delivered another big championship display to leave Tipp heading for the qualifiers again. In front of 24,962 spectators in Thurles, TJ Ryan's battlers came from three points down late on to record a landmark win.
Shane Dowling, scorer of 2-9, banged home his only score from play, an equalising goal in the 68th minute. Sub Thomas Ryan pushed Limerick a point clear in the first minute of stoppage time and with referee Barry Kelly about to blow for full-time, Seamus Hickey stormed up the pitch to land the insurance score at the Killinan End.
And so Limerick are through to another Munster final on July 13, with Cork, Waterford or Clare to provide the opposition.
But at half-time, there was nothing to separate Limerick and Tipperary as the sides went in level at 1-8 apiece. Dowling banged home a 20m free for the game's opening goal but powerful Tipp forward Patrick 'Bonner' Maher replied in the 21st minute with a goal for the hosts.
That strike gave Tipp some badly-needed oxygen after they had trailed by 0-4 to 1-5. But Limerick hit back again to lead by four points – 1-8 to 1-4 – before a point from John O'Dwyer and three from Seamus Callanan (including two frees) ensured parity at the break.
Tipp got off to the ideal start in the second half when Gearóid Ryan netted, but the sides were level five times before that late, late intervention from the Treaty men. Remarkably, this was Limerick's first championship win over Tipperary in Thurles since 1973 – and their first Munster championship victory of any description at this venue in 17 years.
***
Scorers for Tipperary: G Ryan 1-2, Patrick Maher 1-0, S Callanan 0-5 (3f), J O'Dwyer 0-5 (1f), N McGrath, N O'Meara, L Corbett & D Maher 0-1 each.
Scorers for Limerick: S Dowling 2-9 (1-9f), D O'Grady & K Downes 0-2 each, S Hickey, P Browne, D Hannon, G Mulcahy & T Ryan 0-1 each.
TIPPERARY: D Gleeson; C Barrett, Pádraic Maher, M Cahill; J Barry, B Maher, C O'Mahony; K Bergin, S McGrath; G Ryan, N McGrath, N O'Meara; J O'Dwyer, S Callanan, Patrick Maher
Subs: L Corbett for Barry (54), D Maher for O'Meara (62), C O'Brien for Cahill (65), S Bourke for O'Dwyer (68), T Stapleton for S McGrath (70).
LIMERICK: N Quaid; T Condon, R McCarthy, S Hickey; P O'Brien, W McNamara, G O'Mahony; J Ryan, P Browne; D Hannon, D O'Grady, S Dowling; G Mulcahy, K Downes, S Tobin
Subs: T Ryan for Tobin (61), M Ryan for Mulcahy (70+2).
Referee: B Kelly (Westmeath)
---
Team News
The Tipperary Senior Hurling team to play Limerick includes 3 Championship debutants – Cathal Barrett, James Barry and Niall O'Meara.
Tipperary (SH v Limerick) – Darren Gleeson (Portroe); Cathal Barrett (Holycoss-Ballycahill), Padraic Maher (Thurles Sarsfields), Michael Cahill (Thurles Sarsfields); James Barry (Upperchurch-Drombane), Brendan Maher (Borris-Ileigh – Captain), Conor O'Mahony (Newport); Kieran Bergin (Killenaule), James Woodlock (Drom & Inch); Gearoid Ryan (Templederry Kenyons), Patrick Maher (Lorrha), John O'Dwyer (Killenaule); Noel McGrath (Loughmore-Castleiney), Seamus Callanan (Drom & Inch), Niall O'Meara (Kilruane MacDonaghs)
Limerick (SH v Tipperary) – 1. Nickie Quaid (Effin), 2. Seamus Hickey (Murroe/Boher), 3. Richie McCarthy (Blackrock), 4. Tom Condon (Knockaderry),5. Paudie O Brien (Vice Captain) (Kilmallock), 6. Wayne McNamara (Adare), 7. Gavin O Mahony (Kilmallock), 8. James Ryan (Garryspillane), 9. Paul Browne (Bruff), 10. Shane Dowling (Na Piarsaigh), 11. Donal O Grady (Captain)(Granagh/Ballyingarry), 12. Declan Hannon (Adare), 13. Graeme Mulcahy (Kilmallock), 14. Kevin Downes (Na Piarsaigh) 15. Sean Tobin (Murroe/Boher)
---
---
Ticket Information
Good quality tickets, including central stand tickets for this game are now available for sale online and via Centra & Supervalu stores. See the ticket pricing structure below.
Adults Covered Stand – €30
Adults Uncovered Stand – €25
Adults Killinan End Terrace – €15
Adults Town End Terrace – €15
Juveniles (Under 16s)  – €5
To book your tickets now, visit tickets.ie or click here
---
---
Irish Rail Discounts
Tipperary vs Limerick – Web fares from €9.99 each way
---
---
Munster GAA Championship Dual Package – Limerick v Tipperary
An individual pre-purchasing a package ticket for the both the Limerick / Tipperary Football Quarter-Final in the Gaelic Grounds (on Saturday May 31st) and the Limerick / Tipperary Hurling Semi-Final in Thurles (on Sunday June 1st) will get €10 off the overall price. For example, instead of purchasing a general admission adult ticket at €15 for the football and a €30 covered stand ticket for the hurling (total of €45), by availing of the package ticket the price will be reduced from €45 to €35.
Note that the Dual Package must be pre-purchased via tickets.ie or Centra & Supervalu outlets and subscribers will get 1 ticket which will work for the games on both May 31st and June 1st.
Adults Covered Stand (Hurling) + Adults General Admission (Football) – €35
Adults Terrace (Hurling) + Adults General Admission (Football) – €20
The usual Student / OAP concessions will also apply, meaning that a person in these categories will get entry to both games for just €20 using the package to gain entry to the Covered Stand for the Hurling game and just €10 if you wish to watch the Hurling game from the Terrace.
Student / OAP Covered Stand (Hurling)
+ Student / OAP General Admission (Football) – €20
(purchase an Adult package ticket at €35 & get a €5 concession on entry to the Football game and a €10 concession on entry to the Hurling game via a designated stile on each night subject to the production of valid ID)
Student / OAP Terrace (Hurling) + Student / OAP General Admission (Football) – €10
(purchase an Adult package ticket at €20 & get a €5 concession on entry to both games via a designated stile on each night subject to the production of valid ID)
Click here to purchase the Package deal for the Football and Hurling games
---
---
Club Juvenile Discount Package
A club that pre-purchases a Club Juvenile Discount Package will get 10 juveniles entry to the stand for €3 and one adult mentor free of charge with every 10 juveniles. This works out at €2.72 per person. Clubs should contact Mary O'Mahoney at Munster GAA (061-338593 or mary.omahoney.munster@gaa.ie) for more details of how to book this package.
---
Match Officials
Referee – Barry Kelly (Westmeath)
Stand By Referee – James McGrath (Westmeath)
Linesman – Diarmuid Kirwan (Cork)
Sideline Official – Owen Elliott (Antrim)
Umpires – Michael Coyle, Seamus O'Brien, Paddy Walsh, Paul Reville (all Westmeath)
Next Round – the winners qualify for the Munster Final against Cork / Waterford or Clare on Sunday July 13th at 4pm.
For the Record
Limerick
Tipperary
2014 Team Manager
TJ Ryan
Eamon O'Shea
2013 Championship Performance
Defeated Tipperary by 1-18 to 1-15 in Munster semi-final at the Gaelic Grounds on June 9th.

Won Munster final defeating Cork by 0-24 to 0-15 at the Gaelic Grounds on July 14th.

Lost All Ireland semi-final to Clare by 1-22 to 0-18 at Croke Park on August 18th.

Lost to Limerick by 1-18 to 1-15 in Munster semi-final at the Gaelic Grounds on June 9th.

Lost to Kilkenny by 0-20 to 1-17 in Phase 2 of the qualifiers at Nowlan Park on July 6th.

Number of Munster Senior Hurling titles
19
40
Last Munster Senior Hurling Title
2013
2012
Munster Senior Hurling Championship Record since 2000
Played – 23
Won – 5
Lost –  13
Drawn – 5
Played – 33
Won – 21
Lost –  9
Drawn – 3
Last meeting in the Munster Senior Hurling Championship
June 9th 2013 – Limerick 1-18 Tipperary 1-15 (Munster semi-final at Gaelic Grounds, Limerick) – a last quarter Limerick surge saw them overcome a 4 point Tipperary lead to secure a deserved 3 point victory. Click here for more details
Munster GAA HURLING Senior Championship 2014
Quarter-Final
Sunday May 25th 
@ Semple Stadium, Thurles          Cork 1-21      Waterford 1-21                               
Quarter-Final Replay
Sunday June 8th  
@ Semple Stadium, Thurles          Cork v Waterford                            3.30pm
Semi-Finals
Sunday June 1st
@ Semple Stadium, Thurles          Limerick v Tipperary                     4pm
Sunday June 15th
@ Gaelic Grounds Limerick           Clare v Waterford or Cork            4pm
or Semple Stadium Thurles
Final
Sunday July 13th
4pm throw-in
2014 Munster Senior Hurling Championship Matches played to date
Cork 1-21 Waterford 1-21 – May 25th at Semple Stadium Thurles (Munster Quarter-Final)
CORK: A Nash; S O'Neill, D Cahalane, S McDonnell; C Joyce, M Ellis, L McLoughlin; A Walsh, D Kearney; C McCarthy, C Lehane, P Cronin (c); A Cadogan, S Harnedy, P Horgan
Subs: B Cooper for McCarthy (35); B Lawton for Kearney (50); S Moylan for Cronin (53); J Coughlan for Harnedy (65).
Scorers for Cork: P Horgan 0-12 (8f, 1 65); A Cadogan 0-4; B Cooper 1-1; A Walsh 0-2 (1 s/l); C Lehane, S Harnedy 0-1 each
WATERFORD: S O'Keeffe; N Connors, L Lawlor, B Coughlan; J Nagle, K Moran, T Burke; M Walsh (c), E Barrett; C Dunford, Pauric Mahony, A Gleeson; B O'Sullivan, S Walsh, J Dillon
Subs: R Foley for Barrett (inj 22); S Fives for Coughlan (42); R Barry for Dunford (47); D Breathnach for Dillon (53); S Prendergast for Walsh (59).
Scorers for Waterford: P Mahony 0-11 (9f); A Gleeson 1-2 (0-1 s/l); J Nagle 0-2; B O'Sullivan 0-2; T Burke, S Walsh, J Dillon, S Prendergast, 0-1 each.
Referee: Brian Gavin (Offaly)
2014 Top Scorers – Munster Senior Hurling Championship
Patrick Horgan (Cork) –  0-12 (0-8 frees, 1 65)
Pauric Mahony  (Waterford) – 0-11 (0-9 frees)
Austin Glesson (Waterford) – 1-2 (0-1 s/l)
Alan Cadogan (Cork) – 0-4
Bill Cooper (Cork) – 1-1
Useful Information
The 4 games in the 2013 Munster Senior Hurling Championship produced an average of 37.5 scores per game. However the average was higher in the previous 2 years with 40.5 scores per game in 2012 and 43 scores per game in the 2011 Munster SHC. It was 34 scores per match in the 2010 Munster SHC. The highest scoring game in 2013 yielded 39 scores, the Munster final victory for Limerick over Cork by 0-24 to 0-15. The average so far in 2014 is 44 scores.
Limerick have not defeated Tipperary in Thurles since 1973 – since then there have been 7 games – Tipperary won 3 (1991, 2006, 2012) and there were 4 draws (1975, 1981, 2005, 2007)
Last Sunday's quarter-final draw between Cork and Waterford was the first draw in the Munster championship since 2010 when Cork and Waterford drew in the Munster final.
Waterford (Derek McGrath) and Limerick (TJ Ryan) both have new managers for the 2014 season. All 5 counties are managed by natives of their own county.
The Munster Championship will be without 2 players this year who played in over 40 Munster championships between them – Tony Browne of Waterford and Brendan Cummins of Tipperary.
Limerick have 1 current hurling All Star – Richie McCarthy while Tipperary have none.
Tipperary have won 10 of their last 12 matches in the Munster Senior Hurling Championship dating back to 2008, winning 4 of the 6 Munster titles on offer in that period. Their only defeats came at the hands of Cork in May 2010, a 3-15 to 0-14 defeat at Pairc Ui Chaoimh and in June 2013, a 1-18 to 1-15 defeat at Páirc na nGael by Limerick.
Until last year, Limerick had won only 1 of their previous 17 Munster Senior Hurling Championship matches, a victory over Tipperary in the 2007 Munster Semi-Final 2nd replay at Pairc na nGael. During that period, Limerick drew 5 times. Limerick's last Championship victory away from Pairc na nGael came in 2001 with victories over Cork and Waterford at Pairc Ui Chaoimh.
Clare have not drawn a match in the Munster Senior Hurling Championship since finishing level with Tipperary in 1999.
Limerick and Tipperary have both lost 26 Munster Senior Hurling Finals. Cork have lost 30.
The first 3 games in the Munster Championship in 2014 will be refereed by the 3 men who between them have refereed the last 5 senior hurling All Irelands – Cork v Waterford (Brian Gavin – 2011 final and 2013 drawn final), Tipp v Limerick (Barry Kelly – 2012 drawn final) and Clare v Cork / Waterford (James McGrath – 2012 and 2013 replays). Interestingly, these 3 men refereed all 4 games in last year's Munster championship with McGrath in charge of the quarter-final and final and Gavin and Kelly each refereeing a semi-final. They refereed 3 of the 4 games in the 2012 championship – Cathal McAllister of Cork refereed the final. Gavin and Kelly refereed 3 of the 4 games in 2011 – James Owens refereed the 4th. Barry Kelly refereed the last Semple Stadium championship meeting of Tipperary and Limerick in 2012.
Three of the 4 games in the 2013 Munster SH Championship were played in Páirc na nGael Limerick. In the previous 4 years only 2 Munster SHC games in total were played there.
With Limerick's victory last year, Clare are the only one of the 5 participating counties not to have one the Munster SH Championship since the turn of the millennium.
Declan Hannon of Limerick was the top scorer in last year's Munster championship with 0-17 from 2 games. Patrick Horgan of Cork was second in the list with 0-12 from 2 games. He equalled that on Sunday when scoring 0-12 against Waterford.
Munster GAA HURLING Senior Championship Roll Of Honour
Cork (51) – 1888,1890, 1892, 1893, 1894, 1901, 1902, 1903, 1904, 1905, 1907, 1912, 1915, 1919, 1920, 1926, 1927, 1928, 1929, 1931, 1939, 1942, 1943, 1944, 1946, 1947, 1952, 1953, 1954, 1956, 1966, 1969, 1970, 1972, 1975, 1976, 1977, 1978, 1979, 1982, 1983, 1984, 1985, 1986, 1990, 1992, 1999, 2000, 2003, 2005, 2006
Tipperary (40) – 1895, 1896, 1898, 1899, 1900, 1906, 1908, 1909, 1913, 1916, 1917, 1922, 1924, 1925, 1930, 1937, 1941, 1945, 1949, 1950, 1951, 1958, 1960, 1961, 1962, 1964, 1965, 1967, 1968, 1971, 1987, 1988, 1989, 1991, 1993, 2001, 2008, 2009, 2011, 2012
Limerick (19) – 1897, 1910, 1911, 1918, 1921, 1923, 1933, 1934, 1935, 1936, 1940, 1955, 1973, 1974, 1980, 1981, 1994, 1996, 2013
Waterford (9) – 1938, 1948, 1957, 1959, 1963, 2002, 2004, 2007, 2010
Clare (6) – 1889, 1914, 1932, 1995, 1997, 1998
Kerry (1) – 1891
Munster GAA HURLING Senior Championship – List of Winning Teams
Visit the Munster GAA web site History section to view the complete list of each winning team since the competition began 1888 – https://munster.gaa.ie/history/sh_teams/
Munster Senior HURLING Cup
No Name – Presented by Munster Council in 1928, new cup presented in 1990
All Ireland GAA HURLING Senior Championship
In the Senior Hurling All Ireland Roll of Honour, Cork are second on the list with 30 titles, 4 behind Kilkenny. Tipperary have won 26 All-Ireland titles. Limerick have 7 titles, their last one in 1973. Clare have won 4 titles in 1914, 1995, 1997 and 2013 while Waterford's two titles came in 1948 and 1959. Kerry won the All-Ireland Senior Hurling Final in 1891.
Contact Munster GAA PRO Ger Ryan at pro.munster@gaa.ie for more information
---
This Sunday, watch @TipperaryGAA v @LimerickCLG in the @MunsterGAA Hurling Semi-Final from 15:30 on @RTEplayer as part of our @GAAGO trial

— GAAGO (@gaago) May 29, 2014
---
Supervalu & Centra locations in Tipperary and Limerick
Centra Templemore Tipperary
Centra Nenagh Tipperary
Centra Thurles Tipperary
Centra Dundrum Tipperary
Centra Clonmel Tipperary
Centra Newport Tipperary
Centra Borrisleigh Tipperary
SuperValu Roscrea Tipperary
SuperValu Carrick on Suir Tipperary
SuperValu Cahir Tipperary
SuperValu Cashel Tipperary
SuperValu Tipperary Tipperary
SuperValu Tipperary Co-op Tipperary
Centra Bansha Tipperary
SuperValu Clonmel Tipperary
Centra Ennis Rd – Rodahan's Limerick
Centra Drumcollogher Limerick
Centra Kilfinnane Limerick
Centra Hospital Limerick
Centra Raheen Limerick
Centra Bruff Limerick
SuperValu Abbeyfeale Limerick
SuperValu Castleconnell Limerick
SuperValu Corbally Limerick
SuperValu Kilmallock Limerick
SuperValu NewcastleWest – Dooley's Limerick
SuperValu NewcastleWest – Garvey's Limerick
SuperValu Askeaton Limerick
Centra Patrickswell – Hodkinson's Limerick
Centra Dooradoyle Limerick
Centra Castletroy Limerick
Centra Clarina Limerick
Centra Pallasgreen Limerick