Munster Minor Hurling 1st Playoff – Clare 6-25 Kerry 0-11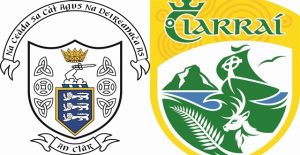 Clare defeated Kerry by 6-25 to 0-11 in the Electric Ireland Munster Minor Hurling Championship 1st Playoff game on Tuesday April 22nd at the Cusack Park Ennis.
Shanagher does the trick for Clare
Report from the Irish Independent newspaper
Clare made light work of defeating Kerry at Cusack Park in Ennis, handing out a 6-25 to 0-11 drubbing in a play-off game in the Munster minor hurling championship.
Having lost to Waterford in the opening round, the Banner were determined to get back to winning ways and, unfortunately for Kerry, they felt the backlash. Though Clare grabbed the opening score, a goal by full-forward Aaron Shanagher within 75 seconds, the opening half was not completely one-way traffic.
Credit to Kerry, by the 25th minute they found themselves only two points adrift (1-6 to 0-7). Clare boss Eamon Fennessy labelled his side's first-half display as "diabolical". Nevertheless Clare's return of 1-4 to no score in the final five minutes of the opening half helped to steady a few nerves. In-form corner-forward Colin Corbett recorded Clare's second goal on the stroke of half-time.
It proved to be the score that opened the floodgates in the second period. Clare outscored the Kingdom by 4-15 to 0-3 after half-time. Goals by Shanagher in the 39th and 50th minute plus two others from centre-forward Michael O'Shea and substitute Shane Conroy mortally wounded Kerry.
Scorers – Clare: A Shanagher 3-6 (4fs), C Corbett 1-5, I Galvin 0-6, M O'Shea 1-2, S Conway 1-0, M O'Malley, P McNamara 0-2 each, L O'Donovan, B Guilfoyle 0-1 each. Kerry: B Barrett 0-9 (8fs, 1 '65'), F Mackessy, J Brick 0-1 each.
Clare – J Loughnane; D Power, S Downey, R Hayes; J McCarthy, D Walsh (capt), D Fitzgerald; M O'Malley, P McNamara; D Chaplin, M O'Shea, I Galvin; B Guilfoyle, A Shanagher, C Corbett
Subs: L O'Donovan for Chaplin (h-t), C Smyth for McNamara (43), C Fitzgerald for O'Shea (45), J Cunningham for O'Malley (46), S Conway for Guilfoyle (51).
Kerry – S Murphy; J Barrett, D Shanahan, A O'Mahony; S O'Sullivan, M Leane, R Collins; B Barrett, M Lynch; F Mackessey (capt), A Murphy, J Brick; Joe Diggins, J Goulding, J Buckley.
Subs: J Conway for Mackessy (40), D O'Carroll for Buckley (46), Jason Diggins for Lynch (51), W O'Connor for O'Sullivan (53) T McElligott for Murphy (57).
Ref – P Kelly (Tipperary)
Fixture Details
TUESDAY APRIL 22ND
ELECTRIC IRELAND MUNSTER MINOR HURLING CHAMPIONSHIP PLAY-OFF 1
Clare v Kerry
Venue: Cusack Park, Ennis 6.45pm
Referee – Philip Kelly (Tipperary)
Standby Referee – John McCormack (Tipperary)
Linesman – Michael Murphy (Tipperary)
Sideline Official – Sean Lonergan (Tipperary)
Extra time – (2 periods x 10 minutes only) to be played if sides finish level at the end of 60 minutes
Next Round – the winners will play Tipperary at a Clare or Kerry venue in the second round Play-off game on Wednesday April 30th.
Admission Prices –
Adult – €10
Student/OAP with appropriate ID Card – €5
Under 16s are free
PRO Contact Details
Clare PRO Sean O'Halloran – pro.clare@gaa.ie and 087 247 7803
Kerry PRO John O'Leary – pro.kerry@gaa.ie and 086 302 6041
Contact Munster GAA PRO Ger Ryan at pro.munster@gaa.ie for more information
For the Record
Clare

Kerry

2014 Team Management

Eamon Fennessy – Manager

Kenny Morrissey – Trainer

Alan Cunningham

Martin Duggan 

Ian Brick (Kilmoyley) – ManagerAidan O'Mahony (St Brendans) Stephen Goggin (Causeway)

2014 Team Captain

Darragh Walsh
(Éire Óg)

Fionán Mackessy (Ardfert)
2013 Championship Performance
Lost to Cork by 3-15 to 2-14 in the first round and to Waterford by 4-18 to 1-10 in the play-off for a semi-final place.
Did not participate but won All Ireland Minor B final.In 2012 lost to Tipperary and Cork.
Number of Munster Minor Hurling titles

4

0

Last Munster Minor Hurling Title

2011

N/A

Munster Minor Hurling Championship Record since 2000
Played – 40
Won – 18
Lost – 21
Drawn – 1
Played – 16
Won – 0
Lost – 16
Drawn – 0
Last meeting in the Munster Minor Hurling Championship
April 27th 2011 – Munster Quarter Final at Austin Stack Park Tralee. Clare 6-24 Kerry 1-8. Oisin Hickey scored 3 goals for Clare, Alan Mulready got 2 and current senior star Shane O'Donnell was the other Clare goal scorer.

MUNSTER GAA HURLING MINOR CHAMPIONSHIP 2014
First Round
Wednesday April 9th
@ Páirc Uí Rinn                               Cork 5-26                   Kerry 0-9
@ Cusack Park Ennis                     Waterford 1-13          Clare 0-11
Thursday April 10th
@ Gaelic Grounds Limerick           Limerick 3-17            Tipperary 2-11
Play-offs
Tuesday April 22nd Play-Off 1
@ Cusack Park Ennis                                Clare v Kerry                                     @6.45pm
Wednesday April 30th Play-Off 2
@ Clare or Kerry venue                  Tipperary v Winner of Play-off 1               @7pm
Semi-Finals
Wednesday June 25th or Thursday June 26th
Limerick v Cork
Waterford v Winners of Play-off 2
Final
Sunday July 13th
Munster Minor Hurling Championship – Odds and Ends
Waterford have won at least 1 match in the Munster Minor Hurling Championship over the last 7 years. Cork and Limerick have the next best consecutive streak with at least 1 victory in each of the last 5 years. Tipperary have won a game in each of the last 3 years but need to win their play-off game v Clare or Kerry to maintain that record. While Clare did not secure a victory last year, they won a game in each of the previous 7 years. Tipperary have the best consecutive streak since 2000 winning a game in each of the ten years from 2000 to 2009 inclusive.
Limerick are the defending Munster Minor Hurling Champions following a 1-20 to 4-8 victory over Waterford at Semple Stadium in the 2013 final replay. `
Waterford secured their first All Ireland minor hurling title since 1948 when they defeated Galway in the final on September 8th 2013 by 1-21 to 0-16.
Kerry make a welcome return to the Munster championship this year. In 2012, when they last competed, they lost both their games – the first against Tipperary and the second against Cork. 2013 was a good year for them as they won the All Ireland Minor Hurling B championship defeating Meath by 1-19 to 3-9 in the final.
Cork Coach Mark Landers captained Cork to win the All-Ireland senior hurling title in 1999. Manager Denis Ring guided St. Colman's College Fermoy to a number of Harty Cup titles. This is a first season in charge for Denis and his team, who were appointed at the end of last season.
Tipperary captain, Brian Hogan, is the son of former TIpperary Senior Hurling goalkeeper and manager Ken. Brian lined out in goal for the Tipperary Minor Hurlers in their two matches last year emulating his father Ken who was the Tipperary Minor Hurling goalkeeper in 1980 and 1981, winning Munster and All-Ireland Minor Hurling medals in 1980.
Clare appeared in 3 Munster minor hurling finals in a row from 2010 to 2012, winning in 2010 and 2011 against Waterford and losing to Tipperary in 2012. Several of their All Ireland senior winning squad of 2013 featured on those minor teams.
Munster Minor Hurling Championship Roll Of Honour
Tipperary (37) – 1930, 1931, 1932, 1933, 1934, 1935, 1945, 1946, 1947, 1949, 1950, 1952, 1953, 1954, 1955, 1967, 1957, 1959, 1960, 1961, 1962, 1973, 1976, 1980, 1982, 1983, 1987, 1991, 1993, 1996, 1997, 1999, 2001, 2002, 2003, 2007, 2012
Cork (32) – 1928, 1936, 1937, 1938, 1939, 1941, 1951, 1964, 1966, 1967, 1968, 1969, 1970, 1971, 1972, 1974, 1975, 1977, 1978, 1979, 1985, 1986, 1988, 1990, 1994, 1995, 1998 , 2000, 2004, 2005, 2006, 2008
Limerick (6) – 1940, 1958, 1963, 1965, 1984 , 2013
Waterford (4) – 1929, 1948, 1992, 2009        
Clare (4) – 1981, 1989, 2010, 2011
Munster Minor Hurling Championship – List of Winning Teams
Visit the Munster GAA web site History section to view the complete list of each winning team since the competition began in1928 – https://munster.gaa.ie/history/mh_teams/
Munster Minor Hurling Cup
There is no name on the Munster Minor Hurling Cup. The cup itself was presented by T.W.A., Shannon Airport in 1946.
All Ireland Minor Hurling Championship
In the Minor Hurling All Ireland Roll of Honour, Tipperary are sedond in the charts with 19 titles behind Kilkenny's 20 titles. Cork have won 18 titles, Limerick have 3 titles (1940, 1958, 1984) and Waterford joined them on 3 last year (1929, 1948, 2013) while Clare's only title to date came in 1997.
Of the last 14 All-Ireland Minor Hurling Finals played, the Irish Press Cup has returned to Munster on 5 occasions – Cork (2001), Tipperary (2006, 2007 and 2012) and Waterford (2013). Of the other 9 titles since 1999, Galway have 5 and Kilkenny have captured 4.
Tipperary were All-Ireland Minor Hurling Champions in 1930, 1932, 1933, 1934, 1947, 1949, 1952, 1953, 1955, 1956, 1957, 1959, 1976, 1980, 1982, 1996, 2006, 2007 and 2012
Cork were All-Ireland Minor Hurling Champions in 1928, 1937, 1938, 1939, 1941, 1951, 1964, 1967, 1969, 1970, 1971, 1974, 1978, 1979, 1985, 1995, 1998, 2001