Munster Minor Football 1st Playoff – Clare 2-17 Limerick 3-7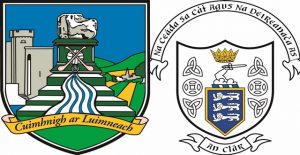 Clare defeated Limerick by 2-17 to 3-7 in the Electric Ireland Munster Minor Football Championship 1st Playoff game on Wednesday April 23rd at Newcastlewest.
---
Free-scoring Clare cruise past Limerick
By John Redington for the Irish Examiner newspaper
Clare 2-17 Limerick 3-07
Both Clare and Limerick minor footballers faced into last night's Munster championship qualifier in Newcastlewest hoping to put heavy opening defeats behind them. It proved to be redemption for the Banner who now face into next week's clash with Waterford after their sharper forwards and stronger midfield had them out of sight long before half-time.
Limerick managed a second-half fightback but not before Clare had added another 1-2 after the break. Despite facing the wind, Mikey Morrissey's equalising reply to Keelan Sexton held Limerick level for 10 minutes. But after Gary McCarthy's fisted effort was saved by Killian Normoyle, Aiden Davidson's point on the break opened the floodgates and another eight unanswered scores had already decided the outcome before Morrissey broke the sequence with a free.
But within seconds as Clare won the kickout, Evan Courtney broke down the right and Liam Madigan finished his cross to the net. Strikes by Sexton, Niall McCarthy and Davidson left the score at 1-13 to 0-2 at the break.
Any lingering Limerick hopes disappeared when Davidson goaled seconds after the restart. But after Madigan and Sexton's free widened the gap to 19 points, Clare sat back and three points followed by Tommy Childs' long-range goal raised Treaty spirits. However, despite Richard Hayes and corner-back Seán Murphy scoring two more goals before the finish, the chasm was always too wide to bridge.
Scorers for Clare: Keelan Sexton 0-5 (3 frees), Liam Madigan 1-3, Aiden Davidson 1-2, Evan Courtney 0-3, Conal O'Hanafin, Maccen Byrne, Cian O'Dea, Niall McCarthy 0-1 each.
Scorers for Limerick: Richard Hayes 1-2 (0-2 frees), Mikey Morrissey 0-4 (2 frees), Tommy Childs (free), Seán Murphy 1-0 each, Brian Hurley 0-1.
CLARE: K Normoyle; L Tierney, P Lillis, C Downes; C O'Dea, B Cahill, C Pyne; C O'Hanafin, J Woods; M Byrne, K Sexton, N McCarthy; A Davidson, E Courtney, L Madigan.
Subs: C Magner for C O'Hanafin (40m), C Finnucane for A Davidson (51m), E Hanrahan for C Magner (bc 52m), B O'Connor for N McCarthy (55m),
LIMERICK: A Brudair; S Murphy, M Reidy, F O'Grady; S Ivess, C Flanagan, K Ryan; T Childs, D Noonan; M Morrissey, R Hayes, K Daly; S Stack, C Bourke, G McCarthy.
Subs: S Brosnan for F O'Grady (20m), D Mackin for C Bourke (ht), B Hurley for G McCarthy (ht), B Stack for C Flanagan (43m).
Referee: Alan Kissane (Waterford)
Fixture Details
WEDNESDAY APRIL 23RD
ELECTRIC IRELAND MUNSTER MINOR FOOTBALL CHAMPIONSHIP PLAY-OFF 1
Limerick v Clare
Venue: Newcastlewest 7pm
Referee – Alan Kissane (Waterford)
Standby Referee – Maurice Condon (Waterford)
Linesman – Paul Foley (Waterford)
Sideline Official – Michael O'Brien (Waterford)

Extra time – (2 periods x 10 minutes only) to be played if sides finish level at the end of 60 minutes
Next Round – the winners play Waterford in the second Play Off game on Wedensday April 30th.
Admission Prices –
Adult – €10
Student/OAP with appropriate ID Card – €5
Under 16s are free
PRO Contact Details
Limerick PRO Eamonn Phelan – pro.limerick@gaa.ie and 087 923 1493
Clare PRO Sean O'Halloran – pro.clare@gaa.ie and 087 247 7803
Contact Munster GAA PRO Ger Ryan at pro.munster@gaa.ie for more information
For the Record
Limerick

Clare

2014 Team Management

Jerry O'Sullivan –

Manager / Coach

 Selectors: Sean Holmes, Brendan Casey, Garrett Noonan

Aiden O'Keeffe – Manager

Selectors-   Tom  Byrne and Joe Considine

2014 Team Captain

Andy Brudair

(Newcastlewest)

Brian Cahill

(Lissycasey)

2013 Championship Performance

Lost to Waterford by 3-10 to 3-9 in the first round.

Lost to Clare by 1-12 to 0-9 in the first play-off game.

Lost to Tipperary by 1-10 to 0-8 in the first round.

Defeated Limerick by 1-12 to 0-9 in the first Play-Off game.

Lost to Kerry by 0-15 to 0-9 in the second play-off game.

Number of Munster Minor Football titles

1

3

Last Munster Minor Football Title

1956

1953

Munster Minor Football Championship Record since 2000
Played – 42
Won – 10
Lost – 29
Drawn – 3
Played – 47
Won – 16
Lost – 27
Drawn – 4
Last meeting in the Munster Minor Football Championship
They met at the same stage last year when Clare won by 1-12 to 0-9 at Cusack Park, Ennis.
MUNSTER GAA FOOTBALL MINOR CHAMPIONSHIP 2014
First Round
Wednesday April 16th
@ Fraher Field Dungarvan                        Tipperary 2-11          Waterford 2-7
@ Cusack Park Ennis                    Kerry 2-16                  Clare 0-7
@ Páirc Uí Rinn                               Cork 6-15                   Limerick 1-7
Play-off 1
Wednesday April 23rd  
@ Newcastlewest                            Limerick v Clare                               @7pm

Play-off 2
Wednesday April 30th  
@ TBC                                               Waterford v Clare or Limerick
Semi-Finals
Wednesday May 7th or 14th
@ Semple Stadium, Thurles          Tipperary v Kerry                              @ 7.30pm
@ TBC                                               Cork v Winners of Play-Off 2         @7.30pm
Final
Sunday July 6th
@ TBC                                                                                                                       @ 12:00 noon
Useful Information
Clare have won at least one game in each of the last five seasons in the Munster Minor Football Championship and need a victory against Limerick to stretch that record to 6 seasons.
Since 1956, Cork and Kerry have won every Munster Minor Football title with the exception of 1984, 1995, 2011 and 2012 when Tipperary were successful.
Kerry have played 56 games in the Munster Minor Football Championship since 2000, leading Tipperary  who played 54 games in the same period.
Cork, Kerry and Tipperary won at least 1 match in the Munster Minor Football Championship every year since 2001 and their first round victories ensured that record stretches for another year.
Waterford have won 2 of their last 21 matches in the Munster Minor Football Championship.
Limerick have won one of their last 12 matches in the Munster Minor Football Championship.
All 6 counties have been involved in draws since 2000. Remarkably Kerry, Cork, Tipperary and Clare have all had 4 draws in that period while Waterford have had 5 and Limerick 3. 
Munster Minor Football Championship Roll Of Honour
Kerry (42)
1931, 1932, 1933, 1936, 1937, 1938, 1940, 1941, 1945, 1946, 1947, 1948, 1949, 1950, 1951, 1954, 1957, 1958, 1962, 1963, 1965, 1970, 1975, 1978, 1979, 1980, 1982, 1988, 1989, 1990, 1994, 1996, 1997, 1998, 2001, 2002, 2003, 2004, 2006, 2008, 2009, 2013.
Cork (29)
1939, 1952, 1959, 1960, 1961, 1964, 1966, 1967, 1968, 1969, 1971, 1972, 1973, 1974, 1976, 1977, 1981, 1983, 1985, 1986, 1987, 1991, 1992, 1993, 1999, 2000, 2005, 2007, 2010
Tipperary (7)
1934, 1935, 1955, 1984, 1995, 2011, 2012
Clare (3)
1929, 1930, 1953
Limerick (1)
1956
Munster Minor Football Championship – List of Winning Teams
Visit the Munster GAA web site History section to view the complete list of each winning team since the competition began in 1929 – https://munster.gaa.ie/history/mf_teams/
Munster Minor Football Cup
The Tadhg Crowley Cup was presented by Munster Council in 1990 to commemorate late Munster Council Treasurer. Tadhg was elected as Munster Council Treasurer in 1968 and served until his death in December 1989. A teacher by profession, he also served as Kerry County Board Secretary from 1955 until 1970. Tadhg was recognized as a specialist in organizing and handling styles and gates at Munster Championship games.
All Ireland Minor Football Championship
In the Minor Football All Ireland Roll of Honour, Kerry top the charts with 11 titles while Cork are tied for second with Dublin with 10 titles. Clare won the first All-Ireland Minor Football title in 1929 while Tipperary's two All-Ireland successes at this grade came in 1934 and 2011. Between them Munster counties have accounted for 24 All-Ireland Minor Football titles, ahead of Leinster and Ulster (20 titles each) and Connacht (18 titles).
Kerry were All-Ireland Minor Football Champions in 1931, 1932, 1933, 1946, 1950, 1962, 1963, 1975, 1980, 1988, 1994
Cork were All-Ireland Minor Football Champions in 1961, 1967, 1968, 1969, 1972, 1974, 1981, 1991, 1993, 2000