Munster Minor Football Semi-Final – Cork 1-14 Waterford 1-8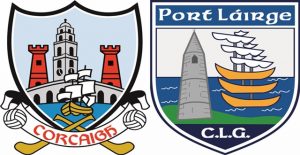 Cork defeated Waterford by 1-14 to 1-8 in the Electric Ireland Munster Minor Football Championship Semi-Final on Wednesday May 7th at Fraher Field Dungarvan.
---
Photos from the game via Munster GAA Facebook
---
O'Sullivan satisfied as Rebels stay on track
By Denis Hurley for the Irish Examiner newspaper
Cork 1-14 Waterford 1-8
It was not the cakewalk that the casual observer might have expected, but at the same time Cork's victory over Waterford in the Munster MFC semi-final at Fraher Field last night was rarely in doubt. Leading by five points at half-time, Cork conceded the first two scores of the second half before seven points in a row made the game safe, even if Jack Mullaney's late goal for Waterford helped to redress the balance on the scoreboard somewhat.
Cork manager Donal O'Sullivan accepted that it was far from a perfect performance by his side, but also felt they deserved praise for the way they dealt with what could have been a banana skin. "I'm not trying to be facetious when I say that we were coming down here and expecting a tough battle," he said. "We got that and I think it'll stand to our fellas. We challenged them at half-time to go out and dominate the first 20 minutes of the second half and, in fairness to them, they did that."
A key factor in Cork turning with a 1-6 to 0-4 half-time lead was a penalty save by goalkeeper Colm O'Driscoll from Waterford's star attacker Conor Gleeson in the 23rd minute, when a goal would have left just two points in it. "All night he was excellent," O'Sullivan said. "That penalty save stopped their momentum at a key time, seven minutes to go until half-time and 1-4 to 1-2 would have made it anybody's game. It was a crucial save because at the time we were struggling with a lot of silly mistakes."
Playing with the considerable first-half breeze, Waterford needed to be in front at the break if they were to have any hope of causing an upset, but they fell behind to a pair of early Maidhc Ó Duinnín points for Cork. When Seán O'Donoghue finished well in the seventh minute with a low shot across Craig Brown following good work from Cian Kiely and Michael Hurley, the outcome looked as good as decided, but Cork were not without their own troubles.
Far too often, attempts at points were wayward and Hurley was not getting much change from dogged Waterford full-back Jack Guiry. At the other end, Gleeson was showing signs of danger for the hosts, and when Aaron Donnelly was fouled under a dropping ball in the large rectangle, it was he who stepped up. However, O'Driscoll produced a fine save, as he had in the fifth minute when Gleeson had created an opening from a quick Mullaney free.
To his credit, Gleeson converted a difficult free straight after that and then was unlucky to fire just over after evading a couple of tackles but, in injury-time, Cork added points from Shane Kingston and Damien Buckley to hold a five-point interval advantage. Joe Allen and Mullaney cut that to three again upon the resumption, but then Cork kicked into gear and it was the winning of the game.
Shane Kingston and Hurley both kicked some fine points, with goalscorer O'Donoghue and Séamus Ronayne also on target, as Cork finished with all six starting forwards on the scoresheet.
They had moved eight clear before Waterford restored some pride, Allen and Gleeson with points before Mullaney's well-taken goal. Nevertheless, it is Cork who march on to face Kerry in a first final since 2010, when O'Sullivan was a selector and Brian Hurley's late goal won it. "I'd take the same again!" he laughed. "I grew up next to Kerry football, so I'm delighted. I honestly think that they'll win the All-Ireland but we'll go down and do our best on the day and see what happens."
Scorers for Cork: S Kingston 0-4, S O'Donoghue 1-1, M Hurley 0-3 (1f), D Buckley (1f), M Ó Duinnín 0-2 each, S Ronayne 0-1.
Scorers for Waterford: C Gleeson 0-4 (2f), J Mullaney 1-1, J Allen 0-2 (2f), Conor Murray 0-1.
CORK: C O'Driscoll; C O'Donovan, K Flahive, S Powter; T Bushe, D Meaney; C Kiely; S O'Leary, B Coakley; S O'Donoghue, M Ó Duinnín, S Ronayne; S Kingston, M Hurley, D Buckley.
Subs: M Lordan for Kiely (28-30, blood), M Collins for Coakley (35, inj), D O'Neill for O'Donoghue (45), M Cottrell for Ó Duinnín (55), L for O'Donovan (57), G Murphy for Buckley (60), A Hasset for O'Neill (60, inj).
WATERFORD: C Brown; C O'Neill, J Guiry, M Cronin; D Lyons, E O'Halloran, M Shine; C Curran, C Prunty; J Mullaney, C Murray, D Guiry; J Allen, C Gleeson, A Donnelly.
Subs: M Sweeney for Dylan Guiry, J Elstead for Shine (both 47), G Hearne for Allen (59), P Whyte for O'Halloran (60), P Tobin for Sweeney (60, inj).
Referee: E Walsh (Kerry)
---
Cork got the job done in tonight's Munster minor football semi-final. http://t.co/yqLZNzPwUL

— TheScore.ie GAA (@TheScoreGAA) May 7, 2014
---
Some photos from tonight's Minor game: http://t.co/aHL7lvkztH

— Cork GAA (@OfficialCorkGAA) May 7, 2014
---
Kingston helps Cork minors book Munster final place against Kerry http://t.co/8gZiwheTR3

— Irish Times Sport (@IrishTimesSport) May 8, 2014
Fixture Details
WEDNESDAY MAY 7TH
Waterford v Cork
Venue: Fraher Field Dungarvan, 7.30pm
Referee –                  Eddie Walsh (Kerry)
Umpires –                  Liam Brosnan, Conor Brosnan, Greg O'Connor, John O'Connor (Kerry)
Standby Referee-    Sean Joy (Kerry)
Linesman –               Seamus Mulvihill (Kerry)
Side-line Official –               Eamon Moran (Kerry)
Extra time – (2 periods x 10 minutes only) to be played if sides finish level at the end of 60 minutes
Replay Date – Wednesday May 14th at 7.30pm at a Cork venue
Next Round – the winners play Tipperary or Kerry in the Munster Final on Sunday July 6th.
Admission Prices –
Adult – €10
Student/OAP with appropriate ID Card – €5
Under 16s are free
PRO Contact Details
Waterford PRO Emer Barry – pro.waterford@gaa.ie and 087 950 6613
Cork PRO Tracey Kennedy – pro.cork@gaa.ie and 087 125 0373
Contact Munster GAA PRO Ger Ryan at pro.munster@gaa.ie for more information
Team News
CORK (MF v Waterford): C O'Driscoll (Castlehaven); C O'Donovan (Clonakilty), K Flahive (Douglas), S Powter (Douglas); T Bushe (Ilen Rovers), D Meaney (St Michael's), C Kiely (Ballincollig); S O'Leary (Bantry Blues), B Coakley (Carrigaline); S O'Donoghue (Inniscarra), M Ó Duinnín (Naomh Abán), S Ronayne (Clyda Rovers); S Kingston (Douglas), M Hurley (Castlehaven), D Buckley (Ballyclough). Subs: A Kidney (Passage), A Hassett (Ilen Rovers), J Mullins (Éire Óg), M Lordan (Ballinora), D O'Neill (Mayfield), A Joyce (Youghal), G Murphy (Castletownbere), M Cottrell (Newmarket), M Collins (Kilmacabea).
Additional Panel Members
Eoin O'Sullivan (Douglas)
Conor Nolan(Castlehaven)
Ronan Walsh (Castlehaven
Chris Moynihan (Gabriel Rangers)
John Fintan Daly (Knocknagree)
Cathal Crowley(Millstreet)
Ian O'Callaghan (St. Finbarr's)
Ahead of Wednesday night's clash with Waterford, the Cork management have kept faith with the same starting fifteen that defeated Limerick in the quarter-final. A number of players were involved in County Championship action with their clubs over the weekend, but all have come through unscathed.
WATERFORD (MF v Cork): C Brown (Erin's Own); C O'Neill (Brickey Rangers), J Guiry (The Nire), M Cronin (Ardmore); M Shine (St Oliver's), E O'Halloran (Clashmore/Kinsalebeg), J Mullaney (Stradbally); C Curran (Brickey Rangers), C Prunty (Ballinacourty); D Guiry (The Nire), C Murray (Rathgormack), A Donnelly (Dungarvan); J Allen (Dungarvan), C Gleeson (The Nire), D Lyons (Dungarvan)
For the Record
Waterford

Cork

2014 Team Management

Oran Curran (Dungarvan) – Manager

Selectors-

Dick Guiry (The Nire),

John Browne (Erins Own),

Tim Lenihan (Shamrocks)

Donal O'Sullivan (Castletownbere) –

Manager

Selectors:   Tom  Dorgan (Ballincollig – coach)

Michael Comyns (St. Finbarrs)

Andrew McCarthy (Inniscarra)

Paul Holland (Argideen Rangers)

2014 Team Captain

Aaron Donnelly

(Dungarvan)

Kevin Flahive

(Douglas)

2013 Championship Performance

Defeated Limerick by 3-10 to 3-9 in the first round in Fraher Field Dungarvan.

Lost to Kerry by 1-15 to 2-6 in the Munster Semi-Final at Fitzgerald Stadium Killarney.

Drew with Kerry 2-13 each in the first round. Won the replay by 3-6 to 0-10.

Lost the semi-final to Tipperary by 0-11 to 0-8 at Semple Stadium Thurles.

Number of Munster Minor Football titles

0

29

Last Munster Minor Football Title

N/A

2010

Munster Minor Football Championship Record since 2000
Played – 43
Won – 8
Lost – 30
Drawn – 5
Played – 46
Won – 28
Lost – 14
Drawn – 4
Last meeting in the Munster Minor Football Championship
April 11th 2007 at Fermoy when Cork won by 0-20 to 0-3.
MUNSTER GAA FOOTBALL MINOR CHAMPIONSHIP 2014
First Round
Wednesday April 16th
@ Fraher Field Dungarvan                        Tipperary 2-11          Waterford 2-7
@ Cusack Park Ennis                    Kerry 2-16                  Clare 0-7
@ Páirc Uí Rinn                               Cork 6-15                   Limerick 1-7
Play-off 1
Wednesday April 23rd  
@ Newcastlewest                            Clare 2-17                 Limerick 3-7

Play-off 2
Wednesday April 30th  
@ Fraher Field, Dungarvan           Waterford 6-9            Clare 4-12
Semi-Finals
Wednesday May 7th
@ Semple Stadium, Thurles          Tipperary v Kerry                              @ 7pm
@ Fraher Field, Dugarvan             Waterford v Cork                              @ 7.30pm
Final
Sunday July 6th
@ TBC                                                                                                           @ 12:00 noon
Useful Information
Cork will be attempting to win their first semi-final since 2011 when they defeated Clare by 1-16 to 0-6. They lost that year's final to Tipperary by 3-11 to 0-9 and lost the 2012 and 2013 semi-finals to Tipperary by 1-10 to 0-9 and 0-11 to 0-8 respectively. Cork's last title was in 2010 when they defeated Kerry by 1-8 to 1-7 at Fitzgerald Stadium, Killarney.
Waterford are appearing in a Munster semi-final for the second year in a row. They lost in 2013 to Kerry by 1-15 to 2-6 at Fitzgerald Stadium, Killarney. 
The last semi-final appearance by Waterford prior to 2013 was in 2004 when they lost to Cork on July 1st at Fraher Field, Dungarvan by 3-15 to 0-7.
The last time Waterford reached the Munster Minor Football Semi-Finals in consecutive years was 2000 and 2001. On both occasions they lost to Kerry but by widely different margins. In 2000 at Fraher Field they lost by a single point – 0-15 for Kerry to 2-8 for Waterford. However, at Fitzgerald Stadium in 2001 Kerry were runaway winners by 7-13 to 1-7.
There have been 28 goals in the 5 games played so far in this year's Munster championship, an average of 5.6 per game. Waterford lead the way with 8 goals from 2 games, followed by Cork with 6 from 1 game, Clare with 6 from 3 games, Limerick with 4 from 2 games and Kerry and Tipperary, each with 2 from 1 game.
Since 1956, Cork and Kerry have won every Munster Minor Football title with the exception of 1984, 1995, 2011 and 2012 when Tipperary were successful.
Kerry have played 56 games in the Munster Minor Football Championship since 2000, leading Tipperary  who played 54 games in the same period.
Cork, Kerry and Tipperary won at least 1 match in the Munster Minor Football Championship every year since 2001 and their first round victories ensured that record stretches for another year.
Waterford have won 3 of their last 22 matches in the Munster Minor Football Championship.
Limerick have won one of their last 13 matches in the Munster Minor Football Championship.
Clare have won at least one game in each of the last five seasons in the Munster Minor Football Championship.
All 6 counties have been involved in draws since 2000. Remarkably Kerry, Cork, Tipperary and Clare have all had 4 draws in that period while Waterford have had 5 and Limerick 3.
Munster Minor Football Championship Roll Of Honour
Kerry (42)
1931, 1932, 1933, 1936, 1937, 1938, 1940, 1941, 1945, 1946, 1947, 1948, 1949, 1950, 1951, 1954, 1957, 1958, 1962, 1963, 1965, 1970, 1975, 1978, 1979, 1980, 1982, 1988, 1989, 1990, 1994, 1996, 1997, 1998, 2001, 2002, 2003, 2004, 2006, 2008, 2009, 2013.
Cork (29)
1939, 1952, 1959, 1960, 1961, 1964, 1966, 1967, 1968, 1969, 1971, 1972, 1973, 1974, 1976, 1977, 1981, 1983, 1985, 1986, 1987, 1991, 1992, 1993, 1999, 2000, 2005, 2007, 2010
Tipperary (7)
1934, 1935, 1955, 1984, 1995, 2011, 2012
Clare (3)
1929, 1930, 1953
Limerick (1)
1956
Munster Minor Football Championship – List of Winning Teams
Visit the Munster GAA web site History section to view the complete list of each winning team since the competition began in 1929 – https://munster.gaa.ie/history/mf_teams/
Munster Minor Football Cup
The Tadhg Crowley Cup was presented by Munster Council in 1990 to commemorate late Munster Council Treasurer. Tadhg was elected as Munster Council Treasurer in 1968 and served until his death in December 1989. A teacher by profession, he also served as Kerry County Board Secretary from 1955 until 1970. Tadhg was recognized as a specialist in organizing and handling styles and gates at Munster Championship games.
All Ireland Minor Football Championship
In the Minor Football All Ireland Roll of Honour, Kerry top the charts with 11 titles while Cork are tied for second with Dublin with 10 titles. Clare won the first All-Ireland Minor Football title in 1929 while Tipperary's two All-Ireland successes at this grade came in 1934 and 2011. Between them Munster counties have accounted for 24 All-Ireland Minor Football titles, ahead of Leinster and Ulster (20 titles each) and Connacht (18 titles).
Kerry were All-Ireland Minor Football Champions in 1931, 1932, 1933, 1946, 1950, 1962, 1963, 1975, 1980, 1988, 1994
Cork were All-Ireland Minor Football Champions in 1961, 1967, 1968, 1969, 1972, 1974, 1981, 1991, 1993, 2000