Munster Minor Football Semi-Final – Kerry 2-18 Tipperary 0-7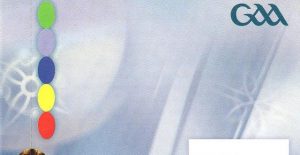 Kerry defeated Tipperary by 2-18 to 0-7 in the Electric Ireland Munster Minor Football Championship Semi-Final on Wednesday May 7th at Semple Stadium Thurles.
---
Photos from the game via Munster GAA Facebook
---
Kerry signal intent as Spillane leads demolition of Tipperary
By Eoghan Cormican for the Irish Examiner newspaper
Kerry 2-18 Tipperary 0-07
This was an unforgiving rout from first whistle to last — Kerry advancing to the Munster MFC decider with 17-points to spare in Thurles last night. The home outfit had edged three of the last four minor meetings between the counties and while Kerry bore the tag of favourites entering this latest instalment, 816 spectators filed through the turnstiles in expectation of a nip-and-tuck semi-final affair. It would prove anything but.
Indeed, the visitors asserted their dominance as early as the 15th second — Tomás Ó Sé pouncing on a Matthew Flaherty delivery to fist home the leather. Kerry attempted to kick on from this positive opening and while a second goal arrived on 12 minutes, Jordan Kiely the provider, the interval difference of five points (2-3 to 0-4) failed to reflect their superiority.
Failure to drive home their advantage during the first 30 stemmed largely from a strong determination to raise a green rather than a white flag. Two goals were pilfered and although five more could have been added, a succession of points would surely have killed off the Tipperary challenge.
Manager Jack O'Connor accepted as much: "We could have clipped over a couple of points at times," he said. "Maybe we were trying to force goals. We got two and could have got one or two more." Nonetheless, O'Connor said a solid platform had been laid by the break, singling out keeper Jack Brady who pulled off two quality saves. "We have not conceded any goals in either game and we are happy with that. We had to take this game very seriously as Tipperary have a very good minor record. They turned over a very good Kerry team here three years ago, they turned Cork over here last year so we were under no illusions. "What pleased me most is that we are showing a good hunger and a good attitude."
Said attributes boiled to the surface at the change of ends as the Kingdom ran amok in every department. Barry O'Sullivan and Mark O'Connor strengthened their hold at midfield, with the half-forward line, in particular Matthew Flaherty, exhausting every blade of grass at the town end. Not to forget full-forward Killian Spillane of course, the contributor of 0-10 and ably cast as chief tormentor for the evening.
Shane Ryan, Spillane (0-2) and Micheál Burns tallied early second-half minors to fasten the noose around Tipperary's neck. Tommy Nolan and Jack Kennedy replied to sustain their presence in this contest, but only one more score would be added in the remaining 20 minutes — the second-half verdict 0-15 to 0-3 in favour of the winners. Tomás Ó Sé, Brian Rayle and two Spillane efforts stretched the gap to 2-12 to 0-6 subsequently. Padraig White offered momentary resistance, but there would be no easing off on the throttle from O'Connor's side.
This was a statement of intent. Flaherty, along with substitutes Stephen O'Sullivan and Cormac Coffey, swelled their tally and Spillane, fittingly, would have the final say. "We are very happy with the forwards, even the lads that aren't scoring that much," continued O'Connor. "There are other lads who have to come back into us so that will only strengthen competition for places ahead of the final."
Scorers for Kerry: K Spillane 0-10 (4f); T Ó Sé 1-1; J Kiely 1-0; M Flaherty 0-2; B Rayle, S Ryan (1 '45), S O'Sullivan, C Coffey, M Burns 0-1 each.
Scorers for Tipperary: W Connors, A Tynan, P Maher, J Bergin, J Kennedy, P White (1f), T Nolan 0-1 each.
KERRY: S Ryan; J Morgan, B Begley, T O'Sullivan; D Donoghue, A Barry, B Sugrue; B O'Sullivan, M O'Connor; M Flaherty, B Rayle, M Burns; J Kiely, K Spillane, T Ó Sé.
Subs: S O'Sullivan for Burns (46), C Coffey for Sugrue (46), S Cronin for Morgan (54), L Kearney for M O'Connor (54), P Clifford for Kiely (54).
TIPPERARY: J Brady; D Owens, P Murphy, C O'Shaughnessy; W Connors, L Fahy, J Skehan; T Nolan, S Quirke; E Maloney, P White, A Tynan; J Bergin, J Kennedy, P Maher.
Subs: R Peters for Bergin (40 mins), C O'Mahony for Skehan (40), T Lowry for Murphy (48), D McGrath for Quirke (50), J Delahunty for White (60).
Referee: K Murphy (Cork)
Kerry had 17 points to spare over Tipperary in tonight's Munster minor football semi final. http://t.co/7IiDJHPzYw

— TheScore.ie GAA (@TheScoreGAA) May 7, 2014
---
Spillane hits 10 points as Kerry boys hammer Tipperary http://t.co/G9bIHE1YxU

— Irish Times Sport (@IrishTimesSport) May 8, 2014
Fixture Details
WEDNESDAY MAY 7TH
ELECTRIC IRELAND MUNSTER MINOR FOOTBALL CHAMPIONSHIP SEMI-FINALS
Tipperary v Kerry
Venue: Semple Stadium Thurles 7pm
Referee –                  Kevin Murphy (Cork)
Umpires –                  Philip Mackey, Finian Mullane, John Barry, Ciarán Hanley (Cork)
Standby Referee-    James Bermingham (Cork)
Linesman –               John Ryan (Cork)
Side-line Official –               David Murnane (Cork)
Extra time – (2 periods x 10 minutes only) to be played if sides finish level at the end of 60 minutes
Replay Date – Wednesday May 14th at 7.30pm at a Kerry venue
Next Round – the winners play Waterford or Cork in the Munster Final on Sunday July 6th
Admission Prices – 
Adult – €10
Student/OAP with appropriate ID Card – €5
Under 16s are free
PRO Contact Details
Tipperary Secretary and Acting PRO Tim Floyd – secretary.tipperary@gaa.ie and 087 259 1747
Kerry PRO John O'Leary – pro.kerry@gaa.ie and 087 302 6041
Contact Munster GAA PRO Ger Ryan at pro.munster@gaa.ie for more information
Team News
Kerry Minor Team v Tipperary
The Kerry Minor Team to play Tipperary in the Semi Final of the Electric Ireland Munster GAA Minor Football Championship in Thurles on Wednesday evening next at 7pm shows two changes from the side that defeated Clare in Round 1 – Dan O'Donoghue from Spa comes into the side in place of Jason Foley in the half back line and Tomas Ó Sé replaces the injured Cathal Bambury in the full forward line.
Three of the side defeated by Tyrone in last year's All Ireland quarter final (Shane Ryan, Matthew Flaherty and Michéal Burns) feature in the team.
KERRY (MF v Tipperary): S Ryan (Rathmore); J Morgan (Austin Stacks), B Begley (An Ghaeltacht), T O'Sullivan (Dingle); D O'Donoghue (Spa), A Barry (Na Gaeil), B Sugrue (Renard); B O'Sullivan (Dingle), M O'Connor (Dingle); M Flaherty (Dingle), B Rayle (Lispole), M Burns (Dr Crokes); J Kiely (Dr Crokes), K Spillane (Templenoe), T Ó Sé (An Ghaeltacht)
Subs: E O'Connell (St Senan's), S O'Sullivan (Templenoe), J Foley (Ballydonoghue), L Kearney (Spa), C Coffey (Kerins O'Rahillys), P Clifford (Templenoe), S Cronin (Spa), JM Foley (Kilgarvan), A Quigley (Valentia).
Bainistíocht:
Bainisteoir: Jack O'Connor (Dromid Pearses)
Roghnoirí: Micheal O'Shea (Castlegregory), John Galvin (Dr Crokes), Eamon Whelan (St Senans).
Treanalaí: Alan O'Sullivan and Arthur Fitzgerald.
Extended Training Panel Members
Patrick O'Shea Kilgarvan
Gavin White Dr. Crokes
Rob Ó Sé An Ghaeltacht
Jonathan O'Sullivan Milltown C'maine
Cian O'Connor Castleisland Desmonds
Rehabbing from Injury:
Ivan Parker Churchill
David Roche Milltown C'maine
Liam Carey Beaufort
Cathal Bambury Dingle
Philip Casey Kilcummin 
For the Record
Tipperary

Kerry

2014 Team Management

Charlie McGeever –
Manager

Selectors –

Shane Stapleton,

Kieran Healy,

Niall Fitzgerald

Jack O'Connor (Dromid Pearses) – Manager

Selectors –

   Micheál O'Shea (Castlegregory),

John Galvin (Dr. Crokes), Eamon Whelan (St. Senans)

Trainers – Alan O'Sullivan and Arthur Fitzgerald

2014 Team Captain

Willie Connors
(Kildangan)

Liam Kearney (Spa)

2013 Championship Performance

Defeated Clare by 1-10 to -0-8 in the first round. Went on  to defeat Cork by 0-11 to 0-8 in the semi-final.

Lost Munster Final to Kerry by 0-15 to 0-10 at Fitzgerald Stadium Killarney.

Lost to Monaghan in the All Ireland Quarter-Final by 0-12 to 0-9 at Pearse Park, Longford.

Drew with Cork 2-13 each in the first round. Lost the replay by 3-6 to 0-10.

Defeated Clare by 0-15 to – 0-9 in the second Play-Off game.

Defeated Waterford by 1-15 to 2-6 in the semi-final.

Won the Munster Final defeating Tipperary by 0-15 to 0-10 at Fitzgerald Stadium Killarney.

Lost to Tyrone in the All Ireland Quarter-Final by 0-17 to 1-12  at Croke Park.

Number of Munster Minor Football titles

7

42

Last Munster Minor Football Title

2012

2013

Munster Minor Football Championship Record since 2000
Played – 54
Won – 27
Lost – 23
Drawn – 4
Played – 56
Won – 42
Lost – 10
Drawn – 4
Last meeting in the Munster Minor Football Championship
2013 Munster Minor Football Championship final at Fitzgerald Stadium, Killarney which Kerry won by 0-15 to 0-10.
MUNSTER GAA FOOTBALL MINOR CHAMPIONSHIP 2014
First Round
Wednesday April 16th
@ Fraher Field Dungarvan                        Tipperary 2-11          Waterford 2-7
@ Cusack Park Ennis                    Kerry 2-16                  Clare 0-7
@ Páirc Uí Rinn                               Cork 6-15                   Limerick 1-7
Play-off 1
Wednesday April 23rd 
@ Newcastlewest                            Clare 2-17                 Limerick 3-7

Play-off 2
Wednesday April 30th 
@ Fraher Field, Dungarvan           Waterford 6-9            Clare 4-12
Semi-Finals
Wednesday May 7th
@ Semple Stadium, Thurles          Tipperary v Kerry                              @ 7pm
@ Fraher Field, Dugarvan             Waterford v Cork                              @7.30pm
Final
Sunday July 6th
@ TBC                                                                                                           @ 12:00 noon
Useful Information
Tipperary are seeking to play in their 4th Munster minor football championship final in a row. They won the title in 2011 and 2012 defeating Cork and Kerry respectively but lost to Kerry in 2013.
Kerry are looking to reach their 3rd final in a row and to retain the title for the first time since 2009.
The last time Tipperary lost a game in the Munster minor football championship at Semple Stadium was in 2010 when Cork defeated them in the semi-final by 2-12 to 2-9.
There have been 28 goals in the 5 games played so far in this year's Munster championship, an average of 5.6 per game. Waterford lead the way with 8 goals from 2 games, followed by Cork with 6 from 1 game, Clare with 6 from 3 games, Limerick with 4 from 2 games and Kerry and Tipperary, each with 2 from 1 game.
Since 1956, Cork and Kerry have won every Munster Minor Football title with the exception of 1984, 1995, 2011 and 2012 when Tipperary were successful.
Kerry have played 56 games in the Munster Minor Football Championship since 2000, leading Tipperary  who played 54 games in the same period.
Cork, Kerry and Tipperary won at least 1 match in the Munster Minor Football Championship every year since 2001 and their first round victories ensured that record stretches for another year.
Waterford have won 3 of their last 22 matches in the Munster Minor Football Championship.
Limerick have won one of their last 13 matches in the Munster Minor Football Championship.
Clare have won at least one game in each of the last five seasons in the Munster Minor Football Championship.
All 6 counties have been involved in draws since 2000. Remarkably Kerry, Cork, Tipperary and Clare have all had 4 draws in that period while Waterford have had 5 and Limerick 3. 
Munster Minor Football Championship Roll Of Honour
Kerry (42)
1931, 1932, 1933, 1936, 1937, 1938, 1940, 1941, 1945, 1946, 1947, 1948, 1949, 1950, 1951, 1954, 1957, 1958, 1962, 1963, 1965, 1970, 1975, 1978, 1979, 1980, 1982, 1988, 1989, 1990, 1994, 1996, 1997, 1998, 2001, 2002, 2003, 2004, 2006, 2008, 2009, 2013.
Cork (29)
1939, 1952, 1959, 1960, 1961, 1964, 1966, 1967, 1968, 1969, 1971, 1972, 1973, 1974, 1976, 1977, 1981, 1983, 1985, 1986, 1987, 1991, 1992, 1993, 1999, 2000, 2005, 2007, 2010
Tipperary (7)
1934, 1935, 1955, 1984, 1995, 2011, 2012
Clare (3)
1929, 1930, 1953
Limerick (1)
1956
Munster Minor Football Championship – List of Winning Teams
Visit the Munster GAA web site History section to view the complete list of each winning team since the competition began in 1929 – https://munster.gaa.ie/history/mf_teams/
Munster Minor Football Cup
The Tadhg Crowley Cup was presented by Munster Council in 1990 to commemorate late Munster Council Treasurer. Tadhg was elected as Munster Council Treasurer in 1968 and served until his death in December 1989. A teacher by profession, he also served as Kerry County Board Secretary from 1955 until 1970. Tadhg was recognized as a specialist in organizing and handling styles and gates at Munster Championship games.
All Ireland Minor Football Championship
In the Minor Football All Ireland Roll of Honour, Kerry top the charts with 11 titles while Cork are tied for second with Dublin with 10 titles. Clare won the first All-Ireland Minor Football title in 1929 while Tipperary's two All-Ireland successes at this grade came in 1934 and 2011. Between them Munster counties have accounted for 24 All-Ireland Minor Football titles, ahead of Leinster and Ulster (20 titles each) and Connacht (18 titles).
Kerry were All-Ireland Minor Football Champions in 1931, 1932, 1933, 1946, 1950, 1962, 1963, 1975, 1980, 1988, 1994
Cork were All-Ireland Minor Football Champions in 1961, 1967, 1968, 1969, 1972, 1974, 1981, 1991, 1993, 2000