Dr. Harty Cup – Our Lady's Templemore v Charleville CBS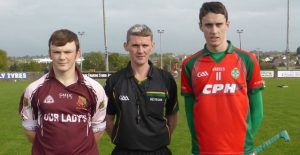 Our Lady's Templemore prevail in round 2 of the Dr. Harty Cup
Report courtesy of Paddy Ryan
Our Lady's Templemore 1-20 Charleville CBS 2–14
Our Lady's Templemore led all through this Harty Cup clash at Tipperary yesterday. In the opening half the winners were quick to get on top and a series of points by Kevin Hassett, Stephen Nolan, Brian McGrath, Jordan Moloney and Lyndon Fairbrother gave them a commanding lead. Charleville had points in the first half by Paddy O'Loughlin (2) Darragh Fitzgibbon, Sean Griffin and Tim O'Mahony. At the interval Our Lady's led 0-13 to 0- 5.
Charleville made a huge contribution on the restart. Outstanding performances by Jack Barry, Tim O'Mahony, Sean Griffin and Darragh Fitzgibbon saw them eat into the lead. A goal by Darragh Fitzgibbon followed by a pointed free by Tim O'Mahony left just a point between the sides entering the final quarter 0-16 to 2-9. The North Cork side were unable to get any closer with Templemore having a point by Anthony Ryan. Tim O'Mahony with another pointed free following a foul on Darragh Fitzgibbon got them back within a point once more.
In the 50th minute Brian McGrath (free) and Sean Griffin exchanged another points 0-18 to 2- 11. The North Tipperary side had their goal in the 52nd minute when Cian Collins saved very well from Stephen Nolan with the rebound going to Radostaw Natkaniec who goaled from close range 1-18 to 2- 11. Both sides exchanged late points with Our Lady's holding out for a close win.
Scorers for Our Lady's : Lyndon Fairbrother 0-5(0-2f) Kevin Hassett 0-3, Radostaw Natkaniec 1-0, Anthony Ryan 0-2, Jamie Bergin 0-2, Jordan Moloney 0-2, Stephen Nolan 0-2, Brian McGrath 0-2f. Colm Kinane 0-1, Ciaran Thornte 0-1f.
Charleville CBS : Tim O'Mahony 1 -6(0-6f) Darragh Fitzgibbon 1-1, Sean Griffin 0-3, Paddy O'Loughlin 0-2f, Jack Barry 0-2.
OUR LADY'S TEMPLEMORE : David O'Shea (J K Bracken's) Emmet Moloney (Drom & Inch) Diarmuid Ryan (Clonakenny) Tom Murphy (J K Bracken's) Ciaran Thorpe (Drom & Inch) Brian McGrath (Loughmore-Castleiney) Martin Delaney (J K Bracken's) Kevin Hassett (Drom & Inch) Anthony Ryan (Loughmore Castleiney) Stephen Nolan (Drom & Inch) Ross Donnelly (Templederry Kenyons) Jamie Morrissey (Moyne Templetuohy) Jamie Bergin (Drom & Inch) Jordan Moloney (J K Bracken's) Lyndon Fairbrother (do)
Subs : Radostaw Natkaniec (JK Brackens) for Jamie Morrissey, Colm Kinane (Drom & Inch) for Ross Donnelly.
CHARLEVILLE CBS : Cian Collins (Charleville) Jack Doyle (do) Micheal Houlihan (Kilmallock) Jack Meade (Charleville) Paddy O'Loughlin (Kilmallock) P J Herr (Effin) Mark Crowley (Ballyhea) Jack Barry (Charleville) Finbarr Cagney (do) Sean Griffin ('Shandrum) Tim O'Mahony (do) Billy Cagney (Castletown-Ballyagran) Darragh Fitzgibbon (Charleville) Kieran Cagney ('Shandrum) James Kennedy (Charleville)
Subs : John Geary ('Shandrum) for Bill Cagney, Jack Callaghan (Charleville) for Mark Crowley, Tom Hanley (Ballyhea) for James Kennedy, Aaron Fitzgerald (Bruree) for Kieran Cagney.
Referee: John O'Brien (Tipperary)