All-Ireland SHC Final Replay – Kilkenny 2-17 Tipperary 2-14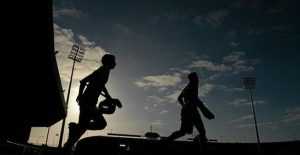 Kilkenny defeated Tipperary by 2-17 to 2-14 in the All-Ireland Senior Hurling Championship Final Replay on Saturday September 27th at Croke Park.
---
---
All-Ireland SHC: Relentless Kilkenny win it again
ALL-IRELAND SHC FINAL REPLAY: KILKENNY 2-17 TIPPERARY 2-14
Report from GAA.ie
It's their 35th All-Ireland title and they are now five clear of Cork on the overall roll of honour. It's the 10th senior All-Ireland of Brian Cody's managerial career and most incredibly of all, it's the 10th All-Ireland of Henry Shefflin's career – the Ballyhale Shamrocks man earning a unique place in GAA history.
Kilkenny are All-Ireland champions again after two second-half goals from the Brothers Power – Richie and John – saw them beat Tipperary by three points in the final replay on Saturday evening at Croke Park. In another very tight game, Tipperary led by two points at the break but Kilkenny were by a distance the better side in the second half and the goals from the Powers – from Richie in the 59th minute and from John in the 63rd – put them into an unassailable position.
A late goal from Séamus Callanan gave Tipperary some late hope but Kilkenny weren't to be undone, and their defence completed a magnificent collective display as they kept the door firmly shut on their opponents in the closing minutes.
The numbers of this latest Kilkenny win are significant. It's their 35th All-Ireland title and they are now five clear of Cork on the overall roll of honour. It's the 10th senior All-Ireland of Brian Cody's managerial career and most incredibly of all, it's the 10th All-Ireland of Henry Shefflin's career – the Ballyhale Shamrocks man earning a unique place in GAA history. Shefflin has played in all 10 of Kilkenny's All-Ireland victories, starting the previous nine and coming on in this one as a substitute in the 58th minute.
Tipperary, who came so close to winning the All-Ireland three weeks ago when John O'Dwyer's last gasp free went wide, can have no complaints after a second half in which Kilkenny got on top of them quickly and ground them down with goals at the key moments.
There was only a point in it after 58 minutes, but Richie Power's brilliant goal sent the trophy irrevocably towards Kilkenny hands. When it was followed four minutes later by a goal from his brother John, there looked to be no way back for Tipperary, but typical of an era in which high-octane drama seems to be a pre-requisite for every hurling game, Callanan's late strike set Croke Park abuzz in anticipation of another dramatic conclusion.
It didn't materialise though, despite three minutes of added time, and Kilkenny, Cody and Shefflin were left to celebrate something for today, and something for all history to remember.
Tipperary led by two at the break, with Callanan's 29th minute goal the decisive score of the opening 35 minutes.
Lar Corbett was the architect of the goal, latching onto a break from Patrick Maher around the middle and showing superb speed and fluidity of movement to race clean through on goal away from some trailing Kilkenny defenders. It looked as though he would shoot himself for the goal but instead he laid a clever handpass off to his left to Callanan, whose finish past Eoin Murphy was sharp, deft and pure.
That made it 1-5 to 0-6, and put Tipperary back in front, with Kilkenny having led since the 11th minute when four points in a row – from Richie Hogan (2), Eoin Larkin and TJ Reid – cancelled out the two opening scores of the game from Tipperary duo Shane and Noel McGrath.
A relatively low-scoring half, when compared with the first game anyway, saw the sides trade few scores up until the goal, with John O'Dwyer scoring the pick of them with a magnificent effort from out on the right wing.
Tipperary could have found the net before Callanan's strike, the Drom & Inch man having had a great chance on 18 minutes, only to be hooked brilliantly at the vital moment by JJ Delaney, who incidentally went off injured in first-half stoppage time with what looked like a dislocated finger, only to return for the start of the second half.
When Callanan's goal did arrive, it put Tipp two clear, and that remained the deficit at the break as Reid, Callanan, Michael Fennelly and Shane McGrath completed the first half scoring, McGrath with his third point from play in a highly productive first half from the Ballinahinch man.
But Kilkenny started the second half brilliantly, and had five scores on the board without reply by the 43rd minute. The half started with Darren Gleeson brilliantly denying Colin Fennelly, but Fennelly made up for that miss with two excellent points, which along with efforts from Richie Power ('65') and TJ Reid (2 frees) had Kilkenny 0-13 to 1-7 ahead with 44 minutes on the clock.
Noel McGrath got Tipperary off the mark for the second half on 46 minutes, and a Callanan free then cut the deficit to one. However, John Power swept over an inspirational score on 50 minutes, firing over beautifully on the turn after the ball had come to him following a series of battling blocks in the Kilkenny defence. The sides traded scores back and forth, but Kilkenny were getting in for goal chances, and only a heroic block, via the helmet of James Barry, denied John Power a goal at the dawn of the final quarter.
A stirring point from Eoin Larkin combined with the entrance of Shefflin on 58 minutes brought with it a sense of an inevitable Kilkenny victory, and that sense was confirmed when Richie Power scored a brilliant goal on 59 minutes, shortly after Callanan had tapped a penalty over the bar for a Tipperary point.
Michael Fennelly cut in a perfect sideline ball from the left and Power rose high to catch it before rifling a superb finish from 20 yards past Gleeson and into the net. That put Kilkenny four clear at 1-15 to 1-11, and although Tipp responded with a free after an inspirational run from captain Brendan Maher, Kilkenny had the ball in the net again on 63 minutes.
Darren Gleeson, who had an outstanding game between the posts for Tipperary, made a string of superb saves as the sliotar bounced around his goalmouth, but he could do nothing to deny John Power, who tapped home to the net after Gleeson had blocked one into his path.
That made it 2-15 to 1-12, and when a John O'Dwyer '65' was answered by a wonder-score from Pádraig Walsh with less than five minutes to go, there looked to be no way back for Tipperary. However, on 69 minutes a Patrick Maher shot was blocked and fell into the path of Callanan, who swept home to the net to take his tally to 2-5 for the evening. The goal stirred Croke Park, and with five minutes (including injury-time) for Tipperary to claw back the two points, a comeback that had looked unlikely moments earlier suddenly looked on.
However, Kilkenny took control in the dying stages and confirmed their victory when Colin Fennelly pinged over a superb score to send them three clear. The final whistle sounds moments later, and Kilkenny are champions again. Cool for Cats indeed.
***
Scorers for Kilkenny: TJ Reid 0-5(5f), R Power 1-1 (1 '65'), J Power 1-1, C Fennelly 0-3, R Hogan 0-2, M Fennelly 0-2, E Larkin 0-2, P Walsh 0-1
Scorers for Tipperary: S Callanan 2-5 (4f, 0-1 pen), J O'Dwyer 0-3 (1 '65'), S McGrath 0-3, N McGrath 0-2, B Maher 0-1
KILKENNY: Eoin Murphy; Paul Murphy, JJ Delaney, Jackie Tyrrell; Pádraig Walsh, Kieran Joyce, Cillian Buckley; Richie Hogan, Conor Fogarty; Michael Fennelly, Colin Fennelly, Eoin Larkin; Richie Power, TJ Reid, John Power
Subs: Joey Holden for J Tyrrell (Blood Sub, 16-18), J Holden for JJ Delaney (Blood Sub, 36-HT), Henry Shefflin for R Hogan (58), Lester Ryan for M Fennelly (67).
TIPPERARY: Darren Gleeson; Cathal Barrett, Pádraic Maher, Paddy Stapleton; Brendan Maher, James Barry, Kieran Bergin; Shane McGrath, James Woodlock; Gearóid Ryan, Patrick Maher, John O'Dwyer; Noel McGrath, Seamus Callanan, Lar Corbett
Subs: Michael Cahill for S McGrath (56), Conor O'Mahony for G Ryan (64), Shane Bourke for L Corbett (65), Jason Forde for N McGrath (67), John O'Brien for J O'Dwyer (70)
Referee: Brian Gavin (Offaly)
Attendance: 81,753
***
Report: Arthur Sullivan
---
Preview: All-Ireland SHC Final Replay, @KilkennyCLG v @TipperaryGAA, Saturday, Croke Park, 5pm: http://t.co/1VYBDJNbF3 #gaa

— The GAA (@officialgaa) September 26, 2014
---
Team News
The Tipperary team to play Kilkenny in Saturday's All Ireland Senior Hurling Final Replay in Croke Park at 5:00pm has been named. There is no change to the team that started against Kilkenny in the drawn game. Lar Corbett will start his 6th All-Ireland Senior Final in search of his third medal while Padraic Maher, Paddy Stapleton, Shane McGrath, Noel McGrath and team captain Brendan Maher will start their 5th All-Ireland Senior Final.
Tipperary (SH team v Kilkenny) – Darren Gleeson (Portroe); Cathal Barrett (Holycross-Ballycahill), Padraic Maher (Thurles Sarsfields), Paddy Stapleton (Borris-Ileigh); Brendan Maher (Borris-Ileigh – Captain), James Barry (Upperchurch-Drombane), Kieran Bergin (Killenaule); Shane McGrath (Ballinahinch), James Woodlock (Drom & Inch); Gearóid Ryan (Templederry Kenyons), Patrick Maher (Lorrha-Dorrha), John O'Dwyer (Killenaule), Noel McGrath (Loughmore-Castleiney), Seamus Callanan (Drom & Inch), Lar Corbett (Thurles Sarsfields)
Kilkenny Team to play Tipperary in All Ireland Final Replay
1 Eoin Murphy Glenmore
2 Paul Murphy Danesfort
3 J J Delaney Fenians
4 Jackie Tyrrell James Stephens
5 Padraig Walsh Tullaroan
6 Kieran Joyce Rower Inistioge
7 Killian Buckley Dicksboro
8 Richie Hogan Danesfort
9 Conor Fogarty Erins Own
10 Michael Fennelly Ballyhale Shamrocks
11 Colin Fennelly Ballyhale Shamrocks
12 Eoin Larkin James Stephens
13 Richie Power Carrickshock
14 T J Reid Ballyhale Shamrocks
15 John Power Carrickshock
16 David Herity Dunnamaggin
17 Brian Hogan O'Loughlin Gaels
18 Joey Holden Ballyahale Shamrocks
19 Brian Kennedy St Lachtains
20 Lester Ryan(Clara) Clara
21 Tommy Walsh Tullaroan
22 Henry Shefflin Ballyahale Shamrocks
23 Aidan Fogarty Emeralds
24 Walter Walsh Tullogher Rosbercon
26 Mark Kelly O'Loughlin Gaels
26 Jonjo Farrell Thomastown
---
---
Replay Details
The GAA can confirm arrangements for the All-Ireland hurling replay at Croke Park at 5pm on Saturday, September 27.
Once again tickets will be reduced to €50 for stand, €25 for terrace and €10 for children. Tickets will be available through county boards and clubs and priority will be given to the competing counties for children's tickets.
---
---
Match Officials
The GAA has confirmed the referee and match officials for the 2014 GAA Hurling All-Ireland Senior Final Replay on September 27 with Offaly's Brian Gavin being appointed as referee between Tipperary and Kilkenny.
This will be Brian's third senior assignment, having previously taken charge of the 2013 drawn final between Clare and Cork and the 2011 decider, also between Kilkenny and Tipperary.
Matches on Brian's CV in 2014 include the Munster Senior Hurling Final between Cork and Limerick, Cork's outing against Waterford in the Munster Senior Hurling Championship Quarter Final and the Senior Hurling Championship quarter final clash between Tipperary and Dublin.
Wexford's James Owens will be the standby referee with James McGrath (Westmeath) as the other linesman and the sideline official will be Alan Kelly (Galway).
27.09.2014 (Sat)
GAA Hurling All Ireland Senior Championship Final Replay
Cill Chainnigh v Tiobraid Árann, Páirc an Chrócaigh, 17:00
Referee: Brian Gavin (Uíbh Fhailí)
Std By: James Owens (Loch Garman)
Linesman: James McGrath (An Iarmhí)
Sideline Official: Alan Kelly (Gaillimh)
Umpires
Michael Gavin, David Gavin, William Flynn (all Clara) and PJ Lawlor (Ferbane/Belmont).
---
---
For the third year in a row, the GAA hurling All-Ireland senior final is heading for a replay after Kilkenny and Tipperary fought out a thrilling draw in Sunday's final. It's back to Croke Park on Saturday, 27 September at 5pm after the 3-22 (Kilkenny) to 1-28 (Tipperary) draw, which was played in front of a crowd of 82,179.
It was the highest scoring 70-minute final (introduced in 1975) and the first time in championship history that a total of 31 points wasn't enough to win the All-Ireland final. It was also the first time that Kilkenny and Tipperary drew in a championship game.
---
---
Last Five Championship Replays
Kilkenny
2014 Leinster semi-final: Kilkenny 3-19 Galway 1-17
2013 Leinster semi-final: Dublin 1-16 Kilkenny 0-16
2012 All-Ireland final: Kilkenny 3-22 Galway 3-11
2004 All-Ireland quarter-final: Kilkenny 1-11 Clare 0-9
1993 Leinster final: Kilkenny 2-12 Wexford 0-11
Tipperary
2007 Munster semi-final: Limerick 0-22 Tipperary 2-13 (after extra-time)
2007 Munster semi-final: Limerick 1-24 Tipperary 2-21 (after extra-time)
2005 Munster semi-final: Tipperary 2-13 Limerick 0-18
2001 All-Ireland semi-final: Tipperary 3-12 Wexford 0-10
1996 Munster final: Limerick 4-7 Tipperary 0-16
---
---
Previous Senior Hurling Final Replays
2013: Clare 5-16 Cork 3-16
2012: Kilkenny 3-22 Galway 3-11
1959: Waterford 1-17 Kilkenny 5-5
1959: Waterford 3-12 Kilkenny 1-10 (replay)
1934: Limerick 2-7 Dublin 3-4
1934: Limerick 5-2 Dublin 2-6 (replay)
1931: Cork 1-6 Kilkenny 1-6
1931: Cork 5-8 Kilkenny 3-4 (replay)
1908: Tipperary 2-5 Dublin 1-8
1908: Tipperary 3-15 Dublin 1-5 (replay)
1905: Cork 5-10 Kilkenny 3-13 (replay ordered due to objection)
1905: Kilkenny 7-7 Cork 2-9 (replay)