2014/2015 Munster GAA Post Primary Schools Launch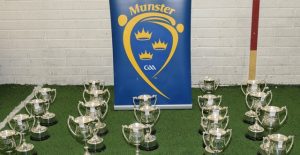 The launch of the 2014/2015 Munster GAA Post Primary Schools competitions on Friday September 26th at Mallow GAA Complex coincided with the introduction of 20 new cups. These cups will perpetuate the names of 20 Gaels who made an indelible contribution to Gaelic Games at Munster GAA Post Primary Schools level.
---
Click to view Munster GAA Facebook & photos from the launch
---
| | | | | |
| --- | --- | --- | --- | --- |
| Competition | 18½ A Hurling | 18½ B Hurling | 18½ C Hurling | 18½ D Hurling |
| Previously Known as; | Corn an Artaigh | Corn Phádraig | Corn Mhic Ruairí | |
| Name Suggested | Corn an Artaigh | Tom Collum Cup | Dick O Mahony Cup | Shane Hourigan Cup |
| Representing | Munster Colleges | Neutral (Limerick / Tipperary) Servicing officer | VEC (Cork) Servicing Officer | Limerick Referee |
| To be known as; | Corn an Artaigh | Corn Thomáis Mhic Cholaim | Corn Risteard Uí Mhathúna | Corn Sheáin Uí Anragáin |
---
| | | | | |
| --- | --- | --- | --- | --- |
| Competition | 18½ A Football | 18½ B Football | 18½ C Football | 18½ D Football |
| Previously Known as; | Corn Uí Mhuirí | Corn an Uachtaráin | Corn an Rúnaí | |
| Name Suggested | Corn Uí Mhuirí | Denis Noonan Cup | Shane Murphy Cup | John Moloney Cup |
| Representing | Munster College | Mallow (Colleges) | VEC Ballyvourney | Tipperary Referee) |
| To be known as; | Corn Uí Mhuirí | Corn Dhonncha Uí Nuanáin | Corn Sheáinmhic Mhurchidh | Corn Sheáin Uí Mhaolomhnaigh |
| | | | | |
| --- | --- | --- | --- | --- |
| Competition | 16½ A Hurling | 16½ B Hurling | 16½ C Hurling | 16½ D Hurling |
| Previously Known as; | Corn an Rianaigh | Corn an Chuinneánaigh | Corn Iognáid Rís | |
| Name Suggested | Corn an Rianaigh | James O Donoghue Cup | Darra O Donovan Cup | Kieran O Driscoll Cup |
| Representing | Munster Colleges | Thurles CBS | VEC Desmond Col | VEC Brogans Cork |
| To be known as; | Corn an Rianaigh | Corn Shéamuis Uí Dhonnchú | Corn an Darra Uí Dhonabháin | Corn Chiaráin Uí Dhrisceoil |
---
| | | | | |
| --- | --- | --- | --- | --- |
| Competition | 16½ A Football | 16½ B Football | 16½ C Football | 16½ D Football |
| Previously Known as; | Corn an Fhriúnnaigh | Corn Na gColáistí | Corn Na Carraige | |
| Name Suggested | Corn an Fhriúnnaigh | Liam Higgins Cup | Bobby Buckley Cup | Joseph O Neill Cup |
| Representing | Munster Colleges | VEC Kerry | VEC Kerry | St Fachtnas Cork |
| To be known as; | Corn an Fhriúnnaigh | Corn Liam Uí Uigínn | Corn Roibeard Uí Bhuachalla | Corn Seosamh Uí Néill |
---
| | | | | |
| --- | --- | --- | --- | --- |
| Competition | 15 A Hurling | 15 B Hurling | 15 C Hurling | 15 D Hurling |
| Previously Known as; | Corn an Fhaoitigh | Corn an Phiarsaigh | Corn Solo | |
| Name Suggested | Hugh O Dowd Cup | Raymond Hogan Cup | Jimmy Smyth Cup | Kevin Marren Cup |
| Representing | Clare Colleges | VEC Tipperary | Clare Colleges | VEC Ennis |
| To be known as; | Corn Aodh Uí Dhúda | Corn Réamoinn Uí Ógáin | Corn Shéamuis Mhic Ghabhann | Corn Chaoimhín Uí Mhearáin |
---
| | | | | |
| --- | --- | --- | --- | --- |
| Competition | 15A Football | 15B Football | 15C Football | 15D Football |
| Previously Known as; | Corn Uí Mhóráin | Corn Na Banndan | Corn Mhic Chraith | |
| Name Suggested | Br Colm Taft Cup | Eamon O Donoghue Cup | Eamon Martin Cup | Martin Mc Namara Cup |
| Representing | Chriost Ri Cork | VEC Castleisland | Dungarvan College | VEC Limerick |
| To be known as; | Corn an Bhráthair Choilm Taft | Corn Éamainn Uí Dhonnchú | Corn Éamann Uí Mháirtín | Corn Mháirtín Mhic Chonmara |
---
Senior Hurling
Tom Collum
A proud son of West Limerick Tom carved out a special niche for himself as a wonderful G.A.A man in his adopted county of Tipperary. He worked diligently for the G.A.A throughout a most fulfilling life. In 1956 he was a member of the Limerick minor football team that won the counties only provincial title in the grade.
Following his retirement from the Garda Siochana he involved himself in the role of servicing officer with the second level schools of Tipperary and Munster where he won the respect of all he came in contact with.
Dick O' Mahony
A teacher in St Colman's College, Midleton, Dick devoted his entire teaching career to the promotion of Gaelic games within the school. Indeed St Colmans became one of the leading schools in the then Vocational competitions at both county and provincial level under his stewardship. Dick also served as a selector on the Cork Vocational Schools Inter county hurling team. Upon his retirement from teaching he served as servicing officer for the Cork Vocational Schools GAA Board.
Shane Hourigan
'A Referee who was always available to referee games at every level. Shane was the man in the middle for the Munster Senior Club Final in 2014, the All Ireland Junior Final, All Ireland Minor Semi-Final, All Ireland Colleges Final, 2 Harty Cup Finals and The Fitzgibbon Cup. He was also a former Secretary and Chairman of his club, St Marys/Sean Finns. He is greatly missed.'
Senior Football
Denis Noonan
Denis was a past treasurer of the Munster Colleges competitions. He acted as Chairman of the Limerick colleges GAA and was a key figure in the promotion of gaelic games in Pallaskenry, Limerick & Munster. He was an excellent goalkeeper in his own playing days when attending St Coleman's college in Fermoy.
Shane Ó Murchú
Coláiste Ghobnatan Baile Mhúirne, and Clondrohid GAA, was an outstanding underage talent excelling at both football and hurling equally. He won numerous medals and awards throughout his tragically short career, winning man of the match scoring 3-1 in the Munster U16 Vocational Schools final in April 2012. He was destined for huge things prior to his tragic passing on the field of play in December of that year having become the inspirational leader of the Coláiste Ghobnatan Senior team, and indeed it was fitting that the team went on to win the County and Munster Vocational Senior Colleges titles that year in his memory. On an emotional January day in Mallow last year, Coláiste Ghobnatan found themselves up against Thurles CBS in the inaugural Munster PPS C Final, and when it was announced to trainer Mickey Ned Ó Sullivan prior to throw in, that Shanes teammates would be playing for the Shane Murphy Memorial Cup, come hell or high water they were not going to be denied. A quiet, unassuming lad that was destined to wear the county jersey in both codes, he is greatly missed by all that had the privileged of knowing him. Ar dheis dé go raibh a anam óg.
John Moloney
The Bansha farmer officiated at six All Ireland Finals in a glorious career as knight of the whistle. He travelled the length and breadth of Ireland refereeing schools games in all grades and codes and treated each one of them as if it was an All Ireland. A wonderful clubman and family man whose life ended all too soon for family and his legion of friends.
16.5 Hurling
James O Donoghue
James was called from this life in his mid thirties. He was a teacher at Thurles C.B.S, where his energy, integrity and diligence earned him the respect of colleagues and pupils. He was a wonderful G.A.A coach and prepared many a winning championship team from his school in an all too short life. He was a member of the famous O Donoghue family synonymous with everything that is positive and progressive about the G.A.A in Tipp town.
Darra O Donovan
Darra O'Donovan (16/11/96-12/12/11) was a student in Desmond College, Newcastle West, Co. Limerick. Darra was a talented young player in both Football and Hurling. He played with his parish Monagea at all underage level, with his school and with Limerick U15s. Darra Also represented his county on development squads at U13, U14, U15. He was captain of Desmond College 1st year Hurling Team when they won the County in 2009. Darra passed away on 12th December 2011 as a result of Sudden Adult Death Syndrome.
Kieran O Driscoll
During his time teaching in St Brogans College in Bandon the school enjoyed unprecedented success, at county, provincial and national level. Kieran also devoted much of his time to the Cork Vocational Schools Intercounty hurling team. Kieran was also a valued member of Kilbritten GAA club and a respected GAA analyst with 103 fm.
16.5 Football
Liam Higgins
Former Kerry Senior All-Ireland winning footballer , who taught and trained football teams in Dingle CBS with 2 All Ireland Championships in 1996 and 2001. Liam was also a prominent broadcaster and journalist in Kerry.
Bobby Buckley
Former Kerry footballer, who won 2 All Ireland Medals who taught Kenmare and Causeway Vocational Schools in Kerry. He also served as CEO of Tralee, Kerry and Cork VEC's. As teacher, principal and CEO Bobby Buckley promoted the values of Gaelic games, training teams at school and county Vocational Schools levels.
Joseph O Neill
Joseph O Neill was the driving force behind Gaelic football in St.Fachtnas DLS, Skibbereen. From first years to the sixth years he nurtured and developed several players that not only wore the red of St Fachtnas but Cork. A part of the management team that saw the school capture the Corn Ui Mhuirí and Hogan cup in 1991. In addition Joe also guided St Fachtnas to numerous A grade titles in Cork Colleges competitions.
15 Hurling
Fr Hugh O'Dowd
A native of Sixmilebridge, Fr Hugh lived for hurling and trained many successful Flannans teams during his time at the famed hurling nursery. His attention to detail was second to none and he was noted for his ability to identify talent at an early age. He contributed to many successes in the 1st years competitions, Dean Ryan and Harty Cup during the course of his career in the school.
Raymond Hogan
Raymond son of Paul and Mary Ann Hogan was called to his eternal reward in his teens a year or so after he had won an All Ireland schools title with Borrisokane. His brother had worn the Tipperary jersey with distinction with brother Padraig winning a senior All Ireland with Tipperary. Raymond was reputed to be the most talented of the family with the caman but his potential was never fulfilled as the good Lord had better things in store for the young Borrisokane boy who i am sure enjoyed from his heavenly home the recent All Ireland Hurling final between Tipperary and Kilkenny.
Jimmy Smyth
Jimmy Smyth is acknowledged as Clare's best ever hurler, playing senior with his county from 1945 to 1967. A noted prodigy in his teens, he played county minor for five years, and won three Harty Cups & three All-Ireland Colleges titles with St Flannans. He played in 12 Railway Cups, winning eight. Following his retirement Jimmy served as an official with the GAA in Croke Park from 1965 to 1988.
Kevin Marron
Kevin taught at second-level in Kilmihil, Newmarket-on-Fergus and Ennis Community College. His genial manner and temperment was an example to all his students, and he made a significant contribution to various schools teams over his career, as well as assisting with club teams in his native Newmarket-on-Fergus. Kevin was also the schools servicing officer and the driving force behind organising post-primary fixtures in the county for many years.
15 Football
Br Colm Taft
Br Colm coached football teams in Colaiste Chriost Rí for over quarter of a centuary. In his time coaching Chriost Ri achieved five in a row Munster 15A, three in a row Munster 16 ½ A and back to back Senior football titles. In addition he also coached Chriost Ri teams to numerous A titles in the then Cork Colleges competitions. In honour of his memory Chriost Rí renamed their school pitch Br Colm Pairc.
Eamon O'Donoghue
Former Kerry Senior All-Ireland winning footballer, who taught and trained football teams in Castleisland Vocational School. Eamon was also a prominent referee in Kerry. Eamon O' Donoghue was more than just a marvellous player; his sportsmanship, commitment and unassuming demeanour represented everything that is positive and enriching in the great game of Gaelic football.
Eamon Martin
Eamon Martin, a Kerryman from Caherciveen, came to Dungarvan in 1976 to take up a teaching post at Dungarvan CBS. He remained in his adopted West Waterford town until his untimely death in 2012. He trained CBS football teams throughout his teaching career, the highlight being the winning of the Corn na Carriage U.16½ Munster football championship in 1991. Despite the fact that hurling was the dominant sport in Dungarvan CBS the school football teams were very competitive at Munster B. Level over the years. Eamon played football and even tried hurling with his adopted club, the Brickey Rangers, for many years. He was a selector on the Waterford teams which won the All-Ireland Junior Football Championship in 1999 and 2004.
Martin McNamara
Martin principal of the Voc. Sch. Newcastle West from 1982 to 1999 was a lover of football and born in Glin on the Limk/Kerry border and played minor for Glin in the early 50s. In 1956 the Limerick minor football team of which he was a member beat Cork in the semi final and Kerry in the final-a rare feat. He also played with UCC in the Sigerson and Cork championship. His greatest achievement at school level was when 2 football teams that he trained played in All Ireland finals in Croke Park in the 70s. He left a great sporting legacy which lives on to this day in Desmond College.