2022 GAA Hurling All-Ireland Senior Championship Semi-Final – Kilkenny 2-26 Clare 0-20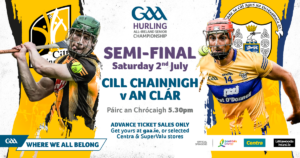 Kilkenny defeated Clare by 2-26 to 0-20 in the GAA Hurling All-Ireland Senior Championship Semi-Final on Saturday July 2nd at Croke Park.
---
REPORT: @KilkennyCLG delivered a dynamic display to defeat @GaaClare at @CrokePark

— The GAA (@officialgaa) July 2, 2022
All-Ireland SHC semi-final: Kilkenny cruise to victory
KILKENNY 2-26 CLARE 0-20
Report by Kevin Egan at Croke Park for GAA.ie
Anything and everything was expected in this evening's clash between Kilkenny and Clare at Croke Park, though very few supporters made the pilgrimage to Jones' Road anticipating the largest margin of victory in an All-Ireland semi-final for a decade.
On a day when Clare's striking in front of the posts deserted them, it was the most subtle of Kilkenny touches that made all the difference. This was a victory for clever use of the ball, only playing it exactly as far as it needed to go, and above all, getting a touch, a flick, anything, to disrupt the Clare player in possession. If the scoreboard was a touch one-sided, the hook/bock/tackle count must have been doubly so, and this proved to be as much of a factor as Clare's 24 wides.
The word from the Marble County was that the quality of the training and in-house games over the past month, since their workmanlike victory over Galway in the Leinster final, hinted at a big performance this afternoon. Few could have imagined the whirlwind that was to come.
Perhaps the biggest question mark over Kilkenny coming into the game was their lack of consistent scoring threats up front, with TJ Reid's metronomic freetaking and Adrian Mullen's performances from midfield carrying the load in that regard.
Sure enough, it was a Mullen point and a free from Reid that kept the sides level in the early stages, cancelling out a sharp score from David Fitzgerald and a gorgeous piece of footwork from Shane O'Donnell that got Clare off the mark.
Already however, the wide count was mounting for the Banner. Their clear tactic of going long, both in terms of trying to hit their inside forwards from distance, and shooting from the middle third of the field, was yielding both wides and turnovers, and when Kilkenny got on a run of possession, the contrast was stark.
Eoin Cody made a real statement by winning possession past two defenders and firing the ball over from an acute angle, and by the 15th minute they had moved five clear through Reid, Cody and Browne.
The crowd of just under 40,000, the majority sporting blue and yellow, grew increasingly nervous as Tony Kelly missed the target with a couple of frees, and up front, only David Fitzgerald was making any sort of meaningful impression on the game; and even he was finding the going tough on Richie Reid.
When Diarmuid Ryan stepped up to make a fine catch and point in the 20th minute, reducing the gap to four points, 0-9 to 0-5, Clare were still in the game and just needed to settle.
By half-time, they might as well have had to scale the Cliffs of Moher, as they trailed by 14, 1-17 to 0-6. Six points in a row, scored by six different players, put paid to the idea that there is no variation of threat in the Kilkenny attack.
Many of the scores could have been traced back to Clare errors, either forced dispossessions in their own half, brought about by Kilkenny pressure, or poor deliveries into the Clare forwards that were turned over and methodically worked down the field.
A Tony Kelly free – his first score of the game – briefly stemmed the bleeding, but then yet another turnover led to a Pádraig Walsh score, Clare fluffed a goal chance with an overhit pass and again the ball was worked down the field for Adrian Mullen to split the posts, and even though it was only just before half-time, it felt final when Martin Keoghan attempted to bat the sliotar past Éibhear Quilligan and then followed up to tap the ball to the net when the Feakle man made a superb block.
11 wides, three shots dropped short and two missed goal chances summed up Clare's first half. It got no better after the break either. Diarmuid Ryan, Rory Hayes and Kelly all pointed from distance to cut the gap slightly, but that run of scores was well-punctuated by further wides, while Kilkenny continued to threaten at the other end.
With Clare getting increasingly desperate in their bid to push forward and eat into the lead, Cian Kenny found an ocean of space to run through and slip in a second goal, and there was no way back.
Tonight, tomorrow and next week will be too early to take crumbs of solace from such meagre consolation, but Clare's bench helped steady the ship a little bit, with Cian Nolan and Mark Rodgers particularly impressive, while Shane O'Donnell nicked three late points to reduce the gap, but the margin never fell below ten, and there was never a moment when Eoin Murphy was tested to the limit in the Kilkenny goal either.
One place in the 2022 All-Ireland hurling final has been locked down. All attention now turns to tomorrow to see if Limerick's three-in-a-row ambitions can survive a Galway onslaught, or if we're in for another chapter in the Kilkenny-Galway trilogy this summer.
Scorers for Kilkenny: TJ Reid 0-10 (0-7f), Cian Kenny 1-2, Adrian Mullen 0-5, Martin Keoghan 1-0, Eoin Cody 0-3, Pádraig Walsh 0-2, Billy Ryan 0-2, Conor Browne 0-1, John Donnelly 0-1.
Scorers for Clare: Shane O'Donnell 0-4, Tony Kelly 0-4 (0-3f, 0-1 65), David Fitzgerald 0-3, Diarmuid Ryan 0-3, Mark Rodgers 0-2, Rory Hayes 0-1, David McInerney 0-1, Peter Duggan 0-1f, Ryan Taylor 0-1.
Kilkenny: Eoin Murphy; Huw Lawlor, Tommy Walsh, Paddy Deegan; Richie Reid, Mikey Butler, Mikey Carey; Cian Kelly, Conor Browne; Adrian Mullen, Pádraig Walsh, Billy Ryan; TJ Reid, Martin Keoghan, Eoin Cody.
Subs: Walter Walsh for Keoghan (half-time), John Donnelly for P Walsh (49), Richie Leahy for Browne (61), Alan Murphy for Ryan (66), David Blanchfield for Carey (70+1).
Clare: Eibhear Quilligan; Paul Flanagan, Conor Cleary, Rory Hayes; Diarmuid Ryan, David McInerney, Páidí Fitzpatrick; Cathal Malone, Ryan Taylor; Shane O'Donnell, Tony Kelly, David Fitzgerald; David Reidy, Ian Galvin, Peter Duggan.
Subs: Aron Shanagher for Galvin (26), Mark Rodgers for Reidy (half-time), Aaron Fitzgerald for Fitzpatrick (half-time), Shane Meehan for Duggan (49), Shane Golden for Taylor (66)
Referee: Fergal Horgan (Tipperary)
---
Team News
Clare: Eibhear Quilligan; Rory Hayes, Conor Cleary, Paul Flanagan; Diarmuid Ryan, John Conlon, David McInerney; David Fitzgerald, David Reidy; Cathal Malone, Tony Kelly, Shane O'Donnell; Ian Galvin, Peter Duggan, Ryan Taylor.
Subs: Éamonn Foudy, Paudie Fitzpatrick, Aron Shanagher, Shane Meehan, Aaron Fitzgerald, Shane Golden, Darragh Lohan, Cian Nolan, Jack Browne, Domhnall McMahon, Mark Rodgers
Kilkenny: Eoin Murphy; Mikey Butler, Huw Lawlor, Tommy Walsh; Michael Carey, Richie Reid, Paddy Deegan; Adrian Mullen, Conor Browne; Eoin Cody, Padraig Walsh, TJ Reid; Billy Ryan, Martin Keoghan, Cian Kenny.
Subs: Darren Brennan, Conor Delaney, David Blanchfield, Darragh Corcoran, James Maher, Cillian Buckley, Alan Murphy, Walter Walsh, John Donnelly, Richie Leahy, Richie Hogan.
---
Match Preview
This weekend's All-Ireland SHC semi-finals – @GaaClare v @KilkennyCLG on Saturday and @LimerickCLG v @Galway_GAA on Sunday – promise to be thrillers. #GAABelong

— The GAA (@officialgaa) July 1, 2022
---
Match Programme
It's @GaaClare v @KilkennyCLG this weekend. Buy your official match programme now and you'll also receive a coupon to download a free digital version in time for the match. pic.twitter.com/cfKNw1nUal

— DBA Publications (@DBApublications) July 1, 2022
---
They meet in the championship for the first time since the 2006 All-Ireland semi-final which Kilkenny won by 8 points. Kilkenny last reached the All-Ireland final in 2019 while Clare were last there in 2013.
While Kilkenny are Leinster champions, they have lost more games than Clare, losing to Galway and Wexford in the Leinster 'round robin', while Clare's only defeat came after extra-time against Limerick in the Munster final.
---
PATHS TO THE SEMI-FINAL – CLARE
Clare 3-21 Tipperary 2-16 (Munster SHC)
Clare 0-28 Cork 2-20 (Munster SHC)
Clare 0-24 Limerick 1-21 (Munster SHC)
Clare 3-31 Waterford 2-22 (Munster SHC)
Limerick 1-29 Clare 0-29 aet (Munster final)
Clare 1-24 Wexford 3-14 (All-Ireland quarter-final)
Played 6, Won 4, Drew 1, Lost 1
TOP SCORERS – CLARE
Tony Kelly…………1-50 (0-24 frees, 1-0 pen, 0-1 s/l)
David Fitzgerald….2-15
Peter Duggan…….1-22 (0-11 frees, 0-2 '65s', 0-2 s/l)
Ryan Taylor………..0-12
Shane O'Donnell……0-11
Ian Galvin……………..1-8
PATHS TO THE SEMI-FINAL – KILKENNY
Kilkenny 5-23 Westmeath 1-19 (Leinster SHC)
Kilkenny 2-34 Laois 1-14 (Leinster SHC)
Galway 1-24 Kilkenny 3-17 (Leinster SHC)
Kilkenny 3-25 Dublin 0-17 (Leinster SHC)
Wexford 1-22 Kilkenny 1-18 (Leinster SHC)
Kilkenny 0-22 Galway 0-17 (Leinster final)
Played 6, Won 4, Lost 2
TOP SCORERS – KILKENNY
TJ Reid………………2-46 (0-35 frees, 0-3 '65s')
Adrian Mullen…….0-20
Eoin Cody…………..2-11
Austin Murphy……..0-15 (0-10 frees)
Walter Walsh……….1-10
LAST FIVE CHAMPIONSHIP MEETINGS
2006: Kilkenny 2-21 Clare 1-16 (All-Ireland semi-final)
2004: Kilkenny 1-11 Clare 0-9 (All-Ireland quarter-final – replay)
2004: Kilkenny 1-13 Clare 1-13 (All-Ireland quarter-final)
2002: Kilkenny 2-20 Clare 0-19 (All-Ireland final)
1999: Kilkenny 2-14 Clare 1-13 (All-Ireland semi-final)
LAST FIVE ALL-IRELAND SEMI-FINALS – KILKENNY
2021: Cork 1-37 Kilkenny 1-32 (aet)
2020: Waterford 2-27 Kilkenny 2-23
2019: Kilkenny 1-21 Limerick 2-17
2016: Kilkenny 2-19 Waterford 2-17 (replay)
2016: Kilkenny 1-21 Waterford 0-24 (draw)
LAST FIVE ALL-IRELAND SEMI-FINALS – CLARE
2018: Galway 1-17 Clare 2-13 (replay)
2018: Galway 1-30 Clare 1-30 aet (draw)
2013: Clare 1-22 Limerick 0-18
2006: Kilkenny 2-21 Clare 1-16
2005: Cork 0-16 Clare 0-15
---
This will be the 22nd time that Brian Cody has led Kilkenny into the All-Ireland semi-final since taking over as manager for the 1999 season. They have won 16, drawn one and lost four of the previous 21. The four defeats were against Galway in 2001 and 2005, Waterford in 2020 and Cork last year. The draw was against Waterford in 2016. The only years Kilkenny didn't qualify for semi-finals in the Cody years were 2018-2017-2013.
This will be the eighth championship meetings between Clare and Kilkenny, with the Cats having won five to Clare's one and one draw from the previous seven. Clare's only win came in the 1997 All-Ireland semi-final.
Their last competitive clash was in last year's Allianz League when Clare won by four points (4-20 to 1-25).

---
WHO DOES BEST: PROVINCIAL CHAMPIONS OR QUARTER-FINAL WINNERS?
It's 28-22 in wins for provincial winners over All-Ireland quarter-final winners in the semi-final since the hurling championship exited the straight knock-out system in 1997. There were also two draws.
Leinster winners have fared much better in semi-finals than their Munster counterparts. Leinster champions have won 17, lost eight and drawn two; Munster champions have won 11, lost 14 and drawn two.
Munster champions went through a particularly bad spell between 2012 and 2019 when they lost seven and won one of eight All-Ireland semi-finals. Tipperary (2016) were the only winners. Tipperary (2012-2015), Cork (2014-2017-2018), Limerick (2013-2019) all lost.
Limerick won their last two All-Ireland semi-finals (2020-2021) as Munster winners. Kilkenny lost their last two semi-finals (2020-2021) as Leinster winners.