2020 Munster GAA Senior Football Championship Final – Tipperary 0-17 Cork 0-14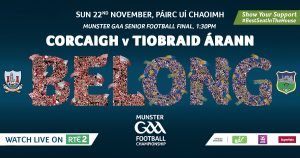 Tipperary defeated Cork by 0-17 to 0-14 in the Munster Senior Football Championship Final on Sunday November 22nd at Páirc Uí Chaoimh.
---
.@TipperaryGAA are Munster Senior Football Champions for 2020! pic.twitter.com/l9GBkzGJzP

— The GAA (@officialgaa) November 22, 2020
---
Match Highlights
Watch the Full-Time Highlights of Tipperary v Cork in the Munster Senior Football Final here on GAANOW!
Full-Time Score:
Tipperary: 0-17
Cork: 0-14 pic.twitter.com/7UlIUzoOfK

— The GAA (@officialgaa) November 22, 2020
---
Munster SFC Final: Terrific Tipp end 85 year wait for Munster title
TIPPERARY 0-17 CORK 0-14
Report By John Harrington at Páirc Uí Chaoimh for GAA.ie
On days like this it's easy to believe to believe in destiny.
The Tipperary footballers have won their first Munster title since 1935 and they have done it on the anniversary weekend of Bloody Sunday when one of their own, Mick Hogan, was murdered by Crown forces in Croke Park.
To mark the occasion the Tipperary players wore the same white and green-hooped jerseys that their forebears had worn on that fateful day 100 years ago.
And on the sleeves of those jersies was an image of Mick Hogan himself.
Who knows how much the Premier County players were inspired by that history, but they have certainly done it proud with this achievement.
That Tipperary team of the 1920s was renowned for their brave, attacking brand of football, and those same qualities imbued a stirring victory over Cork.
Making a nonsense of their status as underdogs, it was Tipperary who showed far more conviction throughout the match.
This was a complete performance. They defended with substance and attacked with style.
They took Cork on where they were strongest, in the middle third, and by winning that battle were able to exploit the edge in class that Michael Quinlivan and Conor Sweeney gave them in attack.
Tipperary made a statement of their intent from the off, scoring the first three points of the game in the first three minutes.
Team captain Conor Sweeney led by example as he claimed and converted a mark and then landed a second from play via that sweet left peg of his.
Michael Quinlivan had been relatively quiet by his very high standards in the wins over Limerick and Clare, but now he too gave us the first clue he was in zone by landing Tipperary's third of the day.
Cork had little option other than to pull their socks up, and thanks mainly to the effort of Ian Maguire in the middle of the field they started to get to grips with the Tipperary challenge.
Luke Connolly landed their first of the day, and for the next few minutes Tipperary struggled to get out of their half because Cork briefly held sway in the middle third of the field.
Frees from Connolly and Mark Collins drew Cork level, but that didn't signal a significant shift in the flow of the game.
Steven O'Brien, Liam Casey, and Colin O'Riordan upped their work-rate in the middle third to quell Cork's dominance there, and once again Tipperary had some good go-forward ball.
Conor Sweeny landed their fourth of the day, and though Cork went ahead for the first time in the thanks to a converted free and '45 by Connolly, that's as good as things would get for them in the first half.
Tipperary dominated the second quarter, outscoring Cork by seven points to two, as they pulled them apart with surging runs from deep, ambitious support play, and intelligent runs from their forwards.
Michael Quinlivan, especially, really roared into the game now, as he kicked a fine free and then landed a terrific point from open play to edge Tipp two clear.
You could see the confidence of the Premier County's players really blossom now as they were urged on from the sidelines by their very vocal management and substitutes.
They landed two more fine score in the space of a minute through Sweeney and buccaneering centre-back Kevin Fahy.
And though John O'Rourke gave Cork a much needed boost with their first score for 10 minutes, it was Tipp who had the final say of the half when that man Quinlivan slung over another outrageous point to put his team 0-11 to 0-7 ahead at the break.
The started the second half exactly like they had started the first – with a pointed mark by Conor Sweeney after he was picked out by Colin O'Riordan, who excelled in his first game for his county since his switch to the AFL at the end of 2015.
Two minutes later they very nearly landed a knock-out blow when Liam Casey cut through the Cork defence and squared for Steven O'Brien who fisted the ball off the crossbar.
The rebound was bundled to the net, but referee Maurice Deegan ruled it was by foul means and Cork had a temporary reprieve.
When the Rebels scored the next two points of the match you figured they were building up a head of steam, but Tipperary showed a lot of resilience to defend in numbers and slow them down again.
Ten minutes went without a score as Cork struggled to make any headway against the tenacious Tipp tacklers, and then they were back to square one again when the Premier County hit them for two quickfire points through Casey and Sweeney.
Three points in a row for Cork – two Mark Collins frees and a point from play from Sean White – narrowed the gap briefly to three points, but Tipp found a response again.
Evan Comerford pinged over a long range free, and then Michael Quinlivan intercepted a kick-out from Micheál Martin and his attempted lob clipped the cross-bar on the way over for another point.
A Cathail O'Mahony free made it a one score game again, but then the evergreen Philip Austin came off the bench for Tipp and scored with his very first kick to settle jangling nerves.
John O'Rourke reduced Cork's deficit to three points injury time, but they never looked like scoring the goal they needed to pull the game out of the fire.
The final whistle eventually blew, and the Premier County were crowned Munster Senior Football Champions for the first time in 85 years.
It's been a long time coming, but all the sweeter for it.
---
This is what it means to them. Lump in the throat stuff. What a moment for Colin O'Riordan and for @TipperaryGAA 🏐👏 #TheToughest pic.twitter.com/WAvPqFPwCJ

— AIB_GAA (@AIB_GAA) November 22, 2020
---
Scorers for Tipperary: Conor Sweeney 0-7 (2 marks, 2f), Michael Quinlivan 0-5 (1f), Liam Casey 0-2 (1 mark), Kevin Fahey 0-1, Philip Austin 0-1, Evan Comerford 0-1 (f)
Scorers for Cork: Mark Collins 0-4 (4f), Luke Connolly 0-4 (2f, 1 '45), John O'Rourke 0-2, Colm O'Callaghan 0-1, Brian Hurley 0-1, Sean White 0-1, Cathail O'Mahony 0-1 (f).
TIPPERARY: Evan Comerford; Alan Campbell, Jimmy Feehan, Colm O'Shaughnessy; Bill Maher, Kevin Fahey, Robbie Kiely; Steven O'Brien, Liam Casey; Conal Kennedy, Michael Quinlivan, Colin O'Riordan; Brian Fox, Conor Sweeney, Colman Kennedy
Subs: Liam Boland for Colman Knnedy (51), Paudie Feehan for Kevin Fahey (54), Emmet Moloney for Brian Fox (61), Padraic Looram for Robbie Kiely (63), Philip Austin for Liam Casey (71)
CORK: Micheál Martin; Kevin O'Donovan, Maurice Shanley, Paul Ring; Tadhg Corkery, sean Meehan, Mattie Taylor; Ian Maguire, Killian O'Hanlon; John O'Rourke, Colm O'Callaghan, Rúairí Deane; Mark Collins, Brian Hurley, Luke Connolly
Subs: Cathail O'Mahony for Luke Connolly (ht), Sam Ryan for Paul Ring (40), Sean White for Colm O'Callaghan (44), Mark Keane for Killian O'Hanlon (59), Michael Hurley for Mattie Taylor (65),
Ref: Maurice Deegan (Laois)
---
Online Match Programme
The 32 page Munster Football Final programme is now available to download free below.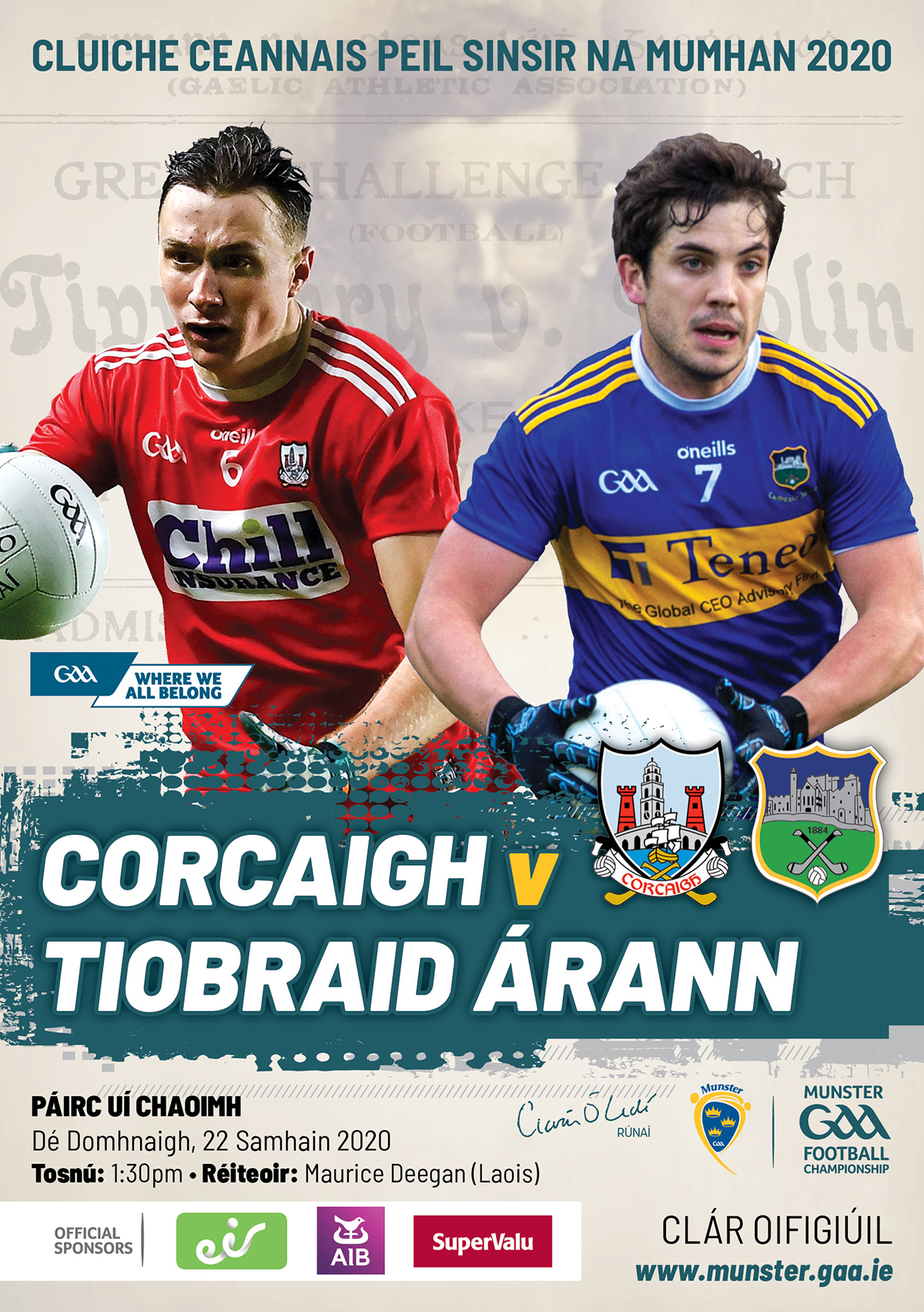 Click to view the Match Programme in PDF Format
Click to view the Match Programme (Single Pages) in PDF Format
---
Printed programmes are available for individual sale.
Click here for more information
---
Team Pages