2016 Munster GAA Convention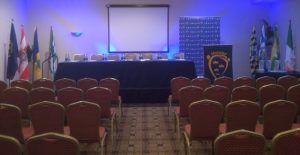 The 2016 Munster GAA Annual Convention took place on Friday January 29th at the Rochestown Park Hotel in County Cork.
Outgoing Chairman Robert Frost (Clare) stepped down following the completion of his 3 year term and was succeeded by Jerry O'Sullivan (Cork). Liam Lenihan (Limerick) was elected as the new Munster Vice-Chairman.
Munster GAA Officers for 2016
Back row (left to right) – Frank Murphy (President, Cork), Kieran Leddy (Operations Manager, Cork), Simon Moroney (CEO, Clare)
Front row (left to right) – Anthony Walsh (Treasurer, Waterford), Jerry O'Sullivan (Chairman, Cork), Liam Lenihan (Vice-Chairman, Limerick), Ger Ryan (PRO, Tipperary)
---
Click to view photos from Convention
---
2015 Munster GAA Convention Booklet – PDF Format
---
Click to view the 2015 Munster GAA Secretary's Report by CEO Simon Moroney – PDF format
---
Click to view the Munster GAA Financial Statements for 2015 – PDF Format
---
Click to view the Nominations and Motions for consideration at Munster GAA Convention – PDF Format
---
Munster GAA Chairmen – 1901 to 2016
---