Munster SHC Semi-Final – Waterford 3-19 Cork 1-21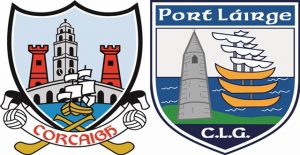 Waterford defeated Cork by 3-19 to 1-21 in the Munster Senior Hurling Championship Semi-Final on Sunday June 7th at Semple Stadium Thurles.
---
---
Waterford reach Munster final with win over Cork | http://t.co/NJf0iPMDYu (RMC) pic.twitter.com/RSh6nTyAqw

— Irish Examiner Sport (@ExaminerSport) June 7, 2015
Waterford reach Munster final with win over Cork
By John Fogarty for the Irish Examiner newspaper
Waterford 3-19 Cork 1-21
The good news story that is Waterford hurling continued this afternoon as they made it a deserved double over Cork to reach their first Munster final in three years. Five weeks after beating Cork in a Division 1 final, they were too good again for their neighbours in Thurles, Maurice Shanahan and Michael Walsh leading the line in the closing stages to ensure they stayed ahead and the Déise retained their unbeaten 2015 record.
A Patrick Horgan penalty goal in the first minute of injury time reduced the margin to two points only for substitute Tom Devine to goal at the other end. He needed three attempts to hit it but eventually struck it past Anthony Nash to seal Cork's fate. It was just desserts for Waterford having look so controlled for most of the second half as the Bennett brothers, Stephen and Shane, weighed in with a brace of points each. Noel Connors once more kept Horgan at bay and Cork will have serious questions to answer before the qualifiers on July 4.
The game came to life with Waterford's two goals in the 27th and 30th minutes. Up until then, wides more than points was the order of the day with Austin Gleeson, with four, and Aidan Walsh, shooting one less, the worst offenders. Waterford trailed Cork until Shanahan caught a delivery from Gleeson, a change for the better from the Mount Sion man, and his finish was just too good for Anthony Nash. Tadhg de Burca fired over a point virtually from the resultant puck-out and the initiative had switched.
A Luke O'Farrell response in the form of a point threatened to halt Waterford's momentum only for Shane Bennett to find Walsh with a short range stick-pass and Walsh found Jake Dillon, who had left his marker Cormac Murphy, and his shot was just as scintillating as Shanahan's. Leading 2-5 to 0-8, Kevin Moran made a handling error just as it appeared Cork were to be opened up again before Nash had to snuff out another Dillon shot, this time from a tighter angle. Shanahan followed that up with a 65 although Cork finished the half the better with three points on the trot to close the gap to one, 2-6 to 0-11, at half-time.
Scorers for Waterford: M Shanahan (1-9, 0-6 frees, 1 65); J Dillon, T Devine (1-0 each); K Moran, Stephen Bennett, Shane Bennett (0-2 each); A Gleeson (free), T de Burca, C Dunford, P Curran (0-1 each).
Subs for Waterford: E Barrett for K Moran (blood, 10-12); S Bennett for B O'Halloran (45); T Devine for Stephen Bennett (60); E Barrett for C Dunford (63); P Curran for J Dillon (68).
Scorers for Cork: P Horgan (1-7, 1-0 pen, 0-6 frees); P Cronin (0-5); A Cadogan (0-2); C Lehane, M Ellis, D Kearney, L O'Farrell, A Walsh, B Cooper, D McCarthy (65) (0-1 each).
Subs for Cork: R O'Shea for C Murphy (47); D McCarthy for D Kearney (51); P O'Sullivan for A Walsh (57).
Red card: L O'Farrell (straight, 64).
WATERFORD: S O'Keeffe; B Coughlan, N Connors, S Fives; A Gleeson, T de Burca, P Mahony; C Dunford, J Barron; M Walsh, K Moran, J Dillon; S Bennett, M Shanahan, B O'Halloran.
CORK: A Nash; S O'Neill, S McDonnell, B Murphy; D Cahalane, M Ellis, C Murphy; D Kearney, B Cooper; C Lehane, P Cronin, A Walsh; A Cadogan, P Horgan, L O'Farrell.
Referee: B Kelly (Westmeath)
---
Report – @WaterfordGAA were convincing winners over @OfficialCorkGAA as they advanced to the Munster final: http://t.co/y5gRZFSicT #GAA

— The GAA (@officialgaa) June 7, 2015
---
Waterford book spot in Munster hurling final: Derek McGrath's Waterford have beaten 14-man Cork in Thurles to … http://t.co/ZEyYctzhQt

— RTÉ GAA (@RTEgaa) June 7, 2015
---
Preview – @MunsterGAA SHC Semi-Final, @OfficialCorkGAA v @WaterfordGAA, Thurles, Sunday, 4pm: http://t.co/80m4WxJQB9 #GAA

— The GAA (@officialgaa) June 5, 2015
---
Click here to buy tickets online
---
---
Ticket Information
Adult Covered Stand: €30
Adult Uncovered Stand: €25
Adult Terrace: €20
Juveniles are €5 in all locations of the stadium.
Students & OAP's can buy full price Adult tickets and receive concession at designated turnstiles on the day.
This is a reserved seating fixture.
Click here to buy tickets online
Tickets can be purchased in Centra and Supervalu stores in Cork and Waterford – see listing below or visit the Munster GAA Ticketing Locator
---
Team News
announcing @OfficialCorkGAA SH team v Waterford http://t.co/4pz3rNlVQS pic.twitter.com/qAe1wNs74k

— Cork GAA (@OfficialCorkGAA) June 4, 2015
Cork Senior Hurling Team v Waterford
1. Anthony Nash (Kanturk) Capt.
2. Shane O'Neill (Bishopstown)
3. Stephen McDonnell (Glen Rovers)
4. Brian Murphy (Bride Rovers)
5. Damien Cahalane (St. Finbarr's)
6. Mark Ellis (Millstreet)
7. Cormac Murphy (Mallow)
8. Daniel Kearney (Sarsfields)
9. Aidan Walsh (Kanturk)
10. Conor Lehane (Midleton)
11. Seamus Harnedy (St. Ita's)
12. Bill Cooper (Youghal)
13. Alan Cadogan (Douglas)
14. Luke O'Farrell (Midleton)
15. Patrick Horgan (Glen Rovers)
Subs:
16. Patrick Collins (Ballinhassig)
17. William Kearney (Sarsfields)
18. Killian Burke (Midleton)
19. Aidan Ryan (Midleton)
20. Patrick Cronin (Bishopstown)
21. Brian Lawton (Castlemartyr)
22. Rob O'Shea (Carrigaline)
23. Darren McCarthy (Ballymartle)
24. Stephen Moylan (Douglas)
25. Paudie O'Sullivan (Cloyne)
26. Jamie Coughlan (Newtownshandrum)
Waterford Intermediate and Senior Teams v Cork. Munster Championship. Sunday Best of luck lads. #Betherealltheway http://t.co/Igsf7BOopo

— Waterford GAA (@WaterfordGAA) June 5, 2015
Waterford Senior Hurling Team
1. Stephen O'Keeffe (Ballygunner)
2. Shane Fives (Tourin)
3. Barry Coughlan (Ballygunner)
4. Noel Connors (Passage)
5. Tadhg de Búrca (Clashmore/Kinsalebeg)
6. Austin Gleeson (Mount Sion)
7. Philip Mahony (Ballygunner)
8. Jamie Barron (Fourmilewater)
21 Maurice Shanahan (Lismore)
10. Kevin Moran (De La Salle) CAPTAIN
11. Stephen Bennett (Ballysaggart)
12. Jake Dillon (De La Salle)
13. Brian O'Halloran (Clashmore Kinsalebeg)
14. Michael Walsh (Stradbally)
15. Colin Dunford (Colligan)
---
---
List of Centra / Supervalu outlets in Cork
Centra Carrigtwohill Cork
SuperValu Hollyhill Cork
SuperValu Blarney Cork
SuperValu Castletownbere Cork
SuperValu Dunmanway Cork
SuperValu Kanturk Cork
SuperValu Millstreet Cork
SuperValu Newmarket Cork
SuperValu Skibbereen Cork
SuperValu Blackrock Cork
SuperValu Glanmire Cork
SuperValu Ballincollig – Quish's Cork
SuperValu Charleville Cork
SuperValu Youghal Cork
SuperValu Togher Cork
SuperValu Bandon Cork
SuperValu Midleton Cork
SuperValu Carrigaline Cork
SuperValu Fermoy Cork
SuperValu Bantry Cork
SuperValu Mallow Cork
SuperValu Clonakilty Cork
SuperValu Ballincollig – Down's Cork
SuperValu Merchants Quay Cork
SuperValu Mitchelstown Cork
SuperValu Grange Cork
SuperValu Cobh Cork
Centra Fermoy Cork
Centra Mallow Cork
Centra Bishopstown Cork
Centra Crosshaven Cork
Centra Charleville Cork
Centra Tower Cork
Centra Togher Cork
The Pavilion Cafe Bar Cork
Pluggd Records Cork
List of Centra / Supervalu outlets in Waterford
Centra Coolagh Service Station Waterford
SuperValu Dungarvan, Garvey's Waterford
SuperValu Dungarvan, Morrissey's Waterford
SuperValu Tramore Waterford
SuperValu Waterford Waterford
SuperValu Cappoquin Waterford
---
---
Useful Information
Cork bridged an 8 year gap to win last year's Munster championship – the longest gap since the 10 year period between their 1956 and 66 wins.
Waterford defeated Cork by 1-24 to 0-17 in the Allianz Hurling League final at Semple Stadium on Sunday May 3rd. The game was refereed by Johnny Ryan of Tipperary who also refereed the replay between the two sides in last year's Munster championship which Cork won by 0-28 to 0-14.
With Limerick's victory 2 years ago and Cork's victory last year, Clare are the only one of the 5 participating counties not to have one the Munster SH Championship since 2010, a record which will continue to 2016 at least following their narrow defeat to Limerick in this year's quarter-final.
Prior to last year's victory over Waterford, Cork last won a replay in the Munster SHC in 1987, a 3-14 to 0-10 victory over Limerick.
Prior to last year's draw and replay Cork and Waterford previously met in the Munster senior hurling championship July 17th 2010 when Waterford defeated Cork by 1-16 to 1-13 aet in the Munster final replay. An 83rd minute goal by current Waterford selector, Dan Shanahan, proved to be the difference between the sides after 2 epic encounters in 6 days.
The last 8 Cork v Waterford games in the Munster Senior Hurling Championship have produced 29 goals.
Four of the five games in last year's Munster Championship were played at Semple Stadium Thurles with the only exception being the final which was played at Páirc Uí Chaoimh which was hosting its last senior final before being redeveloped. Páirc na nGael in Limerick will host its first Munster senior hurling championship since the 2013 final in June 21st when Limerick host Tipperary.
Patrick Horgan of Cork scored a total of 0-21 in the drawn and replayed games (0-11 in draw, 0-10 in replay) against Waterford in 2014 while Pauric Mahony scored a total of 0-17 (0-12 in draw, 0-5 in replay) for Waterford in the same 2 games.
Cork will meet Waterford in Munster Under 21 hurling semi-final in Páirc Uí Rinn on Wednesday June 17th.
---
---
Munster GAA HURLING Senior Championship Roll Of Honour
Cork (52) – 1888, 1890, 1892, 1893, 1894, 1901, 1902, 1903, 1904, 1905, 1907, 1912, 1915, 1919, 1920, 1926, 1927, 1928, 1929, 1931, 1939, 1942, 1943, 1944, 1946, 1947, 1952, 1953, 1954, 1956, 1966, 1969, 1970, 1972, 1975, 1976, 1977, 1978, 1979, 1982, 1983, 1984, 1985, 1986, 1990, 1992, 1999, 2000, 2003, 2005, 2006, 2014
Tipperary (40) – 1895, 1896, 1898, 1899, 1900, 1906, 1908, 1909, 1913, 1916, 1917, 1922, 1924, 1925, 1930, 1937, 1941, 1945, 1949, 1950, 1951, 1958, 1960, 1961, 1962, 1964, 1965, 1967, 1968, 1971, 1987, 1988, 1989, 1991, 1993, 2001, 2008, 2009, 2011, 2012
Limerick (19) – 1897, 1910, 1911, 1918, 1921, 1923, 1933, 1934, 1935, 1936, 1940, 1955, 1973, 1974, 1980, 1981, 1994, 1996, 2013
Waterford (9) – 1938, 1948, 1957, 1959, 1963, 2002, 2004, 2007, 2010
Clare (6) – 1889, 1914, 1932, 1995, 1997, 1998
Kerry (1) – 1891
Munster GAA HURLING Senior Championship – List of Winning Teams
Visit the Munster GAA web site History section to view the complete list of each winning team since the competition began 1888 – https://munster.gaa.ie/history/sh_teams/
---
Munster Senior Hurling Cup
No Name – Presented by Munster Council in 1928, new cup presented in 1990
---
All Ireland GAA HURLING Senior Championship
In the Senior Hurling All Ireland Roll of Honour, Cork are second on the list with 30 titles, 3 behind Kilkenny. Tipperary have won 26 All-Ireland titles. Limerick have 7 titles, their last one in 1973. Clare have won 4 titles in 1914, 1995, 1997 and 2013 while Waterford's two titles came in 1948 and 1959. Kerry won the All-Ireland Senior Hurling Final in 1891.
Contact Munster GAA PRO Ger Ryan at pro.munster@gaa.ie for more information
---
Match Programme