Munster SHC Quarter-Final – Tipperary 0-22 Cork 0-13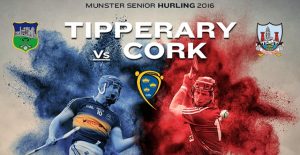 Tipperary defeated Cork by 0-22 to 0-13 in the Munster Senior Hurling Championship Quarter-Final on Sunday May 22nd at Semple Stadium Thurles.
---
---
It was Tipperary's day today as they hurdled the challange of Cork to advance to the Munster SHC Semi Final! pic.twitter.com/GmOwkVggo4

— Sportsfile (@sportsfile) May 22, 2016
---
Tipperary outclass malfunctioning Cork at Semple Stadium https://t.co/s5ippesll2 pic.twitter.com/Pvj5X2gskt

— Irish Examiner Sport (@ExaminerSport) May 22, 2016
Tipperary outclass malfunctioning Cork at Semple Stadium
Tipperary 0-22 Cork 0-13
Report by John Fogarty from the Irish Examiner
Watched by a 29,114 crowd, Tipperary had too much class and intelligence for a limp Cork at a rain-drenched Semple Stadium this afternoon, writes John Fogarty. A Munster quarter-final to forget, Cork were 11 points down at one stage early in the second half before they staged an all-too-brief rally.
Tipperary managed to go 16 minutes without scoring the second half. It meant little even though Cork strung together four points in a row in that period. Tipperary hardly managed to get out of third gear but what they did was too good for Cork who suffered a systematic malfunction akin to what was seen here in last year's All-Ireland quarter-final against Galway.
Goal chances were few and far between but there was enough quality from the Tipperary forwards on a day when the likes of Seamus Harnedy and Pa Horgan were reduced to relatively anonymous roles. Cork surprisingly chose to face the wind in the first half and soon found themselves in arrears as Tipperary negated Cork's sweeper William Egan by splitting balls to the sidelines for their full-forward to chase.
Six yellow cards, three doubles, were shown in the opening period with Cathal Barrett and Bill Cooper fortunate not to pick up red cards for interfering with each other's helmet. Barry Kelly also chose not to penalise John O'Dwyer for an off-the-ball incident involving Lorcán McLoughlin although O'Dwyer was later booked.
Through a barrage of heavy downfalls, it was Tipperary and O'Dwyer who looked so much sharper. Three beautiful points in the space of two minutes, the last of them coming courtesy of O'Dwyer from an acute angle, gave the home side a 0-7 to 0-1 lead after 16 minutes.
Cork threatened to steady themselves with a Horgan free and a Brian Lawton point from distance but Tipperary resumed normal service and hit four in a row to lead by 0-12 to 0-4. A Horgan free in the 33rd minute ended a 10-minute spell without a score for Cork but it was the brilliant O'Dwyer who finished out the half with a brace of points to hand Tipperary a 0-14 to 0-5 interval advantage.
Scorers for Tipperary: S. Callanan (0-8, 4 frees); J. O'Dwyer (0-7, 2 frees, 1 65); N. McGrath (0-2); Pádraic Maher, B. Maher, J. McGrath, J. Forde, K. Bergin (0-1 each).
Scorers for Cork: A. Cadogan (0-4); P. Horgan (0-3, frees); C. Lehane (0-2, 1 free); B. Lawton, C. Murphy, S. Harnedy, L. O'Farrell (0-1 each).
TIPPERARY: D. Gleeson; C. Barrett, J. Barry, M. Cahill; S. Kennedy, R. Maher, Pádraic Maher; B. Maher (c), M. Breen; S. Curran, D. McCormack, N. McGrath; J. O'Dwyer, S. Callanan, J. McGrath
Subs for Tipperary: J. Forde for N. McGrath (53); Patrick Maher for S. Curran (56); N. O'Meara for J. O'Dwyer, K. Bergin for M. Breen (both 64).
CORK: A. Nash; D. Cahalane, M. Ellis, C. O'Sullivan; L. McLoughlin, C. Joyce, C. Murphy; D. Kearney, W. Egan; B. Cooper, C. Lehane, B. Lawton; A. Cadogan, S. Harnedy (c), P. Horgan
Subs for Cork: A. Walsh for D. Kearney (32); K. Burke for C. O'Sullivan (41); L. O'Farrell for P. Horgan (54); J. Cronin for B. Cooper (59).
Referee: B Kelly (Westmeath)
---
COMHGHAIRDEAS le Pádraic Maher ó @TipperaryGAA; the @CentraIRL RTÉ Man of the Match from today's @MunsterGAA Q-Final pic.twitter.com/d9TNlS06YO

— The GAA (@officialgaa) May 22, 2016
---
---
Team News
Starting out in defence of their provincial title the Tipperary side to face Cork in the Munster Senior Hurling Championship Quarter-Final on Sunday next, May 22nd at 4pm in Semple Stadium has just been announced by manager Michael Ryan.
In his side, Michael has granted Championship debuts to four players as Tipperary's journey in this seasons championship gets under way. Seamus Kennedy, Sean Curran, Dan McCormack and John McGrath all line out for their first taste of Senior Championship action in what will also be Michael Ryan's first Championship match as manager.
The starting 15 lines out as follows –
1. Darren Gleeson – Portroe
2. Cathal Barrett – Holycross-Ballycahill
3. James Barry – Upperchurch-Drombane
4. Michael Cahill – Thurles Sarsfields
5. Seamus Kennedy – St. Mary's
6. Ronan Maher – Thurles Sarsfields
7. Padraic Maher – Thurles Sarsfields
8. Brendan Maher (Capt.) – Borris-Ileigh
9. Michael Breen – Ballina
10. Sean Curran – Mullinahone
11. Dan McCormack – Borris-Ileigh
12. Noel McGrath – Loughmore-Castleiney
13. John O'Dwyer – Killenaule
14. Seamus Callanan – Drom & Inch
15. John McGrath – Loughmore-Castleiney
The Cork team to play @TipperaryGAA next Sunday has been announcedhttps://t.co/XYvGI6N5sb

— Cork GAA (@OfficialCorkGAA) May 20, 2016
The Cork team to play Tipperary in the Munster Senior Hurling Championship next Sunday has been announced as follows.
1. Anthony Nash Kanturk
2. Damian Cahalane St Finbarrs
3. Mark Ellis Millstreet
4. Conor O'Sullivan Sarsfield
5. Lorcan McLoughlin Kanturk
6. Christoper Joyce Na Piarsaigh
7. Cormac Murphy Mallow
8. Daniel Kearney Sarsfield
9. William Egan Kilbrin
10. Bill Cooper Youghal)
11. Conor Lehane Midleton
12. Brian Lawton Castlemartyr
13. Alan Cadogan (Douglas)
14. Seamus Harnedy St Itas Capt
15. Patrick Horgan Glen Rovers
Subs:
16. Patrick Collins Ballinhassig
17. Killian Burke Midleton
18. Michael Russell Aghada
19. Stephen Murphy Blackrock
20. Sean O'Donoghue Inniscarra
21. Aidan Walsh Kanturk
22. Niall Cashman Blackrock
23. Paul Haughney Midleton
24. Luke O'Farrell Midleton
25. John Cronin Lisgoold
26. William Leahy Aghada
---
Ticket Information
Adult Covered Stand: €25
Adult Uncovered Stand: €20
Adult Terrace: €15
(Tipperary have been allocated the Killinan End terrace, Cork the Town End terrace)
Student's/OAP: Purchase Adult tickets and receive a €5 concession at designated turnstiles prior to entry
Under 16's: €5
Click here to purchase tickets online
---
TIPPERARY v CORK
It remains one of hurling's biggest attractions, having delivered some remarkable contests in a rivalry which began in Buttevant on 27 May 1888. The intervening 128 years have seen the counties meet in 83
championship games, with Tipperary holding the tiniest advantage, having won 38 to Cork's 37, with seven draws and one abandoned game.
Tipperary have beaten Cork in six of their last seven championship games since 2007 (the exception was 2010 when Cork easily won a Munster quarter-final clash before Tipperary recovered and won the All-Ireland title). Prior to 2007, Cork had won the previous five championship clashes with Tipperary.
LAST FIVE CHAMPIONSHIP CLASHES
2014: Tipperary 2-18 Cork 1-11 (All-Ireland semi-final)
2012: Tipperary 1-22 Cork 0-24 (Munster semi-final)
2011: Tipperary 3-22 Cork 0-23 (Munster quarter-final)
2010: Cork 3-15 Tipperary 0-14 (Munster quarter-final)
2009: Tipperary 1-19 Cork 0-19 (Munster quarter-final)
MOST RECENT CHAMPIONSHIP GAME
Tipperary 2-18 Cork 1-11 (2014 All-Ireland semi-final, Croke Park) Cork, beaten All-Ireland finalists in 2013, won the 2014 Munster title but were well beaten by Tipperary in the All-Ireland semi-final.
Tipperary led by 1-7 to 0-8 at half-time and increased their advantage in the second-half to run out ten point winners. Seamus Callanan (2-4) and John O'Dwyer (0-6) provided 2-10 of Tipperary's total.
MOST RECENT CLASH
Tipperary 2-27 Cork 2-15 (Allianz HL 20 March 2016, Semple Stadium)
Tipperary led by 0-13 to 0-10 at half-time and extended their lead by a further nine points in a low-key second-half.
---
---
2016 ALLIANZ LEAGUE
Tipperary: 4th 1A – lost quarter-final to Clare. (Played 6, Won 2, Drew 1, Lost 3)
Cork: 6th 1A – won relegation play-off with Galway (Played 6, Won 1, Lost 5)
DID YOU KNOW?
Cork's last championship win over Tipperary in Semple Stadium was in 2006 when then won the Munster final by 2-14 to 1-14.
THE ROAD AHEAD
The winners will play Limerick in the Munster semi-final on June 19; the losers head for the qualifiers on July 2.
MANAGEMENT
Both are under new management with Michael Ryan (Tipperary) and Kieran Kingston (Cork) in their first season, having replaced Eamon O'Shea and Jimmy Barry-Murphy respectively.
---
---
Match Programme
Don't miss out on the 60 page programme for Sunday's Tipperary v Cork match complete with numerous articles, player profiles, photos, juvenile club focus and much more….