2020 Munster Scór Sinsear Final Results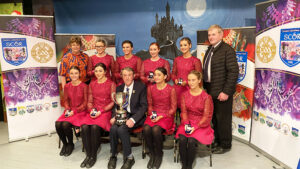 The long awaited 2020 Scór Sinsir Final took place on Sunday 31st October at Halla na Féile, Cashel, Co. Tipperary.
The list of winners were as follows –
Rince Foirne – Newcastle Tipperary
Solo Singing – Newport Tipperary
Recitation/Storytelling – JK Brackens Tipperary
Ceol Uirlise – Boherbue Cork
Nuachleas – Newport Tipperary
Ballad Group – St. James Cork
Rince Seit – JK Brackens Tipperary
Tráth na gCeisteanna – Millstreet Cork
---
Please take note of the following revised running order;
Tráth na gCeisteanna takes place at 1:30pm. All other competitions will start at 3pm SHARP.
There will be NO break/sos in proceedings.
1. Amhránaíocht Aonair
2. Ceol Uirlise
3. Bailéad Ghrúpa
4. Aithriseoireacht/Scéalaíocht
5. Nuachleas
6. Rince Foirne
7. Rince Seit
---
Everyone attending the finals will require a ticket and are to be purchased in advance of the final.
Click here to purchase tickets
---
There will be NO tickets for sale at the venue – ensure you purchase your ticket prior to the competition.
It is advised to have your ticket ready when arriving at the venue to minimise disruption and delay upon entry. If you are using your mobile phone to present your ticket, make sure it is sufficiently charged.
Presentation of the EU Digital COVID Certificate (vaccine or recovery certificate) will be required for entry.
NO CERTIFICATE – NO ENTRY. Face coverings must be worn indoors at the venue.
The Munster Champions crowned on the evening will go forward to Craobh Scór Sinsir na hÉireann which will be held on Saturday 20th November in the Dome at Connacht GAA's Centre of Excellence, Bekan, Co. Mayo.
Coiste Scór na Mumhan wish the very best of luck to all the competitors in advance of Sunday's final and advise all those who will be in attendance to follow the current COVID-19 guidelines to ensure a safe and enjoyable afternoons entertainment for all competitors, spectators, mentors, adjudicators and organisers.
Keep an eye on 'Scór na Mumhan' and 'GAA Scór Oifigiúil' Facebook pages for more Scór updates in the future.