Munster Intermediate Hurling Final – Cork 0-20 Limerick 0-18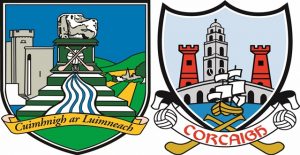 Cork defeated Limerick by 0-20 to 0-18 in Munster Intermediate Hurling Championship Final on Wednesday July 8th at Pairc Ui Rinn.
---
Third-quarter blitz secures title for Cork
By Eoghan Cormican for the Irish Examiner newspaper
Cork 0-20 Limerick 0-18: The Cork intermediate team last night ensured at least one Munster hurling crown would reside on Leeside this summer – Ronan Dwane's charges scoring a deserved two-point win over favourites Limerick.
With the Cork senior, U21 and minor hurling teams unable to annex provincial honours in their respective campaigns, responsibility was landed on the doorstep of Dwane's intermediate side to ensure a barren summer on the provincial front did not materialise.
And this vastly inexperienced outfit were not to be found wanting, a forceful third-quarter putting paid to Limerick's comeback efforts. Encapsulating the determined nature of this Cork performance was the second-half withdrawal of Limerick's Willie Griffin.
The Treaty captain hit 2-6 in their opening win, but was reduced to a single point from play here as the home defence went about their business in a most frugal fashion.
The reigning champions enjoyed the backing of a strong wind in the opening half and there were concerns at the break that their 0-11 to 0-8 advantage would not prove sufficient.
Points from Diarmuid Byrnes (0-2) and Griffin, cancelling out white flags from Willie Leahy and Noel McNamara, cut the gap to two early in the second period, the closest the visitors had come to Cork since the opening stages.
Crucially, four of the five next scores were delivered by men donning the red and white – Kevin O'Neill (0-2) and Noel McNamara (0-2 frees) stretching their advantage out to 0-17 to 0-12. And from there Cork would not be caught, three points on the hop from McNamara (0-2 frees) and a massive Donnacha O'Donovan placed ball strike heightening Limerick's task.
Don Flynn's troops, to their credit, roused themselves for a grandstand finish and four unanswered minors reduced the deficit to two. The required goal, however, never looked like presenting itself.
"It is great to get the win and keep the season going," said Dwane. "We were a bit concerned at half-time. In the first 20 minutes of the second-half, however, we pushed on. We got some great scores and the backs really tightened up."
Dwane singled out corner-forward pair Noel McNamara and Tony Murphy given their combined haul of 0-12 and it was the two inside forwards who drove Cork's impressive first-half performance, the home outfit moving 0-5 to 0-1 clear after 12 minutes. Three on the bounce from Murphy, O'Donovan and Shane McCarthy extended their lead to 0-9 to 0-4, and while Limerick rallied approaching the interval through Willie Griffin and Tom Morrissey, Cork would not be reeled in. The Rebels will now meet either Galway or Wexford in the All-Ireland final on August 8.
Scorers for Cork: N McNamara (0-8, 0-6 frees); T Murphy (0-4); D O'Donovan (0-2 frees), K O'Neill, W Leahy (0-2 each); M Collins, S McCarthy (0-1 each).
Scorers for Limerick: D Byrne (0-5, 0-3 frees); W Griffin (0-5, 0-4 frees); T Morrissey (0-4); M Fitzgibbon, R O'Donnell, D O'Donnell, R English (0-1 each).
Cork: P Buckley (Mallow), B Ó Tuama (Castlemartyr), E Finn (Ballinhassig), G Murphy (Newcestown); K Kavanagh (Carrigaline), D O'Donovan (Ballinhassig), T Lawerence (Brian Dillons); M Brennan (Fermoy), S McCarthy (Ballinhassig); W Leahy (Aghada), M Collins (Ballinhassig), L Meade (Newcestown); N McNamara (Kilworth), F O'Leary (Ballinhassig), T Murphy (Carrigaline).
Subs: K O'Neill (Watergrasshill) for Brennan (HT), C O'Brien (St Ita's) for Finn (39), A Cagney (Charleville) for O'Leary (55), A Sheehan (Mallow) for McNamara (60).
Limerick: B Murray (Patrickswell), S Finn (Bruff), B O'Connell (Kildimo-Pallaskenry), M Reidy (Dromin-Athlacca); D Moloney (Doon), D Byrnes (Patrickswell), B Lynch (Feohanagh-Castlemahon); R O'Donnell (Pallasgreen), A Brennan (Caherline); D O'Donovan (Doon), K O'Brien (Patrickswell), M Carmody (Patrickswell); W Griffin (Adare), T Morrissey (Ahane), M Fitzgibbon (Feohanagh-Castlemahon).
Subs: R Lynch (Na Piarsaigh) for O'Brien (27 mins), R English (Doon) for Moloney (37), M Fitzgerald (Doon) for Griffin (43), C Ryan (Pallasgreen) for O'Donovan (60).
Referee: D Fox (Clare)
---
Fixture Details
WEDNESDAY JULY 8th
MUNSTER INTERMEDIATE HURLING CHAMPIONSHIP FINAL
Cork v Limerick
Corcaigh v Luimneach
Venue: Páirc Uí Rinn, 7.30pm
Referee: Damian Fox (An Clár)
Extra time if necessary – 2 x 10 minute periods only
---
Team News
Cork
1. Paudgie Buckley (Mallow)
2. Barra Ó Tuama (Castlemartyr)
3. Ed Finn (Ballinhassig)
4. Greg Murphy (Newcestown)
5. Kevin Kavanagh (Carrigaline) (Capt)
6. Donnacha O'Donovan (Ballinhassig)
7. Tomas Lawerence (Brian Dillons)
8. Martin Brennan (Fermoy)
9. Shane McCarthy (Ballinhassig)
10. Willie Leahy (Aghada)
11. Michael Collins (Ballinhassig)
12. Luke Meade (Newcestown)
13. Noel McNamara (Kilworth)
14. Fintan O'Leary (Ballinhassig)
15. Tony Murphy (Carrigaline)
16. Stephen O'Sullivan (Meelin)
17. Paudie Butler (Argideen Rangers)
18. Brendan Weathers (Banteer)
19. Ciarán O'Brien (St. Ita's)
20. Kevin O'Neill (Watergrasshill)
21. Aaron Sheehan (Mallow)
22. John Sheehan (Argideen Rangers)
23. Andrew Cagney (Charleville)
24. Kieran Sheahan (Kilbrin)
Limerick
1. Brian Murray (Patrickswell)
2. Sean Finn (Bruff)
3. Barry O'Connell (Kildimo-Pallaskenry)
4. Mike Reidy (Dromin-Athlacca)
5. Denis Moloney (Doon)
6. Diarmuid Byrnes (Patrickswell)
7. Barry Lynch (Feohanagh-Castlemahon)
8. Robert O'Donnell (Pallasgreen)
9. Andrew Brennan (Caherline)
10. Darragh O'Donovan (Doon)
11. Kevin O'Brien (Patrickswell)
12. Mark Carmody (Patrickswell)
13. Willie Griffin (Adare)
14. Tom Morrissey (Ahane)
15. Mike Fitzgibbon (Feohanagh-Castlemahon)
16. Ger Flynn (Croom)
17. Tommy Quaid (Effin)
18. Cathal McNamara (Doon)
19. Mike Fitzgerald (Doon)
20. Jake Mulcahy (Kilmallock)
21. Richie English (Doon)
22. Ronan Lynch (Na Piarsaigh)
23. Colin Ryan (Pallasgreen)
24. Gary Murphy (Caherline)
---
Match Programme