Munster GAA Senior Hurling Q-Final – Cork 1-21 Waterford 1-21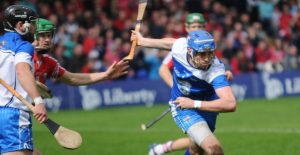 Cork and Waterford drew in the Munster GAA Senior Hurling Championship Quarter-Final on Sunday May 25th in Semple Stadium Thurles on a scoreline of 1-21 to 1-21.
The replay is fixed for Sunday June 8th at 3:30pm in Semple Stadium Thurles.

Click here for details of €5 pre-purchase discounted tickets for the replay
---
Report: @OfficialCorkGAA and @WaterfordGAA will meet again after their Munster SHC quarter-final finished level: http://t.co/wvUNiZY8Ch #GAA

— The GAA (@officialgaa) May 25, 2014
Munster SH: Cork and Waterford to meet again
MUNSTER HURLING CHAMPIONSHIP QUARTER-FINAL: CORK 1-21 WATERFORD 1-21
Report from the GAA.ie web site
Waterford were on the cusp of a famous Munster championship victory for long stretches of Sunday afternoon's Munster Senior Hurling championship quarter final at Semple Stadium but as Derek McGrath's youthful side tired in the closing stages, they were gradually reeled in by Cork and now must do it all over again at the same stage in a fortnight.
Cork will go into that game with all the momentum after they retrieved a nine point deficit midway through the second half, but they were effectively playing against fourteen men for the last few minutes as Derek McGrath had used all his substitutions and Austin Gleeson was hobbled by an injury, a handicap which was to have a huge bearing on the tie in the closing moments. Substitute Bill Cooper scrambled home a close range goal to initiate their revival and he also added a point in a one-sided final quarter in which Cork scored nine points to just one Waterford reply at their peak.
Waterford fielded a youthful team, partially due to necessity and partially in an attempt to exploit some of the up and coming talent in the county and this tactic bore real fruit in the early stages as they hurled with real freedom and passion, overwhelming Cork in most sectors of the field.
Five of the first six points went their way and while Cork responded with some really elegant scores, none better than Aidan Walsh's wonderful sideline cut, they simply had no answer for the pace and ferocity of the Waterford men.
Cork's lack of goalscoring power was a huge issue for them all last season and again during the spring when they drew a blank in three of their six league games, and it looked as if the same issue would come back to haunt them in this game when Pat Horgan sent their only first half goal chance over the bar from a 20m free. 2013 minor sensation Austin Gleeson responded with a stunning score to make it 0-13 to 0-7 at the break.
Horgan again threatened to change the momentum of the tie when he split the uprights for his first score from play immediately after the restart and Cork went on to add three of the next five points, including another Cadogan effort when he could have gone for goal but elected to chip over the point. However the tide turned again thanks to Gleeson, who made an early bid for goal of the season with a scintillating run and strike into the top corner.
Shane Walsh and Pauric Mahony added scores to stretch their lead but Cork finally arrested the slide when Bill Cooper scrambled the ball over the line for a scrappy goal and having expended so much energy in the early stages of the tie, Waterford began to tire visibly.
Horgan added two more points from play while Cooper also added another neat score as Cork gradually reeled in their opponents and when Horgan sent a sumptuous strike over the crossbar from seventy metres out to reduce the deficit to one with ten to play, Cork looked like they would get their noses in front before the final whistle. They did draw level but Séamus Prendergast struck against the run of play to give Waterford a one point lead in injury time.
Derek McGrath had been forced to use all of his substitutions by the hour mark in an attempt to keep his team fresh and this approach was to come back and haunt him however as Austin Gleeson hobbled through the closing stages of the tie with an injury. The teenager came in late on Anthony Nash as the keeper was making a clearance and left Brian Gavin with little choice but to give a free from where the ball landed, on the edge of the Waterford "D". Horgan duly tapped over the free and ensured another day out for both sets of supporters on Sunday week.
***
Scorers for Cork: P Horgan 0-12 (0-8f, 0-1 '65), B Cooper 1-1, A Cadogan 0-4, A Walsh 0-2 (0-1 s/l), C Lehane & S Harnedy 0-1 each.
Scorers for Waterford: P Mahony 0-11 (0-9f), A Gleeson 1-2 (0-1 s/l), B O'Sullivan 0-2, B Coughlan, T Burke, J Nagle, J Dillon, S Walsh, S Prendergast 0-1 each.
CORK: A Nash; S O'Neill, D Cahalane, S McDonnell; C Joyce, M Ellis, L McLoughlin; D Kearney, A Walsh; C McCarthy, C Lehane, P Cronin; A Cadogan, S Harnedy, P Horgan. Subs: B Cooper for McCarthy (HT), B Lawton for Kearney (50), S Moylan for Cronin (52), J Coughlan for Harnedy (64)
WATERFORD: S O'Keeffe; N Connors, L Lawlor, B Coughlan; J Nagle, K Moran, T Burke; M Walsh, E Barrett; A Gleeson, J Dillon, P Mahony; C Dunford, S Walsh, B O'Sullivan. Subs: R Foley for Barrett (21), S Fives for Coughlan (42), R Barry for Dunford (47), D Breathnach for Dillon (52), S Prendergast for Walsh (58)
Referee: Brian Gavin (Offaly)
---
Encouraging signs of life in old rivalry
By Diarmuid O'Flynn for the Irish Examiner newspaper
Cork 1-21 Waterford 1-21
Remember those titanic Munster championship tussles between Cork and Waterford in the last decade? With the passing on of the baton from those two special generations in the respective counties many thought we had seen an end to that rivalry, that perhaps Waterford were now falling behind. Not on the evidence of this game.
"It's great," was Waterford manager Derek McGrath's reaction. "I didn't read much in the run-up but Donal Óg Cusack [Cork keeper of that era, now with the Irish Examiner] had talked about the rivalry and it's a good start to the Munster championship — we'll see where it goes." The hurling wasn't quite as epic as in those other great games, the occasion not quite as electrifying but still this was a contest to warm the heart on a chilly afternoon.
With a host of front-line players absent due to injury (Stephen Daniels, Phillip Mahony, Darragh Fives, Stephen Molumphy, Jamie Barron, Stephen Bennett, Shane O'Sullivan, Brian O'Halloran), and playing four championship debutants, Waterford were expected to struggle against last year's beaten All-Ireland finalists. These lads hadn't read that particular script, though.
From the outset Waterford took the game to the hot favourites (1/4 in some places), led 0-5 to 0-1 after 10 minutes, wing-backs Jamie Nagle and Tadhg Burke both getting on the scoresheet. Cork, playing into an awkward diagonal breeze, did eventually get into the game, with debutant Alan Cadogan really causing problems, but were even further behind at the break, 0-13 to 0-7, and in real trouble.
In fact had Waterford made the most of their opportunities in that opening half this game could well have been over even at that stage, and the nine wides they hit would eventually cost the Déise dearly. Cork manager Jimmy Barry-Murphy was a worried man as they headed for the dressing room. "It was something similar to our league games. We didn't seem to be up to the pace again, like against Tipperary here [beaten in the league quarter-final]. Waterford took the game to us, and we conceded quite a lot of scores."
It would get worse for Cork before it got better, a lot worse. In the opening seven minutes of the second half they began to look a bit more like the team that did so well last year, reducing the deficit to four with points from Patrick Horgan (two), Conor Lehane and the bubbling Cadogan, against one each from Shane O'Sullivan and Pauric Mahony.
Then came the score of this game, in fact a score to match any we've seen in the recent rich rivalry. Winning possession from an under-hit Aidan Walsh sideline, Austin Gleeson took off on a solo that would eventually see him beat not alone almost the entire Cork defence, but also All Star goalkeeper Anthony Nash — a goal of ultimate class from a hurler of consummate ability.
Two points on top of that goal (one each from Shane Walsh and Mahony) and Waterford were in the driving seat, nine points ahead with only 22 minutes to play (1-17 to 0-11). But if this is a Cork team that has made a habit of getting itself into deep holes, this is also a Cork team that has made a habit of digging themselves out, a team of rare character.
It started yesterday with Youghal's Bill Cooper. Introduced at half-time, Cooper immediately made his presence felt. In the 48th minute, the ball having broken from a brilliant Stephen O'Keeffe off a well-placed Patrick Horgan shot, the Waterford defence were slow to clear, Bill used that power and presence to score from about four inches, forcing the ball across the line, and it was game back on.
Now it was Cork with their tails up, Waterford on the back foot, and from there to the finish the Rebels were the ones on top. Cooper would score again, a point this time, as would Aidan Walsh and Alan Cadogan, but the man who really broke Waterford hearts was the Glen's Patrick Horgan. He had dallied at wing-forward for a few minutes at the throw-in before moving into corner-forward, where he spent more than a few minutes in the pocket of Noel Connors. Released to the wing, though, in the final quarter Patrick was a new man — was the man in fact — scorer of seven points as Cork came back to draw. An absolute classic? No, but a good one, a worthy one, and perhaps the dawn of another era.
Scorers for Cork: P Horgan 0-12 (8f, 1 65); A Cadogan 0-4; B Cooper 1-1; A Walsh 0-2 (1 s/l); C Lehane, S Harnedy 0-1 each.
Scorers for Waterford: P Mahony 0-11 (9f); A Gleeson 1-2 (0-1 s/l); J Nagle 0-2; B O'Sullivan 0-2; T Burke, S Walsh, J Dillon, S Prendergast, 0-1 each.
CORK: A Nash; S O'Neill, D Cahalane, S McDonnell; C Joyce, M Ellis, L McLoughlin; A Walsh, D Kearney; C McCarthy, C Lehane, P Cronin (c); A Cadogan, S Harnedy, P Horgan
Subs for Cork: B Cooper for McCarthy (35); B Lawton for Kearney (50); S Moylan for Cronin (53); J Coughlan for Harnedy (65).
Waterford: S O'Keeffe; N Connors, L Lawlor, B Coughlan; J Nagle, K Moran, T Burke; M Walsh (c), E Barrett; C Dunford, Pauric Mahony, A Gleeson; B O'Sullivan, S Walsh, J Dillon
Subs for Waterford: R Foley for Barrett (inj 22); S Fives for Coughlan (42); R Barry for Dunford (47); D Breathnach for Dillon (53); S Prendergast for Walsh (59).
Referee: B Gavin (Offaly)
IN 60 SECONDS
Game-changer
70th minute, game tied, Shane O'Sullivan, bearing down on the Cork goal, saw his attempted a pass to a loose man intercepted brilliantly by Shane O'Neill. Had that pass gone to hand, game over.
Talk of the town
Teenager Austin Gleeson, and that goal, nine minutes into the second half, putting Waterford nine points clear.
Did that just happen?
Yes, that goal. When Austin collected an Aidan Walsh line ball he was 70m from the Cork goal. The teenager took off, beat several Cork defenders, left several others in his slipstream, then beat Anthony Nash with a ferocious shot. As good as we've seen.
Best on show
Gleeson for that goal and a couple of points, Nagle and Connors in defence, all Waterford; O'Neill for Cork, along with impact sub Bill Cooper, but debutant Alan Cadogan gets it
Sideline superior
Waterford definitely at the start, had their team primed, Kevin Moran switched to centre-back with Brick Walsh; Cork did better after half-time, sub Bill Cooper a major impact
The man in black
Brian Gavin (Offaly) missed too many blatant calls.
What's next?
Replay on Sunday week, June 8, in Semple Stadium again.
Preview: @OfficialCorkGAA meet @WaterfordGAA in the @MunsterGAA Championship quarter-final in Thurles on Sunday: http://t.co/DLXmv5t3Bb #gaa

— The GAA (@officialgaa) May 23, 2014
---
---
---
Audio – Cork Senior Hurling Manager
Jimmy Barry Murphy


Audio – Waterford Senior Hurling Selector
William Maher

---
Audio – Waterford Senior Hurler
Stephen Daniels

Audio – Cork Senior Hurling Captain
Pa Cronin

---
Team News
Cork Senior Hurling team to play Waterford on Sunday: http://t.co/r8vvVHT806

— Cork GAA (@OfficialCorkGAA) May 22, 2014
Cork (SH v Waterford): Anthony Nash; Shane O'Neill, Damien Cahalane, Stephen McDonnell; Christopher Joyce, Mark Ellis, Lorcán McLoughlin; Daniel Kearney, Aidan Walsh; Conor Lehane, Cian McCarthy, Patrick Cronin; Alan Cadogan, Séamus Harnedy, Patrick Horgan.
Jimmy Barry-Murphy has handed Munster Championship débuts to dual players Damien Cahalane (St. Finbarr's), who played in a an All-Ireland qualifier against Wexford in 2012, and 2010 All-Ireland Senior Football medallist Aidan Walsh (Kanturk). There are also first Championship starts for Millstreet's Mark Ellis and Alan Cadogan of Douglas, who both featured strongly in this year's Allianz League, with the latter also starring for the Cork U21 footballers. The remaining eleven players all started for Cork in the All-Ireland Final replay last year, with Brian Murphy having since retired and Luke O'Farrell unavailable through injury. Conor O'Sullivan and William Egan, who also started that replay, are named in the substitutes, as is Paudie O'Sullivan, who returns to the panel after a year-long absence through injury.
Waterford Senior Hurling Team for Sunday's Munster SH clash v Cork. http://t.co/PkXB2AcuLh

— Waterford GAA (@WaterfordGAA) May 20, 2014
The Waterford Senior Hurling Team to play Cork on Sunday afternoon next in the opening game of the Munster Senior Hurling Championship has been announced.
WATERFORD (SH v Cork): Stephen O'Keeffe; Tadhg de Búrca, Liam Lawlor, Noel Connors; Jamie Nagle, Michael Walsh, Barry Coughlan; Kevin Moran, Eddie Barrett; Colin Dunford, Pauric Mahony, Austin Gleeson; Brian O'Sullivan, Shane Walsh, Jake Dillon.
---
---
Ticket Information
Tickets for this game are now available for sale online and via Centra & Supervalu stores. See the ticket pricing structure below.
Adults Covered Stand – €25
Adults Uncovered Stand – €20
Juveniles (Under 16s) for both stands & terrace – €5
Adults Killinan End Terrace – €15
To book your tickets now, visit tickets.ie or click here
---
---
Irish Rail Discounts
Cork V Waterford – Cork fares from €14.99 – more details
Additional services to operate for @OfficialCorkGAA fans travelling to Semple Stadium, Thurles on Sunday 25th May http://t.co/sEPqSmpjWx

— Iarnród Éireann (@IrishRail) May 19, 2014
---
Match Officials
Referee: Brian Gavin (Offaly)
Umpires: Michael Gavin, PJ Lawless, David Gavin, William Flynn (All Offaly)
Standby Referee: James Owens (Wexford)
Linesman: Alan Kelly (Galway)
4th Official: John O'Brien (Tipperary)
---
For the Record
Cork

Waterford

2014 Team Manager

Jimmy Barry Murphy

Derek McGrath

2013 Championship Performance

Defeated Clare by 0-23 to 0-15 in Munster semi-final.

Lost to Limerick by 0-24 to 0-15 in Munster final.

Defeated Kilkenny by 0-19 to 0-14 in All Ireland quarter-final

Defeated Dublin by 1-24 to 1-19 in All Ireland semi-final

Drew 3-16 to 0-25 with Clare in All Ireland final

Lost replay to Clare by 5-16 to 3-16.

Lost to Clare by 2-20 to 1-15 in Munster quarter-final

Defeated Offaly by 0-21 to 1-14 in preliminary round of All Ireland series

Defeated Westmeath by 3-22 to 0-14 in Phase 1 of All Ireland series

Lost to Kilkenny by 1-22 to 2-16 aet in Phase 3 of the All Ireland series

Number of Munster Senior Hurling titles

51

9

Last Munster Senior Hurling Title

2006

2010

Munster Senior Hurling Championship Record since 2000
Played – 26
Won – 15
Lost –  10
Drawn – 1
Played – 27
Won – 14
Lost –  10
Drawn – 3
Last meeting in the Munster Senior Hurling Championship
July 17th 2010 – Waterford 1-16 Cork 1-13 aet (Munster Final replay at Semple Stadium Thurles) – An 83rd minute goal by current Waterford selector, Dan Shanahan, proved to be the difference between the sides after 2 epic encounters in 6 days. Click here for report

Munster GAA HURLING Senior Championship 2014
Quarter-Final
Sunday May 25th  
@ Semple Stadium, Thurles          Cork v Waterford                            4pm
Semi-Finals
Sunday June 1st
@ Semple Stadium, Thurles          Limerick v Tipperary                     4pm
Sunday June 15th
@ Gaelic Grounds Limerick           Clare v Waterford or Cork            4pm
or Semple Stadium Thurles
Final
Sunday July 13th
4pm throw-in 
Useful Information
The 4 games in the 2013 Munster Senior Hurling Championship produced an average of 37.5 scores per game. However the average was higher in the previous 2 years with 40.5 scores per game in 2012 and 43 scores per game in the 2011 Munster SHC. It was 34 scores per match in the 2010 Munster SHC. The highest scoring game in 2013 yielded 39 scores, the Munster final victory for Limerick over Cork by 0-24 to 0-15.
Waterford (Derek McGrath) and Limerick (TJ Ryan) both have new managers for the 2014 season. All 5 counties are managed by natives of their own county.
The Munster Championship will be without 2 players this year who played in over 40 Munster championships between them – Tony Browne of Waterford and Brendan Cummins of Tipperary.
The last 6 Cork v Waterford games in the Munster Senior Hurling Championship have produced 27 goals.
It's 8 years since Cork won the Munster championship – the longest gap since the 10 year period between their 1956 and 66 wins.
Cork have 3 current hurling All Stars – Anthony Nash, Seamus Harnedy and Patrick Horgan while Waterford have none. In 2012, Waterford won 2 – Kevin Moran and John Mullane while Cork's only recipient was Nash.
Tipperary have won 10 of their last 12 matches in the Munster Senior Hurling Championship dating back to 2008, winning 4 of the 6 Munster titles on offer in that period. Their only defeats came at the hands of Cork in May 2010, a 3-15 to 0-14 defeat at Pairc Ui Chaoimh and in June 2013, a 1-18 to 1-15 defeat at Páirc na nGael by Limerick.
Until last year, Limerick had won only 1 of their previous 17 Munster Senior Hurling Championship matches, a victory over Tipperary in the 2007 Munster Semi-Final 2nd replay at Pairc na nGael. During that period, Limerick drew 5 times. Limerick's last Championship victory away from Pairc na nGael came in 2001 with victories over Cork and Waterford at Pairc Ui Chaoimh.
Clare have not drawn a match in the Munster Senior Hurling Championship since finishing level with Tipperary in 1999.
Limerick and Tipperary have both lost 26 Munster Senior Hurling Finals. Cork have lost 30.
The first 3 games in the Munster Championship in 2014 will be refereed by the 3 men who between them have refereed the last 5 senior hurling All Irelands – Cork v Waterford (Brian Gavin – 2011 final and 2013 drawn final), Tipp v Limerick (Barry Kelly – 2012 drawn final) and Clare v Cork / Waterford (James McGrath – 2012 and 2013 replays). Interestingly, these 3 men refereed all 4 games in last year's Munster championship with McGrath in charge of the quarter-final and final and Gavin and Kelly each refereeing a semi-final. They refereed 3 of the 4 games in the 2012 championship – Cathal McAllister of Cork refereed the final. Gavin and Kelly refereed 3 of the 4 games in 2011 – James Owens refereed the 4th.
Three of the 4 games in the 2013 Munster SH Championship were played in Páirc na nGael Limerick. In the previous 4 years only 2 Munster SHC games in total were played there.
With Limerick's victory last year, Clare are the only one of the 5 participating counties not to have one the Munster SH Championship since the turn of the millennium.
Declan Hannon of Limerick was the top scorer in last year's Munster championship with 0-17 from 2 games. Patrick Horgan of Cork was second in the list with 0-12 from 2 games.
Munster GAA HURLING Senior Championship Roll Of Honour
Cork (51) – 1888, 1890, 1892, 1893, 1894, 1901, 1902, 1903, 1904, 1905, 1907, 1912, 1915, 1919, 1920, 1926, 1927, 1928, 1929, 1931, 1939, 1942, 1943, 1944, 1946, 1947, 1952, 1953, 1954, 1956, 1966, 1969, 1970, 1972, 1975, 1976, 1977, 1978, 1979, 1982, 1983, 1984, 1985, 1986, 1990, 1992, 1999, 2000, 2003, 2005, 2006
Tipperary (40) – 1895, 1896, 1898, 1899, 1900, 1906, 1908, 1909, 1913, 1916, 1917, 1922, 1924, 1925, 1930, 1937, 1941, 1945, 1949, 1950, 1951, 1958, 1960, 1961, 1962, 1964, 1965, 1967, 1968, 1971, 1987, 1988, 1989, 1991, 1993, 2001, 2008, 2009, 2011, 2012
Limerick (19) – 1897, 1910, 1911, 1918, 1921, 1923, 1933, 1934, 1935, 1936, 1940, 1955, 1973, 1974, 1980, 1981, 1994, 1996, 2013       
Waterford (9) – 1938, 1948, 1957, 1959, 1963, 2002, 2004, 2007, 2010
Clare (6) – 1889, 1914, 1932, 1995, 1997, 1998
Kerry (1) – 1891
Munster GAA HURLING Senior Championship – List of Winning Teams
 Visit the Munster GAA web site History section to view the complete list of each winning team since the competition began 1888 – https://munster.gaa.ie/history/sh_teams/
Munster Senior HURLING Cup
No Name – Presented by Munster Council in 1928, new cup presented in 1990
All Ireland GAA HURLING Senior Championship
In the Senior Hurling All Ireland Roll of Honour, Cork are second on the list with 30 titles, 3 behind Kilkenny. Tipperary have won 26 All-Ireland titles. Limerick have 7 titles, their last one in 1973. Clare have won 3 titles in 1914, 1995 and 1997 while Waterford's two titles came in 1948 and 1959. Kerry won the All-Ireland Senior Hurling Final in 1891.
Contact Munster GAA PRO Ger Ryan at pro.munster@gaa.ie for more information
---
Eoin Cadogan misses out for @OfficialCorkGAA this weekend while @WaterfordGAA have a number of injury concerns: http://t.co/5QhzkiV6ws #GAA

— The GAA (@officialgaa) May 20, 2014
---
Supervalu & Centra locations in Cork & Waterford
Centra Carrigtwohill Cork
SuperValu Hollyhill Cork
SuperValu Blarney Cork
SuperValu Castletownbere Cork
SuperValu Dunmanway Cork
SuperValu Kanturk Cork
SuperValu Millstreet Cork
SuperValu Newmarket Cork
SuperValu Skibbereen Cork
SuperValu Blackrock Cork
SuperValu Glanmire Cork
SuperValu Ballincollig – Quish's Cork
SuperValu Charleville Cork
SuperValu Youghal Cork
SuperValu Togher Cork
SuperValu Bandon Cork
SuperValu Midleton Cork
SuperValu Carrigaline Cork
SuperValu Fermoy Cork
SuperValu Bantry Cork
SuperValu Mallow Cork
SuperValu Clonakilty Cork
SuperValu Ballincollig – Down's Cork
SuperValu Merchants Quay Cork
SuperValu Mitchelstown Cork
SuperValu Grange Cork
SuperValu Cobh Cork
Centra Fermoy Cork
Centra Mallow Cork
Centra Bishopstown Cork
Centra Crosshaven Cork
Centra Charleville Cork
Centra Tower Cork
Centra Togher Cork
The Pavilion Cafe Bar Cork
Pluggd Records Cork
Centra Coolagh Service Station Waterford
SuperValu Dungarvan, Garvey's Waterford
SuperValu Dungarvan, Morrissey's Waterford
SuperValu Tramore Waterford
SuperValu Waterford Waterford
SuperValu Cappoquin Waterford
Full nationwide listing of Supervalu & Centra Stores
---
Competition to win Tickets for Cork v Waterford
Thanks to everyone who entered the competition for tickets to the Cork v Waterford match on Sunday.
Score 1 – Paul Flynn's goal in the 2004 Munster Senior Hurling Final was the choice of over 50% of entries. Congratulations to Seamus Power who was selected from the list of Paul Flynn entries and will receive 2 tickets for Sunday's game.
Score 2 – Aisake O'Hailpin's goal in the 2010 Munster Final was the most popular Cork score among those entered and James Tobin was selected from the list of Score 2 entries and will also receive 2 tickets for Sunday's game.
---