Munster GAA Jersey Day – May 18th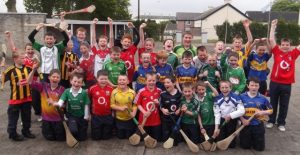 Munster GAA Jersey Day
Friday May 18th
Children all over the province of Munster are urged to wear their county colours to school this Friday May 18th to mark the opening games in the 2012 Munster Championship and also the start of the 2012 Irish Daily Star Primary Go Games series.
This year's Irish Daily Star Primary Go Games will see approximately 400 boys and girls from all the counties of Munster line out in their county colours at Semple Stadium, Páirc Uí Chaoimh and other venues throughout the province.
Played at half-time during Munster Championship games, The Irish Daily Star Primary Go Games give sports-mad boys and girls the opportunity to wear their county jersey on Big Match Day, sharing the spotlight with their heroes on their "Field of Dreams" in front of huge crowds of supporters.
The boys and girls of Limerick and Waterford, all 44 of them, will open the 2012 season in the Gaelic Grounds in Limerick next Sunday. On the following Sunday, Semple Stadium hosts a double header as Tipperary meet Kerry in football and start their defence of their Munster hurling crown when they take on Limerick at 4 p.m. This double header will give 88 primary school pupils an opportunity to sample the unique atmosphere of Semple Stadium on Big Match Day.
'Primary Go Games are a unique and unforgettable opportunity for each boy or girl selected while they afford Cumann na mBunscol a stage on which we can display our activities to good effect' says Joe Lyons, Co-ordinator of the Primary Go Games.
Further details:
Joe Lyons, P.R.O. Cumann na mBunscol (086) 8113284. e-mail: joegreenandwhite@gmail.com
Brother James Dormer, Rúnaí, Cumann na mBunscol. 061 380239
Enda Mc Guane, Deputy CEO Munster Council GAA, Mobile +353 86 0449281 Phone +353 61 493060 e-mail: enda.mcguane.munster@gaa.ie