2023 McGrath Cup Football – Tipperary 2-14 Waterford 0-7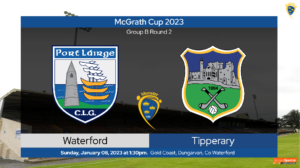 Tipperary defeated Waterford by 2-14 to 0-7 in Round 2 of the McGrath Cup Football competition on Sunday January 8th at the Gold Coast Dungarvan.
---
Match Highlights
| @TipperaryGAA footballers had too much firepower for @WaterfordGAA in today's game played at the Gold Coast. @StreamsportI | #McGrathCup https://t.co/mkApjM02UT

— Munster GAA (@MunsterGAA) January 8, 2023
---
No Quinlivan or O'Riordan in Tipp setup, confirms Power https://t.co/RGs5KzeXCu

— Irish Examiner Sport (@ExaminerSport) January 8, 2023
No Quinlivan or O'Riordan in Tipp setup, confirms Power
McGrath Cup Group B
Tipperary 2-14 Waterford 0-7
Report by Tomas McCarthy for the Irish Examiner newspaper
Former All Star attacker Michael Quinlivan isn't part of the Tipperary football panel for the McGrath Cup.
"Not at present," Premier boss David Power confirmed after their 13-point win over Waterford. "He's got work commitments. Our door is open. We're constantly working towards trying to get some of our better players back.
"Colin O'Riordan is going back to Australia. He was in with us before Christmas but he wants to go back to Australia. That's where it's at really. We're very happy with where our squad is at, we're a lot stronger than we were last year."
Early goals from Sean O'Connor and Kevin Fahey put this game to bed in the first quarter. O'Connor blasted to the roof of the Waterford net after just 18 seconds. On 16 minutes, Conor Cadell and Steven O'Brien set up Fahey for a second green flag. Waterford goalkeeper Ben Kirwan then denied O'Brien with a diving save.
O'Connor finished with 1-3 while 2020 All-Star Conor Sweeney slotted four points. Jack Kennedy converted three dead balls from distance. The second half turned into a stop-start affair as 20 substitutions were made.
Sean Whelan Barrett struck Waterford's opening point after 26 minutes. Conor Murray kicked four frees for the home side. John Devine impressed on his first senior start with two points.
There are 18 new faces are on the Déise squad this season. "We're in a trial situation with our players; we're trying out everyone," explained coach Peter Leahy. "We have 40 on the panel and all 40 have got game time in the McGrath Cup. We've lost a lot of players from last year so we have to develop new talent."
Scorers for Tipperary: S O'Connor (1-3, 2 frees); C Sweeney (0-4, 2 frees, 1 mark); K Fahey (1-0); J Kennedy (0-3, 2 frees, 1 45); M O'Shea, S O'Brien, L McGrath, D Leahy (0-1 each).
Scorers for Waterford: C Murray (0-4 frees); J Devine (0-2, 1 free); S Whelan Barrett (0-1).
TIPPERARY: M O'Reilly; J Harney, J Feehan, D Carew; K Fahey, C O'Shaughnessy, L Boland; P Feehan, C Kennedy; C Cadell, M O'Shea, J Kennedy; C Sweeney, S O'Brien, S O'Connor.
Subs: T Doyle for Cadell (HT), M Stokes for C Kennedy (48), D Leahy for J Kennedy (49), T Maher for Harney (50), L McGrath for Sweeney (54), D Brennan for O'Shea (54), J Lawrence for Feehan (61), C Deeley for Boland (61), C O'Mahony for O'Reilly (63).
WATERFORD: B Kirwan; R O'Connell, D Ó Cathasaigh, C Ó Cuirrín; J Keane, C Walsh, L Fennell; M Curry, K Sheehan; B Lynch, S Whelan Barrett, J Devine; D Quirke, C Murray, M Kiely.
Subs: B O'Brien for Ó Cuirrín (HT), C Maguire for Sheehan (43), S Fitzgerald for Quirke (46), A Beresford for Kirwan (49), M Cummins for Keane (49), B Hynes for Devine (49), D Fitzgerald for Kiely (55), D Reidy for Fennell (55), E McGrath-Butler for O'Connell (55), R Browne for Walsh (58), G Duffy for Whelan Barrett (58).
Referee: T McGrath (Limerick)
---
Tonic for the troops as Tipperary start new year with positive McGrath Cup win over Waterford https://t.co/w2dVjH7mKn

— TipperaryLive (@TipperaryLive) January 8, 2023
---
Ticket Information
Adults General Admission – €10
Students / OAPs General Admission (Valid ID Required Upon Entry to Venue) – €5
Under 16s – Free admission when accompanied by an adult
There will be no cash sales at the venue.
Click here to pre-purchase tickets
---
Live Streaming Information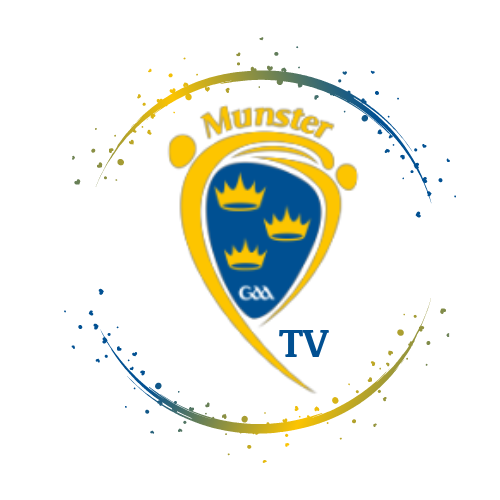 This game will be streamed live by Munster GAA TV at a cost of 10 euro.
Click here to purchase Live Streaming for this game
---
Team News
The Waterford Senior Football Panel to play Tipperary in Sundays McGrath Cup game has been announced!

Pre-Purchase Tickets: https://t.co/xyTtGkM1xs

Streaming of game:https://t.co/YaA6VX1m1c pic.twitter.com/GCvsezA7s1

— Waterford GAA (@WaterfordGAA) January 6, 2023
Senior Football manager David Power has named his Tipperary Senior Football team and subs for their McGrath Cup clash with Waterford in Gold Coast, Dungarvan on Sunday afternoon at 1.30pm
Tickets and Live Streaming Details Here:https://t.co/Sssymns3Wv pic.twitter.com/ufgw3UFG6w

— Tipperary GAA (@TipperaryGAA) January 7, 2023
Tipperary (v Waterford): M O'Reilly; J Harney, J Feehan, D Carew; K Fahey, C O'Shaughnessy, L Boland; P Feehan, J Kennedy; C Cadell, M O'Shea, C Kennedy; C Sweeney, S O'Brien, S O'Connor