Munster Minor Hurling Semi-Final – Limerick 0-23 Cork 2-15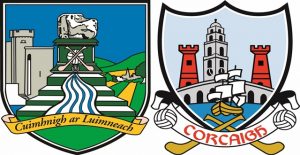 Limerick defeated Cork by 0-23 to 2-15 in the Electric Ireland Munster Minor Hurling Championship Semi-Final on Thursday June 26th at the Gaelic Grounds Limerick.
---
Big win for @LimerickCLG who are into @ElectricIreland @MunsterGAA Final tonight! @LiveGAAResults @GAALive pic.twitter.com/NFnsZtMqrd

— Inpho Photography (@Inphosports) June 26, 2014
---
Limerick survive late scare
By Diarmuid O'Flynn for the Irish Examiner newspaper
Limerick 0-23 Cork 2-15
Limerick remain on course to retain their Munster MHC title after this two-point win over Cork at the Gaelic Grounds last night. But it was close, very close. On the back of a powerful second half the champions built a comfortable five-point lead on Cork (0-23 to 1-15) as the game went into injury-time. But a cracking Cork goal by Dayne Lee, after a good run and pass by Luke Meade, took the wind out of Limerick sails and the final dramatic three minutes were played out almost entirely in the Limerick half, much of that in and around the red zone.
With time almost up Cork won a free just outside the 20m line and keeper and captain Patrick Collins — who plays outfield for his club, Ballinhassig — was called forward to do the honours. Patrick made good contact but his counterpart in the Limerick goal, Eoghan McNamara, was equal to it and deflected the shot out for a 65. Midfielder Daniel Meaney took the 65, dropped the ball short, but the danger was cleared, the final whistle sounded and Limerick could celebrate.
In truth, and even allowing for an earlier penalty save by McNamara from Cork centre-back Alan O'Callaghan (40m), had Cork goaled in those final minutes it would have been grand theft because, overall, Limerick were the better side. Cork were game, they were gallant, and in Sean Hayes/Kingston/Lee they had a fine half-forward line. Overall, however, Limerick were more balanced and with Paddy O'Loughlin and Ronan Lynch anchoring the defence, the sublime Cian Lynch orchestrating matters in midfield, they had far more options up front, far more threat. It took until the second half for that threat to really manifest itself but when it did, they did look the part.
The first half was marred by injury to two Cork players, corner-back Shane O'Brien (8m) and roving corner-forward Darren Casey (22m), both entailing lengthy stoppages as the players were attended to on the pitch. It meant nine minutes of injury-time in which we saw probably more action than the almost the rest of the half. It also meant Cork manager Denis Ring and his selectors were forced into early changes, which didn't help their cause.
Nonetheless, Cork were level at the break, 0-11 to 1-8, their goal coming in the third minute of the nine added on, the powerful Kingston doubling on a perfect pass from the soaring Hayes. That score put Cork a goal ahead (1-7 to 0-7) and Dayne Lee extended that lead with a fine point a couple of minutes later.
The final minutes of the half, however, were dominated by Limerick, four points on the trot, sweet-striking free-taker Colin Ryan with three of those, leaving it level. Limerick continued their dominance on the resumption, added five points (the ever-dangerous Tom Morrissey with a hat-trick) to make it nine on the trot and see them take a grip on this game.
Cork did settle, eventually, and from there to the end of normal time matched Limerick point for point; Kingston (three), Hayes (two) doing most of their scoring, while Ryan, Peter Casey and Ronan Lynch each had a brace for Limerick. The visitors also had chances, not least that saved penalty, but still, that five-point difference as the game entered injury-time looked just about right. Then came that Lee goal, that late drama.Fair result, but fair play to Cork also, they came to party and did make a fight of it.
Scorers for Limerick: C Ryan 0-7 (4f); T Morrissey 0-5; P Casey 0-3; R Lynch 0-3 (3f); S Flanagan 0-2; C Lynch, R Hanley, C Fitzgerald 0-1 each.
Scorers for Cork: S Kingston 1-3; D Lee 1-3; S Hayes 0-4 (3f); A O'Callaghan 0-3 (2f, 1 65); L Meade, J Looney 0-1 each.
LIMERICK: E McNamara (Doon); S Finn (Bruff), P O'Loughlin (Kilmallock), J Porter (Monaleen); L Lyons (Monaleen), R Lynch Na Piarsaigh), A La Touche Cosgrave (Monaleen); T Grimes (Na Piarsaigh), C Lynch (capt., Patrickswell); C Ryan (Pallasgreen), B Nash (South Liberties), S Flanagan (Feohanagh/Castlemahon); P Casey (Na Piarsaigh), T Morrissey (Ahane), C Fitzgerald (Claughaun).
Subs: R Hanley (Kilmallock) for Porter (30+3); E Doyle (Monaleen) for Grimes (36); A Gillane (Patrickswell) for Flanagan (57).
CORK: P Collins (capt, Ballinhassig); C Walsh (St. Finbarr's), S Bourke (Grenagh), S O'Brien (St. Catherine's); O Dempsey (Youghal), A O'Callaghan (Blackrock), D Browne (Cuchulainn's); S O'Donoghue (Inniscarra), D Meaney (Blackrock); D Lee (Na Piarsaigh), S Kingston (Douglas), S Hayes (Mallow); D Casey (Charleville), E Keniry (Killeagh/St Ita's), L Meade (Newcestown).
Subs: D Dooling (Glen Rovers) for O'Brien (inj. 18); J Good (Tracton) for Casey (inj. 22); J Looney (Aghada) for Dempsey (39); T O'Connor (Inniscarra) for Good (46); M Dolan (Douglas) for Keniry (53).
Referee: P Foley (Waterford).
Game-changer:
Dayne Lee's smashing goal for Cork in the 60th minute brought them right back into this game, made it a final few nail-biting minutes for the Limerick supporters.
Talk of the town:
How poor the touch of so many on both sides, many of whom finished their Leaving Cert exams only a few days ago. Surely another week could have been found?
Did that just happen?
Early in the game, Cork corner-forward Shane O'Brien down injured, both managers called their teams together for a mid-game huddle.
Best on show:
Cork's Alan O'Callaghan, Shane Kingston and Dayne Lee all shone, as did Limerick's Ronan Lynch, Colin Ryan and Tom Morrissey, but Limerick keeper Eoghan McNamara was their saviour.
Sideline superior:
Cork played all their cards in the 60 minutes, used all five subs, but none made a major impact; Limerick's Robbie Hanley meanwhile did look good.
The man in black:
Paul Foley (Waterford) had no impact on the outcome but missed a few calls, should have allowed advantage to Tom Morrissey (Limerick) when a goal was on in the first half.
What's next?
Munster final for Limerick v Waterford on July 13th in Cork, double-header with their seniors; end of the road for Cork.
Report: @LimerickCLG set up a repeat of the 2013 @MunsterGAA MHC final with victory over @OfficialCorkGAA tonight: http://t.co/ULftjtjRsp

— The GAA (@officialgaa) June 26, 2014
Munster MHC: Limerick set up Waterford final
ELECTRIC IRELAND MUNSTER MHC SEMI-FINAL: LIMERICK 0-23 CORK 2-15
Report from the GAA.ie web site
Munster minor hurling champions Limerick set up a repeat of the 2013 provincial decider by defeating Cork at the Gaelic Grounds on Thursday evening.
The Treaty County needed a replay to see off Waterford in last year's final, and they will face the Déise again on July 13 as they bid to become the first side ever from the county to retain the Munster MHC title. The first half of Thursday's game was a very even contest, but Limerick gradually took control after the interval, and although Cork never let them get too far ahead, there was an element of control about the Limerick victory.
The first half finished level – 0-11 to 1-8 – with Cork having found the net in first half stoppage time when Shane Kingston fired home. That score put the visitors 1-7 to 0-7 ahead, and a Dayne Lee point extended the lead to four, but Limerick finished the half with points from the outstanding Tom Morrissey and Colin Ryan (3 frees) to go in level.
Morrissey was having a super game, and he fired over three points in quick succession after the restart, alongside a Cian Lynch score, to leave Limerick 0-15 to 1-8 ahead, and to make it eight points without reply as the champions began to assert themselves. When Conor Fitzgerald fired over to put Limerick five ahead, Cork looked to be flagging, but they had a chance to get back into the game from the penalty spot on 39 minutes.
Alan O'Callaghan's shot was saved by Eoghan McNamara though, and Limerick pressed on. Points from Kingston and Seán Hayes got the lead down to three for the final 10 minutes, but with Ronan Lynch on song from placed balls, Limerick remained in firm control as time ticked on.
Kingston fired a goal to the net for Cork just as the game entered stoppage time, and the Rebels actually had a chance to win it from a late free from 25 metres. It was deflected wide though, and Limerick hung on for victory.
---
Previews: @ElectricIreland @MunsterGAA MHC Semi-Finals- Waterford v Clare (June 25), Limerick v Cork (June 26): http://t.co/L12TEgYnoh #GAA

— The GAA (@officialgaa) June 25, 2014
---
Admission Details
Adults – €10
Students / OAPs – €5 (concession at the style on production of relevant ID)
Under 16s free
When – Thursday June 26th at 7.30pm
Where – Gaelic Grounds Limerick
Referee – Paul Foley (Waterford)
Standby Referee – Michael Wadding (Waterford)
Linesman – Michael O'Brien (Waterford)
4th Official – Alan Kissane (Waterford)
Umpires – JJ Haran, Colin Kehoe, Patrick O'Sullivan, Liam O'Brien (Waterford)
Extra time – (2 periods x 10 minutes only) to be played if sides finish level at the end of 60 minutes
Next Round – the winners will qualify for the Munster final on Sunday July 13th against Clare or Waterford.
---
Team News
Limerick minor hurling team & panel is Announced for championship game against Cork on Thursday evening http://t.co/9vwf0c0XVi

— Limerick GAA (@LimerickCLG) June 24, 2014
Limerick minor hurling management of Brian Ryan, Eamonn Cregan, Stephen McDonogh and Jerry Wallace has announced their match panel of 24 for their Munster semi final meeting with Cork at the Gaelic Grounds on this Thursday evening.
1.Eoghan McNamara (Doon), 2. Sean Finn (Bruff), 3. Paddy O Loughlin (Kilmallock), 4. Jamie Porter (Monaleen), 5. Andrew La Touche Cosgrave (Monaleen), 6. Ronan Lynch (Vice Captain)(Na Piarsaigh), 7. Lorcan Lyons (Monaleen), 8. Thomas Grimes (Na Piarsaigh), 9. Colin Ryan (Pallasgreen), 10. Seamus Flanagan ( Feohanagh/Castlemahon), 11. Barry Nash (South Liberties), 12. Cian Lynch (Captain)(Patrickswell), 13. Peter Casey (Na Piarsaigh), 14. Tom Morrissey (Ahane), 15. Conor Fitzgerald (Claughaun).
16. Cian Hedderman (Ballybrown), 17. Darragh Fanning (Pallasgreen), 18. Conor Byrnes (Munrroe/Boher), 19. Robbie Hanley (Kilmallock), 20. Edward Doyle (Monaleen), 21. Eoghan Costelloe (Adare), 22. Aaron Gillane (Patrickswell), 23. Brian Ryan (South Liberties) 24. Conor Boylan (Na Piarsaigh).
The Cork Minor Hurling team to play Limerick on Thursday night: http://t.co/6KXbC5Kduy

— Cork GAA (@OfficialCorkGAA) June 24, 2014
The Cork Minor Hurling team to play Limerick in the Munster Minor Hurling Championship Semi-Final on Thursday night at 7.30pm at the Gaelic Grounds will line out as follows:
1 Patrick Collins – Ballinhassig (Captain)
2 Cian Walsh – St. Finbarr's
3 Sean Bourke – Grenagh
4 Shane O'Brien – St. Catherine's
5 Darren Browne – Cuchulainn's
6 Alan O'Callaghan Blackrock
7 Ollie Dempsey – Youghal
8 Sean O'Donoghue – Inniscarra
9 Daniel Meaney – Blackrock
10 Luke Meade – Newcestown
11 Dayne Lee – Na Piarsaigh
12 Shane Kingston – Douglas
13 Darren Casey – Charleville
14 Sean Hayes – Mallow
15 Eoghan Keniry – Killeagh/ Ita's
Subs
16 Darragh O'Connell – Na Piarsaigh
17 David Dooling – Glen Rovers
18 Seadnaidh Smyth – Midleton
19 John Good -Tracton
20 Tomas O'Connor – Inniscarra
21 Evan O'Connell – Glen Rovers
22 Mark Dolan – Douglas
23 Michael O'Halloran – Blackrock
24 John Looney – Aghada
Denis Ring and his selectors have opted to make three changes following the quarter-final victory over Kerry. Ollie Dempsey, Darren Casey and Shane Kingston come into the side in place of Eddie Gunning, Tomás O'Connor and Mark Dolan.
Extended Panel
Eddie Gunning (Na Piarsaigh)
Aaron Stafford (Aghada)
Diarmuid Buckley (Shandrum​)
Billy Dunne (Fr. O'Neill's)
John Mullins (Eire Og)
Joe O Sullivan (Ballygiblin)
Paul Leopold (Sarsfields)
Alec Luttrell (Mallow)
Martin Collins (St. Patrick's)
Padraig Dennehy (Whitechurch)
Eugene O'Leary (Ballyhea)
Billy Hennessy (St. Finbarr's)
Eoin O'Brien (Douglas)
Conor Cahalane (St. Finbarr's)
Team Management
Denis Ring (Fermoy) – Manager
Mark Landers (Killeagh) – Coach
John Dwyer (Ballincollig)
John Mortell (Ballyhea)
Liam Martin (Glen Rovers)
Backroom Team
Strength and Conditioning: Ritchie O'Leary
Doctor: Paddy Burke
Physio: John O'Meara
Assistant Physio: John O'Mahony
Logistics: Derek Connolly
Statisticians: Mikey Mortell, Fergal Condon
Video analysis: Len Browne, John Ring
---
For the Record
Cork
Limerick
2014 Team Management
Denis Ring (Fermoy) – ManagerMark Landers (Killeagh) – Coach

John Dwyer (Ballincollig)

John Mortell (Ballyhea)

Liam Martin (Glen Rovers)

Brian Ryan –Manager

Eamonn Cregan

Stephen McDonagh

Jerry Wallace 

2014 Team Captain
Patrick Collins (Ballinhassig)
Captain: Cian Lynch (Patrickswell)Vice Captain: Ronan Lynch
(Na Piarsaigh)
2013 Championship Performance
Defeated Clare by 3-15 to 2-14 in the first round before losing to Waterford in the semi-final by 3-19 to 1-20.
Defeated Tipperary by 1-17 to 0-17 in the Munster semi-final and Waterford by 1-20 to 4-8 in Munster final replay. Lost All Ireland semi-final to Galway after extra time. Controversy followed as a result of "Hawk-Eye" error which cost Limerick a legitimate point.
Number of Munster Minor Hurling titles
32
6
Last Munster Minor Hurling Title
2008
2013
Munster Minor Hurling Championship Record since 2000
Played – 43
Won – 27
Lost – 13
Drawn – 3
Played – 31
Won – 12
Lost – 16
Drawn – 3
Last meeting in the Munster Minor Hurling Championship
Munster Championship Quarter-Final May 2nd 2012 – Limerick 0-16 Cork 1-12. Substitute Liam O'Sullivan grabbed Limerick's winner to counter a last 10 minute Cork fightback from a 5 point deficit.
MUNSTER GAA HURLING MINOR CHAMPIONSHIP 2014
First Round
Wednesday April 9th
@ Páirc Uí Rinn                               Cork 5-26                   Kerry 0-9
@ Cusack Park Ennis                     Waterford 1-13          Clare 0-11
Thursday April 10th
@ Gaelic Grounds Limerick           Limerick 3-17            Tipperary 2-11
Play-offs
Tuesday April 22nd Play-Off 1
@ Cusack Park Ennis                    Clare 6-25                 Kerry 0-11
Wednesday April 30th Play-Off 2
@ Cusack Park, Ennis                   Clare 1-23                 Tipperary 0-12
Semi-Finals
Wednesday June 25th
@ Fraher Field, Dungarvan                       Clare v Waterford                                         @7.30pm
Thursday June 26th
@ Gaelic Grounds, Limerick                      Cork v Limerick                                             @7.30pm
Final
Sunday July 13th
Munster Minor Hurling Championship – Odds and Ends
Limerick are the defending Munster Minor Hurling Champions following a 1-20 to 4-8 victory over Waterford at Semple Stadium in the 2013 final replay. `
Cork last appeared in a Munster Minor Hurling final in 2008 when they won the title by defeating Tipperary by 0-19 to 0-18.
1989 was the last time Limerick qualified for 2 consecutive Munster finals.
Cork Coach Mark Landers captained Cork to win the All-Ireland senior hurling title in 1999. Manager Denis Ring guided St. Colman's College Fermoy to a number of Harty Cup titles. This is a first season in charge for Denis and his team, who were appointed at the end of last season.
Waterford and Clare last met at Fraher Field in the 2013 Munster minor hurling championship when Waterford secured a 4-18 to 1-10 victory in a semi-final play-off game.
Waterford secured their first All Ireland minor hurling title since 1948 when they defeated Galway in the final on September 8th 2013 by 1-21 to 0-16.
Clare appeared in 3 Munster minor hurling finals in a row from 2010 to 2012, winning in 2010 and 2011 against Waterford and losing to Tipperary in 2012. Several of their All Ireland senior winning squad of 2013 featured on those minor teams.
Top Scorers by County in 2014 Championship: Clare – Aron Shanagher 4-26 (1-19 frees, 0-2 65s); Cork –  Eoghan Kenny and Luke Meade 2-4 each; Kerry – Brandon Barrett (0-4 all frees); Limerick – Barry Nash 2-2; Tipperary – Andrew Coffey 1-3 (0-1 free); Waterford – Patrick Curran 0-7 (0-6 frees)
Munster Minor Hurling Championship Roll Of Honour
Tipperary (37) – 1930, 1931, 1932, 1933, 1934, 1935, 1945, 1946, 1947, 1949, 1950, 1952, 1953, 1954, 1955, 1967, 1957, 1959, 1960, 1961, 1962, 1973, 1976, 1980, 1982, 1983, 1987, 1991, 1993, 1996, 1997, 1999, 2001, 2002, 2003, 2007, 2012
Cork (32) – 1928, 1936, 1937, 1938, 1939, 1941, 1951, 1964, 1966, 1967, 1968, 1969, 1970, 1971, 1972, 1974, 1975, 1977, 1978, 1979, 1985, 1986, 1988, 1990, 1994, 1995, 1998 , 2000, 2004, 2005, 2006, 2008
Limerick (6) – 1940, 1958, 1963, 1965, 1984 , 2013
Waterford (4) – 1929, 1948, 1992, 2009
Clare (4) – 1981, 1989, 2010, 2011
Munster Minor Hurling Championship – List of Winning Teams
Visit the Munster GAA web site History section to view the complete list of each winning team since the competition began in1928 – https://munster.gaa.ie/history/mh_teams/
Munster Minor Hurling Cup
There is no name on the Munster Minor Hurling Cup. The cup itself was presented by T.W.A., Shannon Airport in 1946.
All Ireland Minor Hurling Championship
In the Minor Hurling All Ireland Roll of Honour, Tipperary are sedond in the charts with 19 titles behind Kilkenny's 20 titles. Cork have won 18 titles, Limerick have 3 titles (1940, 1958, 1984) and Waterford joined them on 3 last year (1929, 1948, 2013) while Clare's only title to date came in 1997.
Of the last 14 All-Ireland Minor Hurling Finals played, the Irish Press Cup has returned to Munster on 5 occasions – Cork (2001), Tipperary (2006, 2007 and 2012) and Waterford (2013). Of the other 9 titles since 1999, Galway have 5 and Kilkenny have captured 4.
Tipperary were All-Ireland Minor Hurling Champions in 1930, 1932, 1933, 1934, 1947, 1949, 1952, 1953, 1955, 1956, 1957, 1959, 1976, 1980, 1982, 1996, 2006, 2007 and 2012
Cork were All-Ireland Minor Hurling Champions in 1928, 1937, 1938, 1939, 1941, 1951, 1964, 1967, 1969, 1970, 1971, 1974, 1978, 1979, 1985, 1995, 1998, 2001