Munster Under 21 Football Q-Final – Kerry 0-11 Tipperary 1-7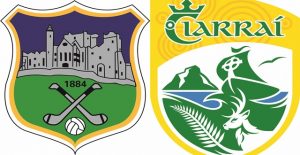 Kerry defeated Tipperary by 0-11 to 1-7 in the EirGrid GAA Football Under 21 Munster Championship Quarter-Final on Wednesday March 9th at Austin Stack Park Tralee.
---
14-man Kerry win first U21 game in four years https://t.co/19FadTBZKT pic.twitter.com/RIee4nr1Bv

— Irish Examiner Sport (@ExaminerSport) March 9, 2016
---
Captain Savage to the rescue as Jack O'Connor's 14-man Kerry squeeze past Tipp https://t.co/yTWxNq2gSF pic.twitter.com/UP5eyO2ezf

— The42.ie GAA (@The42GAA) March 9, 2016
Captain Savage to the rescue as Jack O'Connor's 14-man Kerry squeeze past Tipp
Report by Paul Brennan for the42.ie
Kerry 0-11 Tipperary 1-7
A REAL LACK of ambition denied Tipperary what would have been an upset win against Kerry as they failed to make their extra man count in a fairly drab Munster U21 quarter-final in Tralee.
For their part, Kerry showed admirable poise and industry to grind out a character building one-point win after losing midfielder Matthew O'Sullivan to a second yellow card six minutes before half time to advance to a semi-final against Limerick next week.
Only Tipperary can answer why they stood back for the second half and never took the game to a Kerry team that had looked a little vulnerable at the back in the first quarter and more so in the second. The fact that Kerry registered 11 wides to just two from the visitors tells its own story with regards to the teams' ambition to win this match, and in the end the free taking of Jack Savage, who tallied eight points in all, saw Kerry over the line.
The first quarter was a desperately pedestrian affair, lacking any championship urgency or bite. It took five minutes before Micheal Burns fisted Kerry into the lead and another five before Stephen Quirke levelled from the boot. Savage scored points from play in the 12th and 21st minutes either side of a teasing low shot from corner back Tom O'Sullivan that fizzed narrowly wide of the Tipperary post.
It took until the 24th minute for the game to come to life, a little, with O'Sullivan dismissed for a second booking, and a minute later Tipp midfielder Liam Casey playing a neat one-two through the Kerry defence before coolly finishing past Eoghan O'Brien to make it 1-1 to 0-3.
Savage and Josh Keane traded frees before Casey took a point after Tipp briefly threatened the Kerry goal as the visitors looked to make their numerical advantage count, but two Savage frees in added time brought the teams level again, 0-6 to 1-3, at the break.
With the slight wind advantage in the second half Tipperary were expected to press forward but instead they sat back, and as happens so often in this situation it was the 14 men of Kerry that showed the greater ambition. Two Savage frees were answered by points from Jack Kennedy and Ross Mulcahy, but then Barry O'Sullivan, Savage and Burns raised flags to open a three-point lead. Kennedy replied with a point but a superb block on Colm O'Shaughnessy denied Tipperary a late goal chance and Kerry were through.
Scorers –
Kerry: Jack Savage (0-8, 6f), Micheal Burns (0-2), Barry O'Sullivan (0-1)
Tipperary: Liam Casey (1-1), Jack Kennedy (0-2), Josh Keane (0-2f), Ross Mulcahy (0-1), Stephen Quirke (0-1)
Kerry
1. Eoghan O'Brien (Churchill)
2. Brian Ó Beaglaoich (An Ghaeltacht)
3. Cathal Ó Lúing (An Ghaeltacht)
4. Tom O'Sullivan (Dingle)
5. Brian Sugrue (Renard)
6. Andrew Barry (Na Gael)
7. Gavin White (Dr Crokes)
8. Matthew O'Sullivan (St Michaels-Foilmore)
9. Greg Horan (Austin Stacks)
10. Brandon Barrett (Ardfert)
11. Micheál Burns (Dr Crokes)
12. Brian Ó Seanacháin (Ballydonoghue)
13. Tony Brosnan (Dr Crokes)
14. Eanna Ó Conchúir (An Ghaeltacht)
15. Jack Savage (Kerins O'Rahillys)
Subs:
18. Killian Spillane (Templenoe) for E O Conchuir (HT)
20. Barry O'Sullivan (Dingle) for G Horan (HT)
17. Dara Roche (Glenflesk) for T Brosnan (40)
24. David Foran (St Senans) for B Barrett (41, inj)
19. Dan O'Donoghue (Spa) for B Sugrue (58)
Tipperary
1. Jake McDonald (Clonmel Commercials)
2. Colm O'Shaughnessy (Ardfinnan)
3. Jimmy Feehan (Killenaule)
4. Danny Owens (Moyle Rovers)
5. Ross Mulcahy (Moyle Rovers)
6. Kevin Fahey (Clonmel Commercials)
7. Shane O'Connell (Golden-Kilfeacle)
8. Paul Shanahan (Upperchurch-Drombane)
9. Liam Casey (Cahir)
10. Emmet Moloney (Drom-Inch)
11. Jack Kennedy (Clonmel Commercials)
12. Josh Keane (Golden-Kilfeacle)
13. Paul Maher (Kilsheelan-Kilcash)
14. Stephen Quirke (Moyle Rovers)
15. Tommy Nolan (Drom-Inch)
Subs:
17. Luke Boland (Moyle Rovers) for P Shanahan (55)
18. Brendan Martin (Kilsheelan-Kilcash) for T Nolan (57)
Referee: Kevin Murphy (Cork)
---
Previews: EirGrid @MunsterGAA U21 Q-Finals, @GaaClare v @OfficialCorkGAA , @Kerry_Official v @TipperaryGAA : https://t.co/bgxlHQNpQj #GAA

— The GAA (@officialgaa) March 9, 2016
---
Admission Details
Adults: €10.00
Junvenile Under 16 Years of Age: Free of Charge
Concessions (Student/OAP): Can receive a €5 rebate on full price tickets at the designated stile at the venue on match day with valid ID
This is an unreserved fixture
Click here to buy tickets in advance
---
Team News
Tipperary Under 21 Football team to play Kerry announced https://t.co/NKXqyJotyD

— Tipperary GAA (@TipperaryGAA) March 8, 2016
As the Tipperary U21 football panel go in defence of their crown in the EirGrid GAA Munster U21 Football Championship Quarter-Final against Kerry in Austin Stack Park, Tralee, this Wednesday night, March 9th at 7.30pm, manager Tommy Toomey has named an experienced side ahead of the fixture.
It comprises of 6 senior players among the starting 15, led by captain Jimmy Feehan. The other senior stars are Colm O'Shaughnessy, Ross Mulcahy, Kevin Fahey, Liam Casey, and Josh Keane. In all there are 9 of last year's panel also in the starting 15, 8 of which played competitively in last year's championship.
Outside of that, 5 of last year's minor team, Danny Owens, Emmet Moloney, Jack Kennedy, Stephen Quirke and Tommy Nolan step up to the mark at U21 level while arriving new to the starting team is Shane O'Connell from Golden-Kilfeacle.
The team lines out as follows –
1. Jake McDonald – Clonmel Commercials
2. Colm O'Shaughnessy – Ardfinnan
3. Jimmy Feehan (Capt.) – Killenaule
4. Danny Owens – Moyle Rovers
5. Ross Mulcahy – Moyle Rovers
6. Kevin Fahey – Clonmel Commercials
7. Shane O'Connell – Golden-Kilfeacle
8. Paul Shanahan – Upperchurch-Drombane
9. Liam Casey – Cahir
10. Emmet Moloney – Drom & Inch
11. Jack Kennedy – Clonmel Commercials
12. Josh Keane – Golden-Kilfeacle
13. Paul Maher – Kilsheelan-Kilcash
14. Stephen Quirke – Moyle Rovers
15. Tommy Nolan – Drom & Inch
Subs:
16. Charlie Manton -Fethard
17. Luke Boland – Moyle Rovers
18. Brendan Martin – Kilsheelan-Kilcash
19. Morgan Irwin – Moyle Rovers
20. Tadhg Fitzgerald – Moyle Rovers
21. Niall McKenna – Cahir
22. Gerry Cronin – Ardfinnan
23. Mark Russell – Aherlow Gaels
24. Joe Ryan – Kilmurry
Manager – Tommy Toomey
Selectors – Liam Kearns, Paul Fitzgerald, Shane Stapleton
Kerry Under 21 Team to play Tipperary is named… https://t.co/ioKTTOHv4C

— Kerry GAA (@Kerry_Official) March 7, 2016
The Kerry Team to play Tipperary in the EirGrid Munster GAA Under 21 Football Championship Round 1 at Austin Stack Park on Wednesday evening at 7:30 contains just 4 of the side defeated by Cork in last year's Round 1 game – Brian Ó Beagaloich, Cathal Ó Lúing, Micheál Burns and Jack Savage. Two more, Greg Horan and Eánna Ó Conchúir were introduced as subs in that game.
Nine of the side won All Ireland Minor Medal in either 2014 or 2015 are included. The team, captained by Jack Savage of Kerins O'Rahillys is as follows –
1. Eoghan O'Brien Churchill
2. Brian Ó Beaglaoich An Ghaeltacht
3. Cathal Ó Lúing An Ghaeltacht
4. Tom O'Sullivan Dingle
5. Brian Sugrue Renard
6. Andrew Barry Na Gael
7. Gavin White Dr Crokes
8. Matthew O'Sullivan St Michaels-Foilmore
9. Greg Horan Austin Stacks
10. Brandon Barrett Ardfert
11. Micheál Burns Dr Crokes
12. Brian Ó Seanacháin Ballydonoghue
13. Tony Brosnan Dr Crokes
14. Eanna Ó Conchúir An Ghaeltacht
15. Jack Savage (C) Kerins O'Rahillys
Fir Ionaid
16. Darragh O'Shea Ballydonoghue
17. Dara Roche Glenflesk
18. Killian Spillane Templenoe
19. Dan O'Donoghue Spa
20. Barry O'Sullivan Dingle
21. Jason Foley Ballydonoghue
22. Conor Geaney Dingle
23. Tom (Leo) O'Sullivan Dingle
24. Jordan Kiely Dr Crokes
25. David Foran St Senans
---