Munster Under 21 Football Q-Final – Cork 0-23 Clare 0-8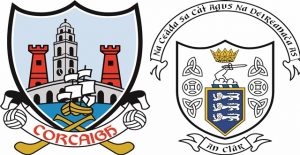 Cork defeated Clare by 0-23 to 0-8 in the EirGrid GAA Football Under 21 Munster Championship Quarter-Final on Wednesday March 9th at Cooraclare.
---
Mature Cork U21s secure comfortable win on points https://t.co/NudASIDFqV pic.twitter.com/kLPill6BLy

— Irish Examiner Sport (@ExaminerSport) March 9, 2016
Mature Cork U21s secure comfortable win on points
By Denis Hurley for the Irish Examiner newspaper
Cork 0-23 Clare 0-8
Cork impressed in the second half to pull clear of Clare in their Eirgrid Munster U21FC quarter-final at Cooraclare.
Having been tested by the home side, the Rebels led by 0-10 to 0-5 at half-time and Cian O'Dea's point for Clare on the resumption suggested that the visitors might be in for a gut-check. However, Cork responded with three points on the trot, one by Seán O'Donoghue and two from Brian Coakley, and though Keelan Sexton had another for Clare, they wouldn't score again until injury time, by which stage the outcome was long decided.
advertisement
In between, Cork scored nine unanswered points as they played with a calmness and maturity. Peter Kelleher, who has performed well for the seniors in the league, was a focal point at full-forward while O'Donoghue at number 11 was excellent in his 44 minutes on the field and Ronan O'Toole was tireless at midfield.
REACTION: @OfficialCorkGAA U21 Manager Sean Hayes & Captain Stephen Cronin talk to @Lisa_Lawlor post @MunsterGAA QF https://t.co/jkqQLHocbR

— Cork's RedFM Sport (@BigRedBench) March 10, 2016
While Cork didn't get a goal, they were unlucky with the final pass more than once and at the other end the concentration was never allowed to waver as John Mullins and Kevin Flahive made good blocks and goalkeeper Anthony Casey was an assured presence. In the first half, the netminder was twice called upon to make good saves, from Clare's Sexton and Seán O'Donoghue, before six consecutive points put them 0-8 to 0-2 to the good, O'Donoghue on form and Ryan Harkin sending over a beauty from the left.
As the break neared, Michael Hurley put them 0-10 to 0-3 ahead but O'Dea and Sexton gave Clare hope with scores before the whistle. O'Dea's second brought it to four points early in the second half, but that was as close as Clare came.
Scorers for Cork: S O'Donoghue 0-6 (three frees), B Coakley 0-5 (four frees), S Sherlock 0-3 (one free), P Kelleher, M Hurley 0-2 each, R Harkin, M McSweeney, R O'Toole, D O'Driscoll, M Ó Duinnín 0-1 each.
Scorers for Clare: K Sexton 0-4 (three frees), C Brennan (one free), C O'Dea 0-2 each.
CORK: A Casey (Kiskeam); D Quinn (St Finbarr's), M McSweeney (Newcestown), J Mullins (Éire Óg); K Flahive (Douglas), S Cronin (Nemo Rangers), K Histon (Cobh); S White (Clonakilty), R O'Toole (Éire Óg); D O'Driscoll (Clann nan Gael), S O'Donoghue (Inniscarra), R Harkin (Mallow); B Coakley (Carrigaline), P Kelleher (Kilmichael), M Hurley (Castlehaven).
Subs: E Lavers (Dohenys) for Histon (40), M Ó Duinnín (Naomh Abán) for O'Donoghue (44), S O'Leary (Bantry Blues) for O'Driscoll (45), S Sherlock (St Finbarr's) for Hurley (49), C Kiely (Ballincollig) for McSweeney, K Cremin (Boherbue) for Harkin (both 53).
CLARE: K Roche (Cooraclare); C O'Halloran (Éire Óg Ennis), D Nagle (Liscannor), N Lynch (Clondegad); P Lillis (Cooraclare), J O'Dea (Kilfenora), C O'Dea (Kilfenora); D Walsh (Éire Óg Ennis), L Tierney (St Breckan's); K Malone (St Joseph's Doora-Barefield), C Brennan (Clondegad), C Ó hAiniféin (Éire Óg Ennis); K Sexton (Kilmurry-Ibrickane), S O'Donoghue (Cooraclare), D Egan (Kilmihil).
Subs: T Lynch (Clondegad) for Egan, M Duffy (Kilfenora) for Walsh (both half-time), E O'Connor (Éire Óg Ennis) for O'Donoghue (47), E Tubridy (Doonbeg) for Malone (54).
Referee: S Lonergan (Tipperary)
---
Previews: EirGrid @MunsterGAA U21 Q-Finals, @GaaClare v @OfficialCorkGAA , @Kerry_Official v @TipperaryGAA : https://t.co/bgxlHQNpQj #GAA

— The GAA (@officialgaa) March 9, 2016
---
Admission Details
Adults: €10.00
Junvenile Under 16 Years of Age: Free of Charge
Concessions (Student/OAP): Can receive a €5 rebate on full price tickets at the designated stile at the venue on match day with valid ID
This is an unreserved fixture
Click here to buy tickets in advance
---
Team News
The Cork team v Clare in the EirGrid GAA U21 MFC Q/F on Wed at 7:30pm in Cooraclare has been announced. #EirGridU21 https://t.co/qWN0dFgAZI

— Cork GAA (@OfficialCorkGAA) March 7, 2016
The Cork team to play Clare has been announced as follows
1. Anthony Casey (Kiskeam)
2. Dylan Quinn (St Finbarrs)
3. John Mullins (Eire Og)
4. Michael McSweeney (Newcestown)
5. Kevin Flahive (Douglas)
6. Stephen Cronin (Nemo Rangers) Captain
7. Kieran Histon (Cobh)
8, Sean White (Clonakilty)
9. Ronan O Toole (Eire Og)
10. Don O Driscoll (Clann na Gael)
11. Sean O Donoghue (Inniscarra)
12. Ryan Harkin (Mallow)
13. Brian Coakley (Carrigaline)
14. Peter Kelleher (Kilmichael)
15. Michael Hurley (Castlehaven)
16. Ross Donovan (Nemo Rangers)
17. Kevin Cremin (Boherbue)
18. Eoin Lavers (Dohenys)
19. Cian Kiely (Ballincollig)
20. Sean O Leary (Bantry Blues)
21. Stephen Sherlock (St Finbarrs)
22. Mick Dineen (Naomh Aban)
23. Sean O Donovan (Ilen Rovers)
24. Cian Dorgan (Ballincollig)