Munster Under 21 Football Final – Cork 3-9 Kerry 1-14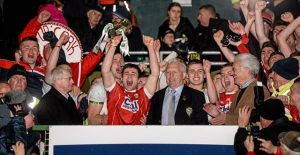 Cork defeated Kerry by 3-9 to 1-14 in the EirGrid GAA Football Under 21 Munster Championship Final on Thursday April 7th at Austin Stack Park Tralee.
---
REPORT: #EirGridU21 @OfficialCorkGAA defeat @Kerry_Official in @MunsterGAA final https://t.co/CheiGiGOTg pic.twitter.com/BU44VzeDxj

— The GAA (@officialgaa) April 7, 2016
---
Deadly Dorgan seals dramatic Munster title for Cork https://t.co/4FOhWDTULK pic.twitter.com/ZZgENC2Lx7

— BreakingNews.ie (@breakingnewsie) April 7, 2016
Deadly Dorgan seals dramatic Munster title for Cork
Report from breakingnews.ie
Cork regained their Munster U21 football title in dramatic style on Thursday night, an injury time point from substitute Cian Dorgan securing a deserved victory over Kerry in Tralee, writes Tony Leen. It was a thrilling final that see-sawed throughout, but Cork goals at crucial times provided them with the buffer to stave off Kerry's second half pressure.
No goal is more important than another, but Cork's third from midfielder Sean White 13 minutes from the finish came at a juncture when Kerry had edged in front for the first time since the opening exchanges. Two Kerry midfielders failed to collect a kick out and Cork captain Stephen Cronin showed admirable poise in teeing up the onrushing Sean White for the emphatic finish.
That edged Cork 3-7 to 1-11 in front, but if they thought that would kill Kerry's resistance, they hadn't factored in that it was 2008 since the Kingdom last won a provincial Under 21 title.
Cork's Kieran Histon blocked a goal-bound Kerry effort from Dara Roche with ten minutes left, but points from the impressive Jack Savage and sub Tony Brosnan looked to have given Kerry extra time, as they tied it at 1-14 to 3-8. Not so. Cian Dorgan is a county championship winner at the senior grade with Ballincollig and he showed the necessary poise to clip over the winning point as the clock ticked over into injury time.
A sweet success for the Rebels, built on the foundations of an organised defence, a serious work rate, and an ability to break at pace and with intent. Their attacking raids became more sporadic as the second half progressed, but Peter Kelleher – quiet in the first period – was more prominent at full forward in the final quarter.
Cork captain Stephen Cronin lifts the cup after victory over Kerry in the Munster final! #EirGridU21 pic.twitter.com/GEYSsiU0UB

— Sportsfile (@sportsfile) April 7, 2016
Strangely both sides played better against the breeze, which was significant, in Tralee. That Kerry were three points down at half time was no surprise to anyone in the crowd of 4,683 who watched an organised Cork side show the better poise and shape in the first period.
If Cork were knocked out of their stride in any way by Kerry's lightning start, they betrayed no signs of it in the way they set about their task. Mallow's Ryan Harkin was causing endless problems with his movement, and the tall but mobile Brian Coakley (Carrigaline) was proving an effective focal point of the attack.
The net result was a fluidity to the Cork attack that Kerry's defence struggled to counter. Such link play was in evidence as Michael Hurley danced his way around the Kerry cover to set up Coakley for the game's opening goal on 11 minutes, catapulting the visitors to Tralee into a 1-2 to 0-3 lead.
Dara Roche pivoted well to claim a Kerry point but he was only keeping par with Michael Hurley at the other end. Then in the 19th minute Sean O'Donoghue found the run of Seanie Powter, and the 18-year-old burned the Kerry rearguard and finished to the net with a maturity that made a mockery of his debut status at this grade.
2-4 to 0-4 for Cork, and the huge – and expectant Kerry crowd were shuffling uncomfortably in their seats. Burns missed a goal chance for the Kingdom, but three points before the interval would give the Kingdom a foothold they badly needed.
They stepped it up significantly in the second period, and must have thought they'd have extra time at least to put the seal on their comeback. However, a determined Cork side had other ideas.
Cork's Sean White is presented with the Man of the Match award by John O'Connor from EirGrid! #EirGridU21 pic.twitter.com/AYBuAP24NG

— Sportsfile (@sportsfile) April 7, 2016
Scorers for Kerry: J Savage (0-6, 4 frees), M O'Connor (1-0), K Spillane, D Roche (0-2 each), M Burns, B O Seanachain, E O Conchuir, T Brosnan (0-1 each)
Scorers for Cork: B Coakley (1-1, 1 free), S Powter, S White (1-0 each), R Harkin, M Hurley (0-2 each), S O'Donoghue (free), S Sherlock (free), P Kelleher, C Dorgan (0-1 each).
KERRY: E O'Brien (Churchill); T O'Sullivan (Dingle), J Foley (Ballydonoghue), T Leo O'Sullivan (Dingle); M Flaherty (Dingle), B Ó Beaglaoich (Gaeltacht) G White (Dr Crokes); B O'Sullivan (Dingle); M O'Connor (Dingle); B Ó Seanacháin (Ballydonoghue) M Burns (Dr Crokes) E Ó Conchúir (Gaeltacht); D Roche (Glenflesk) K Spillane (Templenoe) Jack Savage (Kerins O'Rahillys)
Subs: G Horan (Austin Stacks) for O Seanachain (half time); D Foran (St Senan's) for O'Connor (41); C Coffey (Kerins O'Rahillys) for O Beaglaoich (43); J Kiely (Dr Crokes) for O Conchuir (47); T Brosnan (Dr Crokes) for Roche (55); F Clifford (Waterville) for White (56)
CORK: A Casey (Kiskeam); M McSweeney (Newcestown), J Mullins (Eire Og), D Quinn (St Finbarrs); K Flahive (Douglas) S Cronin (Nemo Rgs) K Histon (Cobh); S White (Clonakilty)S O'Leary (Bantry Blues), S O'Donoghue Inniscarra), S. Powter (Douglas), R Harkin (Mallow); B Coakley (Carrigaline), P Kelleher (Kilmichael), M Hurley (Castlehaven).
Subs: S Sherlock (St Finbarr's) for Powter (inj, HT); D O Duinnin (Cill na Martra) for O'Donoghue (45); C Dorgan (Ballincollig) for Coakley (50); C Kiely (Ballincollig) for Quinn (51); E Lavers (Dohenys) for O'Leary (52).
Referee: S Lonergan (Tipperary)
---
Who will win tonight's #EirGridU21 @MunsterGAA Football Final? Tell us now! Kerry-Cork throws-in at 7.30pm in Tralee

— The GAA (@officialgaa) April 7, 2016
---
.@OfficialCorkGAA boss Hayes expects tight @MunsterGAA final vs Kerry tomorrow » https://t.co/1YaVfdmZh3 #EirGridU21 pic.twitter.com/C5gRErAJTk

— The GAA (@officialgaa) April 6, 2016
---
Ticket Information
Adult: €15.00
Juvenile (Under 16 Years of Age): €5.00
Concessions: a rebate of €5 is available on full-price Adult tickets on match day at designated stiles with valid ID
All tickets for this fixture are UNRESERVED
Click here to purchase tickets in advance
---
Replay Date
In the event of a draw after extra time, the replay will take place on
Tuesday April 12th in Pairc Ui Rinn.
---
Team News
The Kerry Team to play Cork in the EirGrid Munster GAA Under 21 Football Championship Final at Austin Stack Park… https://t.co/CrsJ1b7PJN

— Kerry GAA (@Kerry_Official) April 5, 2016
The Kerry Team to play Cork in the EirGrid Munster GAA Under 21 Football Championship Final at Austin Stack Park on this Thursday evening at 7:30 shows five changes in personnel from the side that defeated Limerick in the Semi Final.
Jason Foley starts at full back in place of Cathal Ó Lúing; Matthew Flaherty comes into the half back line in place of the injured Brian Sugrue; last year's minor captain Mark O'Connor replaces the injured Matthew O'Sullivan at centre field; Eánna Ó Conchúir replaces David Foran in the half forward line and in the full forward line, Dara Roche comes in for Tony Brosnan.
The team contains 6 of the side defeated by Cork in last year's semi final game – Brian Ó Beaglaoich, Matthew Flaherty, Barry O'Sullivan, Micheál Burns, Dara Roche and Jack Savage. 12 of the side won All Ireland Minor Medals in either 2014 or 2015.
The team, captained by Jack Savage of Kerins O'Rahillys is as follows:
1. Eoghan O'Brien Churchill
2. Brian Ó Beaglaoich An Ghaeltacht
3. Jason Foley Ballydonoghue
4. Tom O'Sullivan Dingle
5. Matthew Flaherty Dingle
6. Andrew Barry Na Gael
7. Gavin White Dr Crokes
8. Barry O'Sullivan Dingle
9. Mark O'Connor Dingle
10. Brian Ó Seanacháin Ballydonoghue
11. Micheál Burns Dr Crokes
12. Eanna Ó Conchúir An Ghaeltacht
13. Dara Roche Glenflesk
14. Killian Spillane Templenoe
15. Jack Savage (C) Kerins O'Rahillys
Fir Ionaid:
Darragh O'Shea Ballydonoghue
Tony Brosnan Dr Crokes
Tom (Leo) O'Sullivan Dingle
David Foran St Senans
Jordan Kiely Dr Crokes
Greg Horan Austin Stacks
Dan O'Donoghue Spa
Fionán Clifford Waterville
Cormac Coffey Kerins O'Rahillys
Shane O'Connor John Mitchels
Conor Geaney Dingle
Bainistíocht:
Bainisteoir: Jack O'Connor (Dromid Pearses)
Roghnoirí: Micheál O'Shea (Castlegregory), Eamon Whelan (St Senans), Declan O'Sullivan (Dromid Pearses).
Treanálaí: Alan O'Sullivan and Arthur Fitzgerald
Additional Information
The following players are members of the extended Kerry Under 21 panel: Brandon Barrett (Ardfert, injured), Cathal Ó Lúing (An Ghaeltacht), James Duggan (John Mitchels), Patrick O'Connor (Dingle), Michael O'Donnell (Austin Stacks), Darren Brosnan (Gneeveguilla), Matthew O'Sullivan (St Michaels-Foilmore,Injured), Brian Rayle (Lispole, Injured), Brian Sugrue (Renard, Injured).
Kerry have gone seven campaigns without adding to their haul of 25 titles, their last title at Under 21 level in the province coming in 2008 when they went on to All Ireland glory under the captaincy of Killian Young.
The Cork team for next thursday Munster U21 Football Championship Final v Kerry has been announced.https://t.co/uh59FS9ELx

— Cork GAA (@OfficialCorkGAA) April 5, 2016
Cork Team
1. Anthony Casey (Kiskeam)
2. Michael McSweeney (Newcestown)
3. John Mullins (Eire Og)
4. Dylan Quinn (St Finbarrs)
5. Kevin Flahive (Douglas)
6. Stephen Cronin (Nemo Rangers) captain
7. Kieran Histon (Cobh)
8 Sean White (Clonakilty)
9. Ronan O Toole (Eire Og)
10. Don O Driscoll (Clann na Gael)
11. Sean O Donoghue (Inniscarra)
12. Ryan Harkin (Mallow)
13. Brian Coakley (Carrigaline)
14. Peter Kelleher (Kilmichael)
15. Michael Hurley (Castlehaven)
Subs
16. Ross Donovan (Nemo Rangers)
17. Cian Kiely (Ballincollig)
18. Kevin Cremin (Boherbue)
19. Eoin Lavers (Dohenys)
20. Sean O Leary (Bantry Blues)
21. Stephen Sherlock (St Finbarrs)
22. Dan O Duinin (Cill Na Matra)
23. Sean Powter (Douglas)
24. Sean O Donovan (Ilen Rovers)
We hear from @OfficialCorkGAA U21 football captain Stephen Cronin as the Rebels prepare to take on Kerry https://t.co/7U8hJTTF26

— Cork's RedFM Sport (@BigRedBench) April 6, 2016
---
Munster Under 21 Football Championship Roll of Honour
Kerry (25) – 1962, 1964, 1966, 1967, 1968, 1972, 1973, 1975, 1976, 1977, 1978, 1983, 1987, 1988, 1990, 1991, 1992, 1993, 1995, 1996, 1997, 1998, 1999, 2002, 2008
Cork (25) – 1963, 1965, 1969, 1970, 1971, 1974, 1979, 1980, 1981, 1982, 1984, 1985, 1986, 1989, 1994, 2001, 2004, 2005, 2006, 2007, 2009, 2011, 2012, 2013, 2014
Tipperary (2) – 2010, 2015
Limerick (1) – 2000
Waterford (1) – 2003
---
Munster Under 21 Football Cup
Corn na Cásca presented by the Football Council in 1966 to commemorate the jubilee of the 1916 Rising.
---
All Ireland Under 21 Football Championship
Cork and Kerry remain the only 2 Munster counties to win the All Ireland under 21 football championship. Cork top the roll of honour with 11 titles having last won in 2009 while Kerry are second with 10 titles have last won in 2008. The last five titles have been shared by Dublin (2010, 12 and 14) and Galway (2011 and 13).
All Ireland Under 21 Championship wins:
Cork:   1970, 1971, 1980, 1981, 1984, 1985, 1986, 1989, 1994, 2007, 2009
Kerry: 1964, 1973, 1975, 1976, 1977, 1990, 1995, 1996, 1998, 2008
---
Munster Under 21 Football Final Results – 1962 to 2015
1962 @ Kenmare Kerry 2-7 Cork 1-4
1963 @ Clonakilty Cork 2-3 Kerry 1-4
1964 @ Kilmallock Kerry 0-15 Tipperary 1-2
1965 @ Castletownroche Cork 2-14 Tipperary 1-6
1966 @ Cork Ath. Grounds Kerry 3-8 Cork 0-14
1967 @ Listowel Kerry 2-12 Clare 1-7
1968 @ Kilrush Kerry 5-7 Clare 2-9
1969 @ Killarney Cork 1-14 Kerry 1-11
1970 @ Buttevant Cork 5-12 Clare 1-7
1971 @ Fermoy Cork 1-10 Waterford 2-5
1972 @ Killarney Kerry 1-11 Cork 2-7
1973 @ Skibbereen Kerry 2-12 Cork 1-12
1974 @ Cahirciveen Cork 3-5 Kerry 1-10
1975 @ Killorglin Kerry 0-17 Waterford 1-5
1976 @ Dingle Kerry 2-16 Cork 1-6
1977 @ Pairc Ui Chaoimh Kerry 2-8 Cork 0-8
1978 @ Killarney Kerry 0-14 Cork 0-9
1979 @ Limerick Cork 1-11 Clare 1-9
1980 @ Bruff Cork 3-15 Clare 0-4
1981 @ Tralee Cork 0-11 Kerry 0-5
1982 @ Pairc Ui Chaoimh Cork 2-12 Kerry 0-4
1983 @ Castleisland Kerry 1-10 Cork 0-12
1984 @ Askeaton Cork 1-18 Limerick 0-4
1985 @ Tralee Cork 1-18 Clare 1-7
1986 @ Clonmel Cork 0-8 Tipperary 0-7
1987 @ Tralee Kerry 0-7 Tipperary 0-7 Draw
@ Clonmel Kerry 0-15 Tipperary 1-11 Replay
1988 @ Cooraclare Kerry 0-14 Clare 2-6
1989 @ Limerick Cork 3-15 Clare 1-7
1990 @ Tralee Kerry 2-9 Cork 0-9
1991 @ P. Ui Chaoimh Kerry 1-8 Cork 0-10
1992 @ Tralee Kerry 3-12 Cork 1-8
1993 @ Waterford Kerry 1-21 Waterford 3-5
1994 @ Dungarvan Cork 2-11 Waterford 0-4
1995 @ Killarney Kerry 1-21 Waterford 2-5
1996 @ Tralee Kerry 3-14 Clare 0-6
1997 @ Tralee Kerry 2-11 Cork 3-8 Draw
@ Pairc Ui Rinn Kerry 0-12 Cork 1-7 Replay
1998 @ Tralee Kerry 3-10 Tipperary 1-11
1999 @ Tralee Kerry 1-10 Cork 0-7
2000 @ Dungarvan Limerick 0-7 Waterford 0-4
2001 @ Kilmallock Cork 1-12 Limerick 0-8
2002 @ Ennis Kerry 3-15 Clare 2-11
2003 @ Waterford Waterford 2-8 Kerry 1-9
2004 @ Tralee Cork 0-13 Kerry 0-12
2005 @ Limerick Cork 1-14 Limerick 1-11
2006 @ Pairc Ui Rinn Cork 4-14 Waterford 1-6
2007 @ Limerick Cork 3-19 Tipperary 3-12
2008 @ Ardfinnan Kerry 0-15 Tipperary 2-7
2009 @ Thurles Cork 1-9 Tipperary 2-5
2010 @ Tralee Tipperary 1-7 Kerry 1-6
2011 @ Pairc Ui Rinn Cork 2-24 Kerry 0-8
2012 @ Tralee Cork 2-12 Kerry 1-14 AET
2013 @ Semple Stadium Thurles Cork 1-17 Tipperary 0-9
2014 @ Pairc Ui Rinn Cork 1-18 Tipperary 3-8
2015 @ Semple Stadium Thurles Tipperary 1-15 Cork 3-8
---