Corn Shéamais Uí Dhonnchú Final (16.5 B Hurling)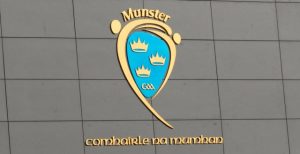 St. Francis Rochestown College 2-15 Colaiste Chriost Ri 2-10
St Francis College are Munster Under 16.5 BHC kingpins
Report by Paddy Ryan
St Francis Rochestown were deserving winners of the James O'Donoghue Cup Munster Under 16.5 B HC final at Blackrock on Wednesday. From the start the winners showed the greater determination, accuracy and skill. They gained supremacy at midfield where David Andrews and John O'Sullivan impressed all through. Matthew McAuliffe opened with two pointed frees. A free in defence by John O'Sullivan was collected by Jack McCarthy who made it 0-3 to 0-0. In the 9th minute good play by John Dennehy led to a well taken goal by John McCarthy that levelled. Rochestown continued to do well. Nathan Walsh was outstanding at centre back. Good work by John O'Sullivan led to a lead point by Matthew McAuliffe. In the 12th minute good work by Jack McCarthy and Matthew McAuliffe led to an excellent point by impressive John O'Callaghan. Criost Ri keeper Jamie Leahy saved very well from O'Callaghan. At the end of the first quarter Rochestown added another point. Criost Ri had a pointed free by Michael Cussen. Rochestown finished the half well with John O'Callaghan having a goal and a point after good work on both occasions by James Holland. In injury time Criost Ri had two points. By half time the winners led 1-7 to 1-2.
Criost Ri keeper Jamie Leahy was called on to make two splendid saves on the resumption from James Holland and John O'Callaghan, both went out for '65s that were converted by John O'Sullivan 1-10 to 1-3 after just thirty three minutes. Rochestown continued to do well. Both sides exchanged points with the winners 1-12 to 1-6 clear entering the final quarter. Criost Ri tried very hard to get back on terms. They lacked scoring power with John Dennehy, Michael Cussen and John McCarthy their dangermen up front. Rochestown held a safe six point lead all through the second half. In the 58th minute Liam Grainger had a great goal that opened up a 2-14 to 1- 9 lead. Criost Ri replied immediately when John Dennehy gave a great cross to John McCarthy who struck for his second goal. Both sides exchanged a late point with St. Francis College holding out for a five point win. After the game Seamus O'Donoghue father of the late James O'Donoghue presented the cup to the winning captain Nathan Walsh in the presence of Munster Council Chairman Jerry O'Sullivan.
Scorers for St. Francis : John O'Callaghan 1-3, John O'Sullivan 0-4 (0-2 '65s. 0-1f) Matthew McAuliffe 0-3 (0-2f) James Holland 0-2, Jack McCarthy 0-2, Brian Turnbull 0-1,
Criost Ri : John McCarthy 2-1, Michael Cussen 0-5 (0-4f) John Dennehy 0-2, Mark Hitchmough 0-1, Eoin O'Leary 0-1.
ST. FRANCIS ROCHESTOWN : Jason Murray (Douglas) Brian O'Connor (do) Ross Coleman (Blackrock) Joe Golden (do) Jamie Fenton (Ballygarvan) Nathan Walsh (Capt) (Douglas) Dylan Ward (do) David Andrews (Shamrocks) John O'Sullivan (Blackrock) Jack McCarthy (Carrigaline) Matthew McAuliffe (Douglas) Sean O'Callaghan (Blackrock) Cormac Kiely (Tracton) Brian Turnbull (Douglas) James Holland (do)
Subs : Jack Lyons (Nemo Rangers) for Joe Golden, Liam Grainger (Blackrock) for Cormac Kiely,
CRIOST RI : Jamie Leahy (St. Finbarr's) Declan Foley (Aghada) Aidan Walsh (St. Finbarr's) Michael Hogan (Nemo Rangers) David Byrne (Tracton) Jack Ryan (Capt) (Sliabh Rua) John O'Brien (Nemo Rangers) Mark Hitchmough (Shamrocks) Eoin O'Leary (Sliabh Rua) John Dennehy (St. Finbarr's) Michael Cussen (Ballygarvan) Darragh Kelly (Douglas) Mark Cronin (Nemo Rangers) John McCarthy (Sliabh Rua) John O'Brien (St. Finbarr's)
Subs : Kyle Forde (Nemo Rangers) for John O'Brien, Sam Hanley (Nemo Rangers) for Declan Foley, Darragh Moran (St. Finbarr's) for Mark Cronin, Aaron Moynihan (Tracton) for John McCarthy
Referee : Nathan Wall (Carrigaline)
---
Preview by Paddy Ryan
Cork Colleges to take all 3 Munster Under 16.5 HC titles
With Midleton CBS taking the Munster Under 16.5 (A) HC title and Mitchelstown CBS being crowned Munster Under 16.5 (C) HC kingpins last week, the third and final competition the Under 16.5 B HC Munster final takes place this Wednesday in Church Road Grounds, Blackrock 1.00pm between two Cork City Schools – St. Francis Rochestown and Colaiste Criost Ri. So the cup will rest on Leeside along with the other two this season. Twenty four schools from all six Munster counties took part in this championship. Both St Francis Rochestown and Colaiste Criost Ri have two well balanced sides. A number of the players on both sides figured with the Cork Under 15 B HC side earlier this year. Three players – two from St Francis James Holland and Brian Turnbull were on the Cork Under 15 A HC panels this year along with Criost Ri's Eoin O'Laoire. On the way to the final Rochestown had four games. Their first match was against Colaiste Treasa (Kanturk). On that occasion the City side were comprehensive winners by 5 -20 to 5 -2. Next up was a meeting with Dungarvan CBS. On this occasion St., Francis had just a point to spare winning by 1-11 to 1-10 to secure a quarter final place against S.N.T.N Doon. Rochestown showed good form in this game running out victors by 2-11 to 1-7. They played another Limerick side in the semi final with St Francis coming out on top by
0-16 to 0-12 over Castletroy Community College.
Colaiste Criost Ri had a bye in the first round. They won their first game very easily accounting for St. Caiman's (Shannon) by 3 -15 to 0- 8. In the quarter final they came up against a very strong Abbey CBS (Tipperary) In the end Criost Ri had 3 points to spare on a scoreline of 2 -17 to 2-14. Their semi final was against Cork side Colaiste Choilm Ballincollig. Another close game ensued with Criost Ri just holding out on 2-12 to 1-13 scoreline. The final can be expected to be very keenly contested. There are players from a number of clubs involved in both schools. Rochestown players come mainly from Douglas, Blackrock, Shamrocks, Carrigaline and Ballygarvan. They are captained by Nathan Walsh (Douglas)
Criost Ri draw their players from St. Finbarr's Nemo Rangers, Shamrocks, Sliabh Rua, Douglas, Ballygarvan, Aghada and Tracton. They are captained by Sean O'Riain (Sliabh Rua). This is the first time of this championship played for the O'Donoghue Cup. The cup in memory of James O'Donoghue (Arravale Rovers) who died in his mid 30s. He was a teacher in Thurles CBS where his energy, integrity and diligence earned him the respect of colleagues and pupils alike. He was a great GAA coach and he prepared many a winning championship team from his school in an all too short life. He was a member of the famous O'Donoghue family synonomous with everything that is positive and progressive about the GAA in Tipperary Town.
---
Team Panels
St Francis College Rochestown 16.5 Hurling panel
1. Jason Murray Douglas
2. Brian O'Connor Douglas
3. Ross Coleman Blackrock
4. Joe Golden Blackrock
5. Jamie Fenton Ballygarvan
6. Nathan Walsh (Captain) Douglas
7. Dylan Ward Douglas
8. David Andrews Shamrocks
9. John O Sullivan Blackrock
10. Jack McCarthy Carrigaline
11. Matthew McAulliffe Douglas
12. Cian Denn Blackrock
13. James Holland Douglas
14. Brian Turnbull Douglas
15. Sean O Callaghan Blackrock
16. Dylan Murphy Douglas
17. Cormac Kiely Tracton
18. Liam Grainger Blackrock
19. Andrew O'Brien Douglas
20. Cian Baldwin Douglas
21. Cian Mahony Shamrocks
22. Conor Russell Douglas
23. Jack Lyons Nemo Rangers
24. Sean Cormack Blackrock
25. Diarmuid Cormack Blackrock
26. Cillian Buckley Blackrock
Colaiste Chriost Rí 16.5 Hurling panel
1. Seamus Ó Laocha St Finbarrs
15. Seac Ó Briain St Finbarrs
3. Aodán Breathnach St Finbarrs
4. Micheál Ó hOgáin Nemo Rangers
2. Deaglán Ó Foghlú Aghada
7. Seán Ó Briain Nemo Rangers
6. Seac Ó Riain Sliabh Rua Capt
5. Daithí Ó Broin Tracton
8. Mark Hitchmough Shamrocks
9. Eoghan Ó Laoire Sliabh Rua
10. Seán Ó Duinneacha St Finbarrs
12. Darragh Ó Ceallaigh Douglas
11. Micheál Ó Cuisín Ballygarvan
17. Kyle Ó Fuaráin Nemo Rangers
14. Seán MacCárthaigh Sliabh Rua
18. Darragh Ó Móráin St Finbarrs
15. Marcus Ó Croinín Nemo Rangers
19. Aaron Ó Muineacháin Tracton
20. Adam Murphy Sliabh Rua
22. Jason Murphy Sliabh Rua
16. Evin Ó Laoire Sliabh Rua
28. Lúcás Ó hAnagáin St Finbarrs
30. Seac Ó Briain Nemo Rangers
21. Sam Ó hAinle Nemo Rangers
23. Ailéin Cadhla Tracton
24. Seán Ó Cadhla Tracton
29. Caleb Ó Raghallaigh Douglas
35. Fearghal Ó Conchúir St Finbarrs
31. Seac Ó Cúgáin Nemo Rangers
27. Breanainn Ó hAonghusa Nemo Rangers
32. Conchúr Ó Fathaigh Tracton
33. Seán Ó hOrgáin Brian Dillons
25. Aodán Ó Cathail St Finbarrs
34. Seamus O hAilín Nemo Rangers
26. Wayne Mac an Tuile St Finbarrs