All-Ireland Senior Hurling Q-Final – Galway 2-28 Cork 0-22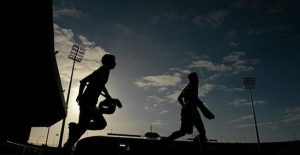 Cork will play Galway in the All-Ireland Senior Hurling Championship Quarter-Final on Sunday July 26th at 4pm in Semple Stadium Thurles.
---
REPORT: Galway brush Cork aside to reach the All-Ireland Hurling Semi-Finals » http://t.co/IxGF3s6gxa #GAA #GALvCOR pic.twitter.com/QcnJx5WfLb

— The GAA (@officialgaa) July 26, 2015
SHC Q-F: Young guns fire Galway into semi-final
GAA Hurling All-Ireland Senior Championship Quarter-Final: Cork 0-22 Galway 2-28
By Brian Murphy at Semple Stadium, Thurles for GAA.ie
From the moment Jonathan Glynn put Galway ahead with a brilliant solo goal within a minute of the start of the game, it was apparent that Galway had turned up in Thurles intent on destroying Cork.
Anthony Cunningham's side had played with a serious ferocity in the Leinster final defeat to Kilkenny, but here they married the savagery of their tackling and intensity of their work-rate with some superb score-taking and exuberant hurling, although their final wides tally of 23 will be of concern ahead of their All-Ireland semi-final meeting with Tipperary on August 16.
Cork were badly exposed once again on the big stage – this performance was on a par with their implosion against Tipperary in the All-Ireland semi-final last August – and speaking to RTÉ after the game, their manager Jimmy Barry-Murphy said "I can't wait for next year" when asked about his future with the Rebels.
The build-up to the game had been dominated by talk of how Cork had recalibrated their defence in the Qualifiers, using Mark Ellis as a sweeper to provide their full-back line with an additional layer of cover. The return of Shane O'Neill also looked to have bolstered their full-back line, but the Rebels' defence was made to look gossamer-thin inside the opening minute when Glynn sallied past a series would-be tacklers and then flipped the sliotar over Ellis before tapping his shot past Anthony Nash for a brilliant goal.
The goal was timed at 60 seconds, and it rocked Cork on their heels, their defence struggling to rediscover their composure for the rest of the half. It was quite remarkable to see a Galway man waltz through the Cork rearguard without a glove being laid on him, and it made for a scarcely believable start to the game, and set the tone for the rest of the afternoon.
Ellis was rendered redundant by the quality of Galway's passing, which was methodical and precise in the absence of any major pressure being applied by the Cork forwards, who had worked so tirelessly and effectively in the Round 2 Qualifier win over Clare. Glynn, the goalscorer, had a huge game for Galway, but it was Galway's young guns, Cathal Mannion, Jason Flynn and debutant Conor Whelan who did most of the damage for the Tribesmen, scoring a massive 1-12 between them. On a day when Joe Canning was off-colour and contributed hugely to Galway's wides tally, that young trio effectively won the game for the Tribesmen.
Galway were 1-15 to 0-14 up at the break and Cork were still in the game when they had Damien Cahalane sent off for a foul on Joseph Cooney in the 50th minute. Cork managed to create their only goal chance of the game – Colm Callanan saved smartly from Patrick Horgan – before sub Paudie O'Sullivan left four between the sides with 12 minutes left.
However, Cork crumbled in the closing stages, and a mistake from Ellis allowed the brilliant Mannion in for his sixth score of the game before Galway took over completely. The killer goal came in the 66th minute when Glynn broke a high ball into the square to 19-year-old Whelan, and he struck a low shot past Anthony Nash. Galway added to their winning margin in the final minutes, making it a painful afternoon for Cork who have now crashed out of successive championships with huge defeats and puzzling non-performances.
Cork's new system was intended to bring their best score-getters into the game, but when Conor Lehane scored his third point from play in the 54th minute, it was his first touch of the ball in the entire second half. Patrick Horgan, who coaxed them over the line against Clare, scored just one point from play, while Brian Lawton and Bill Cooper failed to exert anywhere near the dominance they can around the middle third.
Daniel Kearney was Cork's most effective player, but much of the ball he won was wasted by a Cork attack that was chewed up and spat out by a Galway defence led by the magnificent Daithí Burke. The closest Cork got to Galway all afternoon was when Cormac Murphy's point had them 1-10 to 0-12 down after 26 minutes, but in reality they were outplayed and outfought by a Galway side that will take some beating when they face Munster champions Tipperary in three weeks' time.
***
Scorers for Cork: P Horgan 0-9 (0-8f), C Lehane 0-3, S Harnedy 0-3, D Kearney 0-2, C Murphy 0-1, B Lawton 0-1, P O'Sullivan 0-1, A Cadogan 0-1, A Walsh 0-1.
Scorers for Galway: C Mannion 0-7, J Canning 0-5 (0-2f, 0-1sl, 0-1 65), Whelan 1-2, J Glynn 1-2, J Flynn 0-3, A Smith 0-1, David Burke 0-2, C Donnellan 0-2, A Harte 0-2, J Cooney 0-1, Niall Healy 0-1.
CORK: Anthony Nash; Shane O'Neill, Brian Murphy, Stephen McDonnell; Damien Cahalane, Mark Ellis, Cormac Murphy; Aidan Walsh, Daniel Kearney; Brian Lawton, Patrick Cronin, Bill Cooper; Conor Lehane, Séamus Harnedy, Patrick Horgan
Subs: Jamie Coughlan for Pa Cronin (HT), Lorcán McLoughlin for Cormac Murphy (44), Alan Cadogan for Brian Lawton (46), Paudie O'Sullivan for Bill Cooper (57).
GALWAY: Colm Callanan; Johnny Coen, John Hanbury, Padraig Mannion; Aidan Harte, Iarla Tannian, Daithi Burke; Andrew Smith, David Burke; Conor Whelan, Cyril Donnellan, Jonathan Glynn; Jason Flynn, Joe Canning, Cathal Mannion
Subs: Joseph Cooney for David Burke (HT), David Collins for Cyril Donnellan (57), Greg Lally for Iarla Tannian (61), Fergal Moore for Andrew Smith (65), Niall Healy for Johnny Glynn (67).
Referee: James Owens (Wexford)
Attendance: 33,150
---
Preview: All-Ireland SHC Quarter-Final – @OfficialCorkGAA v @Galway_GAA, Semle Stadium, Sunday, 4pm: http://t.co/OyIROpBlHB

— The GAA (@officialgaa) July 24, 2015
---
---
Fixture Details
26.07.2015 (Sun)
GAA Hurling All-Ireland Senior Championship Quarter Final
Semple Stadium, Thurles 16:00
Gaillimh v Corcaigh
Referee: James Owens (Loch Garman)
---
Team News
Cork Senior Hurling team to play Galway
1. Anthony Nash (Kanturk)
2. Shane O'Neill (Bishopstown)
3. Brian Murphy (Bride Rovers)
4. Stephen McDonnell (Glen Rovers)
5. Damien Cahalane (St Finbarr's)
6. Mark Ellis (Millstreet)
7. Cormac Murphy (Mallow)
8. Aidan Walsh (Kanturk)
9. Daniel Kearney (Sarsfields)
10. Brian Lawton (Castlemartyr)
11. Patrick Cronin (Bishopstown)
12. Bill Cooper (Youghal)
13. Conor Lehane (Midleton)
14. Seamus Harnedy (St. Ita's)
15. Patrick Horgan (Glen Rovers)
Galway (v Cork): C Callanan; J Coen, J Hanbury, P Mannion; A Harte, I Tannian, Daithi Burke; A Smith, David Burke; C Whelan, C Donnellan, J Glynn; J Flynn, J Canning, C Mannion.
---
---
How they got here
CORK
Waterford 3-19 Cork 1-21 (Munster semi-final)
Cork 2-22 Wexford 0-20 (Round 1 Qualifier)
Cork 0-20 Clare 0-17 (Round 1 Qualifier)
CORK SCORERS
Patrick Horgan……….. 1-24 (0-17 frees, 1-0 pen)
Conor Lehane…………. 1-9
Pa Cronin…………………0-8
Seamus Harnedy……… 1-3
Bill Cooper……………… 0-4
Alan Cadogan…………. 0-3
Aidan Walsh…………… 0-2
Brian Lawton ………. … 0-2
Luke O'Farrell………….0-1
Mark Ellis………………..0-1
Daniel Kearney………..0-1
Darren McCarthy………0-1
Damien Cahalane………0-1
Cormac Murphy ……….0-1
Jamie Coughlan …………0-1
Paudie O'Sullivan………0-1
GALWAY
Galway 1-17 Dublin 0-20 (Leinster quarter-final)
Galway 5-19 Dublin 1-18 (Leinster quarter-final) Replay
Galway 3-28 Laois 1-14 (Leinster semi-final)
Kilkenny 1-25 Galway 2-15 (Leinster final)
GALWAY SCORERS
Joe Canning………… 4-32 (0-20 frees, 0-3 '65s)
Cathal Mannion……..3-8
Jason Flynn…………..1-11 (0-7frees)
Cyril Donnellan…….. 0-7
Davy Glennon………. 1-2
Andy Smith ………….0-4
Johnny Coen……….. .1-0
Joseph Cooney………1-0
Aidan Harte………… 0-3
David Burke………….0-3
Padraig Brehony……0-2
Niall Healy…………….0-2
Padraig Mannion……..0-2
John Hanbury………….0-1
Jonathon Glynn……….0-1
Fergal Moore ………….0-1
Previous Championship Clashes
This will be the 33rd championship clash between the counties, with Cork winning 25 to Galway's 7 from the previous 32. All of Galway's seven wins have come in the last 40 years, a period in which they lead Cork 7-6. Galway have won their last three championship clashes with Cork.
2012: Galway 0-22 Cork 0-17 (All-Ireland semi-final)
2011: Galway 2-23 Cork 1-14 (All-Ireland qualifiers)
2009: Galway 1-19 Cork 0-15 (All-Ireland qualifiers)
2008: Cork 0-23 Galway 2-15 (All-Ireland qualifiers)
2005: Cork 1-21 Galway 1-16 (All-Ireland final)
2002: Galway 0-21 Cork 1-9 (All-Ireland qualifier)
1990: Cork 5-15 Galway 2-21 (All-Ireland final)
1986: Cork 4-13 Galway 2-15 (All-Ireland final)
1985: Galway 4-12 Cork 5-5 (All-Ireland semi-final)
1983: Cork 5-14 Galway 1-16 (All-Ireland semi-final)
1979: Galway 2-14 Cork 1-13 (All-Ireland semi-final)
1977: Cork 3-14 Galway 1-15 (All-Ireland semi-final)
1975: Galway 4-15 Cork 2-19 (All-Ireland semi-final)
1969: Cork 3-15 Galway 1-10 (Munster semi-final)
1968: Cork 3-15 Galway 1-6 (Munster semi-final)
1964: Cork 4-14 Galway 2-7 (Munster quarter-final)
1954: Cork 4-13 Galway 2-1 (All-Ireland semi-final)
1953: Cork 3-3 Galway 0-8 (All-Ireland final)
1952: Cork 1-5 Galway 0-6 (All-Ireland semi-final)
1946: Cork 2-10 Galway 0-3 (All-Ireland semi-final)
1944: Cork 1-10 Galway 3-3 (All-Ireland semi-final)
1942: Cork 6-8 Galway 2-4 (All-Ireland semi-final)
1929: Cork 4-9 Galway 1-3 (All-Ireland final)
1928: Cork 6-12 Galway 1-0 (All-Ireland final)
1927: Cork 5-6 Galway 0-2 (All-Ireland semi-final)
1919: Cork 3-8 Galway 0-2 (All-Ireland semi-final)
1914: Cork 6-6 Galway 0-0 (All-Ireland semi-final)
1910: Cork 7-3 Galway 1-0 (All-Ireland semi-final)
1908: Cork 2-8 Galway 1-7 (1907 All-Ireland semi-final)
1906: Cork 5-13 Galway 0-4 (1905 All-Ireland semi-final)
1902: Cork 10-13 Galway 0-10 (All-Ireland semi-final)
1901: Cork 7-12 Galway 1-3 (All-Ireland semi-final)
THIS YEAR….
Cork and Galway clashed in the Allianz League in Pearse Stadium on March 16 last, when the Leesiders won by 2-17 to 0-20.
GALWAY IN ALL-IRELAND QUARTER-FINALS
Galway are appearing in their 15th All-Ireland quarter-final, having won three, drawn one and lost ten of their previous fourteen.
2013: Clare 1-23 Galway 2-14
2011: Waterford 2-23 Galway 2-13
2010: Tipperary 3-17 Galway 3-16
2009: Waterford 1-16 Galway 0-18
2007: Kilkenny 3-22 Galway 1-18
2006: Kilkenny 2-22 Galway 3-14
2005: Galway 2-20 Tipperary 2-18
2002: Clare 1-15 Galway 0-17
2001: Galway 4-23 Derry 1-11
2000: Galway 1-14 Tipperary 0-15
1999: Clare 3-18 Galway 2-14 (Replay)
1999: Clare 3-15 Galway 2-18 (Draw)
1998: Waterford 1-20 Galway 1-10
1997: Kilkenny 4-15 Galway 3-16
CORK IN ALL-IRELAND QUARTER-FINALS
This will be Cork's 10th appearance in the All-Ireland quarter-finals, having won seven, drawn one and lost one of the previous nine.
2013: Cork 0-19 Kilkenny 0-14
2012: Cork 1-19 Waterford 0-19
2010: Cork 1-25 Antrim 0-19
2008: Cork 2-19 Clare 2-17
2007: Waterford 2-17 Cork 0-20 (Replay)
2007: Waterford 3-16 Cork 3-16 (Draw)
2006: Cork 0-19 Limerick 0-18
2005: Cork 1-18 Waterford 1-13
2004: Cork 2-26 Antrim 0-10
---