All-Ireland Post Primary Schools Hogan Cup Senior A Football Final – Pobalscoil Chorca Dhuibhne 1-8 St Pats Maghera 1-6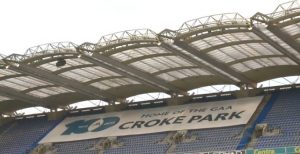 Pobalscoil Chorca Dhuibhne claimed the Hogan Cup title for the first time in their short history with a two-point win over reigning champions St. Pat's, Maghera at Croke Park on Saturday afternoon.

Source: TG4
Having trailed by 1-4 to 0-2 at the break, Pats' star man Conor Glass having hit the back of the net in the 12th minute, Éamonn Fitzmaurice's charges staged a brilliant second half fightback to claim the top prize in second level football.
The West Kerry outfit were back in the game within minutes of the restart when Roibeárd Ó Sé raised a green flag, and two further points from Séamus Ó Muircheartaigh had them ahead for the first time in the 44th minute. Pat's drew level briefly thanks to a Conor Cassidy effort, but PCD hit the final two points of the game, with Barra Ó Súilleabháin nailing the insurance score, to secure a maiden Hogan Cup title.
---
Dingle reach Promised Land
By Eoghan Cormican for the Irish Examiner newspaper
Pobalscoil Chorca Dhuibhne 1-8 St Patrick's, Maghera 1-6
Line crossed, tape broken, summit conquered; phrase it whichever way you please but the bottom line remains unchanged — Pobalscoil Chorca Dhuibhne are Hogan Cup champions, at last. Though the school only came into existence in 2007, Saturday's victory had been a long time in the making — three consecutive Corn Uí Mhuirí titles followed by two bitter All-Ireland semi-final defeats.
Eamonn Fitzmaurice's charges had knocked long and hard at the door. The Promised Land was finally reached on Saturday. Indeed, the scenes of unbridled joy which greeted the full-time whistle, Fitzmaurice jumping into the arms of selector Tommy Griffin, Mícheál Ó Muircheartaigh banging his desk in the press area, captured poignantly the significance of the win, but also the scale of their achievement.
Pobalscoil Chorca Dhuibhne are only the fourth Kerry side to collect secondary school football's most treasured silverware. As one Croke Park steward quipped: "It may be the only All-Ireland Kerry win this year so they might as well enjoy it!"
St Pats' tactics of playing just two men — Paul Gunning and Conor Convery — inside the Corca Dhuibhne 40-yard line caused serious problems for Fitzmaurice's side who simply could not cope with the pace of the Ulster champions on the break. Irrespective, the champions were slow to make their dominance count with Gunning and Conor Glass squandering successive opportunities. On 11 minutes, Corca Dhuibhne's defensive wall finally gave way. Gunning provided the delivery, Paul McAtamney collected and subsequently off-loaded to Glass who dispatched beyond Dáithí Ó Conchúir. Danny Tallon pointed in the ensuing passage of play to extend their advantage.
The decider was 20 minutes old when Séamus Ó Muircheartaigh had Dingle off the mark, the score providing only momentary respite, however, as Convery, Glass and Tallon landed points for a 1-4 to 0-2 interval scoreline. When you consider Corca Dhuibhne outscored Maghera by 1-6 to 0-2 in the second half, not to mention the seismic shift in momentum, one wonders what exactly was said in the PCD dressing room during the interval.
Wing-back Maitiú Ó Flatharta revealed: "Eamonn hammered home that this was our last 30 minutes together as a team. This would be our last time together in the dressing room. A few of the lads stood up and spoke about what it meant to play for Pobalscoil Chorca Dhuibhne, to come from the Gaeltacht. We are all friends and after Eamonn's speech, by God did we drive it on in that second half. We couldn't cope with their tactics in the first half, but down the Hill side it seems to open up a lot. We knew that was going to happen. We had to box them up so we dropped back Caoimhghin Begley, then we started to break at pace and turned their game."
One further directive stemming from said discussion was to employ direct ball on top of the full-forward line and within two minutes of the restart, the ploy had the desired impact. Roibeárd Ó Sé fielded superbly Ó Muircheartaigh's delivery, put the head down and the end product was befitting of an All-Ireland final. Goal Pobalscoil Chorca Dhuibhne.
Thereafter, the tide turned dramatically with Fitzmaurice's students raising four of the next five white flags — Ó Muircheartaigh (two frees), Ó Flatharta and Tom Ó Súilleabháin (free) the providers. Conor Cassidy kicked arguably the score of the afternoon on 54 minutes to level matters at 1-6 apiece, but Corca Dhuibhne were relentless by this juncture, pushing forward at every turn.
Moreover, the midfield partnership of Barra Ó Súilleabháin and Marc Ó Conchúir had long since established their authority, having played second fiddle for most of the opening half. Tom Ó Súilleabháin edged the winners back in front with the finish line in sight and the honours were theirs when Barra Ó Súilleabháin, the figure at the centre of the black card controversy back in January, split the posts in the subsequent action. Line crossed, tape broken, summit conquered.
Scorers for Pobalscoil Chorca Dhuibhne: R Ó Sé (1-0); S Ó Muircheartaigh (0-3, 0-2 frees); T Ó Súilleabháin (0-2, 0-2 frees); M Ó Flatharta, B Ó Súilleabháin, T Ó Sé (0-1 each).
Scorers for St Patrick's, Maghera: C Glass (1-1); D Tallon (0-2); C Cassidy, C Convery (0-1 free), P McAtamney (0-1 each).
POBALSCOIL CHORCA DHUIBHNE: D Ó Conchúir; C Ó Súilleabháin, B Ó Beaglaioch, T Ó Súilleabháin; M Ó Flatharta, C Ó Beaglaioch, S Ó Gairbhia; B Ó Súilleabháin, M Ó Conchúir; R Ó Sé, B Ó Raoil, S Ó Muircheartaigh; C Ó Géibheannaigh, C Ó Bambaire, T Ó Sé.
Subs: C Ó Murchú for Ó Géibheannaigh (HT); S Ó Bambaire for Ó Raoil (53 mins); T de Brn for Ó Muircheartaigh (60).
ST PATRICK'S, MAGHERA: C McCloy; P McNeill, O Hegarty, C McNeill; C O'Doherty, P Hagan, C Mulholland; C Glass, C Cassidy; J Doherty, P McAtamney, M McGrath; P Gunning, D Tallon, C Convery.
Subs: S Quinn for Mulholland (59 mins).
Referee: G McCormack (Dublin)
Game-changer
Roibeárd Ó Sé's 32nd minute goal. St Patrick's had ruled the opening-half with an iron fist, but Ó Sé's strike, coupled with subsequent points from Maitiú Ó Flatharta and Séamus Ó Muircheartaigh wiped out that advantage within eight minutes of the restart.
Talk of the town
Pobalscoil Chorca Dhuibhne are only the fourth Kerry nursery to lift the Hogan Cup, following in the footsteps of Intermediate School, Killorglin (1996), St Brendan's, Killarney (1969 & 1992) and Coláiste Na Sceilge (2009).
Did that just happen?
Referee Gary McCormack ordered a number of players from both teams off the pitch to put on gumshields.
Best on show
Danny Tallon and Conor Glass impressed for Maghera when in the ascendancy, while Maitiú Ó Flatharta and Barra Ó Súilleabháin were excellent for the winners. Midfielder Marc Ó Conchúir, however, shades the verdict for a terrific and selfless shift.
Black card watch
No black cards distributed, nor was there a need for any.
Sideline superior
The decision of Eamonn Fitzmaurice to redeploy corner-back Tom Ó Súilleabháin to corner-forward for the second period proved a masterstroke. Ó Súilleabháin nailed two frees and had a hand in most of Corca Duibhne's second-half scores.
The man in black
Solid afternoon from Gary McCormack. Fitzmaurice said his side should have been awarded a free just before Maghera's goal but there was nothing illegal about the challenge in question. Maghera were hard done by at the death when Conor Cassidy put in a tremendous block to dispossess his opponent, but was adjudged to have done so illegally.
What's next?
End of the road for both schools
---
Pobal Scoil Chorcha Dhuibhne have won the Hogan Cup.! Comhgáirdeachas libh go léir!

— Kerry GAA (@Kerry_Official) April 12, 2014
---
This Saturday, Munster champions Pobalscoil Chorca Dhuibhne (Kerry) take on Ulster and reigning Hogan Cup champions St.Patrick's College, Maghera (Derry) in the Hogan Cup final, the most prestigious prize in schools football in Ireland.
Last year just re-ignited for us the whole euphoria that comes with being All-Ireland champions
Paul Hughes, Maghera The final takes place at Croke Park at 3.15pm on Saturday, and will be broadcast live on TG4.
This week at Croke Park, St. Patrick's manager Paul Hughes and Tomás MacCárthaigh, Games Coordinator of Pobalscoil Chorca Dhuibhne, looked forward to the game. Pobalscoil Chorca Dhuibhne, from way out west on the Dingle peninsula, are managed by Kerry senior football boss Éamonn Fitzmaurice. The school's Games Coordinator Tomás MacCárthaigh tells of how much the people around Dingle are looking forward to the game on Saturday.
"I brought this group here (Croke Park) and we're very taken with the whole arena and everything," he said. "The whole occasion on Saturday then, the whole peninsula is eagerly looking forward to it. It's a great community event there. There's a number of supporters buses being organised and there is flags and bunting up all over Dingle.
"There's something very special when a team from your locality is involved and in this team you're talking about three clubs. You're talking about Dingle, you're talking about An Ghaeltacht, you're talking about Lispole. And people down there have a great affiliation with their native place."
Looking at the challenge posed by St. Patrick's Maghera, the reigning All-Ireland champions, he spoke of his admiration for the team the Kerry side will face.
"We have a great respect for them," he said. "I remember looking at them last year against Navan. They were highly impressive. They are a big physical team with no shortage of skill. However, we have big players as well and we're not lacking skill either."
St. Patrick's manager Paul Hughes reflected on the great recent success the school have enjoyed.
"Last year was our first time to win a Hogan in 10 years, we had been fortunate to win a few before over the years – 1989, 1990, 1995, 2003 – and last year just re-ignited for us the whole euphoria that comes with being All-Ireland champions," he said.
The prospect of a two-in-a-row now looms large for the Derry side, and Hughes emphasised what a big thing it would be if they could achieve it now. "If we were able to come here now and do a back to back title, it just really puts us at the pinnacle of what we have been achieving over the years. It sets a standard and memory for the boys that will last a lifetime," he said.
Match Coverage
This game will be shown live on TG4
Important travel info for everyone driving to @CrokePark on Saturday for the @PostPrimaryGAA Finals http://t.co/WjoriFEWQd

— Croke Park (@CrokePark) April 10, 2014
Video: Pobalscoil Chorca Dhuibhne (Kerry) take on St.Patrick's, Maghera (Derry) in Saturday's Hogan Cup final – http://t.co/QonhMYTygI #GAA

— The GAA (@officialgaa) April 10, 2014

Source: TG4