2020 Munster GAA Senior Hurling Championship Final – Limerick 0-25 Waterford 0-21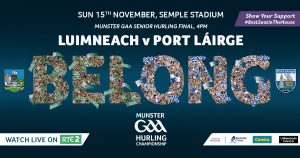 Limerick defeated Waterford by 0-25 to 0-21 in the Munster Senior Hurling Championship Final on Sunday November 15th at Semple Stadium Thurles.
---
Match Highlights
Watch the Full-Time Highlights of Limerick v Waterford in the Munster Senior Hurling Final here on GAANOW!
Full-Time Score:
Limerick: 0-25
Waterford: 0-21 pic.twitter.com/Tr5YXC60QZ

— The GAA (@officialgaa) November 15, 2020
---
REPORT: @LimerickCLG survived a searching examination from @WaterfordGAA to win back to back Munster SHC titles for the first time since 1980/81. #GAA #GAABelong

— The GAA (@officialgaa) November 15, 2020
Munster SHC Final: Limerick crowned champions after severe test
LIMERICK 0-25 WATERFORD 0-21
Report By John Harrington at Semple Stadium for GAA.ie
Limerick have put Munster titles back to back for the first time since 1980/81, and the achievement was hard won.
Waterford put up a ferocious fight, and in the final reckoning it was once again Limerick's ability to spring top-class substitutes that proved decisive in this Munster Final.
This was the most physically intense game of hurling we've seen thus far in the Championship.
The hits were huge, the tackling claustrophobic, and time on the ball was a very precious commodity.
Waterford really brought the fight, especially the excellent Stephen Bennett and Tadhg de Búrca, but Limerick just had that little bit more quality in the attacking third of the pitch and their greater physical strength was also telling in the many battles for ruck-ball.
If you're going to drag this Limerick team into deep water, then you really need to get everything right from tactics to match-ups.
Waterford came with a definite plan to neutralise Limerick's chief danger-men as much as they could. Kieran Bennett wore the number 11 jersey but assumed man-marking duties on Cian Lynch, while Calum Lyons switched wings to pick up Gearoid Hegarty.
Really though, positions didn't count for much in the traditional sense. Both teams played with two inside forwards, and after that it was pretty much a case of both trying to form green and blue walls across the middle third whenever they didn't have possession.
Despite this concerted effort to choke the life out of opposition ball-carriers as much as possible, it's a testament to the crispness of the hurling of both teams that scores were registered in brisk fashion from the off.
Limerick put their best foot forward with two early scores by Graeme Mulcahy and Aaron Gillane, but Waterford quickly served notice of their intent to go toe for toe with the favourites as Dessie Hutchinson and Jake Dillon then scored points of the very highest calibre.
Limerick's sheer size was a giving them an edge when the ball was there to be won on the ground, but Waterford kept scrapping for all they were worth and at times punched above their weight in those ferocious contests for possession.
Just when it looked like Limerick were starting to gain the upper hand in the arm-wrestle, Austin and Stephen Bennett burst to life with a brace of points to keep Waterford in touch.The teams were level at 0-7 apiece by the 19th minute, but then two quickfire points from the very lively Peter Casey gave Limerick the initiative once more.
Waterford were doing really well to shut down the threat of the much-vaunted Limerick half-forwards, but Casey, Cian Lynch, and Aaron Gillane were picking up the slack for the Shannonsiders.
A brilliant point by Gillane from the right-wing pushed his team four clear, and with Waterford now increasingly reliant on Stephen Bennett for inspiration it felt like Limerick were slowly getting a strangle-hold on the contest
When they half-time whistle blew they led 0-14 to 0-11, and though that was hardly a massive advantage on the score-board, you felt Limerick were the likelier team to find another gear.
Waterford had other ideas. They ripped into Limerick from the start of the second-half and were level by the 40th minute thanks to two Bennett frees and a nice score on the run by Jack Prendergast.
Limerick suddenly looked rattled, and began hitting the sort of rash wides they simply didn't in the first half. They hit eight second-half wides compared to just one in the first, which tells its own story.
Waterford's self-belief was visibly building, and when the superb Bennett put them ahead for the very first time with a brilliant point from play on 51 minutes, their subs in the stand rose to their feet in acclamation.
You need your big men to stand up in the clutch moments of matches, and they don't come any bigger on this Limerick team than the towering Gearoid Hegarty.
He had been kept quiet by the tenacious marking of Calum Lyons up to this, but he came good mid-way through the second-half to score two fine points in the space of three minutes.
They sandwiched a classy point by substitute Seamus Flanagan who scored with his very first touch to once again highlight the embarrassment of riches at John Kiely's disposal.
Now it was Limerick with the bit between their teeth again, leading by 0-20 to 0-18, and the question was could Waterford find a response.
Jake Dillon gave them hope with a fine point from the wing, but as gaps started opening up at the other end of the pitch, no better man than Graeme Mulcahy to snipe into them.
The quicksilver corner-forward hit two great points in quick succession to open up a buffer on the scoreline again and leave Waterford in hole that only a goal would dig them out of.
The closest they came to getting one was when Calum Lyons surged forward and tried to pop a hand-pass to Patrick Curran who had drifted into space on the edge of the square.
But just when it looked like the ball would find its way to him, Limerick corner-back Sean Finn did brilliantly to reach his hurley and intercept it at the apex of its flight.
There was one last kick from Waterford when Bennett fizzed in a rasper of a free from around 23 yards, but Nickie Quaid saved it acrobatically to deflect it out for a '65 that Bennett converted.
That was the final score of the match as Limerick held on for the hardest of hard-fought victories.
Waterford gave them plenty of it but still couldn't take them down. It will take a serious team to stop them now.
---
Man of the match Cian Lynch says Limerick were "lucky enough" to beat a hard-working Waterford team and claim back to back Munster SHC titles. #RTEGAA #GAA pic.twitter.com/KZOx5sxKkI

— The Sunday Game (@TheSundayGame) November 15, 2020
---
Scorers for Limerick: Aaron Gillane 0-10 (8f), Graeme Mulcahy 0-4, Peter Casey 0-3, Gearoid Hegarty 0-2, Cian Lynch 0-2, Diarmaid Byrnes 0-2 (1f, 1 '65), Seamus Flanagan 0-1, Adrian Breen 0-1
Scorers for Waterford: Stephen Bennett 0-12 (8f, 1'65), Austin Gleeson 0-3, Jake Dillon 0-2, Dessie Hutchinson 0-1, Jack Prendergast 0-1, Patrick Curran 0-1, Kieran Bennet 0-1.
LIMERICK: Nickie Quaid; Sean Finn, Dan Morrissey, Barry Nash; Diarmaid Byrnes, Declan Hannon, Kyle Hayes; Cian Lynch, William O'Donoghue, Gearoid Hegarty, David Reidy, Tom Morrissey; Graeme Mulcahy, Aaron Gillane, Peter Casey
Subs: Seamus Flanagan for Peter Casey, David Dempsey for Tom Morrissey (both 53), Darragh O'Donovan for David Reidy (56), Adrian Breen for Graeme Mulcahy (67)
WATERFORD: Stephen O'Keeffe; Shane Fives, Conor Prunty, Shane McNulty; Kevin Moran, Tadhg de Búrca, Calum Lyons; Jamie Barron, Jake Dillon; Jack Fagan, Kieran Bennett, Jack Prenderast; Dessie Hutchinson, Stephen Bennett, Austin Gleeson
Subs: Neil Montgomery for Jack Fagan (47), Michael Kearney for Kieran Bennett (59), Ian Kenny for Shane Fives (61), Darragh Lyons for Jake Dillon (63), Patrick Curran for Austin Gleeson (66)
Referee: Colm Lyons (Cork)
---
Online Match Programme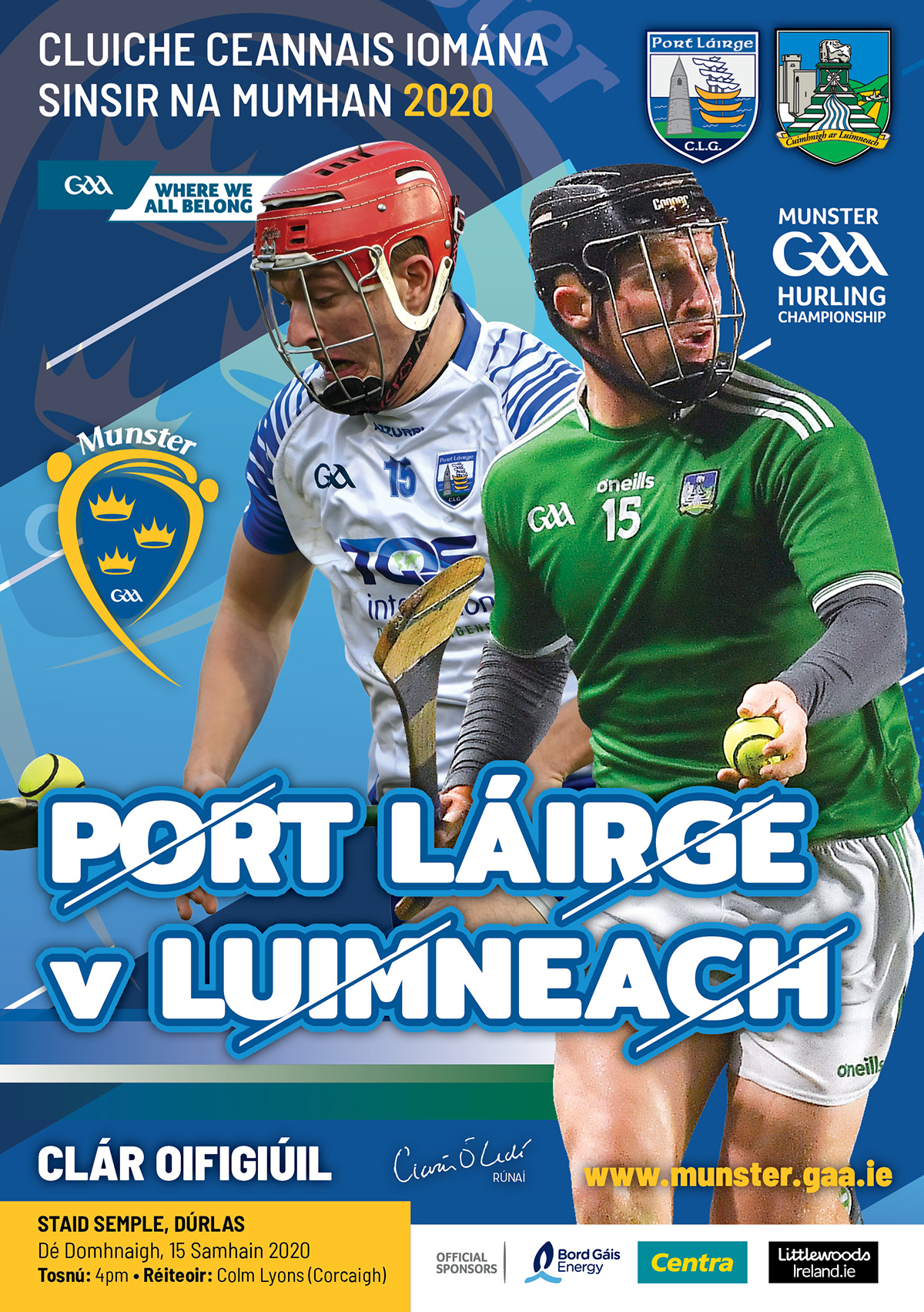 ---
Click to view the Match Programme in PDF Format
Click to view the Match Programme (Single Pages) in PDF Format
Printed programmes are available for individual sale.
Click here for more information
---
Team Pages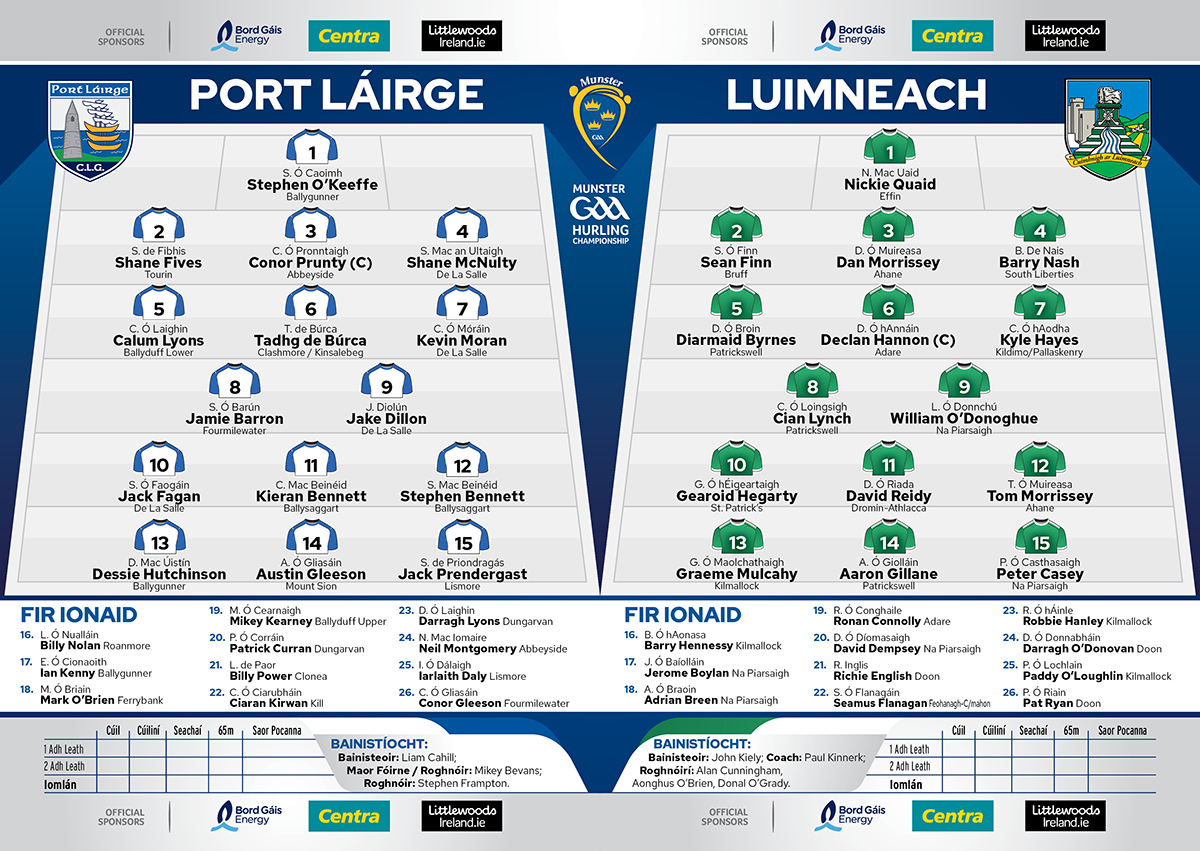 ---
Team News
The @LimerickCLG team to take on @WaterfordGAA in the @MunsterGAA SHC Final on Sunday. #SportLK pic.twitter.com/IFBrO9FcrN

— Sporting Limerick (@SportingLK) November 13, 2020
Limerick (Munster SHC final v Waterford): N Quaid; S Finn, D Morrissey, B Nash; D Byrnes, D Hannon, K Hayes; C Lynch, W O'Donoghue; G Hegarty, D Reidy, T Morrissey; G Mulcahy, A Gillane, P Casey.
The Waterford Senior Hurling Team to face Limerick in this Sunday's Munster Senior Hurling Final has been announced⬇️

Best of luck to Liam Cahill, his management team and all of the panel!#deiseabú #support ⚪️🔵⚪️🔵 pic.twitter.com/VMkXe4BErK

— Waterford GAA (@WaterfordGAA) November 13, 2020
Waterford (Munster SHC final v Limerick): S O'Keeffe; S Fives, C Prunty, S McNulty; C Lyons, T de Búrca, K Moran; J Barron, J Dillon; J Fagan, K Bennett, Stephen Bennett; D Hutchinson, A Gleeson, J Prendergast