2019 TG4 All-Ireland Intermediate Ladies Football Championship Final – Tipperary 2-16 Meath 1-14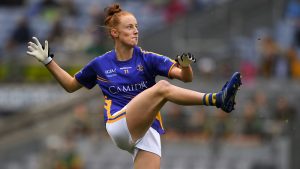 Tipperary defeated Meath by 2-16 to 1-14 in the TG4 All-Ireland Intermediate Ladies Football Championship Final on Sunday September 15th at Croke Park.
---
🗞️ REPORT:@TippLadiesFB return to top flight after second-half show of strength to deny @meathladiesMLGF in decider https://t.co/MLMsnKmzPQ@SportTG4 All-Ireland IFC Final@MunsterLGFA @LeinsterLGFA #properfan

— Ladies Football (@LadiesFootball) September 15, 2019
TG4 ALL-IRELAND IFC FINAL
Tipperary 2-16 Meath 1-14
By DECLAN ROONEY at CROKE PARK
Tipperary secured an immediate return to the Senior ranks after Angela McGuigan and Aisling McCarthy goals and eight points from the outstanding Aishling Moloney gave them a second TG4 All-Ireland Intermediate title in three years.
A Fiona O'Neill goal meant Meath only trailed by one point at the break, but a splendid rearguard display from Tipp held them to five points in the second-half and inflicted a second straight final loss on Eamonn Murray's side.
In the build up to this game it was expected that two attack-minded teams were going head to head and after a fluid opening half their talents were there for everyone to see. The first score arrived from Aoibhín Cleary after 16 seconds, the last of the first-half came in the 30th minute from Aisling McCarthy and in between play flowed from one end to the other and scores arrived regularly.
Despite falling behind to that first-minute score Tipperary took charge of the encounter quickly and with Orla O'Dwyer and Caitlín Kennedy driving forward they tagged on four unanswered points. A brilliant save from Monica McGuirk denied O'Dwyer a goal, but her shot deflected over, while Moloney, Caoimhe Condon and McCarthy all found the target for Tipp.
A Senior team last season, it appeared as if Tipp's top flight experience was trumping Meath's exciting promise, but Murray's side began to find their feet. Vikki Wall scored following a trademark powerful run and Emma Duggan landed her first soon after, but two more Moloney points meant Tipp held a 0-6 to 0-3 lead by the 14th minute.
Tipp didn't take all their scoring chances though and as a result Meath's slick forwards soon had them back in touch. Fiona O'Neill's point and two Duggan frees had the gap down to one point 11 minutes from the interval, and six minutes later Bridgetta Lynch picked out O'Neill with a floated kickpass and she found the top corner for a 1-8 to 0-9 lead.
When Meath followed the goal with a Kelsey Nesbitt point Tipp could have panicked, but they showed their champion credentials when O'Dwyer and Eva Fennessey sent McGuigan clear and she cut back on her right side and rattled a goal for a 1-10 to 1-9 half-time lead for Tipp.
---
Angela McGuigan Tipperary First Half Goal
CÚÚÚÚÚÚLLL ag @TippLadiesFB

Ionsaí lasrach agus críoch den scoth ag Angela McGuigan!

Tiobraid Árann chun tosaigh arís. Cad é mar cluiche!

— Ladies Football (@LadiesFootball) September 15, 2019
---
Despite the tricky wind in the first-half both teams coped well, but as the misty rain descented for the start of the second-half the players began to struggle. Tipp certainly bossed the opening ten minutes of the half but after shooting four wides they didn't add to their tally, while in their first attack Meath's Lynch levelled the scores in the 40th minute.
Moloney was responsible for three of those Tipp wides, but she was quickly moved into full-forward and a point arrived immediately. Then from the kick-out O'Dwyer intercepted Sarah Powderly's pass, and via Moloney, McCarthy ran through and hit the net. An O'Dwyer point then had Tipp 2-12 to 1-10 ahead after a blistering two minute spell.
---
Aisling McCarthy Tipperary Second Half Goal
Cúl do @TippLadiesFB

Gadaíocht maith déanta ag Orla O'Dwyer agus an cúl críochnaithe don líon ag Aishling McCarthy. Sár scór!!

— Ladies Football (@LadiesFootball) September 15, 2019
---
Meath kept battling though and a hard-fought point from Duggan added to their tally, but Moloney and Fennessey scores guaranteed Tipp an easy finale.
Scorers – Tipperary: A Moloney 0-8 (1f), A McCarthy 1-2, A McGuigan 1-1, O O'Dwyer 0-2, C Condon 0-1, C Kennedy 0-1, A Fennessey 0-1.
Meath: E Duggan 0-5 (3f), V Wall 0-4, F O'Neill 1-1, A Cleary 0-1, K Nesbitt 0-1, B Lynch 0-1, S Grimes 0-1 (1f).
Tipperary: L Fitzpatrick; L Spillane, M Curley, E Cronin; S Lambert (c), B Condon, C Kennedy; A McCarthy, A.R. Kennedy; O O'Dwyer, A Moloney, N Lonergan; A Fennessy, A McGuigan, C Condon.
Subs: L Dillon for Cronin (h-t), R Daly for Condon (43), O Winston for McGuigan (50).
Meath: M McGuirk; K Newe, O Duff, S Powderly; O Byrne, S Wall, S Ennis; M O'Shaughnessy (c), A Cleary; V Wall, M Thynne, E Duggan; F O'Neill, B Lynch, K Nesbitt.
Subs: O Lally for Powderly (46), S Grimes for Duggan (47), M O'Brien for Byrne (47), N Gallogly for Ennis (56), E White for S Wall (58).
Referee: Jonathan Murphy (Carlow).
---
Referee Details
TG4 All Ireland Intermediate Championship Final 2019
An Mhí v Tiobraid Árann 1.45pm, Pairc an Chrócaigh
Referee: Jonathan Murphy, Carlow
Standby Referee: Maggie Farrelly, Cavan
4th official: Gus Chapman, Sligo
---
Match Preview
TG4 All-Ireland Intermediate Final
Meath v Tipperary; Croke Park, 1.45pm
SUNDAY'S TG4 All-Ireland Intermediate Championship Final between Meath and Tipperary has all the ingredients to produce a potential classic.
Meath, the 2018 runners-up, face off against 2017 winners Tipperary in a fixture that looks set to produce open and entertaining fare.
Both teams were impressive in their respective semi-finals, as Meath produced a brilliant second half performance against Roscommon, after Tipperary had accounted for Sligo in the opening game of the Nowlan Park double-header.
The counties have already met in the 2019 Championship, when Tipp enjoyed a comprehensive 6-10 to 1-14 victory in the round-robin stages of the All-Ireland series in Ardfinnan.
Tipp rocked Meath with a flurry of early goals and while the Royals found their feet later in the game, the result was never in doubt from a long way out.
Meath manager Eamonn Murray and his players will have learned plenty from that sobering afternoon, and they regrouped to see off Wicklow and Longford, and book a place in the knock-out stages.
At the All-Ireland quarter-final stage, Meath gained sweet revenge on Wexford, who had defeated them in the Leinster Final, before producing a quite magnificent second half display in the Roscommon game.
At half-time, Meath had a five-point lead, 2-8 to 1-6, but the winning margin was out to 17 points by the final whistle.
Emma Duggan, a quite outstanding talent, contributed 1-5 in total, Fiona O'Neill chipped in with 1-4, there was a 1-3 haul from Orla Byrne, and Vikki Wall collected 1-2 as Meath turned on the style.
Tipperary may have been marked out as Championship favourites from the start of the competition, but they'll face a fiercely-determined Meath outfit, and a team carrying the hurt of Final defeat at the hands of Tyrone last year.
Meath were hit for six goals 12 months ago and will feel that they didn't do themselves justice on the big day. But here is another massive opportunity for Meath to show what they can do, and Tipp will be wary of their big-day opponents.
For their part, the Premier County have enjoyed a relatively straightforward Championship campaign to date. Clare ran them close in the round-robin stages of the Munster Championship, before the gulf widened when the counties met in the Provincial decider.
They would meet for a third time, however, and Tipp were handed an extremely testing afternoon, before eventually prevailing by two points in the All-Ireland quarter-final.
Even if they do win the game, and bring the Mary Quinn Memorial Cup back to the Premier County again, some may still view Tipperary's fine Lidl National League Division 1 campaign as the high point of the campaign.
Tipp defeated Cork at Páirc Uí Rinn and Monaghan in Thurles to preserve top-flight status for 2020, before switching attention to the Championship.
After conquering Munster, Tipp won three from three in their All-Ireland qualifier group, survived the Clare challenge, and upped the ante in their most recent outing against Sligo. Caoimhe Condon, Aishling Moloney, Aisling McCarthy and Angela McGuigan were all on song as Tipp racked up an impressive 3-15 total.
But Meath will have noted that Tipp conceded three goals in the semi-final, and they'll also gain confidence from the fact that Clare ran Shane Ronayne's side so close in the last-eight tie.
Having sampled Senior Championship football in 2018, Tipperary would dearly love another crack at the top grade, having lost out to Cavan in a relegation play-off last year.
All in all, this is a fourth TG4 All-Ireland Intermediate Final appearance for Tipperary, who won in 2008 and 2017, while also suffering defeat to Cavan in 2013.
At underage level, Meath have been making exceptionally good progress, and that certainly bodes well for the future.
But it's all about the here and now for the Leinster representatives, who haven't won an All-Ireland adult title since lifting the Junior title 25 years ago.
Is that long wait about to end, or will Tipperary make it two TG4 All-Ireland Intermediate Championship wins in three seasons? All will be revealed in an eagerly-anticipated Final – and we should get a fixture befitting of the occasion.
---
Team News
Meath (v Tipperary): M McGuirk; K Newe, O Duff, S Powderly; O Byrne, S Ennis, S Wall; M O'Shaughnessy (capt.), A Cleary; E Duggan, V Wall, M Thynne; B Lynch, K Nesbitt, F O'Neill.
Tipperary (v Meath): L Fitzpatrick; L Spillane, M Curley, E Cronin; B Condon, S Lambert (capt.), C Kennedy; A McCarthy, A.R. Kennedy; N Lonergan, A Moloney, O O'Dwyer; A Fennessy, A McGuigan, C Condon.
---
🏆 2019 @SportTG4 All-Ireland Intermediate Final

🏐 @meathladiesMLGF v @TippLadiesFB

🏟 @CrokePark
🗓 Sunday September 15
⏰ 1.45pm
🎫 https://t.co/jAZDkCyO2v 📞 01-8363156 📧 info@lgfa.ie#ProperFan #FollowOurJourney pic.twitter.com/KR0rXjWpdr

— Ladies Football (@LadiesFootball) August 17, 2019