2019 Bord Gáis Energy GAA Hurling All-Ireland Under 20 Championship Final – Tipperary 5-17 Cork 1-18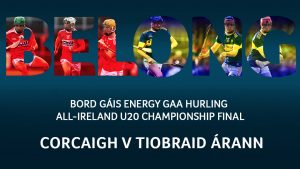 Tipperary defeated Cork by 5-17 to 1-18 in the Bord Gáis Energy GAA Hurling All-Ireland Under 20 Championship Final on Saturday August 24th at the LIT Gaelic Grounds.
---
Match Highlights
Watch all the Full-Time Highlights of Cork v Tipperary in the Bord Gais Energy All-Ireland Under 20 Hurling Championship Final here on GAANOW. pic.twitter.com/RzsQt9fem9

— The GAA (@officialgaa) August 24, 2019
---
REPORT: Five-goal @TipperaryGAA proved too good for @OfficialCorkGAA in this evening's Bord Gáis Energy All-Ireland U-20 Final.

— The GAA (@officialgaa) August 24, 2019
Tipperary crowned All-Ireland U-20 hurling champions
TIPPERARY 5-17 CORK 1-18
Report By John Harrington at the LIT Gaelic Grounds
A brilliant week for Tipperary hurling ended on another high as they defeated Cork in thrilling fashion in the Bord Gáis Energy All-Ireland U-20 Final in the LIT Gaelic Grounds this evening.
Their display bore more than a few similarities to the high octane hurling the county senior team has produced this year as they ripped the Cork defence apart with pace and ruthless finishing power.
Four goals in the first eight minutes of the match ultimately decided the contest. Cork fought valiantly in the second-half, but they'd left themselves too much of a mountain to overcome. The goal-rush began just 19 seconds into the match. Conor Bowe won a delivery in the left corner and did brilliantly to wriggle through two Cork tacklers before hand-passing to Billy Seymour who had drifted smartly into space. The angle was tight, but Seymour finished cleverly, bouncing a low shot past the advancing Ger Collins.
---
Billy Seymour First Goal for Tipperary
Billy Seymour scores a goal seconds after the throw-in for @TipperaryGAA pic.twitter.com/hpMWcrObTj

— The GAA (@officialgaa) August 24, 2019
---
Cork's response to this early set-back would have encouraged their supporters as they hit three points in a row to draw level.
They were all really classy scores too from Brian Turnbull, Conor O'Callaghan and Daire Connery, so at that stage it looked like we were going to have another end to end tussle between two evenly matched teams like we did in the Munster Final.
The Tipp attack had other ideas though and struck three goals in as many minutes to leave the young Rebels shell-shocked. The first of them was a thing of beauty as the strapping Seymour leaped high to win a Bryan O'Mara delivery before off-loading to the on-rushing Jake Morris who sliced through the Cork defence. The Tipp senior could have gone for his own score but had the maturity to square the ball instead to the better placed Andrew Ormond who lashed it to the net.
---
Andrew Ormond First Half Goal for Tipperary
Andrew Ormond with @TipperaryGAA's second goal! pic.twitter.com/pZbw7OhYFT

— The GAA (@officialgaa) August 24, 2019
---
Seymour then bagged his second after great work from the fleet-footed Jerome Cahill who ripped open the Cork defence after collecting a ball from Ormond.
---
Billy Seymour's Second Goal for Tipperary
Billy Seymour scores another goal for @TipperaryGAA!! pic.twitter.com/perhCXR0Ay

— The GAA (@officialgaa) August 24, 2019
---
That livewire Ormond then did brilliantly again to win possession after hooking Sean O'Leary Hayes' attempted clearance and put through Cahill who once again showed the Cork cover defence a clean pair of heels before drilling the ball to the bottom corner.
---
Jerome Cahill First Half Goal for Tipperary
Jerome Cahill gets @TipperaryGAA's 4th goal in under 8 minutes! pic.twitter.com/eAYhzhlwCp

— The GAA (@officialgaa) August 24, 2019
---
It was a devastating scoring burst from Tipperary that summed up everthing good about Liam Cahill's team. Daire Connery and Ryan Walsh did their best to inspire their Cork team-mates, but every time the Rebels clipped a point Tipp replied in kind.
Jake Morris joined the party by landing two classy points in a row, and by the half-time whistle blew Tipperary had a commanding 4-9 to 0-10 lead.
Cork needed to start the second-half strongly to put a seed of doubt in Tipp minds, but instead it was the Premier County who raced out of the traps as the bustling Seymour landed two points in quick succession.
Tipperary nearly scored a fifth goal when Cahill raced through again only to see his shot brilliantly saved by Ger Collins. But when Morris clipped over another point seconds later to move Tipp 13 points ahead, it looked like they would skate to victory.
You can never be sure of anything in this grade though, and Cork briefly gave their supporters hope they might find a way to pull the match out of the fire.
Tommy O'Connell lashed a brilliant shot to the top corner of the Tipp net, and when Brian Turnbull then landed two frees in quick succession it was Cork who suddenly had all the momentum.
---
Tommy O'Connell Goal for Cork
Unbelievable finish by Tommy O'Connell for @OfficialCorkGAA !! pic.twitter.com/wZTfaxPf2v

— The GAA (@officialgaa) August 24, 2019
---
They came agonisingly close to two more goals too as Evan Sheehan's shot was brilliantly saved by Tipperary goalkeeper Aaron Browne and then Sean Twomey's shot whistled past the post.
Having survived those two scares, Tipp settled any jangling nerves when Morris landed a free and the supreme Seymour cut a sideline over the bar.
The Premier County then finished with a flourish when substitute Cathal Bourke raced through to fire home a fifth goal.
---
Cathal Bourke Tipperary Goal
Cathal Bourke with a late goal for @TipperaryGAA pic.twitter.com/lPBWxrBV9f

— The GAA (@officialgaa) August 24, 2019
---
Back in 2010 Tipperary also won a double of All-Ireland senior and U-21 crowns and it looked like the immediate future of hurling would be painted blue and gold. That didn't quite happen, so expectation will be tempered this time around.
But as Slievenamon was played across the loudspeakers while thousands of Tipperary supporters filled the pitch, there could be no doubt that Tipperary hurling is in a very good place right now, whatever may come.
---
Tipperary are the Bord Gais Energy All-Ireland Under 20 Hurling Champions for 2019 pic.twitter.com/dxwoILfXHT

— The GAA (@officialgaa) August 24, 2019
---
Scorers for Tipperary: Billy Seymour 2-5 (1 sideline), Jake Morris 0-8 (3f, 1'65), Andrew Ormond 1-2, Jerome Cahill 1-1, Cathal Bourke 1-0, Conor Bowe 0-1
Scorers for Cork: Brian Turnbull 0-8 (7f), Tommy O'Connell 1-2 (2 '65), Ryan Walsh 0-2, Daire Connery 0-2 (1f), Shane O'Regan 0-1, Conor O'Callaghan 0-1, Robert Downey 0-1, Brian Roche 0-1.
TIPPERARY: Aaron Browne; Conor McCarthy, Eoghan Connolly, Craig Morgan; Niall Heffernan, Paddy Cadell, Bryan O'Mara; Ciaran Connolly, Jerome Cahill; Gearoid O'Connor, Jake Morris, Johnny Ryan; Andrew Ormond, Billy Seymour, Conor Bowe
Subs: Sean Hayes for Gearoid O'Connor (36), Kian O'Kelly for Andrew Ormond (49), Joe Fogarty for Conor Bowe (53), Cathal Bourke for Johnny Ryan (58), Michael Purcell for Ciaran Connolly (63)
CORK: Ger Collins; Conor O'Callaghan, James Keating, Eoin Roche; Ger Millerick, Sean O'Leary Hayes, Robert Downey; Ryan Walsh, Tommy O'Connell; Sean Twomey, Brian Roche, Daire Connery; Brian Turnbull, Shane O'Regan, Padraig Power. Subs: Evan Sheehan for Simon Kenefick (ht), Jamie Copps for James Keating (40), Barry Murphy for Daire Connery (41), Padraig Power for Ryan Walsh (54),
Ref: Liam Gordon (Galway)
---
Billy Seymour of @TipperaryGAA receives the Bord Gáis Energy Man of the Match award from Michael Murphy (9) from Cork following the Bord Gáis GAA Hurling All-Ireland U-20 Championship Final at @LITgaelicground 🙌
Another #UnmissableReward from our Rewards Club. #HurlingToTheCore pic.twitter.com/jBhhgLURGe

— BGEGAA (@BGEGAA) August 24, 2019
---
Ticket Information
Adult: €20.00
Juvenile: €5.00
Students/Seniors: €15.00 (available from county board offices and from the venue on matchday)
This is an unreserved seating, stand specific fixture.
AVOID DELAYS ON MATCH DAY AND BUY TICKETS IN ADVANCE
Click here to buy tickets online or tickets can be purchased from participating Centra and Supervalu outlets.
Ticketing Store Locator in Munster
---
Match Preview
It promises to be an exciting @BGEGAA All Ireland Under 20 Final at the LIT Gaelic Grounds involving rivals @OfficialCorkGAA and @TipperaryGAA!

— The GAA (@officialgaa) August 23, 2019
---
Fixture Details
24.08.2019 (Sat)
Bord Gáis Energy GAA Hurling All-Ireland U20 Championship Final
LIT Gaelic Grounds, Limerick 18:00
Corcaigh v Tiobraid Árann
Referee: Liam Gordan (Gaillimh)
(E.T. if Necessary)
---
Team News
The Cork Under 20 Hurling Team for the @BordGaisEnergy All Ireland Final has been announced. https://t.co/N5bu7uQwHd pic.twitter.com/IFET8GQZ7D

— Cork GAA (@OfficialCorkGAA) August 22, 2019
CORK: G Collins (Ballinhassig); C O'Callaghan (Dromtarrife), J Keating (Kildorrery), E Roche (Bride Rovers); G Millerick (Fr O'Neill's), S O'Leary Hayes (Midleton), R Downey (Glen Rovers); R Walsh (Kanturk ), T O'Connell (Midleton); S Twomey (Courcey Rovers), B Roche (Bride Rovers), D Connery (Na Piarsaigh); B Turnbull (Douglas), S O'Regan (Watergrasshill), P Power (Blarney).
Subs: I Butler (Kildorrery), R Sheehan (Mallow), J Copps (Ballyhea), C Hanifin (Na Piarsaigh), D Hanlon (Blarney), B Murphy (Castlelyons), S Kennefick (Glen Rovers), E Sheehan (Na Piarsaigh), L O'Shea (Lisgoold).
The Tipperary team to play Cork in the @BGEGAA All-Ireland U20 Hurling Championship Final in LIT Gaelic Grounds, on Saturday, August 24th at 6pm, has been announced. We encourage supporters to buy tickets in advance at Centra or SuperValu to avoid delays on the night. pic.twitter.com/upeLJkAcll

— Tipperary GAA (@TipperaryGAA) August 22, 2019
TIPPERARY: A Browne (Knockavilla-Donaskeigh Kickhams); C McCarthy (Nenagh Éire Óg), E Connolly (Cashel King Cormacs), C Morgan (Kilruane MacDonaghs); N Heffernan (Golden-Kilfeacle), P Cadell (JK Brackens), B O'Mara (Holycross-Ballycahill); C Connolly (Loughmore-Castleiney), J Cahill (Kilruane MacDonaghs); G O'Connor (Moyne-Templetuohy), J Morris (Nenagh Éire Óg), J Ryan (Arravale Rovers); A Ormond (JK Brackens), B Seymour (Kiladanagn), C Bowe (Moyne-Templetuohy).
Subs: E Collins (Drom-Inch), M Purcell (Thurles Sarsfields), R Quirke (Toomevara), K Breen (Knockavilla-Donaskeigh Kickhams), D Woods (Holycross-Ballycahill), K O'Kelly (Kilruane MacDonaghs), J Fogarty (Moneygall), S Hayes (Kiladangan), C Bourke (Clonoulty-Rossmore)
---
On Saturday @OfficialCorkGAA and @TipperaryGAA will contest the @BGEGAA All Ireland Under 20 Final at the LIT Gaelic Grounds!

— The GAA (@officialgaa) August 20, 2019