Martina McMahon (Limerick) defeated Caitriona Casey (Cork) by 21-12, 21-9 in the 2019 MyClubShop.ie All-Ireland Softball Ladies Final at Croke Park on Saturday September 7th.
---
2019 MyClubShop.ie All-Ireland Softball Ladies Final
Report by Ed Donnelly
The Croke Park Handball Centre was the venue for the meeting of Limerick's Martina McMahon and Cork's Catriona Casey in the All-Ireland Softball Ladies Final on Saturday afternoon. This venue was playing host to its last All-Ireland Final at this grade with the new GAA Handball facilities nearby expected to host the 2020 Finals.
These two players have dominated this competition in recent years, with Casey winning four titles in a row from 2012 to 2015 and also winning the 2017 final. Meanwhile, McMahon captured the 2016 title and also won last year, but only after an epic three set thriller where she defeated Casey by 21 aces to 20 in the deciding set, a performance which earned both sets of players a deserved standing ovation.
And so, the scene was set for the 2019 Final and a close game was expected. The early stages were nip and tuck with the players level on five occasions before McMahon moved ahead by 7 aces to 5. The Limerick player was making some unforced errors at this stage and Casey took advantage, winning six points on the trot to take an 11 to 7 lead.
For these long-term rivals, you would expect that both are very familiar each other's playing style while trying to focus on playing to their own strengths. Being four points in arrears, the defending champion from Limerick decided to make a change to her serve. Heretofore serving from the left wall, she moved across to the right wall and began to hit serves around the walls and in to the right corner.
It turned out to be a match winning tactic and completely changed the momentum. While Casey was returning most of the serves, she was doing so under pressure which was giving McMahon control of the points. The Limerick player had by now cut down on her errors and was lethal with her kill shot on her left-hand side. Very quickly, McMahon had reeled off 11 unanswered points to take an 19-11 point lead and while Casey managed to get one ace, the Limerick player finished with two further scores to take the opening set by 21 points to 12.
During the short break before the second set, the question was how Casey could counteract the McMahon serve. That question was soon answered in emphatic fashion as McMahon continued to hammer the hammer with that excellent serve and raced in to an 11-0 lead in the second set to cap off a run where she outscored her Cork opponent by 25 aces to 1 over the two sets.
To be fair to Casey, the Cork player kept plugging away and managed a mini-comeback, winning 7 of the next 11 points to bring the score back to 15 to 7. It was at this stage following a long rally that McMahon hit an excellent kill shot in to the left corner and whatever momentum Casey had built up was well and truly over. From here, McMahon dominated the final stages and the Limerick player would soon be confirmed as the 2019 champion, retaining her title by winning the second set by 21 points to 9.
It was an emphatic performance by the Limerick player who has now won two titles in a row at this grade and three of the last four to cement her place as the top Ladies Softball player in the country.
---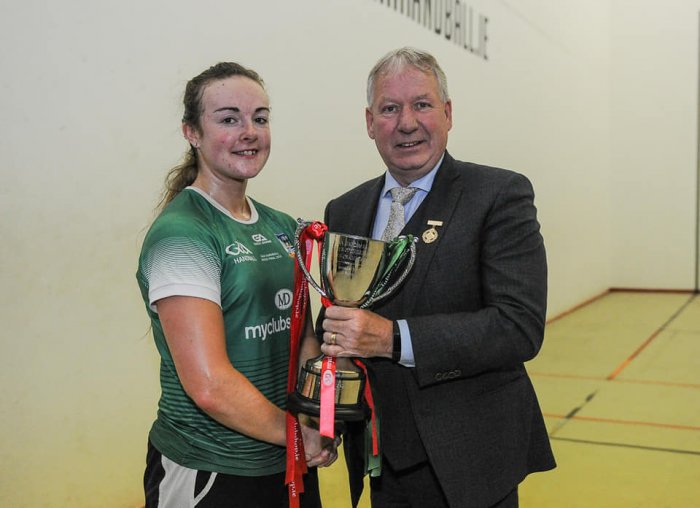 Photo from GAA Handball web site
---
In the opening game, Kyle Dunne of Kilkenny captured the All-Ireland Minor title following a cracking final against Monaghan's Eoghan McGinnity, coming from a set down and six points down in the final set to win by 21-18.
In the All-Ireland Senior Mens Final, Robbie McCarthy's quest to win his fifth title in a row was thwarted as 40-year-old Eoin Kennedy rolled back the years to win in straight sets after two well contested games to win his 10th All-Ireland Softball title.
---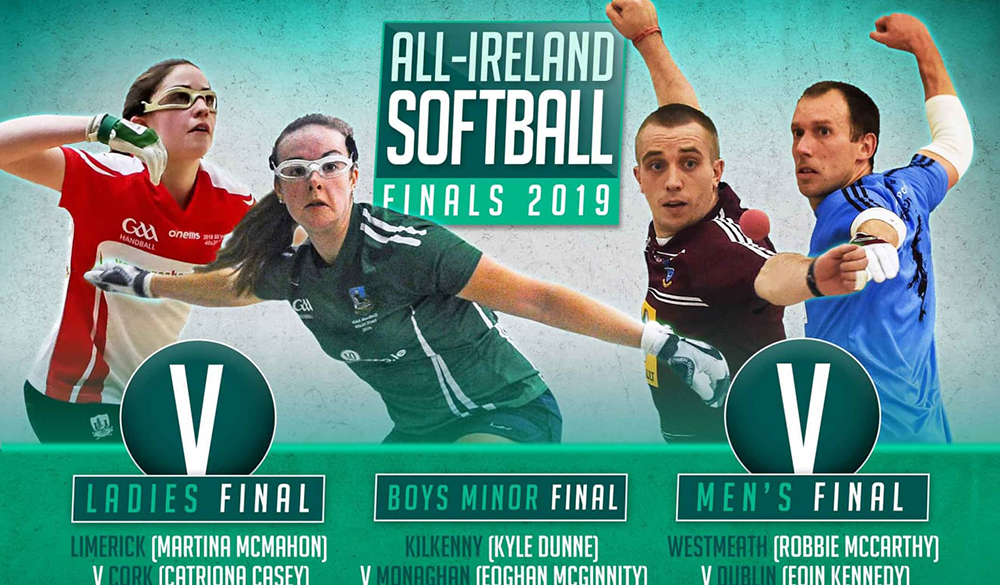 ---
Preview
The Ladies final see's another instalment in one of the great rivalries of the game as Limerick's Martina McMahon locks horns with Cork's Catriona Casey once more. Last year's final was an epic won by the Limerick lady and this year's promises to be just as good! The pair have shared the last 4 titles between them with Casey leading the titles roll of honour 5-2 and following her win in this years 4-Wall final she will be keen to reaffirm her status as the leading lady in the game. McMahon will be eager to atone for that 4-Wall loss earlier in the year in what is set to be another nail biter. Get your seats early for this one as this pair rarely fail to live up to their billing.
---
FEATURE: @LimerickCLG Martina McMahon believes the future of female @GAA_Handball in Ireland is bright!

— The GAA (@officialgaa) September 4, 2019
---
Ticket Details
🗣 All-Ireland Softball Singles Finals
📆 Sat 7th Sept
📍 Croke Park HC

🎫 Tickets ➡️ https://t.co/2o3RycBCIl pic.twitter.com/YPj0PjajiS

— GAA Handball Ireland (@GAA_Handball) September 2, 2019
Tickets are available through the online shop. Tickets are priced at €20 for Adults and €10 for OAP/Juveniles. Students must purchase a full price ticket and will receive a refund on the door on presentation of a valid student ID.
Tickets are strictly on a first come first served basis.
---
Fixture Details
MyClubShop.ie All Ireland Softball Singles Finals
Saturday 7th September 2019, Croke Park Handball Centre, Start time 12noon
Minor Singles Final: Kilkenny (Kyle Dunne) v Monaghan (Eoghan McGinnity)
Ladies Senior Singles Final: Limerick (Martina McMahon) v Cork (Catriona Casey)
Mens Senior Singles Final: Westmeath (Robbie McCarthy) v Dublin (Eoin Kennedy)