Electric Ireland Munster MFC Q-F – Tipperary 2-11 Waterford 2-7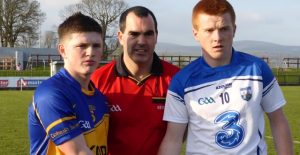 Tipperary defeated Waterford by 2-11 to 2-7 in the Electric Ireland Munster GAA Football Minor Championship Quarter-Final on Wednesday April 16th at Fraher Field Dungarvan.
Click to view photos from this game
---
Bergin double tilts it for Tipp
Tipperary 2-11 Waterford 2-7
Report from the Irish Independent newspaper
Jamie Bergin's second goal, five minutes from time, proved the game-changer as Tipperary advanced to the minor semi- final at Fraher Field. Waterford, inspired by man of the match Conor Gleeson, recovered from four down to lead with nine minutes left. Padraig White then levelled it before Bergin pounced.
Waterford got off to an ideal start when Gleeson's effort in the seventh minute dropped into the net. Tipp blasted 1-4 without reply during the second quarter and silenced Gleeson momentarily. Bergin rattled the net on 16 minutes, while Tommy Nolan, Jack Skehan, White (free) and Emmet Maloney had points. Cormac Curran hit Waterford's first point on 15 minutes. Jack Kennedy maintained Tipp's four-point lead at the break. Ross Peters then restored Tipp's half-time lead (1-8 to 1-4) and Gleeson then hit an unstoppable shot to the net. A brace from Mullaney and another from Michael Sweeney put them 2-7 to 1-9 ahead. White levelled on 54 minutes and then Bergin's second goal sealed it.
Scorers – Tipperary: J Bergin 2-0, P White (1f), E Maloney, J Kennedy 0-2 each, P Maher, R Peters, T Nolan, S Quirke, J Skehan 0-1 each. Waterford: C Gleeson 2-1, J Mullaney, M Sweeney 0-2 each, C Curran, J Allen (f) 0-1 each.
Tipperary – J Brady; D Owens, L Ryan, C O'Shaughnessy; W Connors, C O'Mahony, J Skehan; T Nolan, S Quirke; E Maloney, P White, R Peters; J Bergin, J Kennedy, P Maher
Subs: P Murphy for Ryan (46); L Fahy for O'Mahony (51); D McGrath for Peters (52); J Delahunty for Bergin (57).
Waterford – K Dwane; C O'Neill, J Guiry, M Cronin; M Shine, E O'Halloran, J Mullaney; C Curran, C Prunty; A Donnelly, C Murray, J Allen; D Guiry, C Gleeson, D Lyons
Subs: M Sweeney for Allen (h-t), P Whyte for Donnelly (48).
REF – K Murphy (Cork).
---
Fixture Details
WEDNESDAY APRIL 16TH
ELECTRIC IRELAND MUNSTER MINOR FOOTBALL CHAMPIONSHIP QUARTER FINALS
Waterford v Tipperary
Portláirge v Tiobraid Árann
Venue: Fraher Field Dungarvan, 7pm
Referee – Kevin Murphy (Cork)
Standby Referee – James Bermingham (Cork)
Linesman – John Ryan (Cork)
Sideline Official – David Murnane (Cork)

Extra time – (2 periods x 10 minutes only) to be played if sides finish level at the end of 60 minutes
Next Round – the winners play the winners of Clare v Kerry in the Munster Semi-Final on May 7th or 14th. The losers will play the winners of the first Play-Off game (loser of Cork v Limerick V loser of Clare v Kerry) on April 30th.
Admission Prices –
Adult – €10
Student/OAP with appropriate ID Card – €5
Under 16s are free
PRO Contact Details
Waterford PRO Emer Barry – pro.waterford@gaa.ie and 087 950 6613
Acting Tipperary PRO Ed Donnelly – pro.tipperary@gaa.ie and 087 205 5642
Contact Munster GAA PRO Ger Ryan at pro.munster@gaa.ie for more information
Team News
The Tipperary team to play Waterford in Wednesday's Munster Minor Football Championship has been announced. Four of the team which lost the 2013 Munster Minor Football Final to Kerry are once again eligible to play in this year's competition and are named to start by manager Charlie McGeever, namely Jack Brady, Danny Owens, Paul Maher and team captain Willie Connors.
Tipperary (MF v Waterford) – Jack Brady (Ballina); Danny Owens (Moyle Rovers), Liam Ryan (Clonmel Commercials), Colm O'Shaughnessy (Ardfinnan); Willie Connors (Kildangan – Captain), Cathal O'Mahony (St. Patricks), Jack Skehan (Holycross-Ballycahill); Tommy Nolan (Drom and Inch), Stephen Quirke (Moyle Rovers); Emmet Maloney (Drom and Inch), Padraig White (Clonmel Commercials), Ross Peters (Clonmel Commercials); Jamie Bergin (Drom & Inch), Jack Kennedy (Clonmel Commercials), Paul Maher (Kilsheelan-Kilcash)​
The Waterford Minor Football team to play Tipperary on Wednesday night in Fraher Field in the Munster Minor Football Championship is as follows –
1 Kevin Dwane Ballinacourty
2 Ciaran O'Neill Brickey Rangers
3 Jack Guiry Nire
4 Donnachadha Kirwan Dungarvan
5 Micheal Shine Ballinameela
6 Edmond O'Halloran Clashmore Kinsalebeg
7 Jack Mullaney Stradbally
8 Cormac Curran Brickey Rangers
9 Conor Prunty Ballinacourty
10 Aaron Donnelly Dungarvan CAPTAIN
11 Conor Murray Rathgormack
12 Joe Allen Dungarvan
13 Dylan Guiry Nire
14 Conor Gleeson Nire
15 Darragh Lyons Dungarvan
For the Record
Waterford

Tipperary

2014 Team Management

Oran Curran (Dungarvan) – Manager

Selectors-   Dick Guiry (The Nire), John Browne (Erins Own), Tim Lenihan (Shamrocks)

Charlie McGeever –
Manager

Selectors – Shane Stapleton, Kieran Healy and Niall Fitzgerald.

2014 Team Captain

Aaron Donnelly (Dungarvan)

Willie Connors
(Kildangan)

2013 Championship Performance

Defeated Limerick by 3-10 to 3-9 in the first round in Fraher Field Dungarvan.

Lost to Kerry by 1-15 to 2-6 in the Munster Semi-Final at Fitzgerald Stadium Killarney.

Defeated Clare by 1-10 to -0-8 in the first round. Went on  to defeat Cork by 0-11 to 0-8 in the semi-final.

Lost Munster Final to Kerry by 0-15 to 0-10 at Fitzgerald Stadium Killarney.

Lost to Monaghan in the All Ireland Quarter-Final by 0-12 to 0-9 at Pearse Park, Longford.

Number of Munster Minor Football titles

0

7

Last Munster Minor Football Title

N/A

2012

Munster Minor Football Championship Record since 2000
Played – 41
Won – 7
Lost – 29
Drawn – 5
Played – 53
Won – 26
Lost – 23
Drawn – 4
Last meeting in the Munster Minor Football Championship
2009 Munster Minor Football Championship Play-Off game at Semple Stadium Thurles on April 24th – Tipperary 1-15 Waterford 0-6.

MUNSTER GAA FOOTBALL MINOR CHAMPIONSHIP 2014
First Round
Wednesday April 16th
@ Fraher Field Dungarvan                        Waterford v Tipperary                      @ 7pm
@ Cusack Park Ennis                    Clare v Kerry                                     @ 6.30pm
@ Páirc Uí Rinn                               Cork v Limerick                                 @ 7pm
Play-off 1
Wedneday April 23rd or Thursday April 24th  
@ TBC                                               Clare or Kerry v Cork or Limerick

Play-off 2
Wednesday April 30th
@ TBC                                               Waterford or Tipperary v Winner of Play-Off 1.
Semi-Finals
Wednesday May 7th or 14th
@ TBC                                   Winners of Waterford v Tipperary v Winners of Kerry v Clare
@ TBC                                   Winners of Cork v Limerick v Play-Off 2 
Final
Sunday July 6th
@ TBC                                                                                                                       @ 12:00 noon
Useful Information
Clare have won at least one game in each of the last five seasons in the Munster Minor Football Championship.
Since 1956, Cork and Kerry have won every Munster Minor Football title with the exception of 1984, 1995, 2011 and 2012 when Tipperary were successful.
Kerry have played 55 games in the Munster Minor Football Championship since 2000, leading Tipperary  who played 53 games in the same period.
Cork, Kerry and Tipperary won at least 1 match in the Munster Minor Football Championship every year since 2001.
Waterford have won 2 of their last 20 matches in the Munster Minor Football Championship.
Limerick have won one of their last 11 matches in the Munster Minor Football Championship.
All 6 counties have been involved in draws since 2000. Remarkably Kerry, Cork, Tipperary and Clare have all had 4 draws in that period while Waterford have had 5 and Limerick 3. 
Munster Minor Football Championship Roll Of Honour
Kerry (42)
1931, 1932, 1933, 1936, 1937, 1938, 1940, 1941, 1945, 1946, 1947, 1948, 1949, 1950, 1951, 1954, 1957, 1958, 1962, 1963, 1965, 1970, 1975, 1978, 1979, 1980, 1982, 1988, 1989, 1990, 1994, 1996, 1997, 1998, 2001, 2002, 2003, 2004, 2006, 2008, 2009, 2013.
Cork (29)
1939, 1952, 1959, 1960, 1961, 1964, 1966, 1967, 1968, 1969, 1971, 1972, 1973, 1974, 1976, 1977, 1981, 1983, 1985, 1986, 1987, 1991, 1992, 1993, 1999, 2000, 2005, 2007, 2010
Tipperary (7)
1934, 1935, 1955, 1984, 1995, 2011, 2012
Clare (3)
1929, 1930, 1953
Limerick (1)
1956
Munster Minor Football Championship – List of Winning Teams
Visit the Munster GAA web site History section to view the complete list of each winning team since the competition began in 1929 – https://munster.gaa.ie/history/mf_teams/
Munster Minor Football Cup
The Tadhg Crowley Cup was presented by Munster Council in 1990 to commemorate late Munster Council Treasurer. Tadhg was elected as Munster Council Treasurer in 1968 and served until his death in December 1989. A teacher by profession, he also served as Kerry County Board Secretary from 1955 until 1970. Tadhg was recognized as a specialist in organizing and handling styles and gates at Munster Championship games.
All Ireland Minor Football Championship
In the Minor Football All Ireland Roll of Honour, Kerry top the charts with 11 titles while Cork are tied for second with Dublin with 10 titles. Clare won the first All-Ireland Minor Football title in 1929 while Tipperary's two All-Ireland successes at this grade came in 1934 and 2011. Between them Munster counties have accounted for 24 All-Ireland Minor Football titles, ahead of Leinster and Ulster (20 titles each) and Connacht (18 titles).
Kerry were All-Ireland Minor Football Champions in 1931, 1932, 1933, 1946, 1950, 1962, 1963, 1975, 1980, 1988, 1994
Cork were All-Ireland Minor Football Champions in 1961, 1967, 1968, 1969, 1972, 1974, 1981, 1991, 1993, 2000