All-Ireland Senior Hurling Championship Qualifiers – Cork 1-25 Dublin 0-22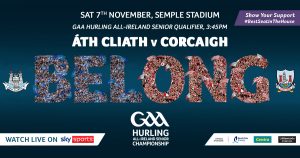 Cork defeated Dublin by 1-25 to 0-22 in the All-Ireland Senior Hurling Championship Qualifiers Round 1 on Saturday November 7th at Semple Stadium Thurles.
---
Match Highlights
Watch the Full-Time Highlights of Cork v Dublin in the Senior Hurling Qualifier here on GAANOW!
Full-Time Score:
Cork: 1-25
Dublin: 0-22 pic.twitter.com/sx0FoQUhqk

— The GAA (@officialgaa) November 7, 2020
---
REPORT: @OfficialCorkGAA are through to Round 2 of the All-Ireland SHC Qualifiers after a very impressive win over @DubGAAOfficial in Semple Stadium this afternoon. #GAA #GAABelong

— The GAA (@officialgaa) November 7, 2020
All-Ireland SHC Round 1 Qualifier: Classy Cork catch the eye against Dublin
CORK 1-25 DUBLIN 0-22
Report By John Harrington at Semple Stadium for GAA.ie
A quicker-wristed and quicker-witted Cork proved much too good for Dublin in this All-Ireland SHC Round 1 Qualifier at Semple Stadium.
The Rebels' hurling was a delight to watch at times as they moved the ball through the lines with surgical precision and finished with scalpel-sharpness too.
Kieran Kingston's team mirrored Dublin's sweeper system from the start, and simply worked it better.
It helps when you have a hurler as talented as Mark Coleman playing as the free man in your defence, and he quickly grew into one of the dominant personalities of the match.
Thanks to his positional sense he was able to sniff out danger in front of his full-back line with impressive consistency and got himself on a lot of ball.
He's one of the sweetest strikers in the game too, and when he won possession he invariably found a team-mate with a well-weighted pass.
To by-pass a sweeper you need to be able to work the sliotar as far as the middle third from where you can angle in ball that will favour your inside forwards, but Dublin struggled to do this.
Cork's forwards have been criticised in the past for a lack of work-rate off the ball, but they tackled hard and tracked diligently throughout this match which meant Dublin's defenders were usually under pressure when picking their passes.
It must be said too that the movement in front of them didn't offer enough options, in contrast to the fluid switching and running of Cork's midfielders and half-forwards.
The Cork wing-forwards, Seamus Harnedy and Robert O'Flynn, proved especially elusive for an at times bewildered Dublin defence.
Their ability to pop up in pockets of space was consistently impressive, and when they got the ball they did the business with it, scoring five points from play each.
Shane Kingston was another Cork forward who combined great pace with clever movement and his four-point haul was another big contribution to this Cork victory.
Also at the heart of much of what they did well was the midfield combination of Bill Cooper and Luke Meade who worked tirelessly to carry the ball hard when that needed to be done, and picked out accurate passes to their forwards when that was the percentage play.
It was Meade who opened the scoring in the very first minute and the match continued at a good clip from there.
Dublin didn't manage to stick the pace for very long. As soon as Declan Dalton goaled after nine minutes the Rebels were in the driving seat.
Jack O'Connor was the creator as he burned Paddy Smyth for pace before passing to Dalton, who hit a sweet ground stroke to the net after his initial shot was blocked.
Dalton is a physical player who brings something different to his Cork attack and he impressed in the first half before fading somewhat in the second.
Donal Burke was doing his best to keep Dublin in the conversation, and a nice point from the corner-forward meant Mattie Kenny's team were within three points, 1-6 to 0-6, at the first water-break.
That was still the margin of difference with 31 minutes on the clock, but Cork fired off a machine burst of scores before the break with Kingston, Downey, and Horgan all pointing to push their team 1-13 to 0-10 ahead.
Dublin needed a strong start to the second half and nearly got it in the very first minute when Danny Sutcliffe raced through, but Anthony Nash pulled off a great save low to his right from the wing-forward's batted shot.
Dublin kept plugging away, but Cork were finding their scores easier to get, with O'Flynn in particular running riot on the right wing. Two points in quick succession from the Erins Own man pushed the gap out to seven points.
Dublin were very reliant on Donal Burke's free-taking to stay in touch, and tried to inject some life into their forwards by pushing Chris Crummey into full-forward and bringing on Davy Keogh, Sean Moran, and Liam Rushe.
Crummey did make a bigger impression on the edge of the square and finished with three points, but a more direct approach largely didn't pay off for Dublin because the Cork defence defended the high ball aggressively.
Points in quick succession from Jack O'Connor and Harnedy increased Cork's advantage to 10 points by the 62nd minute, and they were never going to be caught from there.
Dublin, to their credit, kept battling to the end and scored five of the last six points, but by then Cork had visibly lifted their foot of the accelerator as they coasted to victory.
Morale will be high in the Cork camp after this victory, and if they can continue working as hard without the ball as they do with it, they could be a force to be reckoned with yet in this Championship.
Scorers for Cork: Patrick Horgan 0-8 (5f, 1'65), Seamus Harnedy 0-5, Robert O'Flynn 0-5, Declan Dalton 1-1, Shane Kingston 0-4, Jack O'Connor 0-1, Luke Meade 0-1
Scorers for Dublin: Donal Burke 0-11 (9f), Danny Sutcliffe 0-3, Chris Crummey 0-3, Cian Boland 0-2, Conor Burke 0-1, Ronan Hayes 0-1, Davy Keogh 0-1
CORK: Anthony Nash; Colm Spillane, Seán O'Donoghue, Mark Coleman; Damien Cahalane, Robert Downey, Tim O'Mahony; Bill Cooper, Luke Meade; Robert O'Flynn, Patrick Horgan, Seamus Harnedy; Jack O'Connor, Shane Kingston, Declan Dalton
Subs: Stephen McDonnell for Sean O'Donoghue (30), Conor Lehane for Declan Dalton (53), Aidan Walsh for Seamus Harnedy (67), Niall O'Leary for Robert Downey (68), Shane Barrett for Jack O'Connor (74)
DUBLIN: Alan Nolan; Cian O'Callaghan, James Madden, Paddy Smyth; Conor Burke, Daire Gray, Jake Malone; Daire Gray, Riain McBride; Danny Sutcliffe, Chris Crummey, Cian Boland; Eamon Dillon, Ronan Hayes, Donal Burke
Subs: Davy Keogh for Eamon Dillon (47), Sean Moran for Jake Malone (51), Liam Rushe for Ronan Hayes (51), Mark Schutte for Cian Boland (53), Conal Keaney for Rian McBride (67)
Ref: John Keenan (Wicklow)
---
Declan Dalton First Half Goal for Cork
Declan Dalton gets an early GOAL for @OfficialCorkGAA pic.twitter.com/s6iWXTY37X

— The GAA (@officialgaa) November 7, 2020
---
Team News
Cork Senior Hurling team vs Dublin pic.twitter.com/KAAH2WzCx4

— Cork GAA (@OfficialCorkGAA) November 6, 2020
Cork (All-Ireland SHC Round 1 qualifier v Dublin): A Nash; D Cahalane, C Spillane, S O'Donoghue; T O'Mahony, R Downey, M Coleman; B Cooper, L Meade; S Harnedy, S Kingston, R O'Flynn; J O'Connor, D Dalton, P Horgan.
Subs: P Collins, S O'Leary Hayes, N O'Leary, C Joyce, B Hennessy, D Connery, S McDonnell, A Walsh, C Cahalane, C Lehane, S Barrett.
Dublin (All-Ireland SHC Round 1 qualifier v Cork): A Nolan; P Smyth, E O'Donnell, J Madden; C Burke, D Gray, C O'Callaghan; S Moran, R McBride; C Boland, C Crummey, D Sutcliffe; D Burke, R Hayes, E Dillon.
---
Match Programme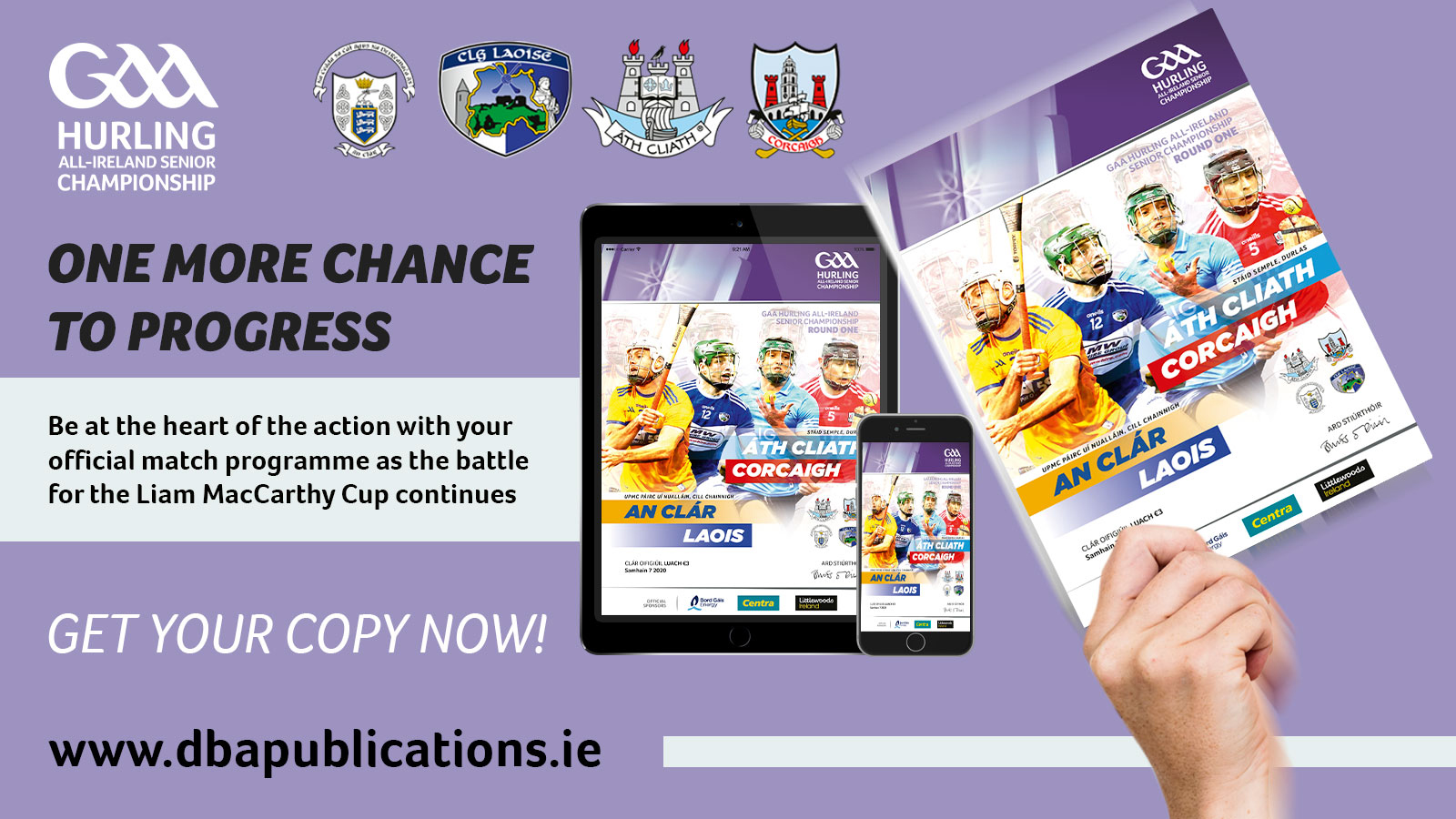 Click Here to Purchase the Match Programme