2022 Munster Senior Hurling Championship – Waterford 2-24 Tipperary 2-20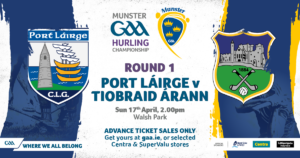 Waterford defeated Tipperary by 2-24 to 2-20 in Round 1 of the Munster Senior Hurling Championship on Sunday April 17th at Walsh Park Waterford.
---
Match Highlights
Watch the Full-time highlights of @WaterfordGAA v @TipperaryGAA in The Munster Senior Hurling Championship here! #GAANOW pic.twitter.com/N5ttOathNi

— The GAA (@officialgaa) April 17, 2022
---
REPORT: A strong start to the second-half proved decisive for @WaterfordGAA as they battled past @TipperaryGAA in the first round of the Munster SHC. #GAABelong

— The GAA (@officialgaa) April 17, 2022
Munster SHC: Waterford edge out Tipperary
WATERFORD 2-24 TIPPERARY 2-20
Report By John Harrington at Walsh Park for GAA.ie
A scoring surge at the start of the second-half proved decisive as Waterford saw off a really testing Tipperary challenge in this very entertaining Munster SHC first-round clash at Walsh Park.
The pre-match favourites were decidedly second-best in the first half after which Tipperary led by four points, but they cut loose in the first ten minutes of the second half scoring 2-5 with just two points in reply by Tipp.
Colm Bonner's team fought valiantly in the final quarter to cut what was at one stage six point deficit to just one, but Waterford finished with a flourish in injury-time.
It'll feel like a really satisfying win because it was a match they could just as easily have lost had Shaun O'Brien not pulled off two excellent saves, one in each half.
Tipperary came up short in the end, but they'll take positives too from the game. Players like Craig Morgan, James Quigley, Dillon Quirke and Conor Bowe proved they're ready for the challenge of playing at the highest level, and it was something a coming of age performance by two-goal Mark Kehoe.
Waterford generated some impressive early momentum in the match, scoring the first four points of the contest, and at that point their favourites tag looked very justified.
Patrick Curran flighted over a nice point after just 15 seconds, Stephen Bennett nailed two frees, and then Jack Prendergast knifed through the Tipp defence to clip the fourth.
Tipperary were struggling to get their hands on the ball and when they did they lacked composure, shooting three wides in the first four minutes.
The mood music changed though when Mark Kehoe goaled on seven minutes.
Jason Forde did well to strip Conor Prunty of possession and immediately flicked a pass to Kehoe who drove home from close range.
That shot of adrenalin energised the whole Tipperary team, and now they were the ones hurling with much more conviction.
Their attitude was typified by the work their forwards were doing off the ball. Time and again they made life really difficult for Waterford defenders coming out with the ball which mean the home team really struggled to engage the hard-running, short-passing game that they normally execute to such good effect.
And when they had the ball themselves, the Tipperary forwards were now playing with impressive dash and imagination as they reeled off the next four points of the match through Barry Heffernan, Jake Morris, Forde (free), and Michael Breen.
Tipperary's tactic of dropping their half-forwards deep when Waterford had possession and fielding two midfielders with good defensive instincts in Alan Flynn and Barry Heffernan meant Waterford struggled to punch any holes down the middle when they ran the ball.
And when they opted for more direct deliveries into their inside forwards, the Tipperary full-back line of Cathal Barrett, James Quigley, and Craig Morgan defended stoutly.
Waterford were very reliant on Stephen Bennett frees to stay in touch, whereas at the other end of the field players ilke Noel McGrath, Michael Breen, and Jake Morris were really turning on the style.
McGrath especially was hurling with a lot of intelligence, dropping into pockets of space left by Watereford's deep-lying centre-back Tadhg de Burca.
A increasingly tricky situation from a Waterford point of view very nearly became an emergency when Forde tore through and looked certain to score his team's second goal, but Shaun O'Brien pulled of a brilliant save low to his left.
Tipp kept turning the screw with more points from Breen, McGrath and Morris, but there were signs in the latter stages of the first half that they were tiring.
Waterford started hoovering up possession and scored the final two points of the half to cut the deficit to four points by half-time, 1-12 to 0-11.
The cavalry were called for the second half with Austin Gleeson and Jamie Barron coming on for Neil Montgomery and Carthach Daly, and both would play key roles in Waterford's second-half improvement.
Gleeson fired up the crowd with a great point shortly after a Shane Bennett free opened the second-half scoring, and then on 37 minutes Waterford struck for their first goal.
It was a cracking score too as they opened up Tipp with a short-passing move involving Stephen Bennett, Jack Prendergast, and Patrick Curran that finished with Michael Kiely emphatically doubling the ball to the back of the net.
Points followed from Jamie Barron, Bennett, and the excellent Curran before Dessie Hutchinson smashed home Waterford's second goal to put them 2-16 to 1-14 ahead.
At that stage you wondered might Tipp collapse completely, but they showed great grit to battle back into the contest.
Dan McCormack's introduction gave them some badly needed energy in midfield with two points from the Borris-Ileigh man keeping the premier County in touch.
They then nearly scored a second goal when Jake Morris raced through but O'Brien saved brilliantly with his foot.
The goal they badly needed did arrive three minutes later when Kehoe somehow find the room to drive a low shot past O'Brien to leave just two points between the teams.
A Noel McGrath free reduced the gap to a single point, but that's as close as Tipp would get as a couple of poor wides in quick succession leached some of the momentum from their comeback.
Waterford finally made the game safe in injury-time with points from Shane McNulty, Curran, and Hutchinson to bring the curtain down on a thoroughly entertaining game of championship hurling.
Scorers for Waterford: Stephen Bennett 0-10 (all frees), Dessie Hutchinson 1-3, Patrick Curran 0-4, Michael Kiely 1-0, Jamie Barron 0-2, Austin Gleeson 0-2 (1 sideline), Shane McNulty 0-2, Jack Prendergast 0-1,
Scorers for Tipperary: Mark Kehoe 2-0, Noel McGrath 0-6 (2f), Jason Forde 0-4 (4f), Jake Morris 0-2, Michael Breen 0-2, Dan McCormack 0-2, Barry Heffernan 0-1, Conor Bowe 0-1, Conor Stakelum 0-1, Brian Hogan 0-1 (f),
WATERFORD: Shaun O'Brien; Conor Gleeson, Conor Prunty, Shane McNulty; Jack Fagan, Tadhg de Burca, Calum Lyons; Darragh Lyons, Carthach Daly; Neil Montgomery, Jack Prendergast, Patrick Curran; Dessie Hutchinson, Stephen Bennett, Michael Kiely
Subs: Austin Gleeson for Neil Montgomery, Jamie Barron for Carthach Daly (both half-time), Shane Bennett for Michael Kiely (61), Iarlaith Daly for Jack Fagan (63), Peter Hogan for Darragh Lyons (66)
TIPPERARY: Brian Hogan; Cathal Barrett, James Quigley, Craig Morgan; Dillon Quirke, Ronan Maher, Seamus Kennedy; Alan Flynn, Barry Heffernan; Conor Bowe, Noel McGrath, Michael Breen; Jason Forde, Mark Kehoe, Jake Morris
Subs: Patrick Maher for Conor Bowe (half-time), Dan McCormack for Alan Flynn (45), Conor Stakelum for Barry Heffernan (52), Ger Browne for Jason Forde (60), John McGrath for Michael Breen (66)
Referee: Johnny Murphy (Limerick)
---
Fixture Details
Sunday April 17th 2022
Waterford v Tipperary
Venue: Walsh Park Waterford at 2pm
Referee: Johnny Murphy (Limerick)
This game will be shown live on RTE2
---
Click here to view Important Match Day Information
---
Match Day Entry Points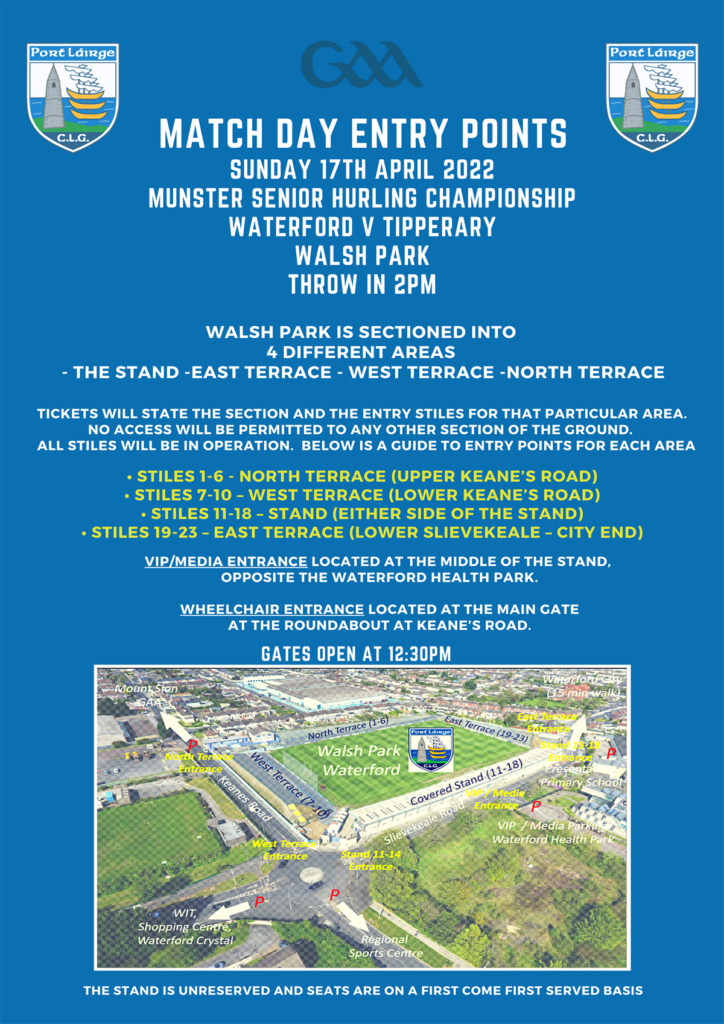 ---
Parking Information
🅿️MATCH DAY PARKING🅿️

Plan your journey to Walsh Park this Sunday!

A list of Match Day Parking venues listed below ⬇️

Please respect residental areas! pic.twitter.com/sM9aygedQ3

— Waterford GAA (@WaterfordGAA) April 15, 2022
---
Click here to view Important Match Day Information
---
Ticket Information
Tickets for this game have sold out.
Tickets for Sunday's Munster Senior Hurling Championship games in Walsh Park Waterford and @PaircUiCha0imh – @WaterfordGAA v @TipperaryGAA & @OfficialCorkGAA v @LimerickCLG
have now sold out. pic.twitter.com/D96Lfjv6Dt

— Munster GAA (@MunsterGAA) April 16, 2022
---
Team News
📢TEAM ANNOUNCEMENT📢

The Waterford Senior Hurling Team to play Tipperary in this Sunday's Munster Senior Hurling Championship Rd 1 game has been announced ⬇️

Best of Luck to Liam Cahill, his management team and all the panel!#deiseabú
⚪🔵 pic.twitter.com/MEBjWApJej

— Waterford GAA (@WaterfordGAA) April 15, 2022
Tipperary manager Colm Bonnar has named his side to face Waterford on Sunday. Good Luck Lads. pic.twitter.com/MVbAoMEVNV

— Tipperary GAA (@TipperaryGAA) April 15, 2022
TIPPERARY (SHC v Waterford): Brian Hogan; C. Barrett, J. Quigley, C. Morgan; D. Quirke, R. Maher, S. Kennedy; A. Flynn, B. Heffernan; C. Bowe, N. McGrath, M. Breen; J. Forde, M. Kehoe, J. Morris
Subs: Barry Hogan; G. Browne, R. Byrne, P. Cadell, P. Flynn, E. Heffernan, P. Maher, D. McCormack, B. McGrath, J. McGrath, C. Stakelum.
---
Match Preview
There should be no shortage of @gaaleinster and @MunsterGAA SHC drama this weekend

— The GAA (@officialgaa) April 15, 2022
---
Match Programme
Pick up a copy of the 48 page souvenir match programme on Sunday for 5 euro.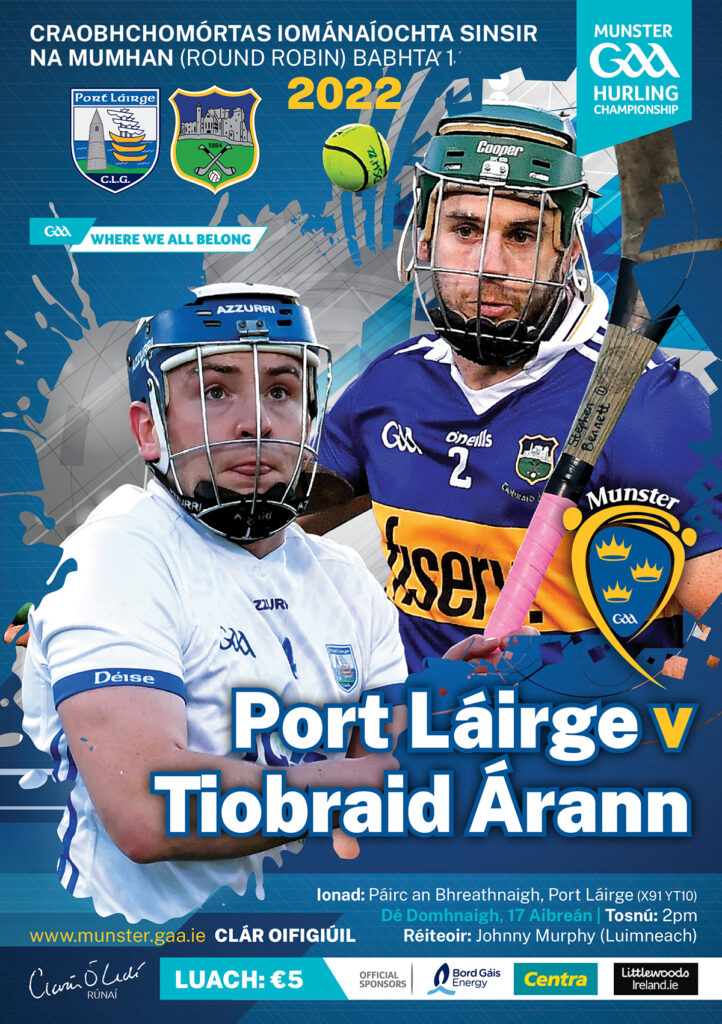 ---