Munster Senior Football Final – Kerry 1-23 Cork 0-15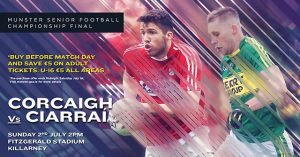 Kerry defeated Cork by 1-23 to 0-15 in the Munster Senior Football Championship Final on Sunday July 2nd at Fitzgerald Stadium Killarney.
---
WATCH full-time highlights of @Kerry_Official's @MunsterGAA Football Final victory against @OfficialCorkGAA earlier today! #KERRYvCORK pic.twitter.com/5mqyiRkzJB

— The GAA (@officialgaa) July 2, 2017
---
REPORT: Classy @Kerry_Official too good for @OfficialCorkGAA in Munster SFC Final. https://t.co/lDqPDgARn8

— The GAA (@officialgaa) July 2, 2017
Munster SFC Final: Kerry outclass Cork
KERRY 1-23 CORK 0-15
Report By Paul Brennan for GAA.ie
At least the Cork crowd got seasonal weather in Killarney. That's about as much as they can take from their near annual pilgrimage to Kerry's tourism capital, but just what their footballers will take from the visit is quite another matter. The search for answers on Leeside continues.
In Kerry they have all the answers. At least with respect to the Munster Championship as the Kingdom hoovered up a fifth successive provincial title, wiping the floor with Cork in the process.
If Kerry felt they needed to put down a performance to match Dublin's annihilation of Westmeath a week earlier then they came close. And that's granting that Cork are marginally better than Westmeath.
Just what Eamonn Fitzmaurice and his players will have gleaned from another thumping of Cork is anyone's guess but one thing is certain: the age-old Kerry-Cork rivalry is dead and gone for now. Just under 32,000 spectators came more in hope than expectation of a contest but got nothing close to that.
It took 12 seconds for Paul Geaney to get Kerry off the mark, David Moran doing the approach work from the throw-in. A minute later Geaney turned provider for his cousin Mikey, and a minute on again full back Mark Griffin raided forward to tee up James O'Donoghue for his first of the day. A long afternoon beckoned for Cork.
Cork were 0-6 to 0-1 down by the tenth minute there was little evidence of a insurgency by the Rebels. In the 12th minute Ian Maguire broke the Kerry cover and bore in on goal but missed the sort of chance no Cork team can afford in Killarney.
Cork were six adrift, 0-8 to 0-2, after 18 minutes but points from Maguire, Niall Coakley (two frees) and Luke Connolly (free) kept them in contention, even if Kerry carried the greater threat, with Paul Geaney drawing a smart save from Ken O'Halloran from close range.
Tomas Clancy's 36th minute point made it 0-10 to 0-7 but then a little sequence that summed up the day. Connolly tried a Hail Mary point from over 50 metres that was way off line, but there was just enough time left in the half for Kerry to work the ball upfield and find Paul Geaney who coolly worked the space and angle to score. Cork individualism versus the Kerry collective. Cork hit and hope against Kerry precision.
The first minutes of the second half would, understandably, be crucial for a Cork team still in contention on the scoreboard but just about hanging on everywhere else. Within three minutes Kerry had scored four points, through substitute Stephen O'Brien (2), David Moran and O'Donoghue, who tidied up after James Loughrey had initially blocked his goal-bound shot.
Cork had one chance to drag themselves back into the contest but after a surging run, Clancy smacked his shot into the side-netting and the Rebels were beaten.
Donncha O'Connor carried the late fight for Cork, scoring six points in the closing quarter, but Kerry underlined their dominance when Paul Geaney bundled the ball past O'Halloran for the game's only goal, seconds after Cork defender Jamie O'Sullivan was dismissed for a black card foul.
GOAL! Watch Paul Geaney's effort for @Kerry_Official which helped them on their way to @MunsterGAA Football Final success v @OfficialCorkGAA pic.twitter.com/stDWIpPKgv

— The GAA (@officialgaa) July 2, 2017
A fifth Munster title for Kerry, then, and four weeks to prepare for an All-Ireland quarter-final where no one will fancy them. The same won't be said for Cork who go into the Qualifier draw where everyone might fancy them.
Scorers for Kerry: Paul Geaney 1-5 (0-1f), James O'Donoghue 0-7 (4f), Stephen O'Brien 0-3, Mikey Geaney 0-2 (1 '45'), Shane Enright 0-1, Paul Murphy 0-1, David Moran 0-1, Anthony Maher 0-1, Kieran Donaghy 0-1, Barry John Keane 0-1.
Scorers for Cork: Donncha O'Connor 0-6 (4f), Mark Collins 0-2 (1f), Luke Connolly 0-2 (1f), Niall Coakley 0-2 (2f) Tomas Clancy 0-1, Ian Maguire 0-1, Paul Kerrigan 0-1
KERRY: Brian Kelly, Fionn Fitzgerald, Mark Griffin, Shane Enright, Peter Crowley, Tadhg Morley, Paul Murphy, David Moran, Anthony Maher, Michael Geaney, Kevin McCarthy, Donnchadh Walsh, Paul Geaney, Kieran Donaghy, James O'Donoghue
Subs: Stephen O'Brien for D Walsh (ht), Johnny Buckley for K McCarthy (41 mins), Killian Young for F Fitzgerald (blood, 50 mins), Jack Barry for A Maher (59 mins), Barry John Keane for J O'Donoghue (63 mins), Darran O'Sullivan for K Donaghy (64 mins), Jonathan Lyne for M Geaney (65 mins).
CORK: Ken O'Halloran, James Loughrey, Jamie O'Sullivan, Sean Powter, Tomas Clancy, Michael Shields, Kevin Crowley, Aidan Walsh, Ian Maguire, Ruairi Deane, Mark Collins, Kevin O'Driscoll, Niall Coakley, Luke Connolly, Paul Kerrigan
Subs: Donncha O'Connor for N Coakley (ht), Alan O'Connor for R Deane (38 mins), Colm O'Driscoll for M Shields (41 mins), Michael Hurley for K O'Driscoll (45 mins), Eoin Cadogan for J O'Sullivan (b/c, 63 mins), Stephen Cronin for J Loughrey (inj, 63 mins).
Referee: Paddy Neilan (Roscommon)
---
Kerry claim fifth Munster football title in a row after bulldozing past Cork https://t.co/nOH0RfsMjm pic.twitter.com/Uya04Lo1Zh

— Irish Examiner Sport (@ExaminerSport) July 2, 2017
---
Kingdom reign supreme against Rebels https://t.co/LZqjfEifnK pic.twitter.com/MC2WkD8HkI

— RTÉ GAA (@RTEgaa) July 2, 2017
---
Eamonn Fitzmaurice names @Kerry_Official team for @MunsterGAA SFC Finalhttps://t.co/fizLjKE2Pa

— The GAA (@officialgaa) June 30, 2017
---
COLUMN: @123kav previews Sunday's @MunsterGAA SFC Final between @Kerry_Official and @OfficialCorkGAAhttps://t.co/gJ5LuHGicR

— The GAA (@officialgaa) June 29, 2017
---
Ticket Information
Pre Purchase Adult Stand: €35
Juvenile Covered Stand: €5
Green and Blue Terrace: Adult Only:
Pre Purchase Adult Only: €25
Red Terrace Family Terrace (Juvenile Tickets available in this terrace)
Family Adult Pre Purchase: €25
Juvenile: €5
Concession of €10 on Adult tickets for Students/OAP's prior to entry with valid id at the designated stiles in each area.
Pre purchase discount is valid until Midnight Saturday 1st July. Adult Ticket prices increase by €5 on Match day.
Tickets can be purchased in Centra and Supervalu stores in Kerry, Cork and across Ireland – visit the Munster GAA Ticketing Locator to see participating stores in Munster.

---
Match Programme
Don't forget to pick up a copy of the 72 page souvenir match programme on Sunday.
---