AHL Division 2A Final – Kerry 3-16 Carlow 3-13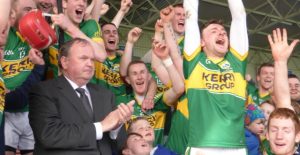 Kerry defeated Carlow by 3-16 to 3-13 in the Allianz Hurling League Division 2A Final on Sunday April 6th at Semple Stadium Thurles.
---
Click to view photos from the game
---
Kelly hails Kingdom's fighting spirit
Kerry 3-16 Carlow 3-13
ALLIANZ NHL DIV 2A FINAL
Report by Jackie Cahill for the Irish Independent newspaper
IT was a performance worthy of promotion but Kerry must wait another week to potentially claw their way out of this division. A well-flagged anomaly in the current structures means that Kerry must fight it out with Offaly for a place in Division 1B next season – despite yesterday's gritty 2A final win over Carlow.
Manager Eamonn Kelly was in defiant mood in Thurles, insisting that his charges will fight "tooth and nail" against the Faithful County on Sunday. But having watched his side come from six points down at half-time at Semple Stadium yesterday, Kelly faces a whole new challenge to get his players back up for another huge task.
In another year, this hard-fought three-point win would have been good enough to see Kerry jump a division. And Tipperary native Kelly acknowledged: "It's the only division it's happening in but we can't do anything about that. "We'll be fighting tooth and nail again the next day."
Two first-half goals from Marty Kavanagh and another from Denis Murphy handed Carlow a 3-6 to 0-9 lead at half-time in Thurles. But second-half strikes from Colm Harty, John Egan and Shane Nolan (penalty) turned the game on its head as Kerry came roaring back in Thurles.
Carlow had a chance to claim a draw in the 69th-minute but Murphy saw his penalty saved and Kerry lifted the silverware. Carlow boss John Meyler admitted: "Disappointed, can't say otherwise. Kerry were hungrier, they looked sharper, more up for it – that's it." Regrettably, from a Kerry perspective, the job is only half done. But yesterday's 3/1 pre-match outsiders have character in abundance to give themselves a real chance.
Scorers – Carlow: D Murphy 1-5 (4fs), M Kavanagh 2-1, E Byrne 0-2, A Corcoran, D English (f), S Murphy, J Doyle, R Smithers 0-1 each. Kerry: S Nolan 1-6 (1-0 pen, 4fs), C Harty 1-2, J Egan 1-1, P Boyle, D Butler 0-2 each, D Dineen (1 sl), D O'Connell, D Collins 0-1 each.
CARLOW – B Treacy 6; G Kelly 6, P Doyle 6, A Corcoran 6; HP O'Byrne 6, R Coady 7, D English 6; J Kavanagh 6, D Byrne 6; S Murphy 6, M Brennan 5, S Kavanagh 6; M Kavanagh 8, E Byrne 7, D Murphy 7. Subs: J Doyle for Brennan (48), R Smithers (0-1) for Shane Kavanagh (53).
KERRY – T Flynn 6; B Murphy 7, T Murnane 7, K Carmody 5; S Weir 7; D Dineen 7, D O'Connell 8; J Griffin 7, J Egan 7; M Boyle 6, D Collins 7, C Harty 7; D Butler 7, P Boyle 7, S Nolan 8. Subs: T Casey 8 for Carmody (26), B Brosnan 6 for Griffin (54), B O'Leary n/a for P Boyle (67), A Boyle n/a for M Boyle (70).
Ref – F Horgan (Tipperary)
---
Kerry shock Carlow with resolute comeback
Report from the Irish Times newspaper
Kerry produced a resolute performance to beat Carlow in yesterday's Division 2A hurling final at Semple Stadium but must next beat Offaly in a winner-takes-all clash next Sunday to gain promotion to Division 1B. The Kingdom will start as outsiders against the Faithful County but they were also outsiders to upset a Carlow side containing six of the Mount Leinster Rangers players who contested last month's All-Ireland club final.
Kerry manager Eamonn Kelly believes that Kerry should now be promoted. He said: "It's the only division it's happening in but we can't do anything about that . . . We'll be fighting tooth and nail again the next day." Kerry trailed by 0-9 to 3-6 at half-time after Marty Kavanagh had netted two goals for Carlow and Denis Murphy another. But Kerry came roaring back in the second half with goals from Colm Harty and John Egan before Shane Nolan buried a penalty. They were left hanging on as Denis Murphy had the chance to equalise with a 69th minute penalty.
Team News
Kerry Senior Hurling Team V Carlow
As expected, the Kerry Senior Hurling Team to play Carlow in the Allianz Hurling League Roinn 2A Final at Semple Stadium Thurles on Sunday is a much changed side from that which defeated London in their last game.
There are 3 changes from the side that defeated Carlow when they met in Round 4 of the League on March 16th. Tadhg Flynn, Tom Murnane and Davey Butler come in for Nicky Leen, the unavailable Mikey Boyle and Paudie O'Connor
The team lines out as follows:
1.Tadhg Flynn (Causeway)
2.Bryan Murphy (Causeway)
3.Jason Casey (Ballyheigue)
4.Thomas Casey (Causeway)
5.Sean Weir (Crotta O'Neills)
6.Tom Murnane (Kilmoyley)
7.Keith Carmody (Causeway)
8.Colm Harty (Causeway)
9.Darren Dineen (St Brendans) (Capt)
10.Darragh O'Connell (Abbeydorney)
11.Daniel Collins (Kilmoyley )
12.Shane Nolan (Crotta O'Neills)
13.David Butler (Knockavilla Kickhams)
14.Aidan Boyle (Ballyduff)
15.Padraig Boyle (Ballyduff)
Fir Ionaid:
16.Nicky Leen (Ballyduff)
17.Brendan Brosnan (Lixnaw)
18.John Griffin (Lixnaw)
19.Anthony Fealy (Causeway)
20.Jason Leahy (Causeway)
21.Brendan O'Leary (Abbeydorney)
22.Philip Lucid (Ballyheigue)
23.Paudie O'Connor (Kilmoyley)
24.Liam Boyle (Ballyduff)
25.David Goulding (Ballyduff)
26.Kevin Orpen (St Brendans)
Management:
Manager: Eamonn Kelly (Kildangan, Tiobraid Árann)
Trainer/Coach: Brian Horgan (Knockavilla Kickhams, Tiobraid Árann)
Selectors: D. J. Leahy (Causeway), Tom O'Connell (Abbeydorney)
On Extended Panel
Pa Joe Connolly (Ballyduff)
Paul McGrath (Causeway)
Rehabbing from Injury:
John Egan (St Brendans)
Dougie Fitzell (Kilmoyley)
Philip Lucid (Ballyheigue)