7th Annual All-Ireland Postgraduate (AIPG) Conference in Sport Sciences, Physical Activity & Physical Education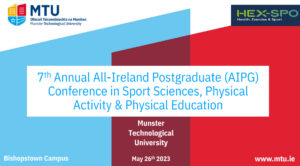 7th Annual All-Ireland Postgraduate (AIPG) Conference in Sport Sciences, Physical Activity & Physical Education
Munster Technological University – May 26th 2023
This world class Keynote Line Up is supporting the fantastic Abstract Submissions in the areas of 'Sport Sciences, Physical Activity & Physical Education' (N = 65) from PGs all over the island of Ireland, and promises to be a great event.
Conference Aim: to 'provide Postgraduate Research Students, from Higher Education Institutions (HEIs) across the island of Ireland, with the opportunity to present their work to peers, research supervisors from other HEIs, and indeed interested academics in a supportive and collaborative environment'.
Keynote Speakers:
Prof. Mark Williams – "The Best – How Elite Athletes are Made"
Williams research interests focus on the neural and psychological mechanisms underpinning the acquisition and development of expertise. You can read more about Prof. Mark Williams HERE
Dr. Zoe Wimshurst – "Enhancing Visual Skills to Optimise Sports Performance"
Achieving a distinction in her Masters in Sport and Exercise Psychology from Loughborough University, Wimshurst began her education training to be a sport psychologist.You can read more about Dr. Zoe Wimshurst HERE
Brian O'Donovan – "Modern Multimedia Tools to Guide Future Career Pathways
Brian O'Donovan has been a journalist with RTÉ since 2015 and was appointed to the role of Washington Correspondent in January 2018. You can read more about Brian O'Donovan HERE
Further Related Objectives Include:
• Exposure to the peer-review process with regard to submitted research proposals based on (i) preliminary data and/or (ii) research-in-progress.
• The enhancement and development of PG research skills through the research presentation process (i.e. via Poster or Oral Presentation format).
• Live constructive feedback on Poster/Oral Presentations, with further opportunity to engage with peers and discipline experts on-site.
• The opportunity to contribute to, and learn from, the 'knowledge exchange' potential of this in-person event across all Conference Sessions.
Key Thematic Areas:
• Exercise Science & Sports Performance
• Physical Education & Sport Pedagogy
• Physical Activity & Health
• Athletic Therapy & Sports Medicine
This year, we are extending the latter thematic area to include the Sports Medicine domain, which is rapidly developing in both the research and practitioner space across the island of Ireland.
---
Conference Schedule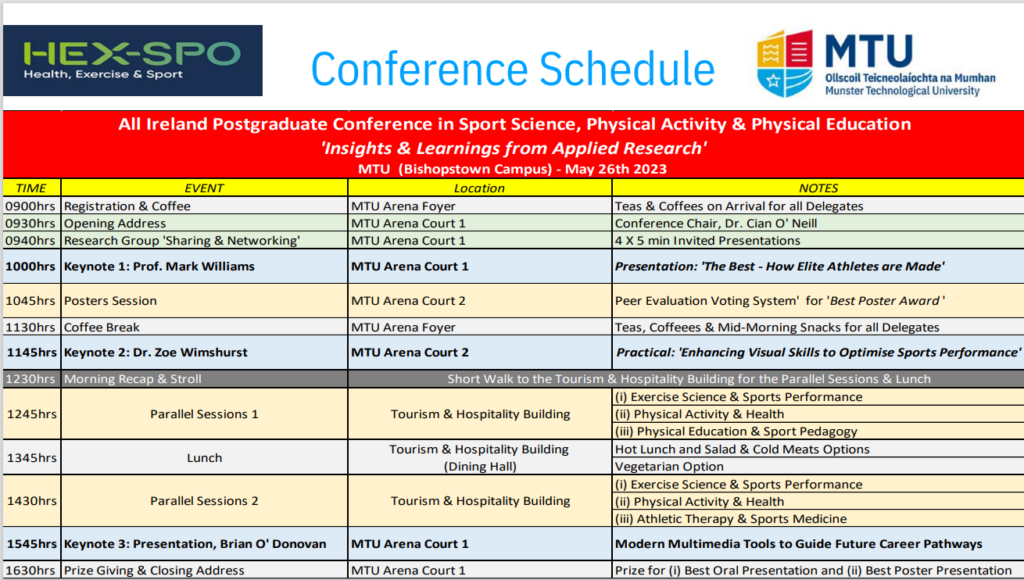 ---
Remember to register to attend via this LINK
The Conference Team look forward to hearing from, and working with, you all!
Please contact cian.oneill@mtu.ie if you have any additional queries