2021 Munster Senior Hurling Championship Final – Limerick 2-29 Tipperary 3-21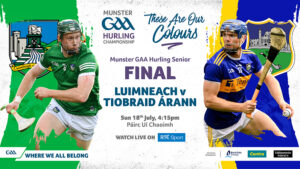 Limerick defeated Tipperary by 2-29 to 3-21 in the Munster Senior Hurling Championship Final on Sunday July 18th at Páirc Uí Chaoimh.
---
Match Highlights
Watch the Full-Time Highlights of Limerick v Tipperary in the Munster Senior Hurling Championship Final here!
Full-Time Score:
Limerick 2-29
Tipperary 3-21#GAANOW pic.twitter.com/bHvR4u0rWw

— The GAA (@officialgaa) July 18, 2021
---
.@LimerickCLG are Munster Senior Hurling Champions 2021! #GAANOW pic.twitter.com/173GZNXkrX

— The GAA (@officialgaa) July 18, 2021
---
REPORT: @LimerickCLG came from 10 points down to defeat @TipperaryGAA in stunning style and win a third Munster SHC title in a row. #GAA #GAABelong

— The GAA (@officialgaa) July 18, 2021
Munster SHC Final: Limerick blow Tipp away with second half surge
LIMERICK 2-29 TIPPERARY 3-21
Report By John Harrington for GAA.ie
The canon of great GAA comebacks has a worthy new entry.
Trailing by 2-16 to 0-12 at half-time against a rampant Tipperary, Limerick found themselves staring down the barrel of a gun.
In response, they produced a bazooka and blew the Premier County to smithereens in the second-half.
Remarkably, they outscored Tipperary by 1-10 to just a single point in the third quarter to turn a 10-point deficit into two-point advantage.
There was still 16 minutes plus injury-time left to play, but you knew even then there was no way back for Tipp because Limerick had elevated their game to such a stratospheric level.
It must have been a bewildering turn of events for the Premier County players who had hurled so brilliantly themselves for the first 37 minutes of the contest. Never has the cliché 'a game of two halves' been so apt.
So what changed? What was the flicked switched that enabled Limerick to take complete control of a game they'd previously been second-best in?
As a team they upped their intensity levels markedly, but there were a few key battle-grounds that shaped the contest in that second-half.
Dan McCormack had done well on Cian Lynch in the first-half, but in the second-half the Patrickswell magician cast a spell with his ability to win ball and use it brilliantly with perfectly timed hand and stick passes.
The Limerick defenders all won their individual battles in the second-half having struggled in the first, but special mention must go to Kyle Hayes who really thundered into the game down the left flank.
Tipperary had done quite well off their puck-outs in the first half, but in the second they suffered a total meltdown.
Any time Barry Hogan went long the sliotar was eaten without salt by the ravenous Limerick half-backs, and on a few critical occasions when he went short Limerick turned over the possession and fired the sliotar over his cross-bar seconds later.
The sight of Limerick players emerging from rucks with the sliotar, getting in hooks and blocks, and generally pressurising Tipperary players maniacally was a role reversal from the first half when Liam Sheedy's team made the middle third of the pitch a battle-ground which they won decisively.
Their use of possession was also a lot more assured in the first half as they held their nerve to pop short-passes around until they'd moved the ball into space and could then hit their forwards with more judicious deliveries.
They had the boost of a good start too, Jake Morris goaling in the fourth minute after zooming into a ball that broke off Seamus Callanan.
That goal was still the difference between the teams by the 15th minute, but Tipperary then really hit their stride as classy Seamus Callanan point was followed by a sublime John O'Dwyer goal to push them 2-8 to 0-7 ahead.
You expected an instant Limerick reaction, but it was Tipperary who seemed to grow further in confidence to dominate the exchanges from there to half-time.
Some of the passages of play that the Premier County produced were as good as anything we've seen from them with clever lines of running, intelligent support play, crisp passes, and spectacular points all thrown into the mix.
Jason Forde, especially, was in the groove, hitting six points from play in the first half alone in a performance you reckoned would be the main talking point of the match until Limerick cut loose in the second-half.
You can well imagine that John Kiely peeled the paint off the Limerick dressing-room at half-time to fire up his troops because from the restart they hurled with much more intensity than they had previously.
You would have expected that, but the scale of the turn-around was a sight to behold as Tipperary were quickly drowned by the rapidly rising green tide.
Points from substitute Aaron Gillane, Diarmuid Byrnes, and Tom Morrissey gave Limerick some much-needed momentum, but it was Seamus Flanagan's goal when he followed up a rebound from a Gillane shot that really gave the Shannonsiders a massive shot of adrenalin.
The nature of the goal summed up just what had changed in the dynamic of the match. Tipperary had tried to work a series of short-passes out of defence but the ball was turned over with the sort of savage pressure Limerick just hadn't applied in the first half.
There were just four points between the teams now, and the roars from the Limerick supporters told you that they fully believed their team was on a charge that was now unstoppable.
And so it proved. The Limerick points continued to flow as Tipperary suffered and all-systems failure. Whenever they cleared the ball it came back with interest and players like Gillane, Casey, and Tom Morrissey punished them to the hilt.
Limerick led by 1-22 to 2-17 at the water-break, and pretty much put the match to bed almost immediately after the resumption when Kyle Hayes went on an incredible turbo-charged run that saw him run half the length of the pitch before driving it to the back of the net.
If there is a silver-lining for Tipperary it's that they didn't completely fold at this stage. They battled to the finish without ever really looking like turning the tide, as players like Willie Connors and Mark Kehoe gave them some badly needed energy from the bench.
Kehoe hit a late goal that was as good a strike as you'll see, but it was only a cosmetic consolation by then.
It'll be interesting to see what sort of psychological effect a defeat of this nature will have on the Tipperary players and whether they can rouse themselves for an All-Ireland challenge.
They did so two years ago after a heavier defeat than this to Limerick in the Munster Final, and played so well in the first half here it would be foolish to write them off.
As for Limerick, you could tell by the way their players celebrated that this win, and the nature of it, meant an awful lot to them.
A third Munster title in a row is a serious achievement for this group and can be sure they'll get a bounce from it. That should be scary thought for all the other counties remaining in the Championship.
Scorers for Limerick: Seamus Flanagan 1-3, Aaron Gillane 0-6 (4f), Tom Morrissey 0-6 (1f), Peter Casey 0-5, Diarmaid Byrnes 0-4 (2f, 1 65), Kyle Hayes 1-0, Gearoid Hegarty 0-3, Cian Lynch 0-1, David Reidy 0-1,
Scorers for Tipperary: Jason Forde 0-11 (4f), John O'Dwyer 1-2, Jake Morris 1-2, Mark Kehoe 1-0, Ronan Maher, Seamus Kennedy, Michael Breen, Dan McCormack, Seamus Callanan Willie Connors all 0-1.
LIMERICK: Nickie Quaid; Sean Finn, Richie English, Barry Nash; Diarmaid Byrnes, Declan Hannon, Kyle Hayes; William O'Donoghue, Darragh O'Donovan; Gearoid Hegarty, Cian Lynch, Tom Morrissey; Graeme Mulcahy, Seamus Flanagan, Peter Casey
Subs: Aaron Gillane for Graeme Mulcahy (31), Dan Morrisey for Richie English (31), David Reidy for Darragh O'Donovan ((64), Conor Boylan for Tom Morrissey (67), Pat Ryan for Seamus Flanagan (68), Robbie Hanley for Cian Lynch (70)
TIPPERARY: Barry Hogan; Cathal Barrett, Padraic Maher, Barry Heffernan; Brendan Maher, Seamus Kennedy, Ronan Maher; Dan McCormack, Alan Flynn; Michael Breen, Noel McGrath, Jake Morris; John O'Dwyer, Seamus Callanan, Jason Forde.
Subs: Willie Connors for Alan Flynn (53), Mark Kehoe for Noel McGrath (55), Niall O'Meara for John O'Dwyer (56), Paddy Cadell for Dan McCormack (56), Brian McGrath for Barry Heffernan (59)
Referee: Paud O'Dwyer (Carlow)
---
Match Programme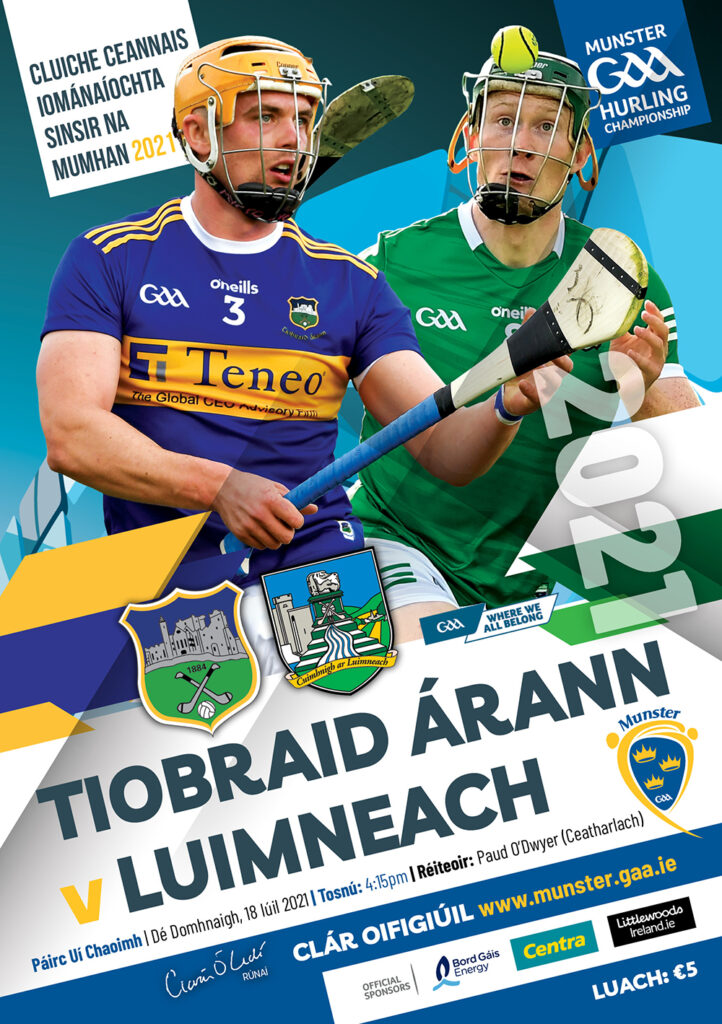 The Munster Senior Hurling Final Match Programme will be available to purchase at Páirc Uí Chaoimh today for €5.
Click here to view the Match Programme online
---
Munster Championship Match Programme Bundles Available
Programme collectors unable to attend matches in the 2021 Munster Champonship will be able to purchase hard copy programmes in one of two bundles – Hurling and Football.
Click for more information
---
Team News
*REVEALED*

Here's the @TipperaryGAA team and squad to face @LimerickCLG in Sunday's @MunsterGAA SHC Final

📺Live on @RTE2 at 4.15pm

Best wishes to manager @LiamLsheedy and the team! 🇺🇦

You can play your part in team preparations by joining the TSC https://t.co/hmNB8PHo7t pic.twitter.com/8CtOwuY5Gs

— Tipperary Supporters Club (@TippSupporters) July 16, 2021
TIPPERARY: Barry Hogan; Cathal Barrett, Padraic Maher, Ronan Maher; Seamus Kennedy, Brendan Maher, Barry Heffernan; Noel McGrath, Alan Flynn; Jason Forde, Michael Breen, Dan McCormack; John O'Dwyer, Seamus Callanan, Jake Morris.
Limerick Senior Hurling Team to play Tipperary in Munster Hurling Final https://t.co/4KDsIvoPgw

— Limerick GAA (@LimerickCLG) July 16, 2021
LIMERICK: Nickie Quaid; Sean Finn, Richie English, Barry Nash; Diarmaid Byrnes, Declan Hannon, Kyle Hayes; William O'Donoghue, Darragh O'Donovan; Gearoid Hegarty, Cian Lynch, Tom Morrissey, Graeme Mulcahy, Seamus Flanagan, Peter Casey.
---
Face masks!

All supporters attending Sunday's Munster Senior Hurling Final between @LimerickCLG & @TipperaryGAA are asked to wear a face covering at all times during their visit to @PaircUiCha0imh

Thank you for your cooperation. pic.twitter.com/NPpXdw8EWd

— Munster GAA (@MunsterGAA) July 16, 2021
---
The new Mick Mackey Cup will be presented for the first time to the 2022 Munster Senior Hurling Champions and not to the winners of @LimerickCLG and @TipperaryGAA this Sunday.
Details below as published in all 2021 Munster Hurling Match programmes & the Munster GAA web site. pic.twitter.com/qOEtr5307X

— Munster GAA (@MunsterGAA) July 16, 2021