2020 Electric Ireland All-Ireland Minor Football Championship Final – Derry 2-12 Kerry 1-14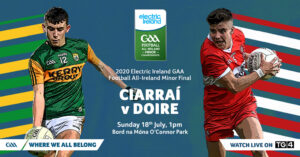 Derry defeated Kerry by 2-12 to 1-14 in the 2020 Electric Ireland All-Ireland Minor Football Championship Final on Sunday July 18th at Bord Na Mona O'Connor Pk, Tullamore.
---
REPORT: @Doiregaa are 2020 Electric Ireland All-Ireland Minor Football Champions after a dramatic victory in today's Final over @Kerry_Official. #GAA #GAANOW

— The GAA (@officialgaa) July 18, 2021
2020 All Ireland MFC Final: Dramatic scenes end with Derry victory
DERRY 2-12 KERRY 1-14
Report by Kevin Egan for GAA.ie
Tragic events in Monaghan may have cast a shadow on all GAA activity this weekend, but at Bord na Móna O'Connor Park the minor footballers of Derry and Kerry put on a performance that demonstrated the very best of the human spirit, all in the space of a remarkable hour of end-to-end action.
There was all the physical strength, skill, teamwork and commitment that you might expect in an All-Ireland final between two hugely talented groups, but there was agony, elation, heartbreak and untold joy in equal measure in a closing five minute spell that will live long in the memory.
Had the contest finished with 56 or 57 minutes on the clock, it would have been an excellent game in it's own right. Kerry were fractionally the better side in the first half, and just about earned their 0-7 to 0-4 interval lead. Their free scoring attacking unit, that wreaked havoc and harvested 3-21 against Roscommon, struggled to break through the best defensive unit in this competition so far, with Patrick McGurk and Lee Brady both exceptional close to the Derry goal.
It was a similar story at the other end however. Matthew Downey and Eoin McEvoy kicked two wonderful points to open the scoring in the first five minutes but from then on Derry struggled to unlock the narrow, packed Kerry back line.
With space close to goal at a premium, Kerry started to lean heavily on their power runners in the middle third, particularly Paudie O'Leary, Cillian Burke and captain Oisín Maunsell.
The crucial moment of the opening half came immediately after the water break when a long, probing ball by Conor Shiels broke to Niall O'Donnell, whose first time effort along the ground was blocked on the goal line by Cian O'Donoghue. The score would have placed Derry two points up but James Costello's Kerry side punished the miss, with William Shine kicking two scores, one off either boot. Although Mark Doherty ended a 15 minute scoreless spell for the Ulster men before the break, Keith Evans rounded out the half time scoring for Kerry, who kicked all seven of their first half points from play.
With five minutes gone in the second half there was yet another vital swing moment, but this time the break of the ball went Derry's way. Cillian Burke burst through on goal with a typical barnstorming run, striking a low shot that drew a good save from Kian McGonigle. Derry broke quickly with Matthew Downey, Doherty and McEvoy combining to set up full forward Lachlan Murray to palm the ball to the net.
Derry gained momentum after that goal but they were never able to move four points up, even as Kerry's dangerous forward unit starved of possession. However, two Cian McMahon points moved Kerry within one, and as injury time loomed, a remarkable period of play saw goals at either end, and missed chances that could have changed the result.
Up to now, this was a really good game. Now, it was about to move to another level.
It looked like the Ulster side would experience further final heartbreak, having lost heavily to a David-Clifford-powered Kerry team in the 2017 showpiece event, as a calamitous short kickout allowed substitute Maurice O'Connell to toe poke the ball in to an empty net. Once the ball hit the floor with Kian McGonigle off his line waiting for a pass, there was an incredible moment where it seemed as if time stood still. Ever so slowly, the ball trundled across the goal line, and once it did, the roar from the Kerry crowd was deafening.
Their joy was short lived. Derry went straight up the other end and when Niall O'Donnell's shot was blocked by Kerry goalkeeper Sean Broderick, referee Jerome Henry deemed it a foot block and awarded the penalty.
Matthew Downey, whose father Henry captained Derry to the All-Ireland title in 1993, rifled his shot straight down the middle with incredible composure and power. But still, there was time for more.
Substitute Darragh Fleming slalomed around a tackler and tried to fire in another goal, but his shot, while on target, was at a good height for Kain McGonigle to make a save. Oisín Maunsell took on the responsibility and drove at the Derry goal and tried to pull off a difficult shot on the run, but didn't find the range. Then, with what was clearly going to be the last play of the game, Cillian Burke was fouled on the left-hand sideline, and Cian McMahon stood over an incredibly difficult free.
As the ball sailed through the air, the tension was unbearable, and the agonised look of the young Dr. Crokes player made it clear that he had given it every chance, but that it was close. Much to Derry's delight and Kerry's despair, it sailed just past the posts on the right hand side, and one of the longest-running championships of the modern era had finally come to an end – a conclusion that will be celebrated in Derry for a long time to come, and remembered everywhere.
Scorers for Derry: Matthew Downey 1-3 (1-0 pen, 2f), Lachlan Murray 1-2, Mark Doherty 0-2, Lee Brady, Charlie Diamond (1f), Eoin McEvoy, Callum Downey, Niall O'Donnell 0-1 each.
Scorers for Kerry: Cian McMahon 0-4 (2f), Maurice O'Connell 1-0, Keith Evans, William Shine, Oisín Maunsell, Cillian Burke 0-2 each, Aaron O'Shea & Sean Broderick (45) 0-1 each.
Derry: Kian McGonigle; Patrick McGurk, Lee Brady, Adam McGonigle; Donncha Gilmore, Eoin McEvoy, Connor Sheils; Dan Higgins, Patrick O'Kane; Jody McDermott, Matthew Downey, Mark Doherty; Niall O'Donnell, Lachlan Murray, Charlie Diamond.
Subs: Callum Downey for Dan Higgins (30+1 mins – half time, blood sub), Callum Downey for Charlie Diamond (38 mins), Jude Moore for Adam McGonigle (49 mins), Peter McCullagh for Lachlan Murray (61 mins).
Kerry: Seán Broderick; Dara O'Callaghan, Joey Nagle, Cian O'Donoghue; Oisín Maunsell, Armin Heinrich, Killian O'Sullivan; Paudie O'Leary, Cillian Burke; Thomas O'Donnell, William Shine, Keith Evans; Darragh O'Sullivan, Aaron O'Shea, Cian McMahon.
Subs: Jordan Kissane for Darragh O'Sullivan (43 mins), Maurice O'Connell for William Shine (45 mins), Darragh Fleming for Killian O'Sullivan (49 mins).
Referee: Jerome Henry (Mayo)
---
Match Coverage
This Sunday @Kerry_Official meet @Doiregaa in the 2020 @ElectricIreland GAA Football All-Ireland Minor Championship Final!

Tune in to @SportTG4 from 1pm on Sunday for all the action. #GAABelong #GAAThisIsMajor pic.twitter.com/7OEoNcv9P8

— The GAA (@officialgaa) July 16, 2021