2019 Munster Senior Hurling Championship – Tipperary 2-28 Cork 1-24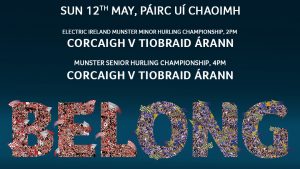 Tipperary defeated Cork by 2-28 to 1-24 in the 2019 Munster Senior Hurling Championship on Sunday May 12th at Pairc Ui Chaoimh, Cork.
---
Check out the best of the action from Cork v Tipperary here: pic.twitter.com/AIAVmibws8

— The GAA (@officialgaa) May 12, 2019
---
REPORT: Terrific @TipperaryGAA proved too hot for @OfficialCorkGAA in high-scoring Munster SHC opener at Pairc Ui Chaoimh today.

— The GAA (@officialgaa) May 12, 2019
Munster SHC: Tipperary blitz Cork
TIPPERARY 2-28 CORK 1-24
Report By John Harrington at Pairc Ui Chaoimh for GAA.ie
Tipperary's class of 2010 clearly aren't ready to close the book on their careers just yet.
A team featuring seven men who won a senior All-Ireland in 2010 and two more who an U-21 All-Ireland the same year gave an absolute exhibition of hurling against Cork in Pairc Ui Chaoimh today.
Some wondered whether Liam Sheedy was taking a risk by naming a team with so much mileage on the clock, but they hurled at high revs right from the start to the finish and Cork simply couldn't keep pace.
Tipperary had eleven different scorers from play on the day but the contribution of Seamus Callanan and John 'Bubbles' O'Dwyer was particularly significant.
O'Dwyer produced what was his best performance by some distance in a Tipperary jersey since the 2016 All-Ireland SHC Final as he scored seven points from play.
While Callanan hit 1-4 from play and was a hugely valuable ball-winning presence in the Tipperary attack throughout.
At the other end of the field the Tipperary defence was dominant for most of the game, and no-one was more impressive that wing-back Brendan Maher.
He came out with the ball time and again and garnished his performance with two brilliant long-range points. Some going for a man who was starting his first match since rupturing his cruciate ligament against Clare in last year's Munster Championship.
In 2018 Tipperary were criticised for being too direct and one-dimensional in how they attacked, but today there was far more method to their play. They moved the ball cleverly through the lines and more often than not only hit their inside forwards when they had time to get their head up and pick a well-judged pass.
Cork defenders like Niall O'Leary and Sean O'Donoghue battled against the tide manfully, but apart from a spell in the first-half Cork never really managed to disrupt Tipperary's flow.
They were dealt a blow before the game when midfielder Bill Cooper pulled up in the warm-up and had to be replaced by Robbie O'Flynn. That also meant a re-jig in terms of personnel, with Luke Meade moving from the half-forward line into midfield.
Perhaps that partly explains Cork were somewhat out of sync in the first quarter, though Tipp's dominance in this period was mainly down to their own good play.
They made their intent clear from the start by pushing Callanan – named at centre-forward – into the full-forward line alongside Jason Forde and John McGrath with John O'Dwyer coming out to the half-forward line
The Tipp attack hummed with danger from the start and it was Callanan who landed the first serious blow of the game when he goaled after just three minutes. Niall O'Meara picked him out with a nice hand-pass out to the right-wing and when Callanan collected it he had only one thing on his mind as he bore down on goals and lashed the ball past Anthony Nash.
---
GOAL – Tipperary's Seamus Callanan finds the back of the net after just two minutes at Pairc Ui Chaoimh.

Watch match highlights of @OfficialCorkGAA and @TipperaryGAA on @rte2 tonight at 9.30pm pic.twitter.com/JDC3Qjs2al

— The Sunday Game (@TheSundayGame) May 12, 2019
---
Points flowed thereafter from Forde (f), John O'Dwyer, John McGrath, and Noel McGrath (2), so by the ninth minute Tipperary were already 1-5 to 0-3 in front.
But much of Tipp's good work in attack was being done by some rash fouling in defence and Patrick Horgan was only too happy to keep Cork in touch by converting every free that came his way.
Still, Tipp were looking good when another quick-fire scoring burst saw Callanan snaffle two points and John O'Dwyer another to push them six clear.
As the half progressed though and the game opened up, it became clear that the Cork attack had an edge on the Tipp defence in terms of pace when they were able to hit the ball into space and get men running onto it.
They were able to do this more and more frequently thanks to a period of dominance by their half-backs, and now all of a sudden the flow of the game was being funnelled towards Tipp's goal.
Cork scored six unanswered points between the 18th and 24th minutes to draw level, and it was telling that four of them came from play from four different forwards, Shane Kingston, Conor Lehane, Seamus Harnedy, and Horgan.
Tipperary then managed to put their first cohesive attacking move in some time as Callanan set O'Meara clear on goal with a beautifully timed pass.
O'Meara won a penalty when he was felled in the act of shooting by Niall O'Leary, but what could have been a momentum changer for Tipp gave Cork another surge of energy when Nash saved brilliantly from Jason Forde.
The final seven minutes of the half was thrilling, end to end stuff as the teams traded points over and back. A mini purple patch from Tipp briefly pushed them two points clear, but Horgan had the last say of the half when he landed a monster of a free from deep inside his own half to leave the half-time score reading 1-13 to 0-15 in Tipp's favour.
At that stage the tie seemply finely poised, but Tipperary had other ideas and were dominant right from the restart. They had a stiff breeze at their backs for the second-half and they made the most of it.
The sight of Anthony Nash holding his hurley above his cross-bar as yet another long-distance effort from Tipperary sailed over it became a common one. John O'Dwyer delivered more of those scuds than anyone else and it was he who opened the scoring at the start of the second-half and sent Tipp on their way.
---
Congratulations to John O'Dywer who was named the @CentraIRL MOTM from today's @MunsterGAA SHC clash of @TipperaryGAA v @OfficialCorkGAA pic.twitter.com/mHsDBaMood

— The GAA (@officialgaa) May 12, 2019
---
They were already three points to the good when they produced a decisive scoring burst between the 46th and 50th minutes. Brendan Maher and Jason Forde (2) landed points, and then Tipperary really drove a dagger into Cork's heart by scoring their second goal of the match.
It was a wonderful score that summed up just how slick their attacking play on the day was. Noel McGrath picked up the ball in the middle of the pitch and picked out O'Dwyer in acres of space down the right. The Killenaule man could have taken his own score but instead he displayed great vision to fire a brilliant pass across to the 21 yard line to John McGrath who cut back inside and blasted the sliotar to the back of the net.
---
A brilliant Tipperary goal from John McGrath who was picked out by a terrific pass from John O'Dwyer. pic.twitter.com/3Of4ajex2J

— The GAA (@officialgaa) May 12, 2019
---
That put Tipperary 2-20 to 0-18 ahead, and a Cork comeback now looked very unlikely. They were kept in the contest for a while though by some poor Tipp shooting, and then gave their supporters some faint hope when Seamus Harnedy scored a fine goal after 65 minutes to briefly reduce the deficit to just four points.
---
Cork captain Seamus Harnedy rattles the net. pic.twitter.com/voFbOfSWkQ

— The GAA (@officialgaa) May 12, 2019
---
Tipperary never panicked though and scored the next three points of the match to ensure the closing minutes were comfortable rather than nervous.
It's very early days yet, but the quality of their performance and the scale of the win suggest Liam Sheedy's team are going to have a big say in this year's Championship.
Scorers for Tipperary: Seamus Callanan 1-4, John O'Dwyer 0-7, Jason Forde 0-5 (3f), John McGrath 1-1, Noel McGrath 0-4 (1 '65), Brendan Maher 0-2, Ronan Maher 0-1, Padraic Maher 0-1, Niall O'Meara 0-1, Patrick Maher 0-1, Michael Breen 0-1
Scorers for Cork: Patrick Horgan 0-14 (10f), Seamus Harnedy 1-2, Conor Lehane 0-3, Shane Kingston 0-3, Tim O'Mahony 0-1, Robbie O'Flynn 0-1
TIPPERARY: Brian Hogan; Cathal Barrett, James Barry, Sean O'Brien; Brendan Maher, Ronan Maher, Padraic Maher; Noel McGrath, Michael Breen; John O'Dwyer, Niall O'Meara, Patrick Maher; Jason Forde, Seamus Callanan, John McGrath. Subs: Dan McCormack for Michael Breen (48), Jake Morris for Jason Forde (55), Willie Connors for Niall O'Meara (63), Mark Kehoe for Patrick Maher (66), Cian Darcy for Noel McGrath (70)
CORK: Anthony Nash; Sean O'Donoghue, Eoin Cadogan, Niall O'Leary; Christopher Joyce, Tim O'Mahony, Mark Coleman; Darragh Fitzgibbon, Luke Meade; Daniel Kearney, Seamus Harnedy, Robbie O'Flynn); Conor Lehane, Pat Horgan, Shane Kingston
Subs: Damien Cahalane for Christopher Joyce (45), Aidan Walsh for Robbie O'Flynn (60), Declan Dalton for Daniel Kearney (65), Jack O'Connor for Shane Kingston (70)
Ref: Sean Cleere (Kilkenny)
---
Fixture Details
Sunday May 12th
Munster Senior Hurling Championship Round 1
Cork v Tipperary
Venue: Pairc Ui Chaoimh @ 4pm
Referee: Sean Cleere (Kilkenny)
---
Match Preview
---
Match Day Information
Match day information – Cork Vs Tipperary on Sunday May 12th

— Cork GAA (@OfficialCorkGAA) May 11, 2019
---
Public Transport Options
Public Transport options for Sunday's Game.

Further information can be found on https://t.co/OZ30qfXmVh pic.twitter.com/WMYhXPFExA

— Páirc Uí Chaoimh (@PaircUiCha0imh) May 10, 2019
---
Munster GAA Press Release – Flares / Smoke Bombs warning
Munster GAA and the Gardai are warning supporters attending this year's Munster Senior Championship matches that those who bring flares, smoke bombs and any other pyrotechnic devices in to the ground will be ejected and may face arrest.
John Brennan, Munster GAA Operations Manager said "these devices are extremely dangerous, particularly when used in a confined space, such as a terrace with thousands of fellow supporters present. Flares can burn at a very high temperature and present a serious safety risk to those holding them and to those in the general vicinity, especially young children. Smoke bombs also burn at high temperatures and can be dangerous for those with asthma or breathing difficulties. These items are not designed for use in confined spaces and it is against ground regulations to enter the stadium and set them off."
---
Ticket Prices
Senior and Minor Hurling Round-Robin Championship Matches
Adult: Stand €20 (ALL STAND TICKETS NOW SOLD OUT)
Terrace €15
Under 16s: €5 all areas
Student/OAP: Concession of €5 with valid ID prior to entry at the designated stile.
The above prices are pre-purchase prices, applicable until midnight of the night before the game with prices being consistent for all venues. All adult ticket prices increase by €5 on the day.
Tickets are available to purchase via tickets.ie and participating Centra and Supervalu outlets.
---
Cork Senior Hurling Team to play Tipperary announced
The Cork Senior Hurling Team to play @TipperaryGAA this Sunday in Round 1 of the @MunsterGAA hurling championship has been announced. https://t.co/fFkeUj49Nz pic.twitter.com/dr63FvL3nZ

— Cork GAA (@OfficialCorkGAA) May 10, 2019
Tipperary Senior Hurling Team to play Cork announced
The Tipperary senior hurling team to play Cork on Sunday has been announced. Best wishes to players and management. Let's get behind them! #CorkvTipp pic.twitter.com/h6C8Zz0Hs8

— Tipperary Supporters Club (@TippSupporters) May 10, 2019
---
Guide to the 2019 Munster Senior Hurling Championship
Another eagerly anticipated @MunsterGAA Senior Hurling Championship beckons!

— The GAA (@officialgaa) May 10, 2019
---
Video – Tipperary Senior Hurling Manager Liam Sheedy
---
Video – Cork Senior Hurling Manager John Meyler
---
Match Programme
Pick up a copy of the 56 page souvenir match programme on the day for 5 euro.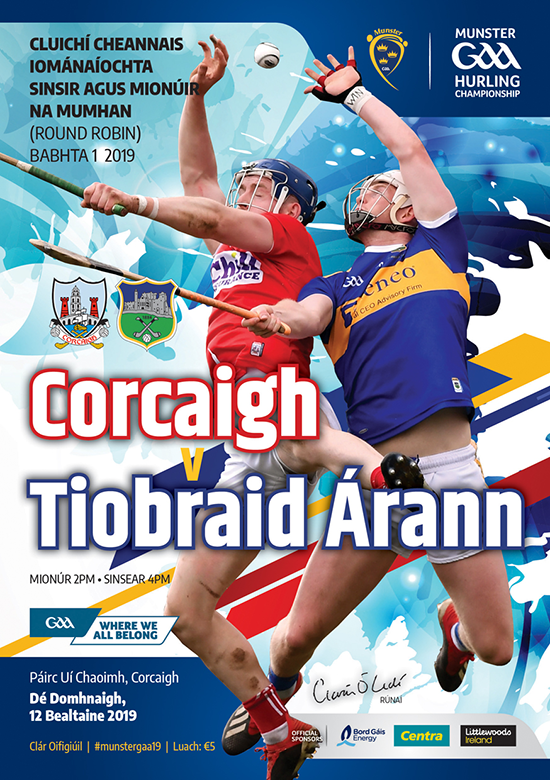 ---
2019 Munster GAA Championship Launch Video