O'Neills GAA Handball All-Ireland Senior Semi-Finals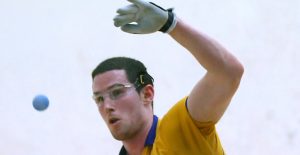 Sensational, emotional, and utter brilliance! There is no other way to describe what unfolded today in Kingscourt HC during the O'Neills GAA Handball All-Ireland Senior Semi-Finals. To any GAA playing member, the Championship is the pinnacle, the one tournament that you desire more than the rest, and today a group of players laid all their cards on the table, leaving nothing in the tank. The action was enthralling, as good a sporting spectacle as one could wish for. It was exhausting, not only for the players, but also for the supporters who went through a rollercoaster of emotion in matches that's lasted up to two and a half hours.
Robbie McCarthy, the top seed, arguably the most naturally skillful player in the game took on Killian Carroll in the first semi-final. Carroll is a relative novice in the senior ranks, at only 20 years of age, but today he displayed that he has the game to compete, and win the top honors. McCarthy rightly so entered as favourite, but it was Carroll who started the best. His playing style is jaw dropping to watch, so committed, so quick, speed of feet not to be matched. Throughout the first game, Cork man Carroll always held a 2/3 point lead over Mullingar's McCarthy. Both men are very attack minded, rolling balls for fun from range, but it was Carroll who saw out a relatively comfortable 21-14 win in game one.
McCarthy had not settled, maybe he wasn't allowed the opportunity by Carroll, but one got the impression that he had a lot more to offer this match. Questions were asked by the young speedster Carroll, and they were duly answered by the silky McCarthy in game two, storming to a 21-2 win in emphatic fashion. Had Carroll peaked too soon, was he not ready for the challenge of competing at senior level? No, is the short answer! Momentum swung again in the tiebreaker with Carroll racing to a 5-0 lead. However never player was letting this game slip away from them that easy, McCarthy fighting back to level the scores at 6-6, 8-8 & 13-13. The crowd were loving the action. McCarthy made the first notable break, charging to hold a 20-16 lead, and a chance to serve for the match, but Carroll nailed a 35ft kill to gain the serve. Then came two further epic kill shots to close the lead to 18-20. The Cork supporters were on the edge of their seats, McCarthy looked anxious that his lead was slipping. But he was not to be denied, and broke Carroll's serve before killing the ball in the right corner to seal the match amid a large burst of joy, relief and emotion! The top seed was through to his 3rd consecutive final, still looking for his maiden win.
After the first match, most in the large crowd almost expected the second semi-final to be a lesser affair. Oh how they were wrong! Clare's Diarmuid Nash and Meath's Brian Carroll were aiming for their first final appearance, and both men served up a mammoth two and a half hour thriller. Nash is tactically excellent, a cool and calm player that no one enjoys playing. Brian Carroll is a real warrior who will run every ball down until he simply cannot run any more. Maybe it is something to do with the name Carroll, as like his namesake Killian, his retrieval skills are simply a joy to behold. The first game led a similar path to the firt semi-final, with scores level at 9, 11 and 13, before Nash made the break to seal the first game 21-17.
Game two was tense to say the least, with neither player gaining more than a two point lead over one another. Carroll's unorthodox style is something else, his ability to kill the ball stone dead of the back wall with his left hand (his non-dominant hand at that) is nothing short of remarkable. It was this attacking weapon that saw Carroll make the pivotal move, when after being tied at 17-17, reeled of a series of points to force the tiebreaker, winning 21-17.
For either player to lose this game was gut wrenching. They both put so much into what had developed into a classic. Level at 18-18 in the tiebreaker, who was going to take their chance? Carroll moved to 19-18, but Nash responded to level at 19-19. The tension in the complex brought goose bumps to the fans.No one deserved to lose, but it was Nash who sealed victory with two long rallies, and end Carroll's dream for another year, winning 21-19. The Nash family have suffered a tragic loss this year, but today was a great day in Diarmuid's rise up the ranks. No sooner had the final point been won had Diarmuid's father raced into the court to embrace his son, a touching moment that empitomised just how emotional and important this match had developed into. Carroll dropped to his knees, devastated to have lost in such fashion. The crowd acknowledged what they had just witnessed with a spine tingling standing ovation for both players. This was one of the best! Nash advanced to next weekends final against McCarthy. Ireland's number one v Ireland's number two. The crowds would be foolish to miss it based on today's action.
In the Ladies semi-finals, Antrim's Aisling Reilly was already through to the final after her opponent Kerry's Ashley Prendiville had to unfortunately pull out late on due to injury. The other semi-final saw Cork's Catriona Casey face off with old foe Kerry's Maria Daly. Casey is the reigning champ, at the tender age of twenty. An incredibly composed and classy player given her age. Daly is a former 4 time champion herself, with two of the most natural hands in the ladies game. Casey had won the previous few meetings, and was expected to pull through again. But Daly showed aggression, a desire to change the script. She attacked the ball, shooting with both hands, flying at every opportunity. The match was tight right up to 12-12 in the first. Casey made the first move, executing sublime left corner kills at ease. She had found her groove, and raced to win the first 21-14, although the game was closer than the score line suggests. Daly was up against it now, a game down against Casey was a daunting position to be in. Game two started in much the same fashion, a tight affair up to 9-9. But the hand errors started to creep into Daly's game, and the clinical Casey capitalized on this to quickly see out the second game 21-9 to set up a show down with Aisling Reilly next Saturday.
Like the Men's grade, the Ladies final will see Ireland's one and two face off. Reilly and Casey are without question the top players in world Handball right now, and they have formed an exciting rivalry. Four times they have met in the last year, Reilly winning two, Casey winning two. Saturday's final will be the next chapter in the rivalry, one not to be missed!
O'Neill's GAA Handball All-Ireland SF Results:
Men's:
Westmeath (Robbie McCarthy) dft Cork (Killian Carroll) 14-21, 21-2, 21-18
Clare (Diarmuid Nash) dft Meath (Brian Carroll) 21-17, 17-21, 21-19
Ladies:
Cork (Catriona Casey) dft Kerry (Maria Daly)
Antrim (Aisling Reilly) w/o Kerry Ashley Prendville Inj