2022 Munster Senior Football Championship Final – Kerry 1-28 Limerick 0-8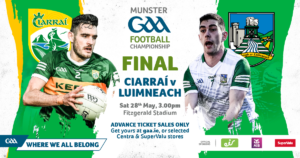 Kerry defeated Limerick by 1-28 to 0-8 in the Munster Senior Football Championship Final on Saturday May 28th at Fitzgerald Stadium Killarney.
---
Match Highlights
Watch the Full-Time Highlights of Kerry v Limerick in the Munster Senior Football Championship Final here on #GAANOW pic.twitter.com/2kvez7Cmsb

— The GAA (@officialgaa) May 28, 2022
---
REPORT: @Kerry_Official flexed their muscles with a dominant win over @LimerickCLG in today's Munster SFC Final. #GAABelong

— The GAA (@officialgaa) May 28, 2022
Munster SFC Final: Kerry outclass Limerick
KERRY 1-28 LIMERICK 0-8
Report By Murt Murphy at Fitzgerald Stadium for GAA.ie
Limerick's 126 year wait for a Munster Senior Football Championship title must be extended another year as a Kerry team without David Clifford annexed their 83rd Munster crown as they romped to a facile 23 point victory in the brilliant sunshine at the Fitzgerald Stadium.
Billy Lee and Limerick have done tremendously well over the past two seasons to gain promotion from the cellar of Division 4 league football all the way up to Division 2 and two wins on the road against Clare and Tipperary in the championship is nothing to be scoffed at.
But Kerry in Killarney are a different proposition considering it was Limerick's first Munster Final since 2010 while Kerry have won nine of the last ten that were on offer.
The opening half was dominated by Kerry who were wasteful against a Limerick team who were defensively set up and relied on sporadic breaks but the Kerry defence backboned by Jason Foley, Tom O'Sullivan, Tadgh Morley and the explosive speedster Gavin White ensured that Limerick's scoring return was meagre, scoring only three first half points and only one from play and that from centre back Iain Corbett.
Kerry on the other hand dominated midfield where Jack Barry and Diarmuid O'Connor excelled while Paudie Clifford and Stephen O'Brien were the players who breached a Limerick mass defence of thirteen or fourteen players at various stages.
Kerry pressed the Limerick kick-out and that proved fruitful as the half went on.
Killian Spillane kicked his first of three opening half points inside thirty seconds but Kerry were kicking some bad wides which had reached eight by half time and their first half conversion rate was only 12/21. Josh Ryan leveled from a forty five in the sixth minute but then score again until the 19th minute.
Kerry tacked on points from Brian Ó Beaglaoich, Tony Brosnan, Sean O'Shea before Tony Brosnan missed a glorious goal chance. Iain Corbett then scored a fine Limerick point from play but Kerry even without David Clifford were well on top as Paul Geaney and Paudie Clifford kicked points while Killian Spillane scored a beauty with his left leg.
Josh Ryan then finished Limerick's first half scoring with a massive free from the sideline before Kerry added five on the trot from Gavin White, Killian Spillane with the right foot, Sean O'Shea, Brian Ó Beaglaoich and O'Shea from a forty five as Kerry led 0-12 to 0-3 at the interval.
Kerry took over in the second half. Limerick had very little to offer in attack with five of their eight points being scored by half backs Cian Sheehan (3) and Iain Corbett (2) as their forwards were completely blotted out by a superb Kerry defence with Jack Barry dropping back to play a big game in the fullback line.
Kerry added 1-16 in the second half with Killian Spillane finishing to Limerick net in 48th minute. Paul Geaney and Sean O'Shea added three points each with substitutes Micheal Burns (2) and Adrian Spillane (1) making it eleven different Kerry scorers.
Kerry boss Jack O'Connor confirmed that David Clifford had picked up a slight knock against Cork.
"He picked up an injury against Cork," said O'Connor. "We weren't being clever or anything but we thought it was going to come right but it just took a bit longer to come around than we thought. The medical advice was not to play him in this game. He's gone back doing a bit, away from the full training. I'd say he'll be doing a good share of training next week hopefully."
Scorers for Kerry: Killian Spillane (1-3), Sean O'Shea (0-6, one '45, one free, Paul Geaney (0-4, one mark), Tony Brosnan and Tom O'Sullivan (0-3), Brian Ó Beaglaoich ,Paudie Clifford, Micheál Burns(0-2 each), Gavin White, Stephen O'Brien, Adrian Spillane (0-1 each )
Scorers for Limerick: Cian Sheehan (0-3) Josh Ryan (0-2, one '45, one free), Iain Corbett (0-2), Gordon Brown (0-1)
KERRY: Shane Ryan, Graham O'Sullivan, Jason Foley, Tom O'Sullivan, Brian Ó Beaglaoich, Tadhg Morley, Gavin White, Diarmuid O'Connor, Jack Barry, Paudie Clifford, Seán O'Shea, Stephen O'Brien, Tony Brosnan, Paul Geaney, Killian Spillane
Subs: Adrian Spillane for S O'Brien 50, Dylan Casey for J Foley, 50, David Moran for D O'Connor, 50, Micheál Burns for K Spillane, 52, Paul Murphy for T Morley, 55 Blood: David Moran for D O'Connor, 25-27, Gavin Crowley for B Ó Beaglaoich, 56-full-time
LIMERICK: Dónal O'Sullivan, Seán O'Dea, Brian Fanning, Michael Donovan, Cian Sheehan, Iain Corbett, Paul Maher, Darragh Treacy, Cillian Fahy, Adrian Enright, Brian Donovan, James Naughton, Peter Nash, Josh Ryan, Hugh Bourke
Subs: Robbie Bourke for H Bourke, half-time, Gordon Brown for P Maher, 46, Tommy Griffin for A Enright, 46, Colm McSweeney for P Nash, 46, Robert Childs for B Fanning, 60
REFEREE: Martin Nally (Monaghan)
---
Ticket Information
Tickets for this game must be purchased in advance via participating Centra and Supervalu outlets or via Ticketmaster.
Click here to purchase tickets for the 2022 Munster Senior Football Final
Ticket Prices – Munster Senior Football Championship Final
Stand – €40 for adults, €30 for students / OAPs, €5 for juveniles
Terrace – €30 for adults, €20 for students / OAPs, €5 for juveniles
Note Stand tickets will be distributed to the participating County Boards.
---
LAST FIVE CHAMPIONSHIP MEETINGS
2011: Kerry 1-20 Limerick 0-10 (All-Ireland quarter-final)
2011: Kerry 1-26 Limerick 3-9 (Munster semi-final)
2010: Kerry 1-17 Limerick 1-14 (Munster final)
2005: Kerry 2-10 Limerick 0-10 (Munster semi-final)
2004: Kerry 3-10 Limerick 2-9 (Munster final) Replay
---
LAST FIVE MUNSTER FINAL MEETINGS
2010: Kerry 1-17 Limerick 1-14
2004: Kerry 3-10 Limerick 2-9 (replay)
2004: Kerry 1-10 Limerick 1-10 (draw)
2003: Kerry 1-11 Limerick 0-9
1991: Kerry 0-23 Limerick 3-12
---
Match Programme
Don't forget to pick up a copy of the 56 page souvenir match programme for 5 euro.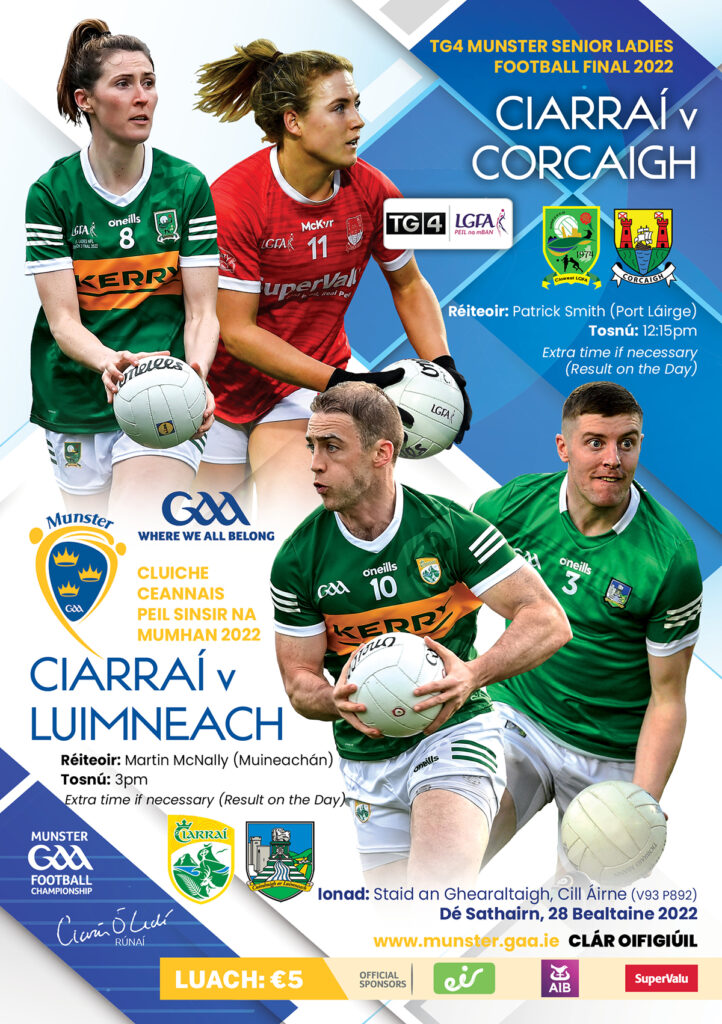 ---
Team News
Kerry: S Ryan; G O'Sullivan, J Foley, T O'Sullivan; B O Beaglaoich, T Morley, G White; D O'Connor, J Barry; P Clifford, S O'Shea, S O'Brien; T Brosnan, P Geaney, K Spillane.
Subs: S Murphy, A Spillane, P Murphy, D Casey, M Burns, D Moran, J Savage, J O'Connor, G Crowley, J O'Shea, D Roche.
Limerick: D O'Sullivan; S O'Dea, B Fanning, M Donovan; C Sheehan, I Corbett, P Maher; D Treacy, C Fahy; A Enright, B Donovan, J Naughton; P Nash, J Ryan, H Bourke.