Munster Junior Football Final – Kerry 3-14 Cork 0-13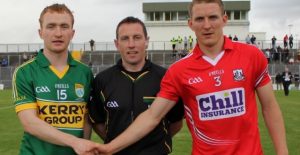 Kerry defeated Cork by 3-14 to 0-13 in the Munster GAA Junior Football Championship Final on Wednesday July 2nd at Austin Stack Park Tralee.
---
Clinical Kerry's early scoring burst leaves Rebels reeling
By Eoghan Cormican for the Irish Examiner web site
Kerry 3-14 Cork 0-13
First blood to Kerry. Last night's Munster junior decider was the first of three meetings between the counties this week and bragging rights, courtesy of this hugely emphatic win, rest with the Kingdom ahead of Sunday's Páirc Uí Chaoimh double-header.
The visitors entered the game as reigning Munster and All-Ireland champions, the latter achievement ensuring a Cork team would have to be built from scratch for the current campaign, manager Paul McCarthy and his backroom staff the only remaining link to 2013. It showed, badly at times last night.
Cork lacked cohesion in several quarters while this game was still a contest, their link-up play extremely poor and though their efforts could not be faulted, it was all too evident that this team required further time spent together. Put simply, last night's clash arrived too soon in their development as a unit. For Kerry, the silverware had all but been lifted by half-time. Leading by 2-8 to 0-5, their opponents had been marched to the gallows and the noose swiftly tightened.
Indeed, Brian Crowley's goal on 28 seconds served as a microcosm for Kerry's clinical nature over the hour. By the end of the first quarter Wallace's charges has established a 1-4 to 0-1 advantage – corner-forwards Gavin O'Grady (0-2, 0-1 free) and Thomas Hickey (0-2) prospering amid the debris of the Cork defence.
Cork clawed their way back into proceedings through Seamus Hickey, Anthony O'Connor, Paul Condon and Conor Flanagan (0-1 free), but a charmed existence were they living at the other end. O'Grady and Hickey were both hugely unfortunate not to raise green flags, with Brian Crowley's powerful strike thundering off the crossbar.
On 27 minutes, the Cork resistance broke. O'Grady provided the final pass to Hickey and the Castleisland Desmonds forward rounded 'keeper Pat Kirby to slot home. O'Grady and Hickey nailed the target in the ensuing passages of play and Cork's cause was a lost one heading for the dressing room at half-time. "It is a sign of a young team to be looking for goals," smiled Wallace.
"The average age of the team is 21 and youth is what we went for when we are assembling a panel. Three of the lads are U21 for the next two years. The one thing we didn't want was a battle, Brian Crowley got a superb goal at the outset and we drove on from there. It was probably a script you couldn't have written. The second goal was crucial as Cork were beginning to dominate at midfield.
"They really took the game to us in the second-half. Luckily our substitutions worked and we never let Cork back into it, we never let them within six points. Once Cork didn't get a goal we were always in control." Cork, as noted, battle gamely at the change of ends with a brace of Mark Sugrue and Paul Condon frees, added to a terrific Seamus Hickey score, reducing the gap to 2-11 to 0-11 entering the final quarter. A goal they craved, but it never looked like materialising.
Instead, it was Kerry who rocked home goal number three – Gavin O'Grady successful from the penalty spot on 57 minutes. "To be Munster champions is only one side of it. A lot of the guys out there are after coming up through the underage system unable to beat good Cork teams at minor and U21 level. This is a massive monkey of their back," Wallace continued. "This is a big win. Munster title, yes, but the fact they beat Cork from a Kerry football point of view is huge."
Scorers for Kerry: G O'Grady (1-6, 1-0 pen, 0-2 frees); T Hickey (1-4); B Crowley (1-2); S Moloney (0-2)
Scorers for Cork: P Condon (0-5, 0-3 frees); M Sugrue (0-3, 0-3 frees); S Hickey, A O'Connor (0-2 each); C Flanagan (0-1, 0-1 free).
KERRY: S Murphy (Kilcummin); S Lynch (Spa), K O'Dwyer (Waterville), D Wrenn (Tarbert); G Gibson (Waterville), D Daly (St Mary's), G Crowley (Templenoe); A Garnett (Spa), B O'Sullivan (Valentia); B Crowley (Templenoe), C Keating (Skellig Rangers), P O'Connor (Cordal); G O'Grady (Glenbeigh/Glencar), P Kennelly (Ballydonoghue), T Hickey (Castleisland Desmonds).
Subs: S Moloney (John Mitchels) for O'Dwyer (30 mins), A O'Donoghue (John Mitchels) for O'Dwyer (38), M Brennan (Churchill) for Garnett (44), K Hurley (St Pats) for O'Sullivan (59).
CORK: P Kirby (Tadhg Mac Carthaigh); J Daly (Fermoy), J McLoughlin (Kanturk), M O'Shea (Glengarriff); N McCarthy (Kinsale), F O'Shea (Clyda Rovers), B Withers (Lyre); M Dineen (Castlehaven), J Kind (Passage West); J Dineen (Eire Óg), C Flanagan (Clyda Rovers), M Sugrue (Bandon); S Hickey (Rockchapel), P Condon (Mayfield), A O'Connor (Knocknagree).
Subs: S Murphy (Ballydesmond) for Daly (HT), C Brosnan (Brian Dillons) for Kind (HT), R Buckley (Macroom) for Murphy (48, bc), K Sheehan (Mallow) for J Dineen (55).
Referee: D O'Mahoney (Tipperary)
---
Munster GAA Junior Football Final
Kerry 3-14 Cork 0-13
Kerry cruised to a ten points victory over Cork in the Munster Junior football final at Austin Stack Park on Wednesday evening before an attendance of 1,336 who saw some fine attacking football throughout, especially from the winners. Kerry were well worth their 10 points winning margin and took the game to their opponents from the start, and were it not for a tendency to overplay the ball at stages, especially in the opening half, they may even have been more comfortable winners.
The home-side got the perfect start when Thomas Hickey's inviting pass opened up a run at goal for Brian Crowley who made no mistake after just 30 seconds of play. Kerry should have got another major straight from the kick out with Philip O'Connor just failing to connect but Thomas Hickey, who was to trouble the Cork defence throughout that opening half, pointed soon after and Gavan O'Grady, another man to shine, made it 1-2 to no score after just 6 minutes. Conor Flanagan opened Cork's account from a free, but with Andrew Garnett in fine form in the centre of the field, the Kerry forwards enjoyed an abundance of possession and they went on to lead by 1-4 to 0-2 at the end of the first quarter. Cork did improve as the game wore on, with Anthony O'Connor and Seamus Hickey in the corners impressing up front but poor shooting was to cost them while at the other end Thomas Hickey had his fourth point by the 22nd minute and Kerry led by 1-6 to 0-3. Gavan O'Grady then set up Thomas Hickey for a well worked goal in the 27th minute and further points from Brian Crowley and O'Grady saw Kerry lead by 2-8 to 0-5 at the interval.
The sides swapped points on three occasions on the restart with O'Grady, Crowley and sub Sean Moloney adding to Kerry's total, and Paul Condon converting two frees for Cork but Kerry then seemed to take their foot off the pedal and with Cork coming more into the game in the middle third of the field they had three unanswered points, including a fine long range effort from the ground by Mark Sugrue, and the margin was now down to 6 points, 2-11 to 0-11 at the three quarter stage. The Kerry sideline acted however, introducing some fresh blood and Edmund Walsh in particular fared well and the net result was that Kerry regained their composure with three fine scores, two from O'Grady and another form Sean Moloney. Kerry sealed victory when Gavan O'Grady was pulled down in the square and he dusted himself down and despatched the resultant penalty to the net for Kerry's final score four minutes from time.
After the game, Chairman of the Munster Council, Robert Frost, presented the Munster Junior Cup to Thomas Hickey. It was Kerry's 41st title in the grade.
Scorers:
Kerry; Gavan O'Grady 1-6 (1-2fr), Thomas Hickey 1-4, Brian Crowley 1-2, Sean Moloney 0-2.
Cork: Paul Condon 0-5 (3fr), Seamus Hickey, Anthony O'Connor Conor Flanagan (2 Fr), Mark Sugrue (2Fr) 0-2 each.
---
When – Wednesday July 2nd at 7:30pm
Where – Austin Stack Park, Tralee
Referee – Derek O'Mahoney (Tipperary)
Stand-by Referee – David Grogan (Tipperary)
Linesman – Sean Lonergan (Tipperary)
Sideline Official – John O'Brien (Tipperary)
Umpires – Ger Meagher, Paddy Noonan, Stan Barlow, Liam Barrett (Tipperary)
Extra time – (2 periods x 10 minutes only) to be played if sides finish level at the end of 60 minutes
---
Team News
The Cork Junior Football will line out as follows:
1. Patrick Kirby (Tadgh MacCarthaigh)
2. Jeffrey Daly (Fermoy)
3. John McLoughlin (Kanturk – Captain)
4. Mathew O'Shea (Glengarrif)
5. Niall McCarthy (Kinsale)
6. Fionn O' Shea (Clyda Rovers)
7. Brendan Withers (Lyre)
8. Michael Dineen (Castlehaven)
9. James Kind (Passage)
10. John Dineen (Eire Og)
11. Conor Flanagan (Clyda Rovers)
12. Mark Sugrue (Bandon)
13. Seamus Hickey (Rockchapel)
14. Paul Condon (Mayfield)
15. Anthony O' Connor (Knocknagree)
Subs
16. Anthony Casey (Kiskeam)
17. Rory Buckley (Macroom)
18. Sean Murphy (Ballydesmond)
19. Cillian Brosnan (Brian Dillons)
20. Fionn Herlihy (Mitchelstown)
21. Kevin Sheehan (Mallow)
22. Paul Cronin (St. Michael's)
23. Alan Barry (Glanmire)
24. Shane Beston (Mitchelstown)
Paul McCarthy and his selectors have made three changes to the team that beat Limerick in the semi-final, with Michael Dineen, John Dineen and Anthony O'Connor coming in in place of Seán Murphy, Brian Coughlan and Shane Beston.
The Kerry Junior team is as follows:
1 Shane Murphy Kilcummin
2 Shane Lynch Spa
3 Kevin O'Dwyer Waterville
4 Danny Wrenn Tarbert
5 Greg Gibson Waterville
6 Denis Daly St. Marys
7 Gavin Crowley Templenoe
8 Andrew Garnett Spa
9 Brendan O'Sullivan Valentia
10 Brian Crowley Templenoe
11 Ciaran Keating Skellig Rangers
12 Philip O'Connor Cordal
13 Gavan O'Grady Glenbeigh Glencar
14 Paul Kennelly Ballydonoghue
15 Thomas Hickey (Capt) Castleisland Desmonds
Fir Ionaid:
16 Sean Óg Ó Ciardubháin Cordal
17 Alan O'Donoghue John Mitchels
18 Edmund Walsh Knocknagoshel
19 Michael Brennan Churchill
20 Dara Roche Glenflesk
21 Paidraig Ó Sé An Ghaeltacht
22 Gary Sayers Keel
23 Kieran Hurley St. Pats
24 Sean Moloney John Mitchels
Bainistíocht:
Bainisteoir: Stephen Wallace (Ardfert)
Róghnoirí: Fergus Clifford (Listry), Timmy O'Sullivan (Kerins O'Rahillys), Denis O'Sullivan (Dromid Pearses).
---
For the Record
Cork
Kerry
2013 Championship Performance
Defeated Limerick by 5-17 to 2-8 in the Quarter-Final.Defeated Clare by 0-18 to 0-9 in the semi-final.

Defeated Waterford by 1-18 to 0-9 in the Munster Final.

Defeated Lancashire in All Ireland semi-final by 1-15 to 1-9.

Won All Ireland title defeating Kildare by 0-13 to 1-7.

Lost to Tipperary by 1-15 to 0-11 in the Quarter-Final.
Number of Munster Junior Football titles
29
40
Last Munster Junior Football Title
2013
2012
Munster Junior Football Championship Record since 2000
Played – 32
Won – 24
Lost – 8
Drawn – 0
Played – 32
Won – 24
Lost – 7
Drawn – 1
Last meeting in the Munster Junior Football Championship
June 10th 2012 (Munster Semi-Final) – Kerry 0-13 Cork 1-8
at Pairc Ui Chaoimh
Munster GAA FOOTBALL Junior Championship 2014
Quarter-Finals
Saturday May 31st
@ Pairc na nGael, Limerick           Limerick 1-13           Tipperary 1-10

Saturday June 7th
@ Cusack Park, Ennis                   Clare 2-9                   Waterford 1-11
Semi-Finals
Saturday June 21st
@ Páirc Uí Chaoimh, Cork             Cork 0-15                  Limerick 0-13

Sunday June 22nd
@ Cusack Park, Ennis                   Kerry 2-12                 Clare 0-7

Final
Wednesday July 2nd  
@ Austin Stack Park, Tralee          Cork v Kerry @ 7:30pm
Useful Information
Cork and Kerry have won the title in every second year since 2005 – with Cork winning the odd numbered years and Kerry the even numbered years.
The last Munster final between Cork and Kerry was in 2011 when Cork won by 0-10 to 1-5 in Páirc Uí Chaoimh.
The last time the teams met at a Kerry venue was the 2010 semi-final at Fitzgerald Stadium when Kerry won by 1-12 to 0-9.
Munster GAA FOOTBALL Junior Championship Roll Of Honour
Kerry (40) – 1913, 1914, 1915, 1924, 1926, 1927, 1928, 1930, 1931, 1934, 1936, 1938, 1941, 1946, 1947, 1949, 1954, 1956, 1958, 1959, 1960, 1961, 1963, 1965, 1967, 1968, 1969, 1983, 1985, 1991, 1994, 1995, 1997, 2000, 2002, 2003, 2006, 2008, 2010, 2012
Cork (29) – 1911, 1932, 1933, 1940, 1951, 1953, 1955, 1957, 1962, 1964, 1966, 1970, 1971, 1972, 1984, 1986, 1987, 1988, 1989, 1990, 1992, 1993, 1996, 2001, 2005, 2007, 2009, 2011,2013
Tipperary (7) – 1910, 1912, 1923, 1935, 1937, 1952, 1998
Limerick (4) – 1916, 1929, 1939, 1950
Waterford (3) – 1948, 1999, 2004
Clare (1) – 1925
Munster GAA FOOTBALL Junior Championship – List of Winning Teams
Visit the Munster GAA web site History section to view the complete list of each winning team since the competition began in 1910 – https://munster.gaa.ie/history/jf_teams/
Munster Junior FOOTBALL Cup
No Name – Presented by Munster Council in 1957
All Ireland GAA FOOTBALL Junior Championship
36 of the 82 All-Ireland titles contested in this grade have been won by 4 Munster counties. In the Junior Football All Ireland Roll of Honour, Cork and Kerry lead the way with 17 and 15 titles respectively. Tipperary have won 3 All-Ireland's while Waterford's 2 titles came in 1999 and 2004.  23 counties in total have won an All-Ireland Junior Football title.