Electric Ireland Munster MFC Q-Final – Kerry 0-14 Clare 0-3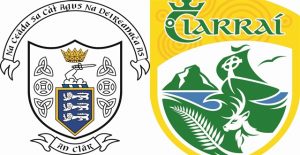 Kerry defeated Clare by 0-14 to 0-3 in the Electric Ireland Munster Minor Football Championship Quarter-Final on Wednesday April 15th at Austin Stack Park, Tralee.
---
Jack O'Connor's Kerry minor side get 2015 campaign off to flying start http://t.co/BU6e0152wW pic.twitter.com/oLGa6fLXUB

— The42.ie GAA (@The42GAA) April 15, 2015
---
Kerry were always the dominant force
Report by Eoghan Cormican for the Irish Examiner newspaper
KERRY 0-14 CLARE 0-3: In a lifeless encounter in front of 1,962 souls, Kerry were erratic in front of goal, error-prone and lazy in the tackle. And yet for all the cobwebs associated with a first championship outing, the Kingdom were by some distance the superior force.
The visitors failed to score from open play over the hour, while Kerry, who really never moved beyond second gear upon the change of ends, clocked eight wides and squandered as many more scoring opportunities. The winning margin stood at 11-points, it so easily could have been double that.
Such was Clare's inferiority. Such, essentially, was Kerry's dominance. "We mixed the good and the bad," said Kerry manager Jack O'Connor. "We were decent in the first-half, we had a good lead at half-time. In the second-half, we were playing against a tricky wind and a tricky sun. We wouldn't be overly happy with the second-half. "We certainly would have liked to have kicked four or five more points."
By half-time Kerry's progression was all but assured – the home outfit establishing a 0-10 to 0-1 advantage. They had rendered their opponents scoreless from play and on top of the 10 white flags raised, at least two goals should have been added. Conor Geaney had Kerry off the mark on seven minutes and points followed from Stephen O'Sullivan, Bryan Sweeney, Geaney and midfielder O'Connor. Clare full-forward Keelan Sexton finally broke their deadlock on 16 minutes, having previously missed two routine frees.
The Banner defence was struggling to hold down Geaney and O'Sullivan, and on the rare occasion they moved within shooting distance of the Kerry goal, the required composure was sorely lacking. Geaney (0-2), O'Sullivan and two from full-forward Linnane had the champions home and hosed returning to the dressing room at the break. The contest petered out thereafter. The second-half would produce just six scores.
Clare's attacking woes didn't let up – Sexton and goalkeeper Killian Roche on target from the placed ball to bring their tally to 0-3. For Kerry, Gavin White, goalkeeper Billy Courtney, Michael Foley and Evan Cronin etched their names onto the score sheet. Cork next, and plenty of room for improvement.
Scorers for Kerry: C Geaney (0-4); C Linnane (0-1 free), S O'Sullivan (0-2 each); B Courtney (0-1 free), E Cronin (0-1 free), G White, M O'Connor, B Sweeney, M Foley (0-1 each).
Scorers for Clare: K Sexton (0-2, 0-2 frees); K Roche (0-1, 0-1 free).
KERRY: B Courtney (Dr Crokes); D Brosnan (Gneeveguilla), J Foley (Ballydonoghue), T O'Sullivan (Dingle); G White (Dr Crokes), M Breen (Beaufort), D O'Brien (Glenflesk); M O'Connor (Dingle), JM Foley (Kilgarvan); B Ó Seanacháin (Ballydonoghue), B Sweeney (Listowel Emmetts), S O'Shea (Kenmare); S O'Sullivan (Templenoe), C Linnane (Beale), C Geaney (Dingle).
Subs: E Cronin (Spa) for Linnane (44 mins), D O'Shea (Kenmare) for O'Sullivan (53), G O'Sullivan (Dromid Pearses) for White (53), B Barrett (Ardfert) for S O'Shea (55), M Foley (Spa) for S O'Sullivan (55), R Buckley (Listry) for Foley (57).
CLARE: K Roche (Cooraclare); K Kileen (Kilmurry Ibrickane), N McCarthy (Lissycasey), C Pyne (Killimer); P Lillis (Cooraclare), C Downes (Naomh Eoin), C Hehir (St Joseph's); K Burke (Cooraclare), S O'Donoghue (Cooraclare); C O'Halloran (Éire Óg), C Murray (St Joseph's), P McNamara (Kilmaley); E Tubridy (Doonbeg), K Sexton (Kilmurry Ibrickane), A Sweeney (St Breckan's).
Subs: N Murray (O'Currys) for McNamara (HT), C Brennan (Clondegad) for Burke (HT), J Morrissey (Cooraclare) for Tubridy (42 mins), D Foran (Killimer) for A Sweeney (55), R McMahon (Kildysart) for Pyne (55).
Referee: J Ryan (Cork)
---
Previews – @MunsterGAA MFC Quarter-Finals this evening, Kerry v Clare, Limerick v Cork, Tipperary v Waterford: http://t.co/bN5W8ilxAM #GAA

— The GAA (@officialgaa) April 15, 2015
---
Admission Details
Adults: €10
Concessions: available on match day at the venue or buy an Adult ticket and receive a rebate at designated turnstiles prior to entry
Under 16's do not require a ticket
Click to purchase tickets in advance
---
Team News
Kerry minor football team v Clare http://t.co/c7w3cLtG3G

— Kerry GAA (@Kerry_Official) April 12, 2015
The Kerry Minor Football Team to play Clare in the Quarter Final of the Electric Ireland Munster GAA Minor Football Championship in Austin Stack Park on Wednesday evening at 7pm contains just one of the side that won the All Ireland title last year – Mark O'Connor at midfield who also captains the side. Stephen O'Sullivan, who was introduced as a sub in all of Kerry's games last year is named at corner forward and Jason Foley, also a sub last year, is named at full back. (Last year's centre back, Andrew Barry, who is recovering from injury is included on the extended panel).
The team is as follows:
1. Billy Courtney Dr. Crokes
2. Darren Brosnan Gneeveguilla
3. Jason Foley Ballydonoghue
4. Tom O'Sullivan Dingle
5. Gavin White Dr. Crokes
6. Mike Breen Beaufort
7. Daniel O'Brien Glenflesk
8. Mark O'Connor (Capt.) Dingle
9. John Mark Foley Kilgarvan
10. Brian Ó Seanacháin Ballydonoghue
11. Bryan Sweeney Listowel Emmets
12. Sean O'Shea Kenmare
13. Stephen O'Sullivan Templenoe
14. Cormac Linnane Beale
15. Conor Geaney Dingle
Fir Ionaid
16. Eoghan O'Brien Churchill
17. Dara O'Shea Kenmare
18. Evan Cronin Spa
19. Graham O'Sullivan Dromid Pearses
20. Ronan Buckley Listry
21. Brandon Barrett Ardfert
22. Jack Morgan Austin Stacks
23. Michael Foley Spa
24. Jack Goulding Ballyduff
Bainistíocht:
Bainisteoir: Jack O'Connor (Dromid Pearses)
Roghnoirí: Micheal O'Shea (Castlegregory), Eamon Whelan (St Senans).
Treanalaí: Alan O'Sullivan and Arthur Fitzgerald.
Captain: Mark O'Connor (Dingle)
Kitman: Ger O' Mahony,
Physio: Kieran O'Shea,
Liaison Officer: Christy Killeen
Extended Panel players:
Darren Casey St. Mary's
Micheal Foley Ballydonoghue
Mark Sugrue Renard
Colin Griffin Austin Stacks
Cian Ó Murchú An Ghaeltacht
Andrew Barry Na Gaeil
Ferdia O'Brien Austin Stacks
Micheal Reidy Ballymacelligott
Karl Mullins Kerins O'Rahillys
Clare
1. Killian Roche (Cooraclare)
2. Pearse Lillis (Cooraclare)
3. Niall McCarthy (Lissycasey)
4. Kieran Killeen (Kilmurry-Ibrickane)
5. Conor Downes (Naomh Eoin)
6. Killian Burke (Cooraclare)
7. Colm Pyne (Killimer)
8. Killian Brennan (Clondegad)
9. Sean O'Donoghue (Cooraclare)
10. Conor O'Halloran (Éire Óg)
11. Keelan Sexton (Kilmurry-Ibrickane)
12. Padraig McNamara (Lissycasey)
13. Alan Sweeney (St Breckan's)
14. Nigel Murray (O'Curry's)
15. Cormac Murray (St Joseph's Milltown)