Electric Ireland Munster MFC Q-Final – Cork 2-15 Limerick 2-7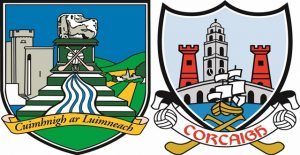 Cork defeated Limerick by 2-15 to 2-7 in the Electric Ireland Munster Minor Football Championship Quarter-Final on Wednesday April 15th at the Gaelic Grounds, Limerick.
---
Successful trip to Limerick tonight for @OfficialCorkGAA minor footballers http://t.co/dAVYE0TbfE pic.twitter.com/8MQm7hskMo

— The42.ie GAA (@The42GAA) April 15, 2015
---
No surprise as Cork far too strong for Limerick
Report by Denis Hurley for the Irish Examiner newspaper
LIMERICK 2-7 CORK 2-15: Little in the way of surprise at the Gaelic Grounds as Cork eased to an eight-point Electric Ireland Munster MFC win over Limerick. Beforehand, the bookmakers reckoned the handicap was nine points. Even if Cork had covered it, there would still be room for improvement ahead of the semi-final against Kerry but manager Donal O'Sullivan was taking both positives and negatives from the tie.
"We learned a lot," he said. "We were happy with the victory but there are a lot of aspects that we'd be worried about ahead of the Kerry game. "Defensively, we were naïve. They weren't lacking commitment but they got caught out a few times. Limerick's forwards would trouble a lot of teams, maybe we could have played a sweeper but we wanted to see what we could do without one."
Cork's first three attacks yielded points from Stephen Leonard – a late replacement for the injured Shane Kingston – and two by Steven Sherlock, but once Limerick got past halfway they gave indications that they might contend. James Ryan drew a save from Cork goalkeeper Chris Kelly and moments later Ed Sheehy found Mark Connolly, who slotted his shot to the net. When Andrew White sent over a free, the hosts had the lead but it would prove to be a fleeting experience.
Midfielder Eoin O'Brien and Sherlock restored the advantage to Cork before David Loweny was fouled for a penalty after Gary Murphy and Conor Hughes had combined to feed him. While Aaron Murphy got a hand to Sherlock's spot-kick, he couldn't keep it out and in quick-time Cork were seven points clear. Connolly's second goal, after he won a good delivery and slalomed past two defenders, suggested that Limerick could make things difficult again, but Cork's reply was as emphatic as it was swift.
Murphy, so central to Cork's attacking forays, used his speed to good effect and, while he could have taken on his own shot from a tight angle, he handpassed across goal, allowing David Lowney to palm home. The exchange of points by White and Daniel Ó Duinnín ensured that the seven-point gap remained at half-time, Cork ahead by 2-9 to 2-2, and the second half didn't challenge that pattern.
Leonard continued to take advantage of his inclusion as he kicked three further points, including a pair of well-taken frees, and Murphy got in on the scoring act too. White remained accurate from dead balls for Limerick but it wasn't until Diarmuid Kelly scored on 54 minutes that they got a point from play. Cork's defence, while not ultra-tight, was a bit more secure and no real goal chances accrued, ensuring that the outcome wasn't in question.
The next assignment for Cork is a semi-final clash against Kerry on May 13 and O'Sullivan is hopeful of improvement between now and then. "We've a couple of players injured who'd be big players for us, the likes of Shane Kingston and Tom Bushe. We're playing Galway in a challenge game shortly and we'll find out as we go along."
Scorers for Cork: S Sherlock 1-5 (1-0 penalty, two frees), D Lowney 1-1, S Leonard 0-4 (two frees), G Murphy 0-2, D Ó Duinnín, C Hughes, E O'Brien 0-1 each.
Scorers for Limerick: M Connolly 2-0, A White 0-4 (frees), D Kelly, J Ryan (free), P Maher 0-1 each.
CORK: C Kelly (Éire Óg); N Walsh (Douglas), T O'Connell (Clonakilty), C Dennehy (St Finbarr's); S Powter (Douglas), R Walsh (Castlehaven), K Dwyer (Macroom); D Ó Duinnín (Cill na Martra), E O'Brien (Douglas); S McEvoy (Clonakilty), D Lowney (Clonakilty), C Hughes (Canovee); S Leonard (Ilen Rovers), G Murphy (Castletownbere), S Sherlock (St Finbarr's).
Subs: S Madigan (Buttevant) for O'Connell (10, injured), R Fowley (Buttevant) for Hughes (43), C O'Rourke (Carbery Rangers) for Ó Duinnín (52, injured), S Lucey (Ballincollig) for Dennehy (54), S O'Neill (Kildorrery) for Sherlock (58), S O'Driscoll (Glanmire) for Murphy (58).
LIMERICK: A Murphy (Fr Caseys); F Murphy (Kilteely-Dromkeen), L O'Connell (Mungret), D Hanley (Ballysteen); J Wallace (Glin), S Ivess (Newcastlewest), S Murphy (Newcastlewest); A Kerins (St Senan's), M Whelan (Hospital-Herbertstown); A White (Rathkeale), M Morrissey (Rathkeale), E Sheehy (Granagh-Ballingarry); D Kelly (Newcastlewest), M Connolly (Adare), J Ryan (Athea).
Subs: A Storan (Mungret) for Morrissey (25), P Maher (Adare) for Sheehy (half-time), R Hayes (St Senan's) for White (51), D Corrigan (Kildimo-Pallaskenry) for Kelly (54), G Brennan (Claughaun) for F Murphy (60), C Stephenson (St Patrick's) for Wallace (60).
Referee: S Lonergan (Tipperary)
---
Previews – @MunsterGAA MFC Quarter-Finals this evening, Kerry v Clare, Limerick v Cork, Tipperary v Waterford: http://t.co/bN5W8ilxAM #GAA

— The GAA (@officialgaa) April 15, 2015
---
Admission Details
Adults: €10
Concessions: available on match day at the venue or buy an Adult ticket and receive a rebate at designated turnstiles prior to entry
Under 16's do not require a ticket
Click to buy tickets in advance
---
Team News
Limerick Manager Jerry O'Sullivan has named his starting team for the Munster Minor Football Quarter final V Cork. There are 4 player on this team that were on the 2014 team that was defeated by Cork, Luke O'Connell, Sean Murphy, Sean Ivess and Mikey Morrissey. The Limerick Captain is Mikey Morrissey from the Rathkeale club.
Limerick Minor Football Team and subs for game V Cork on Wednesday 15th April in Gaelic Grounds.
1. Aaron Murphy Fr. Casey's
2. David Hanley Ballysteen
3. Luke O' Connell Mungret
4. Fionn Murphy Killteely-Dromkeen
5. John Wallace Glin
6. Sean Ivess Newcastlewest
7. Sean Murphy Newcastlewest
8. Adam Kerins St.Senan's
9. Michael Whelan Hospital-Herbertstown
10. Andrew White Rathkeale
11. Mikey Morrissey Rathkeale CAPTAIN
12. Ed Sheehy Granagh Ballingarry
13. Diarmuid Kelly Newcastlewest
14. Mark Connolly Adare
15. James Ryan Athea
The Cork Minor Football team is named as –
1. Chris Kelly (Éire Óg)
2. Nathan Walsh (Douglas)
3. Tiarnan O'Connell (Clonakilty)
4. Conor Dennehy (St. Finbarrs)
5. Sean Powter (Douglas) Capt.
6. Ronan Walsh (Castlehaven)
7. Kevin Dwyer (Macroom)
8. Daniel Ó Duinnin (Cill na Martra)
9. Eoin O'Brien (Douglas)
10. David Lowney (Clonakilty)
11. Gary Murphy (Castletownbere)
12. Conor Hughes (Canovee)
13. Sean McEvoy (Clonakilty)
14. Shane Kingston (Douglas)
15. Stephen Sherlock (St. Finbarrs)
16. Mark White (Clonakilty)
17. Cathal O'Rourke (Carbery Rangers)
18. Shane O'Driscoll (Glanmire)
19. Seamus Madigan (Buttevant)
20. Stephen Leonard (Ilen Rovers)
21. Ryan Fowley (Buttevant)
22. Shane O'Neill (Killdorrey)
23. Sean Wilson (Douglas)
24 Sean Lucey (Ballincollig)
Tuesday late change to Cork team: No 20 Stephen Leonard (Ilen Rovers) is drafted on to the starting 15 following Shane Kingston's defection due to injury. Evan Ryle (Carrigaline) is added to the bench and will wear no 14.
Management; Donal O'Sullivan (Castletownbere) – Bainsteoir; Andrew McCarthy, (Inniscarra) – Maor Foirne; Tom Dorgan, (Ballincollig); Mick Comyns, (St. Finbarrs); Paul Holland (Argideen Rangers).
Medical Officer: Dr. Fiachra Ó Deasunaigh, (Bishopstown). Physiotherapist: Niamh O'Sullivan, (Castletownbere).
Stats: Brian Walsh (Aghada). Maor Uisce: Mark Byrne (Glanmire), Ollie O'Sullivan (Castletownbere)