Harty Cup Final – Thurles CBS 2-12 Rochestown College 1-12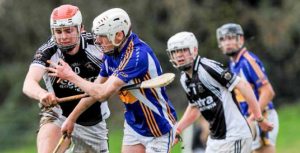 Thurles CBS defeated St. Francis College Rochestown by 2-12 to 1-12 in the Dr. Harty Cup Final on Saturday February 21st at Mallow.
---
---
---
---
Thurles CBS take #HartyCup title number 8 | http://t.co/ZdzXr80Dcz (GM) pic.twitter.com/Sw5kb3w40d

— Irish Examiner (@irishexaminer) February 21, 2015
Thurles CBS take Harty Cup title number 8
Thurles CBS (Tipperary) 2-12 St Francis College, Rochestown (Cork) 1-12
Report from the Irish Examiner newspaper
Thurles CBS finished with a flourish to claim Dr Harty Cup glory for an eighth time in Mallow this afternoon. Trailing by a point with 11 minutes remaining, Thurles landed four in a row down the home straight to capture the coveted silverware for the first time since 2009.
The dream dual double died for Rochestown as the Corn Uí Mhuirí finalists were foiled in their first Harty decider. Despite playing against the breeze in the second half, Rochestown still managed to rally from four points down at half-time to draw level by the 44th minute. And with eleven minutes remaining, Rochestown were a point clear when their leading scorer, Ciaran Cormack, landed a free to establish a 1-12 to 2-8 lead.
But Thurles, inspired by midfielder Billy McCarthy, were strong down the home straight and the Thurles Sarsfields dynamo landed two crucial points to put the winners a point ahead again. Kevin Duggan and Michael Connors added further scores for Thurles as they came on strong just when it was needed most to settle a tie that had been level five times.
Thurles lost Niall Heffernan to a second yellow card at the death but they had done enough by then. First half goals from Kevin Duggan and McCarthy were crucial to this latest Harty success for Thurles, who led by 2-7 to 1-6 at the midway point. After Cormack scorched through for a sensational tenth minute goal for Rochestown, Duggan netted in the 16th minute before McCarthy struck on the stroke of half-time.
Shane Kingston was excellent in that first half for Rochestown, collecting three points from play, but the Douglas starlet had a good goal chance saved by William Tierney with 13 minutes left, at a time when Rochestown were a point down. Robbie Long, lively throughout, could have netted for Thurles five minutes before the break but his shot drew a fine save from Andrew Cullinane, before Long followed up to point the rebound.
Scorers for Thurles CBS: B McCarthy 1-2, K Duggan 1-1, N Heffernan 0-4f, R Long 0-2, P Kennedy, R Teehan & M Connors 0-1 each.
Scorers for Rochestown: C Cormack 1-6 (0-5f), S Kingston 0-4, S Powter and D Meaney 0-1 each.
Thurles CBS: W Tierney; D Quirke, E Heffernan, J Derby; T Hayes, J Skehan, C McCullagh; B McCarthy, C Moloney; N Heffernan, K Duggan, P Kennedy; J Butler, R Teehan, R Long
Subs: M Connors for Butler (54), R Purcell for Moloney (56)
ROCHESTOWN: A Cullinane; D Murphy, J Cashman, N Walsh; D Kelliher, D Griffin, C Sheehan; E O'Brien, J O'Sullivan; C Cormack, D O'Mahony, S Kington; D Meaney, S Powter, L O'Sullivan.
Subs: K O'Donovan for Sheehan (30), M McAuliffe for L O'Sullivan (33), J Holland for O'Mahony (37), L Dineen for O'Brien (60).
Referee: Damien Fox (Clare)
---
Congratulations to @cbsthurles on a great victory in today's Harty Cup Final pic.twitter.com/VFzsVT99Tc

— John O' Loughlin (@Brittas10) February 21, 2015
---
Thurles steel finally breaks Rochestown resistance to win Harty Cup
By Bob Lester for the Irish Examiner newspaper
St Francis College, Rochestown 1-12 Thurles CBS 2-12: Harty Cups are earned more than won, and there was certainly nothing easy about Thurles CBS's victory over a battling St Francis College, Rochestown side in Mallow on Saturday.
On a biting cold afternoon for hurling, Thurles really had to grind out this final win — their eighth in all — and they can thank their lively forward division for this sweet success, their first since 2009, one that looked unlikely for much of the contest.
All their front men hit the target, as well as late substitute Michael Connors, while, for the most part, Rochestown were too reliant on Ciarán Cormack and Shane Kingston (1-10 between them) for scores. Indeed had Kingston put away a gilt-edged chance in the 46th minute — his shot brilliantly saved by Thurles keeper William Tierney — it might have been a different outcome.
Thurles finished both halves with skill and aplomb in the face of strong St Francis College play and it was this toil and effort that gave them the authority to lift the famed trophy. Yet Rochestown started so brightly, Sean Powter and Kingston quickly putting them two points clear. Niall Heffernan, with a free, and Paul Kennedy did level it up, but it was Rochestown, with the aid of the cutting breeze, who were looking sharper, with Darragh Kelleher and David Griffin strong in the half-back line.
And then a great Rochestown goal in the ninth minute, Kingston finding Cormack with an awkward ball, but, with a lot to do, the big Blackrock man showed great skill in controlling the sliotar before firing a belter past Thurles keeper Tierney. Rochestown were in control now and led 1-4 to 0-4 after a lively opening quarter.
Then they were hit for six, sloppy defending by the normally reliable John Cashman saw Ronan Teehan find Kevin Duggan in space and the centre-forward gave Andrew Cullinane no chance to level things up. Undeterred, Rochestown battled back with points from Kingston and Cormack but could not maintain the momentum as Thurles hit them hard in the closing six minutes of the half.
First, tasty full-forward Robbie Long missed a sitter, but did redeem himself with a point when the play broke. Niall Heffernan followed with a free and they led for the first time, in the 27th minute, with another fine point from Long. And then a real sucker punch for Rochestown in the 29th minute, again due to sloppy defending, corner-forward Teehan again the provider, setting up Billy McCarthy for a goal which earned Thurles a 2-7 to 1-6 interval lead.
Rochestown restarted with Daniel Meaney partnering Cathal Moloney at midfield, with Meaney playing deep and doing a fine job on the excellent Billy McCarthy at wing forward, who was a colossus for Thurles CBS, finishing with 1-2. But again Rochestown took up the running, and with quick, forceful hurling, they were level by 43rd minute with a couple of points from Cormack and one apiece from Kingston and Meaney.
But it was Thurles who led 2-8 to 1-10 entering the final quarter when Niall Heffernan, who was sent off for a second yellow offence late in the contest, converted his fourth free. All to play for now, but the portents weren't great when Kingston was denied that goal chance. Two more Cormack frees did put high octane Rochestown back in front but they could not sustain the impetus, as Thurles found another gear.
With fine displays in defence from Dillon Quirke, Tom Hayes and Jack Skehan, Thurles upped the ante again. First Niall Heffernan to McCarthy, a cracking point, then another gem from the Thurles Sars man, followed by points from Kevin Duggan and sub Michael Connors and Rochestown were dead.
Thurles, with deadly assaults in the final minutes of both halves, had broken Rochestown hearts and the Cork lads will now have to pick themselves up for another final assault next Saturday, this time with the big ball in the Corn Uí Mhuirí decider against Pobalscoil Chorcha Dhuibhne at the Dr Crokes' pitch in Killarney.
Scorers for Thurles CBS: B. McCarthy 1-2, K. Duggan 1-1, N. Heffernan 0-4 (frees), R. Long 0-2, P. Kennedy, R. Teehan and M. Connors 0-1 each.
Scorers for Rochestown College: C. Cormack 1-6 (0-5 frees), S. Kingston 0-4, M Powter and D. Meaney 0-1 each.
THURLES CBS: W. Kearney (Thurles Sars); D. Quirke (Clonoulty Rossmore), E. Heffernan (do), J. Derby (Thurles Sars); T. Hayes (Moycarkey Borris), J. Skehan (Holycross Ballycahill), C. McCullagh (Moycarkey Borris); P. Kennedy (Drom & Inch), C. Moloney (Thurles Sars); N. Heffernan (Moycarkey Borris), K. Duggan (Galmoy), B. McCarthy (Thurles Sars); R. Teehan (Gortnahoe Glengoole), R. Long (Drom & Inch), J. Butler (Upperchurh Drombane).
Subs: K. O'Dwyer (Killenaule) for McCullagh (29m), M. Connors (Dron & Inch) for Butler (53), R. Purcell (Thurles Sars) for Moloney (55).
ST FRANCIS COLLEGE: A. Cullinane (Douglas); D. Murphy (do), J. Cashman (Blackrock), N. Walsh (Douglas); D. Kelleher (Cobh), D. Griffin (Carrigaline), C. Sheehan (Douglas); E. O'Brien (Douglas), J. O'Sullivan (Blackrock); D. Meaney (do), D. O'Mahony (Douglas), S. Kingston (do); S. Powter (do), C. Cormack (Blackrock), L. O'Sullivan (Blackrock).
Subs: M. McAuliffe (Douglas) for O'Sullivan (33), J. Holland (Douglas) for O'Mahony (35m), L. Dineen (Douglas for O'Brien (59).
Referee: D. Fox (Clare)
---
CBS Thurles captured their eighth Dr Harty Cup title this afternoon http://t.co/opq8ulGpFN

— The42.ie GAA (@The42GAA) February 21, 2015
---
Congrats @cbsthurles – winners of the Dr. Harty Cup Final #gaa #Hurling #Champions More here http://t.co/x3zjGNXNd6 pic.twitter.com/vKIXS1GQBZ

— Sportsfile (@sportsfile) February 21, 2015
---
When – Saturday February 21st at 1:30pm
Where – Mallow
Referee – Damien Fox (Clare)
---
Going to today's Harty Cup Final – Thurles CBS v Rochestown College? Pick up a copy of the souvenir 40 page programme for €3

— Munster P.P.S. (@Munsterpps) February 21, 2015
---
Paths to the Final
Thurles CBS
Round 1 – Thurles CBS 5-26 St Flannans 0-6
Round 2 – Thurles CBS 1-15 West Limerick Colleges 3-9
Round 3 – Thurles CBS 3-12 Ard Scoil Ris 0-12
Round 4 – Thurles CBS 2-15 Blackwater CS 3-3
Round 5 – Bye
Quarter-Final – Thurles CBS 2-8 Gaelcolaiste Mhuire AG 1-10
Semi-Final – Thurles CBS 1-9 Castletroy CC 0-11
St. Francis College Rochestown
Round 1 – St Francis College Rochestown 2-14 Charleville CBS 0-13
Round 2 – Bye
Round 3 – St Francis College Rochestown 1-18 PS Youghal 1-8
Round 4 – St Francis College Rochestown 0-16 St Caimins Shannon 0-13
Round 5 – St Francis College Rochestown 2-13 Our Ladys Templemore 0-16
Quarter-Final – St. Francis College Rochestown 3-9 Nenagh CBS 2-8
Semi-Final – St Francis College Rochestown 4-11 Ard Scoil Ris 1-17
---
For the Record
Thurles CBS
St. Francis College Rochestown
2014 / 2015 Team Management
Niall Cahill,
Martin Maher,
John Devane
Diarmaid Fahy (Courcey Rovers), Michael Cullen (Fr. O'Neills), Humphrey Canty (Newcestown) & Aidan Lonergan (Rosegreen)
2014 / 2015 Team Captain
Ronan Teehan
David Griffin
2013 / 2014 Dr. Harty Cup  Performance
Qualified for the Quarter-Final before losing to St Francis College Rochestown by 1-13 to 0-11
Qualified for the semi-final before losing to Scoil Na Trionoide Naofa Doon by 0-15 to 1-9
2013 / 2014 Dean Ryan Cup Under 16 ½ A Hurling Performance
Qualified for the Quarter-Final where they lost to the eventual winners Midleton CBS by 1-24 to 1-12
Lost to Our Lady's Templemore by 3-20 to 4-13 in the Quarter-Final
Number of Dr. Harty Cup titles
7
0
Last Dr. Harty Cup Title
2009
N/A
---
Dr. Harty Cup Knockout Stages
Quarter-Finals
Ard Scoil Ris 1-16 Hamilton High School Bandon 1-11
St. Francis College Rochestown 3-9 Nenagh CBS 2-8
Castletroy CC 1-14 Pobalscoil Na Tríonóide 0-16
Thurles CBS 2-8 Gaelcolaiste Mhuire AG 1-10
Semi-Finals
Thurles CBS 1-9 Castletroy CC 0-11
St. Francis College Rochestown 4-11 Ard Scoil Ris 1-17
Final
Thurles CBS v St. Francis College Rochestown
Saturday February 21st at 1:30pm in Mallow
Team Panels
Thurles CBS
| | | | |
| --- | --- | --- | --- |
| 1 | William | Tierney | Thurles Sarsfields |
| 2 | Dillion | Quirke | Clonoulty Rossmore |
| 3 | Enda | Heffernan | Clonoulty Rossmore |
| 4 | Jack | Derby | Thurles Sarsfields |
| 5 | Ronan | Heffernan | Clonoulty Rossmore |
| 6 | Jack | Skehan | Holycross Ballycahill |
| 7 | Christopher | McCullagh | Moycarkey Borris |
| 8 | Billy | McCarthy | Thurles Sarsfields |
| 9 | Cathal | Moloney | Thurles Sarsfields |
| 10 | Niall | Heffernan | Moycarkey Borris |
| 11 | Kevin | Duggan | Galmoy |
| 12 | Michael | Connors | Drom & Inch |
| 13 | Jack | Butler | Upperchurch Drombane |
| 14 | Ronan | Teehan | Gortnahoe Glengoole (Captain) |
| 15 | Robbie | Long | Drom & Inch |
| 16 | James | McCormack | Borrisoleigh |
| 17 | Tom | Hayes | Moycarkey Borris |
| 18 | Paul | Kennedy | Drom & Inch |
| 19 | Rory | Purcell | Thurles Sarsfields |
| 20 | Brendan | Kelly | Rathdowney Errill |
| 21 | Matt | Stakelum | Holycross Ballycahill |
| 22 | Martán | Fennelly | Killenaule |
| 23 | Killian | O'Dwyer | Killenaule |
| 24 | Eoin | Barry | Killenaule |
| 25 | Michael | Purcell | Thurles Sarsfields |
| 26 | Tom | Stakelum | Killenaule |
| 27 | Conor | Stakelum | Thurles Sarsfields |
| 28 | Jimmy | Ryan | Clonoulty Rossmore |
| 29 | Bill | Darcy | Thurles Sarsfields |
| 30 | Kieran | Cummins | Moycarkey Borris |
| 31 | Stevie | Flanagan | Holycross Ballycahill |
| 32 | David | Egan | Clonoulty Rossmore |
| 33 | Ronan | Gleeson | Upperchurch Drombane |
| 34 | Gary | Healy | Thurles Sarsfields |
| 35 | Adam | Garrett | Thurles Sarsfields |
| 36 | Eric | Fanning | Moycarkey Borris |
| 37 | Micheal | Troy | Emeralds |
| 38 | Diarmaid | Leahy | Moyne Templetuohy |
| 39 | Jack | Stapleton | Killenaule |
| 40 | Jack | Bergin | JK Brackens |
| 41 | Niall | Moloney | Loughmore Castleliney |
| 42 | Faolan | Linnane | Thurles Sarsfields |
---
St. Francis College Rochestown
| | | | |
| --- | --- | --- | --- |
|   | Name (English) | Name (Irish) | Club |
| 1 | Andrew Cullinane | Andriu O Ceallachain | Douglas |
| 2 | Donnchadh Murphy | Donnchadh O Murchu | Douglas |
| 3 | David Griffin(c) | Daithi O Griffin | Carrigaline |
| 4 | Nathan Walsh | Nathan Breathnach | Douglas |
| 5 | Darragh Kelliher | Dara O Cealleachair | Cobh |
| 6 | John Cashman | Sean O Coisain | Blackrock |
| 7 | Cathal Sheehan | Cathal O Siochain | Douglas |
| 8 | Eoghan O Brien | Eoghan O Briain | Douglas |
| 9 | John O Sullivan | Sean O' Suilleabhain | Blackrock |
| 10 | Ciaran Cormack | Ciaran Cormaic | Blackrock |
| 11 | Diarmaid O Mahony | Diarmuid O Mathuna | Douglas |
| 12 | Shane Kingston | Sean MacChlochaire | Douglas |
| 13 | Daniel Meaney | Donal O Maoinigh | Blackrock |
| 14 | Sean Powter | Sean Powter | Douglas |
| 15 | Liam O'Sullivan | Liam O Sulleabhain | Blackrock |
| 16 | Daniel O Mahony | Donal O Mathuna | Blackrock |
| 17 | Matthew McAulliffe | Maitiu MacAlibh | Douglas |
| 18 | Rory Crowley | Rodhrai O Crualaoi | Blackrock |
| 19 | David Stack | Daithi de Staic | Carrigaline |
| 20 | Ryan Cantwell | Riain O Cantuil | Blackrock |
| 21 | Ross Coleman | Rossa O Colmain | Blackrock |
| 22 | James Holland | Seamus Holland | Douglas |
| 23 | Kevin O'Donovan | Caomhin O Donobhain | Nemo Rangers |
| 24 | Liam Dineen | Liam O Dinuin | Douglas |
| 25 | Paddy Lynch | Padraig O Lionsigh | Blackrock |
| 26 | David O Regan | Daithi O Reagain | Douglas |
| 27 | Luke Dunlea | Luc O Dunsleibihe | Ballygarvan |
| 28 | Daniel O Flaherty | Donal O Fleahartaigh | Tracton |
| 29 | Sam McGrath | Sam MacGraith | Douglas |
| 30 | Jason Murray | Jason O Muiri | Douglas |
| 31 | Barry Grainger | Barra O Grainsear | Blackrock |
| 32 | Brian Turnbull | Brion Turnbull | Douglas |
| 33 | Ronan Buckley | Ronan O Buachualla | Blackrock |
| 34 | Paul Davidson | Pol O MacDaithi | Douglas |
| 35 | Philip Buckley | Pilib O Buachualla | Blackrock |
| 36 | Chris Murray | Chriostoir O Muiri | Carrigaline |
| 37 | Cian O'Driscoll | Cian O'Drisceoil | Douglas |
Dr. Harty Cup Tables after Group Stages
| | | | | | |
| --- | --- | --- | --- | --- | --- |
| Group 1 Teams | Played | Won | Lost | Draw | Points |
| Thurles CBS | 4 | 3 | 0 | 1 | 7 |
| Ardscoil Ris | 4 | 3 | 1 | 0 | 6 |
| West Limerick Col | 4 | 2 | 1 | 1 | 5 |
| Blackwater CS | 4 | 1 | 3 | 0 | 2 |
| St Flannans Col | 4 | 0 | 4 | 0 | 0 |
| | | | | | | |
| --- | --- | --- | --- | --- | --- | --- |
| Group 2 Teams | Played | Won | Lost | Draw | Points | Score difference |
| Castletroy CC | 4 | 3 | 1 | 0 | 6 | 6 |
| Gaelcholaiste Mhuire AG | 4 | 3 | 1 | 0 | 6 | 21 |
| St Colmans Fermoy | 4 | 2 | 2 | 0 | 4 | 9 |
| SNTN Doon | 4 | 2 | 2 | 0 | 4 | 4 |
| DLS Waterford Col | 4 | 0 | 4 | 0 | 0 | -40 |
| | | | | | |
| --- | --- | --- | --- | --- | --- |
| Group 3 Teams | Played | Won | Lost | Draw | Points |
| Rochestown College | 4 | 4 | 0 | 0 | 8 |
| P.S Youghal | 4 | 3 | 1 | 0 | 6 |
| St Caimins Shannon | 4 | 2 | 2 | 0 | 4 |
| Our Lady's Templemore | 4 | 1 | 3 | 0 | 2 |
| Charleville CBS | 4 | 0 | 3 | 0 | 0 |
| | | | | | | |
| --- | --- | --- | --- | --- | --- | --- |
| Group 4 Teams | Played | Won | Lost | Draw | Points | Score difference |
| Hamilton HS Bandon | 4 | 4 | 0 | 0 | 8 | 18 |
| Nenagh CBS | 4 | 3 | 1 | 0 | 6 | 6 |
| Midleton CBS | 4 | 2 | 2 | 0 | 4 | 3 |
| Dungarvan CBS | 4 | 1 | 3 | 0 | 2 | -6 |
| HS Clonmel | 4 | 0 | 4 | 0 | 0 | -21 |
---
Dr. Harty Cup Roll Of Honour
St. Flannan's, Ennis (21) – 1944, 1945, 1946, 1947, 1952, 1954, 1957, 1958, 1976, 1979, 1982, 1983, 1987, 1989, 1990, 1991, 1998, 1999, 2000, 2004, 2005
North Monastery, Cork (19) – 1919, 1929, 1934, 1935, 1936, 1937, 1940, 1941, 1942, 1943, 1955, 1960, 1961, 1970, 1980, 1981, 1985, 1986, 1994
Limerick CBS (10) – 1920, 1925, 1926, 1927, 1932, 1964, 1965, 1966, 1967, 1993
St Colman's College, Fermoy (9) – 1948, 1949, 1977, 1992, 1996, 1997, 2001, 2002, 2003
Thurles CBS (7) – 1933, 1938, 1939, 1950, 1951, 1956, 2009
St. Finbarr's, Cork (7) – 1963, 1969, 1971, 1972, 1973, 1974, 1984
Rockwell College (5) – 1918, 1923, 1924, 1930, 1931
Ardscoil Rís, Limerick (3) – 2010, 2011, 2014
Midleton CBS  (3) – 1988, 1995, 2006
De La Salle College Waterford (2) – 2007, 2008
Colaiste na nDeise / Dungarvan Colleges (2) – 2012, 2013
St. Munchin's  (1) – 1922
Mount Sion (1) – 1953
Abbey CBS, Tipperary Town (1) – 1959
Rice College, Ennis (1) – 1962
Coláiste Chríost Rí (1) – 1968
Colaiste Iognaid Ris, Cork (1) – 1975
Templemore CBS (1) – 1978